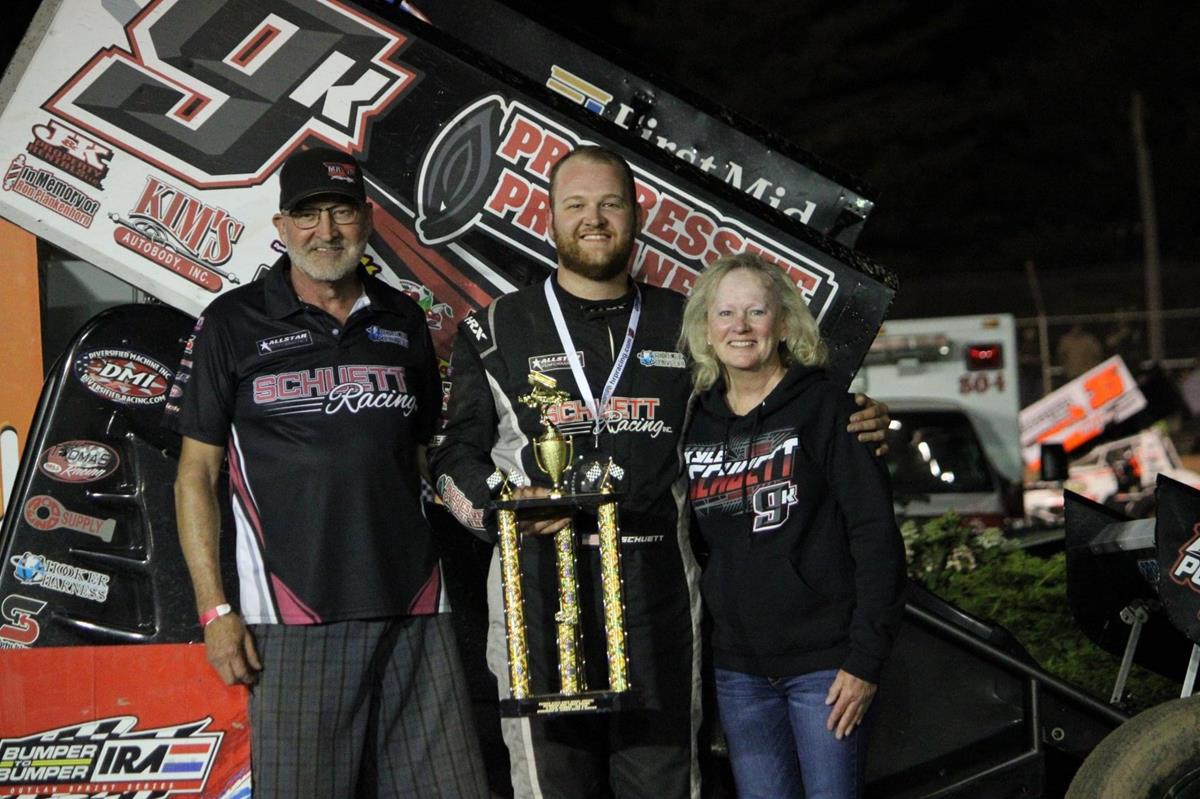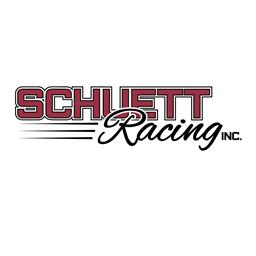 ---
Schuett Earns First Career Sprint Car Victory at Plymouth with IRA
Kyle Schuett and his family made the decision to put aside a very successful Midget career back in 2019 in favor of a Winged 410 Sprint Car. The team found early success with the MOWA Sprints in the southern Midwest, and then made another switch to the Interstate Racing Association series based out of Wisconsin in 2021. An up and down rookie season had the team questioning a lot of things heading into their sophomore year in 2022.
Consider those doubts and reservations put to bed. Kyle Schuett is an IRA and Winged 410 Sprint Car Feature Winner.
Schuett and the #9K team had a decent outing at the Langlade County Fairgrounds in Antigo, WI on Friday, July 29th, picking up a heat race victory and 9th place Feature finish. The next night at Plymouth, the 2021 IRA Rookie of the Year knew they had a huge opportunity after Qualifying.
"We started the night off really well with 2nd in qualifying." Schuett said. "I messed up my first lap and just made sure not to make the same mistake on lap two, and it all came together. Qualifying is so huge in the IRA format with the way the dashes work, so that really set our night up well."
The 2nd place effort lined the Progressive Propane #9K up in the 4th spot in its heat race. All Schuett had to do was finish inside the Top 6 to transfer to the Dash redraw, but the Philo, IL driver put up a valiant effort on the opening laps to run side by side with 2x IRA Champion Scotty Neitzel and then battling with former National Midget Champion Jake Neuman in a fight for 4th and 5th. In the end, Schuett decided not to push the issue and crossed the line in 5th place.
"In the heat it was all about bringing it home in the Top 6," Schuett stated. "So I didn't want to force anything and just made sure to transfer to the dash draw. The draw is so important with the IRA. Everyone is so equal in this series speed wise so track position means a lot at the start of features. We ended up pulling the pole of dash #1 and went on to win that, which again, was huge for our night."
The Dash was a fairly straightforward affair for Schuett, jumping out to an early lead and extending that advantage over the 4 lap sprint. The win put the First Mid Insurance Group car on the pole of the night's 30 Lap IRA Feature.
Schuett started the A Main alongside Neitzel and directly in front of his good friend and fellow IRA Sprints young gun Tyler Tischendorf, with Jordan Goldesberry starting in 4th. The former POWRi National Midget Feature winner jumped out to a strong early advantage over a dueling Neitzel and Tischendorf, as the latter moved into second and momentarily took a peek at Schuett for the lead, but eventually settled into the runner up spot as Schuett hit traffic for the first time.
"I wanted to get a good jump on the field and just get to clean air." Schuett said about the start of the 30 lap affair. "I knew when I got out front that we had something special in the car. It handled like an absolute dream."
On lap 4, Schuett was already in thick lapped traffic and Tischendorf started to slowly close the gap to the Kim's Auto Body #9K out front, but the chase would be slowed as the red flag came out on lap 6 for a flipping Jake Blackhurst. The race restarted and Schuett got a fantastic jump, with Tischendorf now having to battle Neitzel and Goldesberry for the final podium positions. The battling behind allowed Schuett to extend his lead, before once again hitting traffic on lap 11.
"Once I got to traffic, my inexperience kicked in." Schuett admitted. "I was trying to be as cautious as I could, but I knew Tyler [Tischendorf], Scotty [Neitzel] or someone else would be all over me if I didn't make any moves. Fortunately, most of the slower cars were on the bottom of the track and I could clear them pretty easily, but [Kris] Spitz was just as fast as me on the top. I never really had a chance to slide him cleanly, and even when I could have forced the issue I didn't want to ruin both his race and mine so I just settled in and tried to make good laps."
Spitz was indeed fast on the top of the speedway, but so was Schuett. The pair maneuvered around the outside of several cars in traffic as Neitzel and now 3rd place running Danny Schlafer slowly started to reel them in. With 4 laps to go, Neitzel came within striking distance of Schuett entering turn 3, but the veteran made an uncharacteristic mistake in turn 4. Neitzel jumped the cushion and had to come off the throttle, allowing Schlafer to rocket past the #2W and into second.
"Once I saw 3 to go on the scoreboard I was all about just keeping it smooth against the curb and trying not to scrub off any speed." Schuett said about the closing laps. I saw [Danny] Schlafer down there once but knew if I just kept it straight and pinned on the top I could win it."
Schlafer did take two shots at the lead on the final circuit. In turns 1 and 2 the #25 dipped down low but Schuett was too strong on the high side. Entering turn 3, Schuett sent it in on the cushion while Schlafer hammered the bottom groove and momentarily pulled even with the #9K in turn 4, but the 2nd year IRA driver was not to be denied. Kyle Schuett crossed under the double checkered flags and earned his first career IRA Feature Win in emphatic style.
"I was so thankful that Danny [Schlafer] raced me clean." Schuett said about the fight to the finish. "A lot of guys would have doored me for the win but these IRA guys are some of the cleanest drivers I've ever raced against."
The addition of Jeff and Jill Davis to Schuett Racing Inc. has been invaluable to the team's success in 2022, and Schuett made that clear in his post race comments.
"All of this wouldn't have been possible without my Mom, Dad, Jeff and Jill Davis. They probably could have quit on me a couple months ago when we started this deal, but then again I'm not sure they ever had a choice." Schuett said with a laugh in Plymouth Dirt Track Victory Lane. "I'm really thankful to get this Progressive Propane Inc, First Mid Insurance Group, Kim's Auto Body, R&B Powdercoat #9K in Victory Lane for the first time in many years. Hopefully we can keep this momentum going. There's still a long way to go this season."
The IRA Sprints now enter a two week "summer break" for the Knoxville Nationals, but will return in doubleheader fashion on August 20th and 21st at Wilmot Raceway for the Roger Iles Tribute at the Kenosha County Fair, and Angell Park Speedway for the annual Corn Fest event. Schuett earned his first career IRA Top 5 finish at Corn Fest in 2021, and is looking to improve upon that result in 2022. Tickets for Wilmot are available on My Race Pass, Corn Fest tickets will be sold at the track and on the Ticket Hoss app and both events will be broadcast live on FloRacing.
"We're really strong at Angell Park seemingly every time we're there." Schuett said about the upcoming events. "Hopefully things fall in the right places these next few nights and we can bring home good finishes for our partners and fans."
The win vaulted Schuett into Top 5 points contention. Currently sitting 7th in the IRA Points table, the #9K machine sits just 35 markers behind Russell Borland in 6th, and 128 points behind Scotty Neitzel for 5th. Schuett now holds a 132 point advantage over Jeremy Schultz in 8th.
FULL RESULTS: Plymouth Dirt Track with IRA Sprints on 7/30/22
Qualifying-2nd out of 22 cars
Heat Race-S/4th F/5th
Dash-S/1st F/1st
Feature-S/1st F/1st
NEXT RACE:
8/20/22 at Wilmot Raceway, Roger Iles Tribute at the Kenosha County Fair with IRA Sprints (Watch LIVE on FloRacing)
SEASON STATS:
Events-15
Features Made-15
Top 15's-10
Top 10's-7
Top 5's-1
Dash Appearances-7
Feature Wins-1
Kyle Schuett and the Schuett Racing Inc. will contest a full time IRA 410 Sprints season in 2022, with races across the upper midwest from Iowa and Illinois, to Wisconsin and North Dakota. The IRA also co-sanctions several races with the Midwest Open Wheel Association and the All Star Circuit of Champions throughout the season. Head to www.irasprints.com to find their full schedule. Select MOWA and outside 410 shows may be added as the schedule permits.
If you can't make it out to see the methanol monsters of the IRA in 2022, every IRA race will be exclusively broadcasted on the FloRacing streaming service all season long.
Kyle Schuett and Schuett Racing thanks their Marketing and Product partners for their continued support into the 2022 race season!
Progressive Propane
First Mid Insurance Group
Kim's AutoBody
Engler Machine and Tool
R&B Powdercoat
Allstar Performance
Safety-Kleen (The Official Environmental Service Provider of Schuett Racing Inc.)
Diversified Machine Inc. (DMI)
Rod End Supply
Hooker Harness
Steve Thomas Racing
J&K Property Rentals LLC.
Box3 Media
You can follow Kyle's season at www.schuettracing.com and on Facebook at Schuett Racing Inc and Twitter @schuettracing, as well as Box3 Racing PR on Facebook at @box3racing and Twitter @box3_racing.
This article is licensed for use for Schuett Racing Inc. by Box3 Media and should not be replicated or re-published without the expressed written consent of Box3 Media and Racing Promotion.
Photo Credit: James Wojciechowksi/Ricky Bassman
---
Submitted By: Loren Kelly
Article Media
Back to News