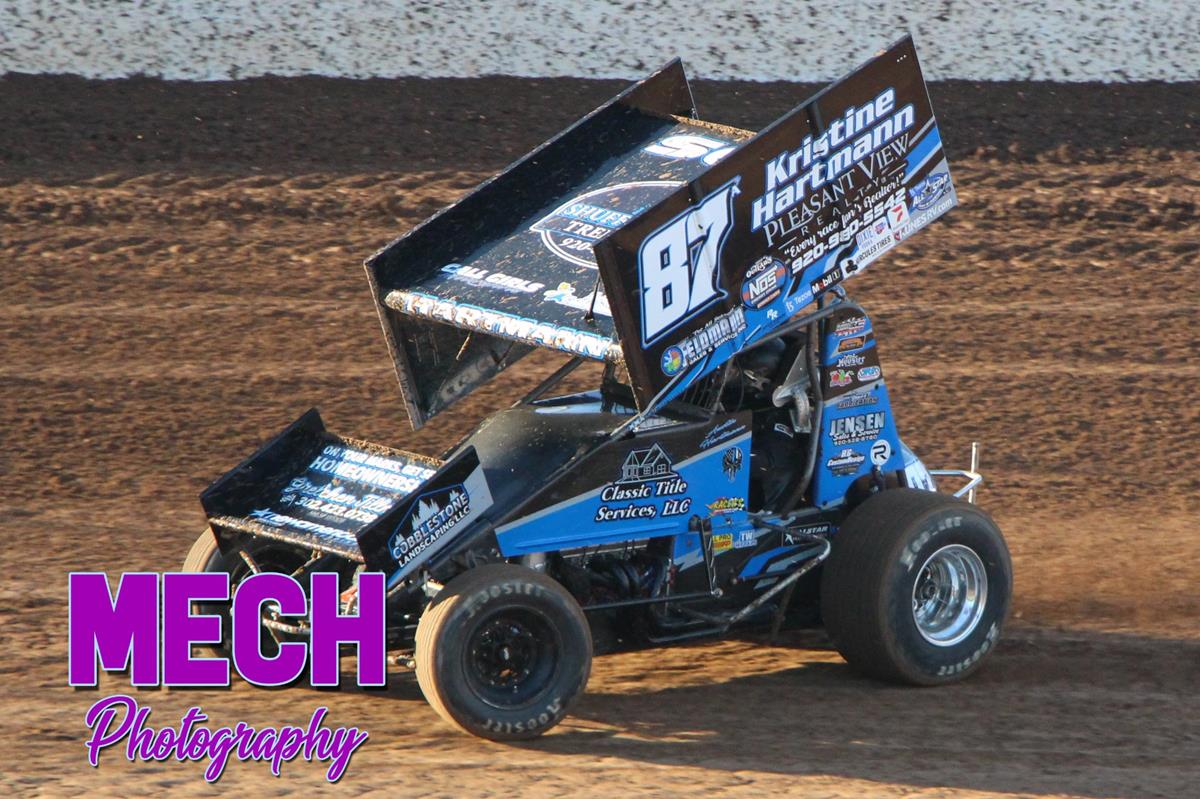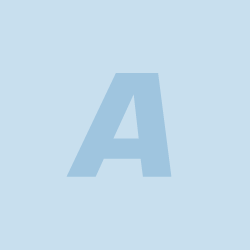 ---
Austin Hartmann fulfills World of Outlaws A main dreams at Beaver Dam Raceway
(PEDAL DOWN PROMOTIONS) June 22, 2022 – In just the 10th Winged 410 Sprint Car event of his career, Austin Hartmann of Plymouth, Wis. earned a spot alongside the top Sprint Car drivers in the world as he qualified for his first career NOS Energy Drink World of Outlaws Sprint Car Series A-main event at Beaver Dam Raceway in Beaver Dam, Wis. on Saturday, June 18 in the second half of a doubleheader weekend of World of Outlaws Sprint Car Series action for the 87A Hartmann Racing team.
In his World of Outlaws Series debut on Friday, June 17, Hartmann qualified 22nd in the 33 car field with a lap of 11.528 seconds on the lightning-fast, high-banked, third-mile Beaver Dam Raceway clay oval.
After lining up sixth in the second World of Outlaws heat race, Hartmann's maiden voyage with the WoO was short-lived as contact with J.J. Hickle as the green flag dropped resulted in heavy damage to his Kristine Hartmann of Pleasant View Realty sponsored machine, which forced the team to retire from the race and scratch for the remainder of the event.
"Coming into Friday, I knew I had to set a good qualifying lap to put us in a good position for the heat race," Hartmann said. "The car felt great in qualifying and laid down a decent time. The start of the heat race didn't go as planned and got a bad start, which allowed the car inside of me to come up the track and he spun the tires getting loose, made a driver mistake and I ended up hitting the wall pretty hard.
"The contact damaged the rear end and rear suspension, front end, right front shock, top wing and chassis," he said. "Thankfully, Scotty Neitzel and Rick Lemanski from R&H Enterprises took us in and got a new bar welded in late Friday night. Without them, that incident would've ended our weekend. I can't thank them enough."
On Saturday, June 18, Hartmann again turned in the 22nd fastest qualifying lap in the 31-car field with a lap of 12.131 seconds. After starting and finishing eighth in the first eight-lap WoO heat race, Hartmann rolled off fifth in the 12-lap Last Chance Showdown needing to finish in the top six to advance to the 40-lap main event.
Hartmann ran fifth in the opening laps of the Last Chance Showdown before Josh Schneiderman slipped past to shuffle him back to sixth. The third-year Sprint Car competitor and Bumper to Bumper Interstate Racing Association 410 Sprint Car Series rookie then ran smooth and consistent laps over the second half of the race to hold off Matt Vandevere and secure a starting berth in his first career World of Outlaws A main.
With the big picture of completing the remainder of his rookie 410 Sprint Car season in mind, Hartmann pulled off early in the 40-lap main event and was credited with a 22nd place finish in a race won by Sheldon Haudenschild.
"Saturday started pretty much the same as Friday, as we qualified decent with the track conditions very different from Friday," Hartmann said. "In the heat race, the car felt good. I just have to work on getting better starts. However, we were able to hold our position on the slick track.
"In the LCS [Last Chance Showdown], I knew I had to get a good start and get up front," he said. "The car was great on the bottom. I tried to run on the top, but felt I was faster on the bottom. Honestly, qualifying for an Outlaws A main felt like a dream, but it was well deserved for my team, especially, Hunter Annis, who worked his butt off all day to get the car back together. The support I have behind me is incredible. I can't thank everyone enough. In the A main, I decided to pull off and not wreck anymore equipment. I'd like to specially thank Alex Bliesner, Ozzie Wesener and R&H Enterprises for all of their help during the weekend."
With the Bumper to Bumper Interstate Racing Association 410 Sprint Car Series off during the upcoming weekend, the next event for Austin Hartmann and the 87A Hartmann Racing Team with the IRA will be Thursday, June 30 for the Road America Challenge held in conjunction with the NASCAR Cup Series weekend at nearby Road America in Elkhart Lake, Wis.
Pit gates open at 2 p.m. with spectator gates opening at 4:30 p.m., qualifying at 6:30 p.m. and racing at 7 p.m.
Those unable to make it to track can follow all of the Bumper to Bumper Interstate Racing Association 410 Sprint Car Series action throughout the 2022 campaign via FloRacing by visiting https://www.floracing.com.
Additional information on the 87A Hartmann Racing team can be found by visiting the team's Facebook page – https://www.facebook.com/87Ahartmannracing.
The 87A Hartmann Racing team has assembled a strong group of partners in support of the team's maiden voyage with the Bumper to Bumper IRA Series, including Kristine Hartmann of Pleasant View Realty, Shufflebotham Tree Service, Call Girls Motorsports, Pallet Works LLC, AF Inc., Bennett Transport Inc., SCA Inc., Gretchen Tillman New American Funding, Classic Title Services, CP Services, Cobblestone Landscaping, Jensen Sales & Services, Lee's Color Studio, Dave's Fabrication, Racer's Hall Sports Bar and Grill, Feldmann Sales & Service, RC Custom Design, Hepfner Racing Products, Pit Road Apparel, the Bumper to Bumper Interstate Racing Association 410 Sprint Car Series and Sage Fruit.
The 87A Hartmann Racing team consists of Hunter Annis, Karlee Hartmann, Andrew Shufflebotham, Jarrett Neese and Kristine Hartmann.
87A Hartmann Racing Sponsor Showcase –
Cobblestone Landscaping
Headquartered at N5635 Willow Road in Plymouth, Wis., Cobblestone Landscaping LLC is a growing business, which offers a multitude of services, including lawn care, spring/fall cleanups, landscaping installation, hardscapes, mini excavation and much more.
To contact Cobblestone Landscaping, call 920-449-2049 or email cobblestonelandscapingllc@gmail.com.
Pedal Down Promotions is a full-service public relations and media services company devoted to helping its clients effectively communicate with targeted audiences through press releases, newsletters, profile and feature articles, website and social media content development, printed media, editing and layout, graphic design and book publishing services.
For more information on Pedal Down Promotions, email pedaldownpromotions@gmail.com, visit www.pedaldownpromo.com or call 920-323-7970.
Austin Hartmann 87A Hartmann Racing
2022 Season
By The Numbers
Total Events – 10
IRA Events – 10
World of Outlaws Events – 2
A Main Victories – 0
B Main Victories – 0
Top Five A Main Finishes – 0
Top 10 A Main Finishes – 0
Top 15 A Main Finishes – 2
Top 20 A Main Finishes - 4
Heat Race Victories – 0
Dash Appearances – 1
Dash Victories – 0
Austin Hartmann 87A Hartmann Racing
Upcoming 2022 Schedule
Thursday, June 30 – Plymouth Dirt Track, Plymouth, Wis. (IRA)
Friday, July 15 – River Cities Speedway, Grand Forks, North Dakota (IRA/NOSA)
Saturday, July 16 – River Cities Speedway, Grand Forks, North Dakota (IRA/NOSA)
Friday, July 22 – Outagamie Speedway, Seymour, Wis. (IRA)
Saturday, July 23 – Wilmot Raceway, Wilmot, Wis. (IRA)
---
Article Credit: Jeff Pederson-Pedal Down Promotions
Submitted By: Jeff Pederson
Back to News