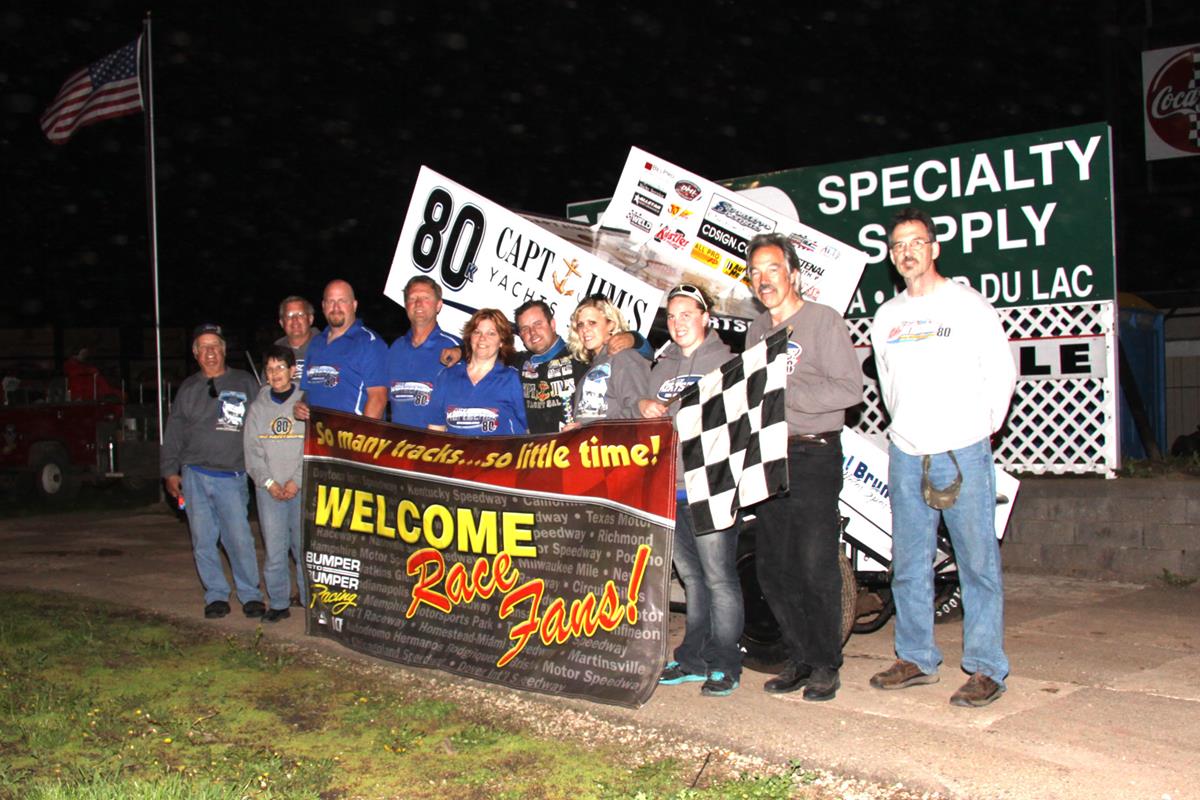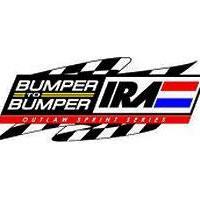 5/20/2013
IRA Interstate Racing Association
---
KERTSCHER FINDS REDEMPTION AT BEAVER DAM RACEWAY WITH BUMPER TO BUMPER IRA OUTLAW SPRINT VICTORY!
KERTSCHER FINDS REDEMPTION AT BEAVER DAM RACEWAY WITH BUMPER TO BUMPER IRA OUTLAW SPRINT VICTORY!
Rookie Jeremy Schultz Takes Second Straight Podium Finish!
Beaver Dam, WI, May 18, 2013 – Redemption! Mike Kertscher's #80k Winged 410 Outlaw Sprint flashed beneath the checkered flag first on a mild spring Saturday Night snaring his first victory of the 2013 racing season on the Bumper to Bumper IRA Outlaw Sprint tour. Gone was the sting from narrowly missing out on winning the first event of the season when he was edged out for the victory by Bill Balog in what many consider the closest margin of victory in series history.
In tonight's 30 lap A-main event at Beaver Dam Raceway things began to look eerily similar to the first race when Balog had methodically chased down Kertscher. Unlike three weeks earlier it was Kertscher with the upper hand and after a caution near the midpoint of the contest Kertscher simply kicked it up a notch motoring away from his rivals to take a convincing win in the 30 lap A-main event.
Balog would spend the closing laps of the contest watching Kertscher sail off into the distance having to defend his second spot from leading series rookie Jeremy Schultz who for the second straight event has secured a podium finish taking third behind Balog. In just a few races Schultz has shown the talent which may make him one of the future stars of the series.
Tonight's show was the second of the 2013 season of the Bumper to Bumper IRA Sprints which had had lost a pair of races to weather. Fans this evening were treated to mild temperatures on a nearly perfect evening at Beaver Dam Raceway's third-mile clay oval.
The 30 lap main event would see Kertscher blast from his pole position to the opening lead besting fellow front row starter Scott Neitzel for the top spot at the drop of the green flag. Matt Vandervere making his first start of the 2013 season slipped into the second spot before the completion of the first lap with Balog moving past Neitzel for third shortly thereafter.
As Kertscher began to open up a slim lead Balog began his quest to reach the front of the field dispatching Vandervere for the second spot by lap three.
Balog's job was now to reel in Kertscher as Vandervere was left to fight with Neitzel for the third position with the pair often running wing to wing. Kertscher's lead was down to less than a car length as he began to encounter lapped traffic just prior to lap ten, by making some solid choices in working the back markers, Kertscher was able to earn out a little breathing room. On lap 11 the first caution flag flew for an Allen Hafford spin in turn three.
Hafford whose car seemed to have trouble sticking to the racing surface produced a second spin moments later bringing out the second caution. Two more laps went in the books before visiting driver Jordan Goldsberry looped his mount in turn three creating the third and final caution period.
On each restart Kertscher left Balog in his wake and the final green flag would fly on lap 13 leaving the final 17 laps of the event uninterrupted. Kertscher again produced an excellent restart pulling away from Kertscher and never looking back. As the race began to wind down it became apparent the no one was able to match Kertscher's speed and in spite of lapped traffic over the final laps of the contest Kertscher was able to increase his cushion on Balog to a full straightaway by the checkered flag.
Coming off the final caution Schultz had moved past Neitzel for the third spot and spent a fair bit of time attempting to wrestle position two from Balog moving within striking distance on several occasions. Balog was able to repel the challenges to secure second with Schultz reaching the podium in third.
Neitzel was in the lead of the feature contest on opening night when his front suspension broke sending him nose first into the turn two wall rebounded this evening with a solid showing hanging onto fourth fending off the challenges of 2011 Wilmot Raceway champion Tommy Sexton in the final laps. Sexton who had captured the B-main earlier in the evening methodically worked his way from deep in the field up to fifth by the checkered flag.
Russel Borland, Wayne Modjeski, Scott Uttech, Steve Meyer and Bill Wirth comprised the top ten. 19 of the 22 starters were still on the racing surface when the checkered flag fell.
The B-main event produced the biggest heartbreak of the evening. 2012 series rookie Robbie Pribnow had made a brilliant charge through the field and was doing battle with Sexton for the lead on the final lap when he clipped a tire resulting in a flip in turn three. Pribnow climbed from his battered machine dejected but unhurt in the incident.
Sexton would then fend off Wirth for the victory in the contest. Phillip Mock collected third position followed by Jereme Schroeder and Nick Alden.
Earlier in the night heat race wins went to Dennis Spitz, Balog and Kertscher.
26 cars had checked in for qualifying this tonight with Sexton setting the pace turning in a lap of 14.106 seconds. Balog was second quick with a 14.142 second effort while Vandervere netted third quick time in his first showing of 2013 with a lap of 14.182 seconds.
The Bumper to Bumper IRA Outlaw Sprints now have several multi-event weekends ahead beginning next week Saturday evening May 25th making their first appearance of the season at the historic Wilmot Raceway, the birthplace of the IRA Sprints. The following night on Sunday May 26th the series travels to the 141 Speedway in Francis Creek, WI bullring for the first of two appearances at the track this season.
For more information on the IRA Outlaw Sprints check out the tour website at www.irasprints.com or logging onto the series Facebook page at www.facebook.com/irasprints
The IRA Outlaw Sprint Series is proudly supported by Bumper to Bumper Auto Parts & Service Centers, Hoosier Tire, Osborn & Son Trucking, TW Metals, Onan, Carriage Auto Body, Polaris DEFENSE, and Mother's Polishes and Waxes. The office of the IRA Sprints can be reached at 815-759-9269 or by e-mail at steve@irasprints.com
BOX SCORE:
Event: #2 Beaver Dam Raceway – May 18, 2013
30 Lap A-main: 1. #80k Mike Kertscher [1]; 2.) # 17b Bill Balog [4]; 3. #5j Jeremy Schultz [10]; 4. #2w Scott Neitzel [2]; 5. #83s Tommy Sexton [11]; 6. #23 Russel Borland [8]; 7. #14aj Wayne Modjeski [9]; 8. # 7 Scott Uttech [17]; 9. #85m Steve Meyer [16]; 10. #53w Bill Wirth 12]; 11 #7f Lance Fassbender [6]; 12. #10v Matt Vandervere [3]; 13. #1m Phillip Mock [18]; 14. #97 Todd King [7]; 15. #65 Jordan Goldsberry [14]; 16. #68 Dave Uttech [13]; 17. #43 Jereme Schroeder [19]; 18. #8a Nick Alden [20]; 19. #4k Kris Spitz [15]; 20. #41 Dennis Spitz - dnf [5]; 21. #38 Allan Hafford - dnf [21]; 22. #5w Bryon Walters - dnf [22]
12 Lap B-Main: 1. Sexton; 2. Wirth; 3. Mock; 4. Schroeder; 5. Alden; 6. Hafford; 7. Walters; 8. Chad Tessman; 9. Robbie Pribnow; 10. Darrell Dodd
First Heat: 1. D. Spitz; 2. Borland; 3. Schultz; 4. D. Uttech; 5. S. Uttech; 6. Wirth; 7. Sexton; 8. Walters; 9. Hafford
Second Heat: 1. Balog; 2. Goldsberry; 3. Modjeski; 4. Neitzel; 5. King; 6. Pribnow; 7. Alden; 8. Tessman; 9. Decker
Third Heat: 1. Kertscher; 2. Meyer; 3. Fassbender; 4. K. Spitz; 5. Vandervere; 6. Mock; 7. Dodd; 8. Schroeder
Qualifying (Top 10) 1. Sexton 14.106 Seconds; 2. Balog 14142 Seconds; 3. Vandervere 14.183; 4. Wirth 14.201; 5. Neitzel 14.282; 6. Kertscher 14.282; 7. Schultz 14.320; 8. Modjeski 14.341; 9. Mock 14.349; 10. Borland 14.365.
Next Event: Wilmot Raceway – Saturday Night, May 25, 2013
---
Article Credit: Jeffrey Sachse
Submitted By: Kim Tennyson
Article Media
Back to News