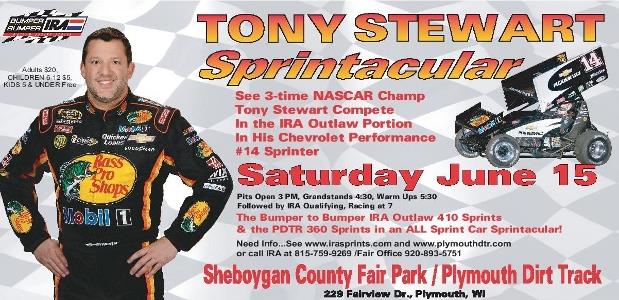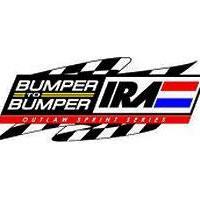 6/11/2013
IRA Interstate Racing Association
---
TONY STEWART TO TURN PLYMOUTH DIRT TRACK INTO A SMOKING ZONE!
TONY STEWART TO TURN PLYMOUTH DIRT TRACK INTO A SMOKING ZONE!!
Bumper to Bumper IRA Sprints To Be Challenged by "Smoke"!!
June 11, 2013, Plymouth, WI – Back in his dirt track days Tony Stewart earned the nickname "Smoke" for his hard charging driving style, known first for slipping the right rear tire during dirt races and then for blowing his engine often during his 1997 championship in the Indy Racing League. During his NASCAR career, Stewart once was told by team owner Joe Gibbs that he could no longer compete in races outside of his Sprint Cup obligations. Stewart worked around this by entering a USAC National Midget race under the pseudonym "Smoke Johnson" with the crowd at the track none the wiser. After winning the feature, "Smoke Johnson" got out of his car and revealed himself to the crowd under his real name.
Even with the success of three NASCAR Sprint Cup titles, "Smoke" likes to return to his roots, sling some clay … and win races.
Fans will have an opportunity to see Stewart compete with his Chevrolet Performance #14 machine in the Bumper to Bumper IRA Outlaw Sprint series portion of the program during the Tony Stewart Sprintacular on Saturday Night, June 15th at the Plymouth Dirt Track located at the Sheboygan County Fairgrounds. An accomplished dirt racer Stewart became the first driver to win USAC's version of the Triple Crown, earning championships in all three of USAC's major divisions, National Midget, Sprint, and Silver Crown in 1995 and to this day he continues to race dirt tracks a crossed American as often as possible.
Stewart will be facing the best of the Bumper to Bumper IRA Outlaw Sprints as the teams travel to the quarter-mile clay oval. Current series point leader and leading rookie of the year candidate Jeremy Schultz has called Plymouth Dirt Track his home having captured the 2012 championship at the track. Schultz is the only series driver to have finished in the top 10 in every IRA events so far in 2013. The victory tally so far this season through seven races has seen Bill Balog capture five wins, while Mike Kertscher has captured a pair of victories and Schultz though leading the standings is looking to earn his break through victory soon.
Other contenders looking to outrun Stewart this Saturday Night include series star Mike Reinke who made his season debut this last weekend at Beaver Dam Raceway, and Scott Neitzel who finds himself in the thick of the point battle for the 2013 season championship.
Other IRA heavy hitters including Tommy Sexton, Russell Borland, Phillip Mock, rookie title contender Lance Fassbender, cousins Dave and Scott Uttech, Todd King, Nick Alden, Wayne Modjeski and Bill Wirth.
Multi-time Plymouth Dirt Track champion Ben Schmidt is also expected to continue to test his skills with the IRA series as is Scott Thiel, both drivers have many years' worth of experience at the quarter-mile bullring.
The June 15th show at Plymouth Dirt Track will also include the tracks own 360 Sprints. Between the two open wheeled divisions nearly 60 sprint cars should be on hand for the program.
Pit gates will open at 3:00pm with the main gates opening at 4:30pm. Warm-ups are set to get underway at 5:30pm to be followed by Bumper to Bumper IRA Sprint Series qualifying. The first green flag of the evening is set to drop at 7:00pm.
General admission is $20 for adults, with a youth ticket being sold for $5 to fans ages 6 through 12. Children ages 5 and under are admitted FREE with a paid adult.
Event information can be found on the Plymouth Dirt Track website at www.plymouthdtr.com. The track is located on the Sheboygan County Fair Park grounds just south of Highway 23 on Fairview Drive.
For more information on the IRA Outlaw Sprints check out the tour website at www.irasprints.com or logging onto the series Facebook page at www.facebook.com/irasprints
The IRA Outlaw Sprint Series is proudly supported by Bumper to Bumper Auto Parts & Service Centers, Hoosier Tire, Osborn & Son Trucking, TW Metals, Onan, Carriage Auto Body, Polaris DEFENSE, and Mother's Polishes and Waxes. The office of the IRA Sprints can be reached at 815-759-9269 or by e-mail at steve@irasprints.com
---
Article Credit: Jeffrey Sachse
Submitted By: Kim Tennyson
Back to News