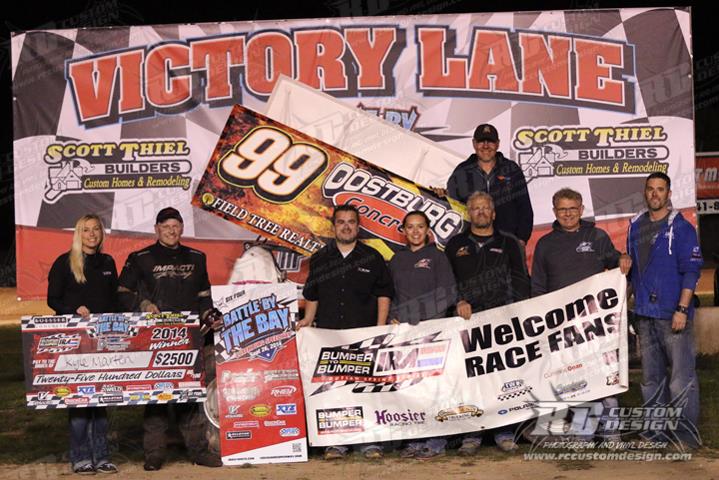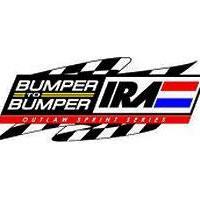 9/27/2014
IRA Interstate Racing Association
---
MARTEN MASTERS BUMPER TO BUMPER IRA SPRINTS – NEWCOMER COLLECTS 'BATTLE BY THE BAY' VICTORY AT LUXEMBURG!
MARTEN MASTERS BUMPER TO BUMPER IRA SPRINTS – NEWCOMER COLLECTS 'BATTLE BY THE BAY' VICTORY AT LUXEMBURG!
BALOG MISCUE SENDS TITLE CHASE TO FINALE AT DODGE COUNTY!
September 26, 2014; Luxemburg, WI – Some drivers wait years to collect their first Bumper to Bumper IRA Outlaw Sprint Series victory, others have chased an elusive A-main checkered their entire career. For newcomer Kyle Marten, that first victory came in a blink… in fact he's not even officially begun his rookie season in the highly competitive 410 sprints, that challenge that may be in store for 2015.
A graduate of area 360 sprint car ranks, Marten follows fellow standout pilots, Jeremy Schultz and Ben Schmidt as drivers to have reached the podium prior to their rookie seasons in IRA action.
Additionally Marten now joins Schultz, and Scotty Thiel, both with roots in the 360 sprints, to have collected checkered flags during a highly competitive 2014 season. To get the win this evening Marten was able to fend off challenges of Phillip Mock who had scored his first career series victory earlier this year.
Mock set the pace at the onset of the 30 lap A-main, handing the lead over to Marten while negotiating lapped traffic during the early portion of the race. Mock then kept the pressure on for the duration of the contest awaiting a slip by Marten, which never came.
When the checkered flag fell, Marten had a three car length advantage over Mock, placing his car in the winner's circle at Luxemburg Speedway, which last saw a sprint car in 2005 when Mike Kertscher had taken the victory.
2014 Knoxville Raceway champion Ian Madsen edged out Thiel for the final podium spot with a final corner pass.
"That was awesome! I was never expecting to win an A-main with the IRA this soon, I'm absolutely speechless", exclaimed Marten after climbing from his machine in victory lane after becoming the 10th different winner in IRA action this season. The win was very popular with the crowd at a track that last showcased 410 sprint cars nearly a decade ago.
A solid showing was just the medicine Mock needed. He had nabbed a pair of victories early in the season but was forced to the sidelines for a majority of the year after an engine failure strained the team's budget. "It feels pretty great after not really being in the car for two and a half months", Mock noted after earning his first podium since June. Mock then gave a solid endorsement to his fellow competitor Marten, "I have to give it up for the winner tonight. He moved up to the top sooner than I did, and was more aggressive through lapped traffic, overall it was just a good job by him (Marten)".
Tonight's show presented by Six-Four promotions, was the first promotional effort by Scotty Thiel and Jeff Bonilla. The event was a late season addition to the IRA schedule. It proved to be a successful event with fans already hopeful for its return next season. The program brought 410 sprint car racing to the track for the first time since 2005.
The other major storyline of the evening was extremes of fate for six-time, and defending IRA champion Bill Balog. Balog grabbed the headlines early, setting a new all-time track record in qualifying with a lap of 10.989 seconds, which equates to over 109mph on the modestly banked third-mile clay oval. However, Balog's evening went awry in the first lap of his heat race however when he garnered the distinction of becoming the first driver to get upside down during the show taking a wild tumble off turn four. With his car too badly damaged to continue Balog, and his team headed for home to prepare a car for the season finale at Dodge County Fairgrounds tomorrow night. So long as the team arrives for that show Balog should lock up his seventh consecutive IRA series title.
The field of 22 starters rolled trackside for the 30 lap A-main contest, giving the fans a three wide salute instead of the traditional four wide presentation, as a tribute to Scott Semmelmann who had passed away after injuries sustained in a racing accident last week.
Mock sat on the pole of the event with Marten to his outside. As the green flag fell, Mock surged into the lead, while Marten found himself having to fend off Thiel, and Schmidt.
Over the opening circuits Mock established himself in the lead spot while Marten settled into a rhythm in second. Schmidt was able to gain the advantage on Thiel securing third by lap two.
The lead pair of Mock, and Marten quickly caught the tail of the field as Mock began to weave through lapped machines. His progress halted temporarily, by a pair of lapped machines, running side by side, allowed Marten to close. Marten opted to try the high line past the lapped cars, a maneuver that allowed him to slip past Mock for the lead in the process on lap 7.
Once clear of lapped car Marten opened a small gap on Mock who soon had his hands full with Schmidt who had closed in on the lead duo.
Deeper in the field Terry McCarl who had won the B-main, and Madsen began to march forward. McCarl working up from his 11th starting spot cracked the top five on lap 12, and was marching forward.
That drive would come to a halt however just past the halfway point.
On lap 16 Blake Nimee had driveline issues that resulted in a spin into the infield. Slowing to avoid him, Todd King, making his first appearance of the year spun, and stalled, just in front of the leaders in turn two. Marten, Mock, and Schmidt managed to avoid King, but fourth running McCarl was unable to miss his stalled ride. The resulting contact dropped both King, and McCarl from the contest. Additionally Nimee was unable to refire his car resulting in all three leaving the race.
The contest resumed with Marten again showing the way, challenged by Mock, and Schmidt who had briefly darted by Mock for second.
On lap 19 Schmidt suddenly pulled into the infield giving up the third spot with another potential podium finish stolen from the hard charging rookie by mechanical gremlins that have negated several potential race-winning efforts this year.
Thiel now inherited the third spot trying to run down Marten and Mock who continued to show the way out front.
Marten appeared to have the race in hand when Schultz, and Steve Meyer locked horns while doing battle for the fifth spot on lap 28. The resulting contact sent Meyer onto his side and the red flag appeared as a result. Meyer was unhurt but unable to continue, while Schultz was able to return after some quick work by his crew. Under the red flag safety crews attended to a small oil fire on the machine of Bill Wirth who was comfortably inside the top ten. The fire was extinguished quickly, and Wirth was able to continue when the race resumed.
The race was now a two-lap dash to the checker with no lapped machines among the leaders. Marten, Mock, Thiel, Madsen, and Scotty Neitzel in the top five positions.
Wasting little time Marten was on the gas hard at the restart line gaining a small advantage in Mock. Thiel meanwhile had his hand full with Madsen, working hard to retain the final podium spot.
Marten's kept his foot firmly planted on the accelerator taking the victory. Mock's effort resulted in a second place run. On the final turn Madsen was able to sneak past Thiel for the final podium spot with Thiel having to settle for fourth. Neitzel's steady performance resulted in a fifth place effort.
Two-time series champion Travis Whitney earned the sixth spot just ahead of Bill Rose in seventh. Rose's season long consistency has resulted in his being a threat to steal the title from Balog as he currently ranks second in the season standings. The championship will be decided during the final event of the year with Balog still showing the way by a fairly comfortable margin but the gap has narrowed greatly over the past few weeks.
Wirth, Wayne Modjeski, and Kris Spitz comprised eighth through tenth in the final rundown.
17 of the 22 starters were still on the tack at the finish of the contest.
Earlier in the night Terry McCarl dominated the B-main for a convincing win over Dave Uttech, Scott Uttech, Russel Borland and Byron Walters in the top five. Wirth, King and Dennis Spitz also transferred as eight cars came from the B-main rather than the usual seven, when Mike Reinke was forced to scratch from the main event with engine ills.
Heat race wins were collected by Madsen, Neitzel and Kris Spitz.
The first heat race was especially chaotic with three red flags. Balog, Todd Daun and Borland all got upside down during the event. Of the three only Borland was able to continue, eventually making the main event.
Twenty eight cars had appeared for tonight's show, with 27 taking time. Raymond Hensley expired a motor in hot laps and was unable to take a qualifying lap. Balog's record setting lap of 10.989 seconds set the pace, followed by Schultz with a lap of 11.145 seconds. Whitney was third quick with an 11.170 second effort. The top 25 cars all qualified within a second of Balog's record pace.
Saturday night September 27th, the 2014 season will conclude at the Dodge County Fairgrounds. Known as the "Horsepower Half-mile", it's a high-speed finale, and a fitting conclusion to a successful 2014 season.
Balog has captured the last two events held at the raceway including the most recent show held back in June when he outran two-time series champ Travis Whitney, and Steve Meyer.
Two classes of sprint cars will take to the big track as the Bumper to Bumper IRA Outlaw 410 sprints will be joined by the MSA 360 sprint series with a full show of their own. Modifieds will also be on hand along with the Illinois Vintage Stock Cars. Vintage Mods and Stocks from Illinois, Wisconsin and Minnesota are expected.
Pits will open at 2:00pm, grandstands at 4:00pm, warm-ups will take place 5:30pm followed by IRA Qualifying and racing to follow shortly thereafter. Admission is $20 for adults and $5 for students ages 6 through 12. Children ages 5 and under are admitted FREE.
The Dodge County Fairgrounds is located on highway 33, just 2 miles east of Beaver Dam and just west of highway 26.
For additional information please see http://www.irasprints.com/ or http://www.dodgecountyfairgrounds.com/
IRA proudly concludes it's 2014 season backed by its long time supporting series partners led by title sponsor Bumper to Bumper Auto Parts & Service Centers, and associate series partners Osborn & Son Trucking, TW Metals, Hoosier Tire, Cedar Creek Motorsports, Cummins Onan, and Carriage Auto Body.
The Bumper to Bumper IRA Outlaw Sprints are a featured member of Racetext.net a website dedicated to bringing fans the best possible coverage of local short track racing.
For more information on the IRA Outlaw Sprints check out the tour website at www.irasprints.com or by logging onto the series Facebook page at www.facebook.com/irasprints the series is also on twitter at #IRA_sprints.
IRA Sprint Cars - IRA Interstate Racing Association
Event #23 – Luxemburg Speedway – Luxemburg, WI – September 26, 2014
IRA Sprint Cars | IRA Interstate Racing Association
"Battle By The Bay" A Feature (30 Laps): 1. 99-Kyle Marten; 2. 1m-Phillip Mock; 3. 18-Ian Madsen; 4. 64-Scotty Thiel; 5. 2w-Scotty Neitzel; 6. 16-Travis Whitney; 7. 6r-Bill Rose; 8. 53w-Bill Wirth; 9. 14aj-Wayne Modjeski; 10. 4k-Kris Spitz; 11. 5j-Jeremy Schultz; 12. Scott Uttech; 13. 68-Dave Uttech; 14. 43-Jereme Schroeder; 15. Dennis Spitz; 16. Byron Walters; 17. 85m-Steve Meyer-dnf; 18. 35-Ben Schmidt-dnf; 19. 23-Russel Borland-dnf; 20. 24-Terry McCarl-dnf; 21. 79-Blake Nimee-dnf; 22. 73-Todd King-dnf
Behling Circle Track B Feature (15 Laps): 1. 24-Terry McCarl; 2. 68-Dave Uttech; 3. 7- Scott Uttech; 4. 23-Russel Borland; 5. 5w-Byron Walters; 6. 53w-Bill Wirth; 7. 73-Todd King; 8. 41-Dennis Spitz; 9. 1-Paul Pokorski-dnf; 10. 94-Brandon Thone-dnf; 11. 70-Raymond Hensley-dnf; 12. 17b-Bill Balog-dns
Weld Racing Heat 1 (10 Laps): 1. 18-Ian Madsen; 2. 35-Ben Schmidt; 3. 99-Kyle Marten; 4. 14-Wayne Modjeski; 5. 02-Mike Reinke; 6. 23-Russel Borland-dnf; 7. 48h-Todd Daun-dnf; 8. 73-Todd King-dnf; 9. 17b-Bill Balog-ndf; 10. 70 Raymond Hensley-dns
Diversified Machine Inc. Heat 2 (10 Laps): 1. 2w-Scotty Neitzel; 2. 85m-Steve Meyer; 3. 1m-Phillip Mock; 4. 64-Scotty Thiel; 5. 5j-Jeremy Schultz; 6. 24-Terry McCarl; 7. 41-Dennis Spitz; 8. 94-Brandon Thone; 9. 53w-Bill Wirth
All Star Performance Heat 3 (10 Laps): 1. 4k-Kris Spitz; 2. 79-Blake Nimee; 3. 16-Travis Whitney; 4. 6r-Bill Rose; 5. 43-Jereme Schroeder; 6. 5w-Byron Walters; 7. 1-Paul Pokorski; 8. 7-Scott UIttech; 9. 68-Dave Uttech-dnf
Osborn & Son Qualifying (Top 10): 1. 17b-Bill Balog, 10.989; 2. 5j-Jeremy Schultz, 11.145; 3. 16-Travis Whitney, 11.170; 4. 02-Mike Reinke, 11.178; 5. 24-Terry McCarl, 11.227; 6. 5w-Byron Walters, 11.243; 7. 35-Ben Schmidt, 11.281; 8. 64-Scotty Thiel, 11.322; 9. 68-Dave Uttech, 11.373; 10. 99-Kyle Marten, 11.410
---
Submitted By: Jeffrey Sachse
Article Media
Back to News