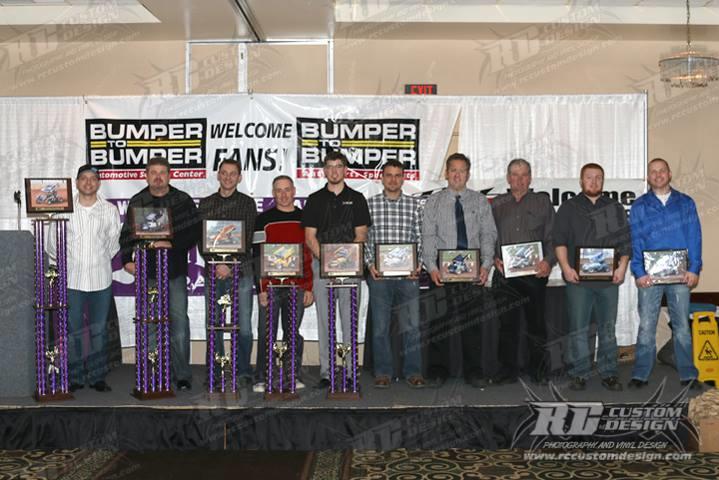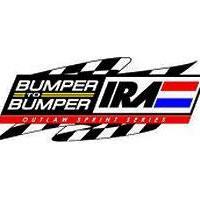 11/24/2014
IRA Interstate Racing Association
---
BALOG AND ROSE HEADLINE IRA HONOREES AT ANNUAL IRA GALA
BALOG AND ROSE HEADLINE IRA HONOREES AT ANNUAL IRA GALA
Brookfield, WI 11/22
The curtain officially closed on the 2014 edition of the Bumper to Bumper IRA Outlaw Sprint Series with their annual awards banquet, which this year was held at the Brookfield Suites & Convention Center located in suburban Milwaukee. A large enthusiastic group gathered to honor the twenty participation eligible teams. IRA again proved itself to be one of the most unique and successful organizations of any regional race series in existence, and the annual banquet always proves to be a testimonial of that. And this close knit group, which was founded in the 60's, has certainly demonstrated they can compete, and party, with the best!
Following cocktails and dinner, the festivities began with a music video tribute of the 2014 IRA campaign presented by Jeff Fischer of Grandstand Video. Prior to turning the emcee duties over to the colorful Ray Underwood, long time IRA President Steve Sinclair addressed the group, recognizing many who make the series the success it is. Sinclair presented Dedication Awards to series officials Fred Ebler and Kevin Spease, videographer Fischer, and to the father & son two-car team of (Dennis & Kris) Spitz Racing. Additionally with the assistance of photographer Rob Eisentraut of RC Design, and Justin Larson of Wingnatures, Sinclair recognized Underwood's spectacular work as "the voice" of the IRA with a pair of gifts. IRA's Tom Tennyson presented Brenda Lee Neitzel with an IRA Appreciation Award for her humanitarian fundraising efforts following the late season Scott Semmelmann tragedy. And Gil Radtke, founder of the Midwest Speedways Safety Team, presented IRA
safety team coordinator Lee Smith with the prestigious Rick Schmidt Memorial IRA Member of the Year Award, which brought Smith a well deserved and appreciative standing-ovation.
The comedic Underwood then conducted the point-fund presentation highlighted by Bill Balog's unprecedented 7th consecutive Bumper to Bumper IRA Sprint Series Championship. Balog who captured 11 IRA A-main wins and set 9 Osborn & Son Trucking fast times, collected a $10,000 check for his championship points effort, plus and an additional $500 from TW Metals for accumulating the most qualifying points throughout the season. Balog's night got even better when he won a new 2015 Maxim chassis in a drawing among Maxim users who finished in the top 10 in IRA series points and/or were 100% in series event participation. And of course Hoosier tire presented Bill with yet another championship jacket, though this one was embroidered to read, Bill Balog, 2008-2014 IRA Sprint Car Champion.
While Indiana's Bill Rose is a accomplished veteran racer and who finished runner-up to Balog in the IRA point chase, he is also considered an IRA "rookie" as he never competed with the series more than 8 times in any previous season per IRA rules. So it was a big, but strange, night for Rose also, as he grabbed second place points and money, plus a 100% participation bonus. And Rookie of the Year accolades of cash, hardware, Hoosier jacket, and a complete front-end assembly courtesy of R&H Enterprises. Additionally Rose & crew were recognized as the All-Star Performance Mechanic of the Year winners as the car completed every race but one.
9th place points finisher Russel Borland had his #23 J&J recognized as the Triana's Trophy Case / Mother's Polishes & Wax Best Appearing Car.
Jeremy Schultz's #5j team was awarded the RaceGear X Best Appearing Crew.
All eligible teams also participate in the very popular Contingency Product Drawing portion of the awards banquet, in where prize packages are made up equaling the number of eligible teams and a random draw for selection order is held to determine the picking sequence from the large prize closet. 19th place points finisher Jereme Schroeder pulled draw position number one picking a HRP top & nose wing combo which included a replacement program good for up to 3 more wings. 10th place Jeremy Schultz chose second selecting a pair of All Pro Cylinder head castings & $500 worth of Lucas Oil products. 17th place finisher Scott Biertzer chose third and selected a 2015 Maxim frame, and so on down the line. Other parts and pieces included in the package drawing included; Velocity wing combos, Weld wheels and hubs, DMI drive line and hub/spindle/king pin kits, Wilwood brake kits, Bell helmets, Hoosier tires, Impact helmets, MSD ignition box and wires, Maxim
parts, Afco shocks, Superior rod ends & bearings, Super Shox, M&W mfg, FK rod ends, HRP wings & products, Schoenfeld headers, Design 500 "carbon X" underwear, with other certificates and product provided by Quarter Master, All Star, Brodix, J&J, Behling, Simpson, Outerwears, Auto Meter, WIX, R&H, Design 500, Saldana, Pyrotect, Winters, Hilborn, Competition Specialists, Buege, Mason, UltraShield, and Karavan Trailers.
Following the drawing which concludes the formal aspects of the award presentation, music and dancing kept many til the early morning hours. IRA would like to thank Kim Tennyson for coordinating the entire event.
IRA would like to thank Bumper to Bumper Auto Parts & Service Centers, Hoosier Tire, Osborn & Son Trucking, TW Metals, Cummins Onan, Cedar Creek Motorsports (Polaris), and Carriage Auto Body for their support, whom without none of this would be possible.
We wish everyone a happy and joyous holiday season. A 2015 race schedule consisting of approx 30-35 events will be released soon, with racing to begin on April 18th.
---
Submitted By: Kim Tennyson
Back to News