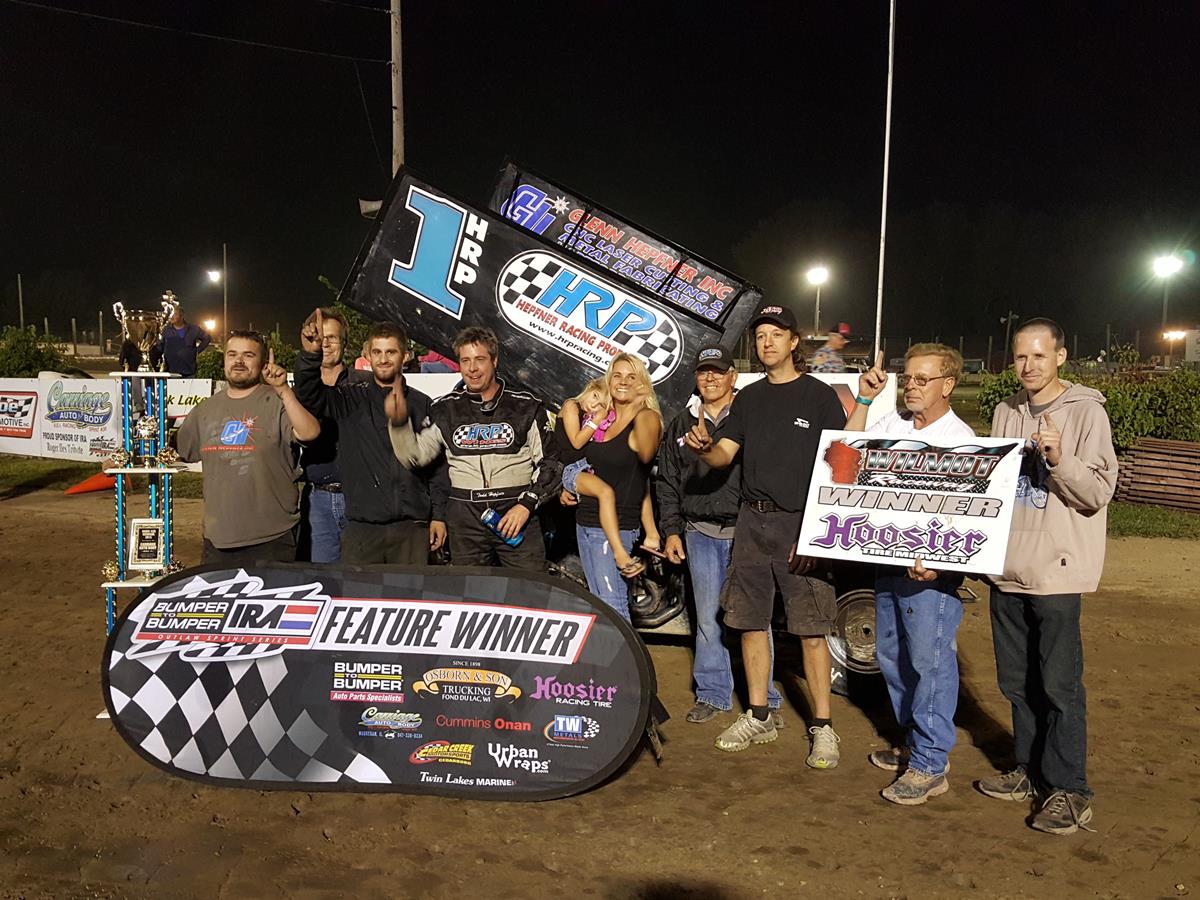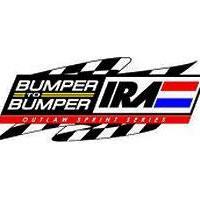 8/24/2015
IRA Interstate Racing Association
---
TODD HEPFNER MAKES TRIUMPHANT RETURN TO RACING, COLLECTS ROGER ILLES MEMORIAL EVENT AT WILMOT!
13 DIFFERENT DRIVERS HAVE NOW TAKEN WINS IN BUMPER TO BUMPER IRA SPRINT ACTION IN 2015!
August 22, 2015; Wilmot, WI – So you just complete building a new sprint car and decide to come off a driving hiatus. What's next? How about putting that new car in victory lane at one of the most prestigious events on the 2015 schedule.
Todd Hepfner did just that. His crew was putting on the finishing touches on a newly constructed 410 sprint and the machine made it's debut by having it's photo take in the winner's circle.
Hepfner a standout performer on the IRA series tour several years ago, had basically stepped into retirement to concentrate on operating the family business.
After subbing sporadically behind the wheel of Brandon Thone's machine Hepfner got the itch to do a bit more racing, and this evening's victory was the first fruit of that effort.
Did I mention he picked up a cool $3,600 in the process for winning the 36-lap A-main to help pay for that new car?
The main event roared into action with a starting field of 24 cars. Hepfner who had started outside the front role got the jump on pole-sitter Russel Borland.
By the conclusion of the first lap Borland found himself in the third position as Blake Nimee, has made his way into the runner-up slot
Ryan Irwin looped his car between turns three and four on the third circuit forcing the first caution of the contest.
When action resumed Hepfner was back to showing the way, shadowed by Nimee. The lead duo pulled out to a eight car length advantage on third running Borland.
By lap nine the lead cars began to encounter lapped traffic and just ad the leaders encountered the back markers the yellow flew again as Matt Vandervere came to a halt in turn two with front suspension damage.
This time when racing began Nimee caught Hepfner and will a well times slider he took the lead. The pass however was negated when last night's A-main winner Jordan Goldesberry came to a halt.
On the next restart Hepfner managed to a clean getaway moving out to a slim lead over Nimee. As the halfway point of the contest was reached Borland remained in third just ahead of title contenders Bill Rose and Ben Schmidt.
After falling back early in the contest Mike Reinke cracked the top five on Lap 19.
A spin by Michael Decker slowed the pace on lap 27 bunching the field once again.
On the restarted Borland looped his ride while running third after some contact with Rose.
The yellow would be the last slowdown of the event.
With the green flag again waving in the air Hepfner pulled off an excellent restart while Nimee experimented with some new lines in an attempt to repass Hepfner. Unfortunately for Nimee both Rose and Reinke were able to bake third way by into second and third, dropping Nimee to the fourth slot.
Over the final circuits Hepfner was able to pull away from the field making his way to the checkered flag by nearly a straightaway. Rose held fast to second in spite of intense pressure from Reinke of the final circuits. Reinke had to settle for third place followed by Nimee and Schmidt.
Scotty Theil earned a sixth place run this evening as a follow-up to his second place performance last night. Neitzel held onto seventh followed by Josh Walter who earned his first career fast qualifying effort this evening.
Raymond Hensley and Jeremy Schultz completed the top ten runners.
Earlier in the night a hotly contested B-main filled the final four spots of the featured contest.
Goldesberry made a late race pass on Irwin to grab top honors in that contest. Phillip Mock and Michael Decker were the final transfer cars. Rick Kelsey finished fifth just missing the show.
Heat race wins were taken by Hepfner, Reinke, Rose and Wirth.
Walters was able to orbit the third mile clay oval in 14.699 seconds during qualifying to take top honors. Reinke was second quick with a lap of 14.457 seconds, with Nimee third quick at 14.513 seconds.
The final race of a intense three-race weekend will take place at Angell Park Speedway with the show running as part of the annual Corn Fest.
One of the longest running tracks in the national, Angell Park Speedway has a deep tradition with it's annual Sweet Corn Festival show which is presented by the Sun Prairie Chamber of Commerce. This year the IRA Sprints have been invited to become part of the Corn Fest tradition.
Fans attending the show at Angell Park Speedway will see IRA Sprint Cars, Badger Midgets, and Wisconsin Legends. Front gates open at 4:30pm, Hot Laps at 6:00pm with racing following Hot Laps. Front Gates Open at 4:30pm. General Admission: $20.00; Students 12 to 18: $15.00; Kids Under 12: FREE
To reach the track, take the Highway 19 exit East off of Highway 151. Head through the town of Sun Prairie. On the east side of town take County Trunk N (Grove Street) south one block to Miller Drive. Turn onto Miller Drive and you will see the raceway.
Additional information can be found at www.angellparkspeedway.com
At each of the events nearly 30 sprint cars are expected to be in attendance including IRA series regulars, Scotty Thiel, Blake Nimee, Scott and Dave Uttech, Mike Reinke, Phillip Mock, Russel Borland, Kris and Dennis Spitz, Wayne Modjeski, Bill Wirth, Steve Meyer, Scott Biertzer, Jereme Schroeder, Michael Decker and Allen Hafford.
Rookie of the year candidates Kyle Marten, Rick Kelsey and Josh Walter will also be in attendance as they continue their own private battle for rookie honors.
Seven-time series champion Bill Balog will also be in attendance at the Angell Park event as he seeks his fifth win of the 2015 racing season in IRA competition.
For more information on the IRA Outlaw Sprints check out the tour website at www.irasprints.com or by logging onto the series Facebook page at www.facebook.com/irasprints the series is also on twitter at #IRA_sprints.
The IRA Sprints are presented by its long time supporting series partners. The series support is led by title sponsor Bumper to Bumper Auto Parts & Service Centers, and associate series partners Osborn & Son Trucking, TW Metals, Hoosier Tire, Cedar Creek Motorsports, Cummins Onan, and Carriage Auto Body.
2015 Bumper to Bumper IRA Outlaw Sprints Upcoming Events:
8/23/2015 Angell Park Speedway – Sun Prairie, WI
8/29/2015 LaSalle Speedway – LaSalle, IL – w/MOWA
8/30/2015 Angell Park Speedway – Sun Prairie, WI – w/NSL
---
Submitted By: Jeffrey Sachse
Back to News