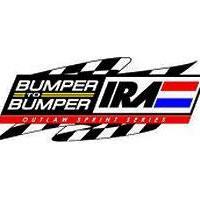 8/30/2015
IRA Interstate Racing Association
---
ROGER CROCKETT AMBUSHES BRAD LOYET FOR BILL WAITE JR. MEMORIAL WIN IN BUMPER TO BUMPER IRA SPRINT ACTION AT LA SALLE!
SCHMIDT'S MECHANICAL HAVOC PUTS POINT CHASE IN FLUX!
August 29, 2015; LaSalle, IL – It was fitting that the completely unpredictable nature of the Bill Waite Jr. Memorial Night played into a dramatic last lap pass for victory. In a program challenged by weather a solid turnout of fans would witness Roger Crockett of Medford, Oregon ambush Brad Loyet of Sunset Hills, MIssouri with less than two laps to go in the 30 lap headliner.
With $4,000 on the line Crockett used lapped traffic, and a daring three wide outside pass to steal the lead from Loyett, and then fend off Loyet's attacks the final circuit to capture the contest. Jeremy Schultz nailed down the final podium spot eight car lengths back but made major progress in the title hunt with the best finish of those in the championship chase.
Crockett, a multi-time ASCS Northwest champion, and a winner on the World of Outlaws tour drove the potent Hans Lien owned machine often wheeled by seven-time IRA champion. No stranger to dramatic finishes Crockett had won his first career World of Outlaw's win last season after blowing a tire in the final turns and holding on for victory.
Tonight's win, which was Crockett's first in Bumper to Bumper IRA Outlaw Sprint action made him the 14th different winner in IRA action this season.
Loyet was visibly dejected during post race ceremonies after having wrestled the early lead from Kody Kinser, and then pacing most of the contest. Lapped traffic over the final circuits had allowed Crockett to close, and eventually make the daring pass for the lead.
The 2015 title efforts of point leader Ben Schmidt encountered what can only be described as mechanical havoc. During the initial push off for the evening the driveline on his primary car failed, and a backup machine was used for hot laps. The engine expired in that ride during the hot lap session, and a motor swap was made to make the heat race. In the heat Schmidt struggled with ignition troubles that forced Schmidt into the B-main where he dropped from the contest finishing dead last. The team headed home to regroup for Sun Prairie on Sunday evening after suffering an oppressive sting of mechanical ills this evening.
Bill Rose, Schmidt's closest competition in the title chase had an off night. Though he made the feature he was relegated to a 14th place run, an unusual spot in the finishing order for Rose who has finished all but three events in the top ten this season, still that effort should place Rose into the point lead. Third place point man Scotty Neitzel recorded a solid seventh place finish, but it was Schultz with a third place run and Scotty Thiel with a fifth place performance who made the most ground up on Schmidt.
A field of 24 drivers accepted the green flag for the 30-lap Bill Waite Jr. Memorial A-main with polesitter Kody Kinser, a second cousin to the legendary Steve Kinser taking the opening lead. Fellow front row starter, and Rookie of the Year contender Kyle Marten quickly dropped back in the field.
Loyet found himself in the second spot, and had started to pressure Kinder for the lead when the race was halted for a grinding end over end flip by the evening's fast qualifier Parker Price Miller on lap three. Miller had slammed the wall in turn one while running the high side tumbling several times before coming to a halt in turn two. He was able to be assisted from his car and was checked out at the track otherwise unhurt. Miller, who had a very fast car, won the B-main with a dramatic last lap pass. Miller had also won in IRA competition this year with a victory at Sun Prairie.
Only two more laps went in the books when Trey Datweiler spun standing his car on end. His errant machine was unable to be avoided by Scott Uttech, and the impact resulted in heavy damage to both machines. Both drivers were unhurt in the second red flag incident of the event.
Action resumed with Kinser again showing the way and heavy pressure being applied by Loyet. Schultz ran solidly just behind the leaders in third followed by Scott Neitzel.
Deep in the field Crockett was charging from his 12th place starting spot reaching the top five by lap eight. He then maneuvered past Neitzel for the fourth position before the tenth circuit.
Out front Kinser had his hands full with Loyet as the leaders worked lapped machines. A miscue among lapped cars would involve Kinser dropping him from the lead when he spun in turn four on lap 12. The resulting caution was the final slowdown of the contest.
This put Loyet in the lead for the restart, and he quickly pulled away from the field as the green flag fell. Schultz was able to give chase from the second spot having to both fend off Crockett while trying to figure out how to close on Loyet.
Loyet was able to break away as the final ten laps arrived, and Schultz was no longer able to fend off Crockett who made is way into second with four laps to go.
Darting in and out of lapped machines Crockett quickly closed on Loyet, and with two laps to go he made a maneuver to the high side of both Loyet, and lapped car in turn two. Running in "no mans land" Crockett was able to maintain control of his car and power past both drivers with the lead taking the white flag in the top spot. Loyet attempted to go low in the next set of turns but was unable to find momentum to retake the lead. Crockett made it to the checker first by less than a car length. Loyet had to settle for second followed by Schultz.
Logan Forler had methodically chased the leaders all evening, and worked into the fourth spot near the mid-portion of the contest capping a solid night of racing.
Fifth place swapped hands between Blake Nimee, and Scotty Thiel on several occasions with Thiel gaining the upper hand during the final laps of the event to earn fifth. Nimee garnered the sixth spot followed by Neitzel. Marten finished best among the Rookie of the Year contenders with an eighth place performance. Wayne Modjeski, and Phillip Mock completed the top ten.
17 of the 24 starters were still running at the finish.
An impressive 20 car field fought for the final transfer spots in the B-main which ran 15 laps. Parker Price Miller made a surprise last lap pass on Crockett for the victory. Both drivers had difficulty passing in their heats but were in prime form in both main events. A.J. Bruns, and Todd King finished third and fourth respectively to make the show. Russel Borland made several attempts to wrestle the final transfer spot from King but had to settle for fifth and was the first alternate for the main event.
Heat races were captured by Modjeski, Forler, Paul Neinhiser and Thiel.
40 cars attempted to qualify in this evening with Price Miller sitting atop the standings with a blistering lap of 11.398 seconds. Crockett was second quick with a 11.403 second effort and King making the most of his limited appearances this year turned in an impressive third quick with a lap of 11.439 seconds.
The series now heads back to it's home state of Wisconsin to try and fend off the best of the National Sprint League at Angell Park Speedway on Sunday evening. The IRA vs NSL Shootout will showcase top NSL regulars Danny Lasoski, Ian Madsen, Tim Kaeding, Terry McCarl, and a host of others taking on IRA's best which will also include Blake Nimee, Phillip Mock, Scott Uttech, Mike Reinke, Dave Uttech, Russel Borland, Kris and Dennis Spitz along with IRA rookie contenders Kyle Marten, Josh Walter and Rick Kelsey, and other IRA hopefuls. Point leaders Bill Rose, Ben Schmidt, Scotty Neitzel, Jeremy Schultz and Scotty Thiel will continue their battle for the 2015 season crown.
Plus it should be mentioned that Balog will be making an appearance at a track where's he's scored wins in three different classes. Balog has won with both IRA, and NSL this season question is which series claims the win if Balog is victorious?
Fans attending the show at Angell Park Speedway will also see the Badger Midgets in addition to the full sprint car program. Front gates open at 4:30pm, Hot Laps at 6:00pm with racing following. General Admission: $25.00; Students 12 to 18: $20.00; Kids Under 12: FREE.
To reach the track, take the Highway 19 exit East off of Highway 151. Head through the town of Sun Prairie. On the east side of town take County Trunk N (Grove Street) south one block to Miller Drive. Turn onto Miller Drive and you will see the raceway.
Additional information can be found at www.angellparkspeedway.com
For more information on the IRA Outlaw Sprints check out the tour website at www.irasprints.com or by logging onto the series Facebook page at www.facebook.com/irasprints the series is also on twitter at #IRA_sprints.
The IRA Sprints are presented by its long time supporting series partners. The series support is led by title sponsor Bumper to Bumper Auto Parts & Service Centers, and associate series partners Osborn & Son Trucking, TW Metals, Hoosier Tire, Cedar Creek Motorsports, Cummins Onan, and Carriage Auto Body.
2015 Bumper to Bumper IRA Outlaw Sprints Upcoming Events:
8/30/2015 Angell Park Speedway – Sun Prairie, WI
9/6/2015 1 41 Speedway – Francis Creek, WI
9/11/2015 Amsoil Speedway – Superior, WI
9/12/2015 Cedar Lake Speedway – Cedar Lake, WI
9/19/2015 Beaver Dam Raceway – Beaver Dam, WI
---
Submitted By: Jeffrey Sachse
Back to News