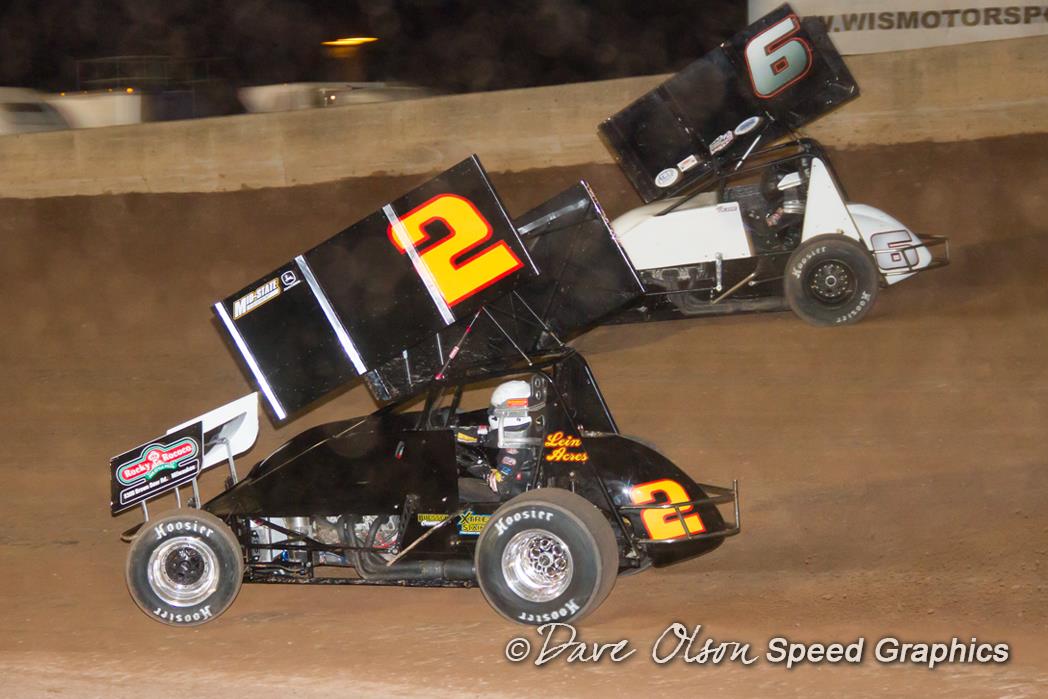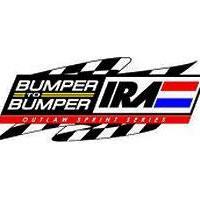 9/3/2015
IRA Interstate Racing Association
---
BUMPER TO BUMPER IRA OUTLAW SPRINT SERIES BRINGS TITLE CHASE TO 'THE CREEK' THIS SUNDAY NIGHT!
ROSE TAKES OVER POINT LEAD AS A HALF-DOZEN DRIVERS VIE FOR SERIES TITLE!
September 3, 2015; Appleton, WI – In racing, by the time the final events of a season are reached the battle for a championship often comes into focus with a couple drivers doing battle for the title. In the IRA Bumper to Bumper Sprints there are a half-dozen drivers legitimately in contention for the championship in one of the wildest point battles in series history.
This Sunday evening 141 Speedway will bring the spectacle of open wheeled racing to the quarter-mile bullring in Northeastern, Wisconsin. While 900 horsepower winged sprints are enough to satisfy and race fan, the point battle that will come with this event ramps up the intensity even more.
Just a month ago it appeared two drivers, Bill Rose of Plainfield, Indiana, and Ben Schmidt of Plymouth, Wisconsin were on the verge of pulling away for a private tussle atop the standings. With a combination of luck, and some epic late season charges by the competition a mere 135 points separate the top six competitors. It's not just a Rose Vs. Schmidt battle anymore.
Rose now sits atop the stack. Remarkable consistency has been the key to the success of Rose in Bumper to Bumper IRA Outlaw Sprint competition. Battle hardened by years on the road with the World of Outlaws, Rose became a full-time competitor on the IRA tour last year. He made an immediate impact keeping the pressure on Bill Balog in the series standings, and starting every A-main event. The end result was a runner-up point finish, and a Rookie of the Year title. This season Rose has continued his consistency, being one of just three drivers to start every A-main this year. The other two, Scotty Neitzel, and Blake Nimee are also in the championship battle.
If there is one thing Rose would like to change in his performance it would be making his way to victory lane with a checkered flag in hand. Of all the accolades Rose has earned, the one thing that has eluded him is a victory. He's finished runner-up on four occasions, and has recorded 17 top five finishes in the past two years. For Rose a win now would help bring the title into focus.
Schmidt sits 13 markers back from Rose. It was and unbelievable sting fate had given Schmidt, and the Rhine Auto Motorsports team for which he drives that resulted in three failed powerplants in one weekend. Schmidt had led the standings heading into a double-header weekend one week ago, but a combination of misfortune left Schmidt unable to compete in any main event as engine troubles plagued him throughout the weekend. As a result Schmidt dropped to second in the standings but remains the closest competitor to Rose in the title hunt. With multiple 360 sprint championships under his belt Schmidt is used to the pressure of a championship hunt, and has remained focused of the championship.
This weekend he will pilot a car owned by Chris Hartnell Motorsports while his own team regroups. Hartnell's machine has proven capable of reaching victory lane, and it's that kind of effort that Schmidt now needs to get back atop the standings. One other note, the final event of the season will take place at the Sheboygan County Fairpark, in Plymouth, Wisconsin, it is Schmidt's home track where he began his racing career. Bad luck aside Schmidt still looks like the primary rival to Rose in the championship.
Scotty Neitzel comes to 141 Speedway just 40 points out of first place. A former two-time series champion, Neitzel has been methodical in cutting the point gap. His patience, and persistence have positioned him to be the primary threat to both Rose, and Schmidt as the season's final events loom near. Having one of his best season's in recent history Neitzel has already nailed down a victory, he has started every A-main, and has recorded 13 top ten finishes. His well maintained machines have performed flawlessly, and has driving has been focused, a third series title is well within grasp of the seasoned veteran, and a 2015 championship trophy could be in his hands after the final checkered falls.
In fourth place is the hard charging Jeremy Schultz. Schultz has been a "hammer down on running the cushion" racer since joining the series. At times it's been successful, netting him a runner-up point finish and the 2013 Bumper to Bumper IRA Outlaw Sprint Series Rookie of the Year title. It's also won him a Wilmot Raceway championship, and a couple 360 sprint titles. On the other hand it has created some misfortune resulting in a few accidents that drastically slowed his 2014 racing season. This year Schultz's hard driving has allowed him to capture a pair of victories, and has made it possible to close the gap on the point leaders. He now sits 56 markers from the top of the standings. If his hard charging style keeps putting him on the podium will it result in a season title? The next few weeks will tell the tale.
Scotty Thiel has had a remarkable run the past month. Only a DNF at the most recent event at Sun Prairie has slowed a relentless pace that has allowed him to close within 71 markers from the top of the standings. Thiel had cranked out five top five finishes in six races until the snafu at Sun Prairie. The end result is Thiel went from being a dark horse in the title chase to a legitimate treat for the championship. If he gets back on track with the podium finishes Thiel could find himself atop the standings in a couple of events.
Does the title rest among those in the top five? Perhaps not. Blake Nimee had proven that when the pressure is on he responds. In several co-sanctioned events when the Bumper to Bumper IRA Sprints have been joined by the National Sprint League or All-Star Circuit of Champions, and the big names of open wheel racing at the track it's been Nimee performing best to bring the IRA some notoriety. He's been the only IRA driver to crack the top ten in both events, and he earned a respectable fifth with the All-stars. He's also won twice in IRA competition this year, and as the season has gone on his driving had become more focused, and relentless. He's currently sitting 135 points back. A fair amount of points to make up, but by capturing a win or two with the pressure on it's a possibility that Nimee could rise to the top of the standings.
Racing will take place on Sunday with the IRA Sprint Cars make their return to 141 Speedway for the first time in a year after a rainout this May. Bill Balog won the most recent event a year ago, chased to the finish by Mike Reinke and Schultz.
In addition to the drivers mentioned above in the title chase, over two-dozen drivers are expected for the event including Phillip Mock, Scott and Dave Uttech, Kris and Dennis Spitz, Russel Borland, Mike Reinke, Steve Meyer, Wayne Modjeski, Bill Wirth, Michael Decker, Jereme Schroeder and a host of others.
The 2015 Rookie of the year chase also continues with current leader Kyle Marten who is being pressured by Rick Kelsey and Josh Walter for rookie honors.
The Bumper to Bumper IRA Outlaw Sprints will be joined by INEX Legends, Grand Nationals, and Street Stocks. Gates will open at 4 pm with Racing at 6 pm.
Adults tickets are $20.00, with Student tickets being available for $15.
Additional information can be found at www.141speedway.com. The track phone is (920) 863 3377. For further information call (920) 905 1112. 141 Speedway is located 15 minutes south of Green Bay on County "R" in Francis Creek.
For more information on the IRA Outlaw Sprints check out the tour website at www.irasprints.com or by logging onto the series Facebook page at www.facebook.com/irasprints the series is also on twitter at #IRA_sprints.
The IRA Sprints are presented by its long time supporting series partners. The series support is led by title sponsor Bumper to Bumper Auto Parts & Service Centers, and associate series partners Osborn & Son Trucking, TW Metals, Hoosier Tire, Cedar Creek Motorsports, Cummins Onan, and Carriage Auto Body.
2015 Bumper to Bumper IRA Outlaw Sprints Upcoming Events:
9/6/2015 141 Speedway – Francis Creek, WI
9/11/2015 Amsoil Speedway – Superior, WI
9/12/2015 Cedar Lake Speedway – Cedar Lake, WI
9/19/2015 Beaver Dam Raceway – Beaver Dam, WI
9/25/2015 Luxemburg Speedway – Luxemburg,WI
---
Article Credit: Jeffrey Sachse
Submitted By: Jeffrey Sachse
Back to News