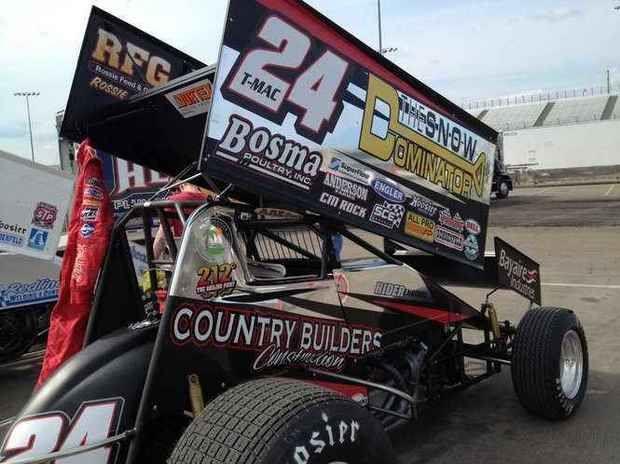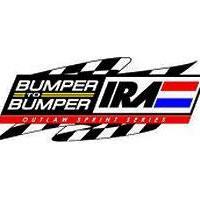 9/13/2015
IRA Interstate Racing Association
---
McCarl Passes Brown for Third Richert Triumph
By Justin Zoch,
September 12, 2015: In a feature event that saw just one yellow flag, Terry McCarl used savvy and veteran patience to track down Brian Brown to take the 15th Annual Jerry Richert Memorial at Cedar Lake Speedway on Saturday night. It was the third time the Altoona, Iowa, driver had driven to victory in the prestigious event but the first time since 2004. The show was co-sanctioned by the Bumper to Bumper IRA Sprints and the FVP National Sprint League and drew a great field of 39 Sprint Cars.
On the original start, Brian Brown raced from outside row number one to out duel polesitter Tim Kaeding for the lead. Tasker Phillips spun early in the race to bring out a yellow flag but that would be the last stoppage. Near the midway point, McCarl started closing the gap on Brown and then pounced on a slight miscue by Brown in turn two with a turn three slide job to take the top spot.
Brown repassed McCarl briefly but could never make it stick and the veteran McCarl drove away from him to win the 30-lap feature and the $3,500 winner's check. Brown held on for second of Bronson Maeschen, Tim Kaeding and Bill Balog. McCarl's win pushed the IRA streak of new winners to 16 consecutive races.
Heat races were won by Steve Meyer, Blake Nimee, Lynton Jeffrey and Craig Dollansky while Bill Balog was the first car out on the track and set quick time over the 11.141. Tasker Phillips prevailed in the B-main, which saw IRA Rookie of the Year contender Kyle Marten take a wild ride down the frontstretch. He was uninjured but it was not the ending he was hoping for in his Cedar Lake Speedway debut.
Bumper to Bumper A main (30 Laps): 1. 24-Terry McCarl[3]; 2. 21-Brian Brown[2]; 3. 96-Bronson Maeschen[4]; 4. 3-Tim Kaeding[1]; 5. 17B-Bill Balog[6]; 6. 2-Danny Lasoski[5]; 7. 18-Ian Madsen[12]; 8. 2KS-Craig Dollansky[7]; 9. 17W-Bryan Clauson[15]; 10. 12K-Lynton Jeffrey[10]; 11. 55-Brooke Tatnell[16]; 12. 02-Mike Reinke[18]; 13. 2B-Roger Crockett[20]; 14. 79-Blake Nimee[8]; 15. 85M-Steve Meyer[9]; 16. 56N-Davey Heskin[17]; 17. 19P-Paige Polyak[11]; 18. 17A-Austin McCarl[14]; 19. 09-Matt Juhl[19]; 20. 35-Ben Schmidt[24]; 21. 5J-Jeremy Schultz[23]; 22. 7TAZ-Tasker Phillips[13]; 23. 2W-Scott Neitzel[22]; 24. 73-Todd King[21]
Behling Racing Products B main (15 Laps): 1. 7TAZ-Tasker Phillips[2]; 2. 19P-Paige Polyak[1]; 3. 5J-Jeremy Schultz[4]; 4. 35-Ben Schmidt[8]; 5. 1M-Phillip Mock[7]; 6. 4W-Matt Wasmund[10]; 7. 23-Russell Borland[15]; 8. 19-Chase Viebrock[9]; 9. 6-Bill Rose[3]; 10. 11K-Rick Kelsey[11]; 11. 12W-Josh Walter[17]; 12. 4K-Kris Spitz[14]; 13. 14AJ-Wayne Modjeski[13]; 14. 12-Michael Decker[18]; 15. 2-Danny Lasoski; 16. 99-Kyle Marten[6]; 17. 68-Dave Uttech[12]
Weld Racing Heat 1 (10 Laps): 1. 85M-Steve Meyer[1]; 2. 09-Matt Juhl[2]; 3. 56N-Davey Heskin[3]; 4. 24-Terry McCarl[5]; 5. 17B-Bill Balog[6]; 6. 7TAZ-Tasker Phillips[4]; 7. 19-Chase Viebrock[8]; 8. 14AJ-Wayne Modjeski[9]; 9. 12W-Josh Walter[10]; 10. 7-Scott Uttech[7]
DMI Heat 2 (10 Laps): 1. 79-Blake Nimee[1]; 2. 2B-Roger Crockett[2]; 3. 02-Mike Reinke[3]; 4. 21-Brian Brown[5]; 5. 17A-Austin McCarl[4]; 6. 19P-Paige Polyak[6]; 7. 99-Kyle Marten[7]; 8. 4W-Matt Wasmund[8]; 9. 4K-Kris Spitz[9]; 10. 12-Michael Decker[10]
BR Motorsports Heat 3 (10 Laps): 1. 12K-Lynton Jeffrey[2]; 2. 2-Danny Lasoski[6]; 3. 3-Tim Kaeding[5]; 4. 17W-Bryan Clauson[4]; 5. 2W-Scott Neitzel[1]; 6. 6-Bill Rose[3]; 7. 1M-Phillip Mock[7]; 8. 23-Russell Borland[9]; 9. 11K-Rick Kelsey[8]
Heat 4 (10 Laps): 1. 2KS-Craig Dollansky[1]; 2. 55-Brooke Tatnell[4]; 3. 96-
Bronson Maeschen[6]; 4. 73-Todd King[2]; 5. 18-Ian Madsen[5]; 6. 5J-Jeremy Schultz[3]; 7. 35-Ben Schmidt[7]; 8. 68-Dave Uttech[8]; 9. 29-Leigh Thomas[9]
Osborne and Sons Trucking Qualifications: 1. 17B-Bill Balog, 11.141[1]; 2. 19P-Paige Polyak, 11.323[7]; 3. 2-Danny Lasoski, 11.337[28]; 4. 96-Bronson Maeschen, 11.357[2]; 5. 24-Terry McCarl, 11.388[16]; 6. 21-Brian Brown, 11.411[35]; 7. 3-Tim Kaeding, 11.425[4]; 8. 18-Ian Madsen, 11.553[31]; 9. 7TAZ-Tasker Phillips, 11.559[19]; 10. 17A-Austin McCarl, 11.561[12]; 11. 17W-Bryan Clauson, 11.563[25]; 12. 55-Brooke Tatnell, 11.617[39]; 13. 56N-Davey Heskin, 11.641[17]; 14. 02-Mike Reinke, 11.674[23]; 15. 6-Bill Rose, 11.765[3]; 16. 5J-Jeremy Schultz, 11.768[10]; 17. 09-Matt Juhl, 11.799[15]; 18. 2B-Roger Crockett, 11.824[22]; 19. 12K-Lynton Jeffrey, 11.846[29]; 20. 73-Todd King, 11.850[20]; 21. 85M-Steve Meyer, 11.855[24]; 22. 79-Blake Nimee, 11.874[36]; 23. 2W-Scott Neitzel, 11.912[5]; 24. 2KS-Craig Dollansky, 11.937[32]; 25. 7-Scott Uttech, 11.976[8]; 26. 99-Kyle Marten, 11.985[21]; 27. 1M-Phillip Mock, 11.996[26]; 28. 35-Ben Schmidt, 12.067[14]; 29. 19-Chase Viebrock, 12.090[18]; 30. 4W-Matt Wasmund, 12.144[11]; 31. 11K-Rick Kelsey, 12.151[13]; 32. 68-Dave Uttech, 12.187[33]; 33. 14AJ-Wayne Modjeski, 12.382[6]; 34. 4K-Kris Spitz, 12.400[30]; 35. 23-Russell Borland, 12.462[34]; 36. 29-Leigh Thomas, 12.467[27]; 37. 12W-Josh Walter, 12.625[37]; 38. 12-Michael Decker, 12.643[9]; 39. 64-Scotty Thiel[38]
---
Submitted By: Jeffrey Sachse
Back to News