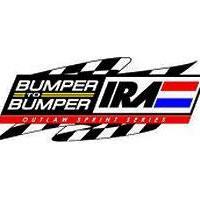 9/30/2015
IRA Interstate Racing Association
---
EPIC SEASON TO CONCLUDE FOR THE BUMPER TO BUMPER IRA OUTLAW SPRINTS THIS SATURDAY NIGHT AT PLYMOUTH!
CHAMPIONSHIP LIKELY TO BE DECIDED IN FINAL LAPS OF MAIN EVENT DURING SEASON FINALE AT PLYMOUTH!
September 29, 2015; Appleton, WI – Extraordinary, amazing, thrilling, all adjectives to describe the 2015 racing season for the Bumper to Bumper IRA Outlaw Sprint series.
In over 50 years of racing for the series a season like this is a rare event. One word best describes the year, and the season finale event this coming Saturday night at the Sheboygan County Fairpark in Plymouth.
Epic!
In the 26 events contested so far 19 different drivers have basked in the thrill of victory. Series regulars, and invading rivals alike have battled from the tight bullrings to the wide open half-mile ovals. Nearly 800 laps of A-main action have brought us to this point in the season but it will be the final 30 laps that will decide it all. Only when the checkered flag has fallen will be know our 2015 season champion.
At the top of the heap sit Bill Rose from Plainsfield, Indiana, and Ben Schmidt of Howards Grove, Wisconsin.
Rose, a former regular on the World of Outlaws tour, and point runner-up last season has been known for remarkable consistency. In fact, were it not for a single DNF during 2014 Rose was poised to complete every lap of full season's worth of main events. This year Rose has cranked out 19 top ten finishes, missing only a single A-main.
A determined podium finish this past Saturday night pushed Rose into a tie with Schmidt atop the series standings. The one thing that would most assure Rose a championship remains the one thing that thus far has eluded him, a series victory. Since joining the series Rose has finished with runner-up honors five times and yet a win has escaped his grasp. Rose has indicated that while a championship would be nice taking a win has been one of his main goals. He'll have a chance to do both on Saturday night.
Schmidt meanwhile has traded the point lead back and forth. His effort to claim the crown is far more polarized. He's either had great success or stunning adversity, there has been little middle ground.
This year he scored his first career IRA feature, and now has two wins to his credit but he's also suffered through nights unable to even take a green flag due to mechanical ills. The season championship will take place in Schmidt's backyard. His home track, a track that has given him multiple championships remains somewhat vexing, his best showing has been a second place performance in 2013 when he joined the series full time. Since then he's recorded only a single top five run in IRA competition at the track where he's taken the checkered so often in his reign as a 360 sprint champions.
The storybook ending to the season awaits Schmidt should he take the victory in front of a partisan home crowd.
But the championship trophy may not wind up in the hands of Schmidt nor Rose.
Scotty Neitzel, a battle tested veteran already has two series titles on his resume. Over the past couple months Neitzel has clawed his way into contention for his third crown. He currently sits 22 markers back from the lead duo of Rose and Schmidt. Neitzel is the only driver in the series to have started every main event this year.
To achieve the championship goal Neitzel will have to dig deep, and perform flawlessly. He needs to finish multiple positions ahead of both Schmidt, and Rose in the main event. If he were to do the same in qualifying, and his heat Neitzel is very much in contention for championship number three. Neitzel has the skill, the will, and the knowledge to get it done.
Does it end there? Mathematically no.
The 2013 Bumper to Bumper IRA Outlaw Sprint series Rookie of the Year, Jeremy Schultz has an outside shot. 58 points back from the lead, Schultz will have to dominate the evening, and have some misfortune befall those ahead of him in the standings. Possible? Yes! Likely? No so much, but in a season where anything can happen a fourth to first charge on a final night would be as epic, as the season has been.
Outside the top four, Blake Nimee will cap off his best year to date with a fifth place point finish. While late season gremlins halted his title chase, he's scored two wins this year and will be a threat for years to come.
Phillip Mock, Scotty Thiel, Kyle Marten and cousins Scott and Dave Uttech occupy the rest of the top ten with the final positions still in a state of flux. Marten however will be putting the wraps on the 2015 Rookie of the Year award, at the same track where he started his open wheeled career several seasons ago.
Russel Borland, Kris Spitz, Mike Reinke, and Wayne Modjeski all have a shot at reaching the top ten. For Reinke, that effort would be especially impressive, as he's not run the entire season.
In addition to the Bumper to Bumper IRA Outlaw Sprints, the October 3rd program at the Sheboyagn County Fairpark the all sprint car show will present MSA 360's, plus crate wingless sprints, and micro sprints too.
Pit gates will open at 2:30pm, spectator gates at 4:30pm. Driver's meeting is scheduled for 5:00pm with warm ups slated for 5:30pm, and IRA qualifying to follow.
Opening ceremonies are slated for 6:30pm. Adult tickets are just $20, children 6-12 years are $5, and kids 5 & under are FREE.
The track is located on the Sheboygan County Fairgrounds just off Fairview Drive (CTY O ) in Plymouth, Wisconsin. The track website can be found at www.plymouthdtr.com
For more info on the Bumper to Bumper IRA Outlaw Sprints check out the tour website at www.irasprints.com or by logging onto the series Facebook page at www.facebook.com/irasprints the series is also on twitter at #IRA_sprints.
The IRA Sprints are presented by its long time supporting series partners. The series support is led by title sponsor Bumper to Bumper Auto Parts & Service Centers, and associate series partners Osborn & Son Trucking, TW Metals, Hoosier Tire, Cedar Creek Motorsports, Cummins Onan, and Carriage Auto Body.
---
Submitted By: Jeffrey Sachse
Back to News