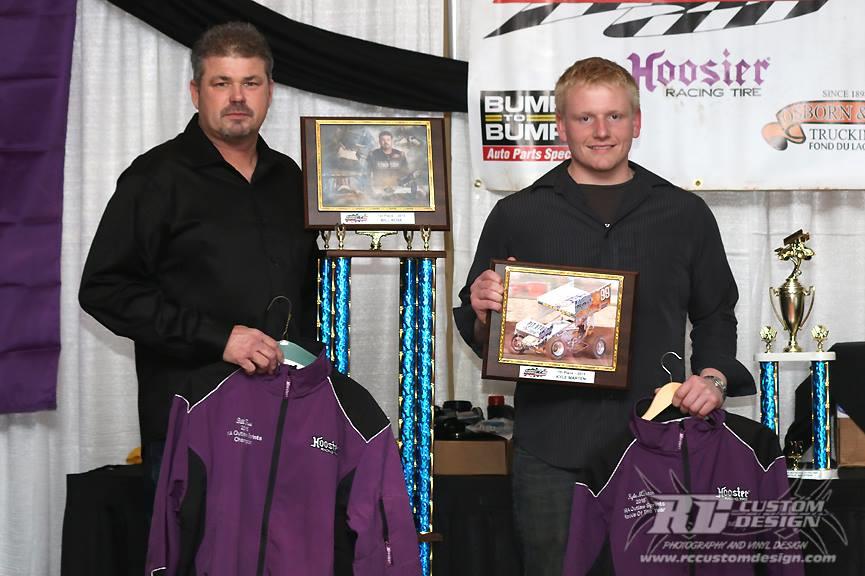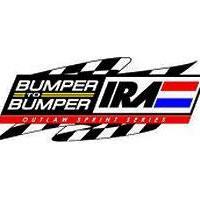 11/23/2015
IRA Interstate Racing Association
---
2015 IRA Annual Awards Banquet
VETERAN ROSE MAKES LONG TOW PAY OFF AS IRA CHAMPION
(Brookfield, WI 11/21) The Bumper To Bumper IRA Outlaw Sprint Series held their annual awards banquet Saturday night at the Brookfield Inn & Suites. Twenty-one teams met the participation requirements making themselves point fund eligible, and all shared in the record IRA cash payout, and in the popular product drawing. Veteran Indiana racer Bill Rose made the weekly long tow worth it as his series leading twelve top five finishes, and twenty top ten's propelled him to his first ever championship, winning the title on the season's final night. Rose, the owner/driver of the #6, would take home the $10,000 championship check plus numerous other awards, including the Osborn & Son Trucking Fast Timer bonus for earning the most qualifying points throughout the season which included four fast times. He also received a beautiful painting from Dave Olson of Studio 360, the traditional Hoosier champion's jacket, numerous contingency awards including a HRP wing combo, DMI hub/spindle kit, and chassis parts from Maxim. Rose was officially deemed a Wisconsin "cheesehead" as emcee Ray Underwood presented the Hoosier pilot with a cheese scarf. Rose, who has competed in 100% of the IRA's events over the past two seasons, received a standing ovation from the audience, proving his experience and willingness to share it, sportsmanship, and the fact that he's an overall good guy has made him both popular and respected by the group.
IRA completed 27 events throughout its' Wisconsin and northern Illinois territory with 20 different drivers (representing 9 states) visiting victory lane. 118 different drivers participated. A tremendous season long point battle went down to the final night between Rose, Ben Schmidt, and 2004 -2005 IRA champ Scotty Neitzel. Schmidt, driver of the #35 Rhine Auto entry won 2 features, 11 heats, and was 2nd in qualifying points to finish runner-up. Neitzel was the only driver to start all 27 series races, winning one, and having his R&H #2w earn the most points of any single car. Ironically both Rose & Schmidt were in need during the season at some point and each utilized the Chris Hartnell #48 once throughout the season.
Kyle Marten was named R&H Enterprises Rookie of the Year. The second generation driver racing for owner John Rank captured one feature event en route to a 7th place points finish. Marten picked up a $1250 cash bonus on top of his point check, plus a complete front-end assembly, an HRP wing combo, and numerous other contingencies.
Both Rose and Marten were honored in a unique way as specially created cakes of their cars (courtesy of Bon Ton Bakery) served as a perfect finishing touch to a great meal.
Series official Kevin Spease was recipient of the annual Rick Schmidt Memorial IRA Member Of The Year Award. Spease who was a past series competitor for many a year now serves the series as a very dedicated IRA official.
Blake Nimee was honored as the Velocity Wings Most Improved Driver as the youngster scored two feature wins, had IRA's best finish in 2 of 3 national co-sanctioned events, and finished a solid 5th in season points. IRA ran a pair of co-sanctioned events with the National Sprint League, and one with the All-Star Circuit of Champions. Of course IRA ran a pair of traditional co-sanctioned races with their friendly rival to the south also, the Midwest Open Wheel Association.
Rick Kelsey had his #11k voted as the series Best Appearing Car, while Rick Lemanski (Neitzel #2w), Bill Warren (Nimee #79, and owner/driver Rose (#6) were honored for their mechanical skills with Lemanski and Warren each receiving $500 certificates from Miller Electric.
Car owner Jerry Schultz (Jeremy Schultz #5J) had Underwood present the three main ladies of IRA (Kim Tennyson, Tiffany Taylor, and Andrea Meyer) with gold coins, honoring the trio for their dedication to the sport. Tennyson is IRA secretary/treasurer and head scorer, while Taylor and Meyer help with pill draw, payout, and scoring too.
Owner/driver Kris Spitz was the big winner on the contingency side, as the 13th place driver which appeared at 100% of the scheduled IRA events, won a 2016 Maxim chassis, and a set of All Pro cylinder heads in separate drawings! 4th place finishing Jeremy Schultz also won a new Maxim.
Former owner/driver Bill Warren who played a major role in Blake Nimee's breakout season, Rick Lemanski who wrenched Scotty Neitzel's #2w to the most points earned by any single car, and Bill Rose who had a very unique maintenance schedule on his #6 which was kept in Milwaukee much of the season received recognition for their mechanical skills with Warren and Lemanski each receiving $500 certificates from Miller Electric.
IRA President Steve Sinclair honored videographer Jeff Fischer (Grandstand Video), and photographer/graphic designers Rob Eisentraut (RC Custom Design), David Frickie (Urban Wraps), and Dave Olson (Studio 360), plus media members Dana & Paul Kuyawa with Appreciation Awards, while Sinclair later accepted an award on behalf of the Bumper To Bumper IRA Outlaw Sprint Series from Jim Eckert of the Disabled American Veterans. The group had successful fundraising events at Wilmot Raceway IRA events.
Fischer's traditional opening video recapping the 2015 season, combined with the comedic Underwood, all twenty-one sincere driver speeches, and the numerous special awards made for a great evening, which for many went on the wee hours.
The 21 drivers honored, by points finish, included; Bill Rose, Ben Schmidt, Scotty Neitzel, Jeremy Schultz, Blake Nimee, Scotty Thiel, Kyle Marten, Phillip Mock, Scott Uttech, Dave Uttech, Russel Borland, Mike Reinke, Kris Spitz, Wayne Modjeski, Rick Kelsey, Josh Walter, Steve Meyer, Bill Wirth, Dennis Spitz, Mike Decker, and Jereme Schroeder.
The night wouldn't be possible without our sponsors, so thank you series sponsors Bumper To Bumper Auto Parts & Service Centers, Hoosier Tire, Osborn & Son Trucking, TW Metals, Cummins Onan, and Carriage Auto Body. A tremendous thank you to our contingency product sponsors as well, whose generosity truly helps enhance the entire night and makes a team's dedication to IRA worth so much more.
---
Article Credit: Steve Sinclair
Submitted By: Kim Tennyson
Article Media
Back to News