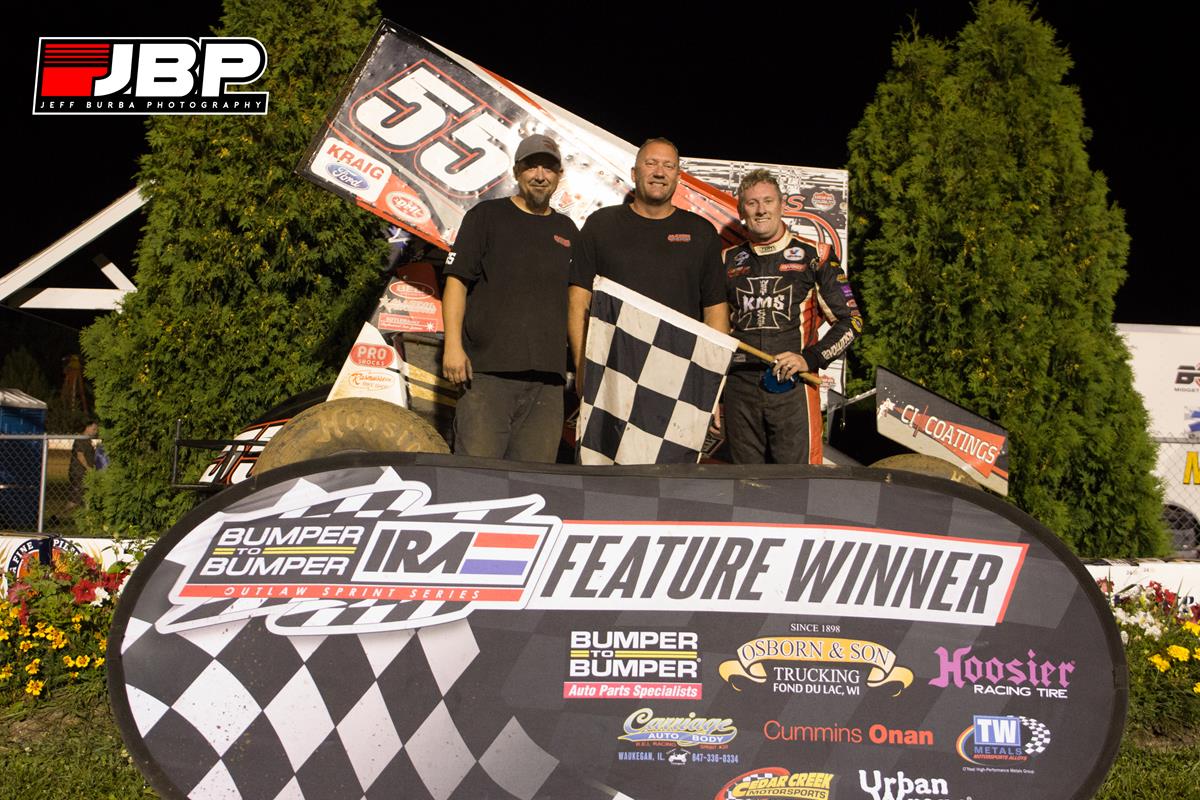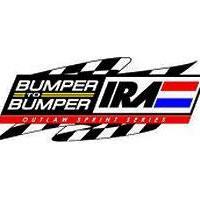 8/21/2017
IRA Interstate Racing Association
---
Tatnell Wins Cornfest
27 Bumper to Bumper Interstate Racing Association (IRA) teams signed in for Cornfest at the historic Angell Park Speedway. Osborn and Son Qualifying saw "The Law Firm" Parker Price-Miller set quick time and broke Bill Balog's stronghold on qualifying, as for the first time in over a month Balog was not fast qualifier. Scotty Thiel would time in 2nd followed by Jeremy Schultz, then Balog. Ben Schmidt would round out the top 5 in the Oz Motorsports 73.
Weld Wheels Heat Race 1 saw Mike Kertscher take the early lead and never look back. Behind Kertscher, Wayne Modjeski was able to hold off Steve Meyer to claim 2nd. Meyer would settle for 3rd ahead of Balog and Reinke.
In Allstar Performance Heat Race 2, Scotty Neitzel took the early lead as Scotty Thiel moved from 4th into 2nd. Thiel tried to run Neitzel down but could not find a line around the 2 time IRA champion. As flagman Jim Barr waved the checkered it was Neitzel in his familiar orange 2w victorious over Thiel. Phillip Mock would cross in 3rd followed by Ben Schmidt. Kyle Marten would bring his Autumn Ridge Golf Course sponsored machine home in 5th.
DMI Racing/ R&H Enterprises Heat Race 3 was definitely the most eventful as Dave Uttech took the early lead as Brooke Tatnell and Blake Nimee battled for 2nd. Tatnell would come out on top as Schultz challenged Nimee for 3rd. Schultz would clip an infield tire and get upside down. The restart would give Tatnell the opportunity he needed, as he would pass Uttech for the lead, and the win. Uttech would cross in 2nd with Brandon McMullen in 3rd. Blake Nimee would claim 4th and Scott Uttech was 5th.
Behling Racing Equipment B main would be lead flag to flag by Parker Price-Miller who saw himself in the B after trouble in his heat race. Joe B Miller would run 2nd the whole race but at the end he had to fend off a hard charging Jeremy Schultz. 4th would be claimed by Paul Nienhiser over 2017 Wilmot Track Champion Matt Vandervere.
A main action was exciting as Dave Uttech took the early lead over Wayne Modjeski. Bill Balog quickly worked his 17b into 3rd as Brooke Tatnell and Scotty Thiel charged to the front as well. An early caution gave Balog a shot at Modjeski, but Wayne didn't give up 2nd easily. The pair battled side by side for over a lap before Balog finally claimed 2nd. Another restart would give "the North Pole Nightmare" a chance to challenge Dave Uttech for the top spot, but Uttech was able to pull away on the restart. Thiel used the restart to drive by not only Wayne Modjeski's 14aj but also the 55 machine of Brooke Tatnell. Thiel would then run down and pass Balog for 2nd. Thiel set his sights on Dave Uttech and the lead as Uttech reached lapped traffic. Uttech bobbled on the cushion exiting turn 4 and that was all "the Big Wheel" needed as he drove his 64 car under Uttech's 68 and took the lead. Lapped traffic however would be Thiels undoing, as he would get caught behind a pair of lapped cars which allowed Tatnell to catch him. Tatnell used the lapped cars as a pick and drove past Thiel all the way to victory lane. Thiel would keep 2nd place until the exit of turn 4 on the last lap, as Balog was able to beat Thiel to the line by .024 seconds. Dave Uttech would bring his blue and black 68 home in 4th and Scotty Neitzel would round out the top 5.
The IRA Sprints are back in action September 2nd at the Plymouth Dirt Track during the Sheboygan County Fair, and then on September 3rd at the beautiful 141 speedway in Francis Creek Wisconsin.
The IRA would like to thank our loyal sponsors, Bumper to Bumper Auto Parts, Osborn and Son Trucking, TW Metals, Carriage Auto Body, Cummins Onan, Hopf Farms, Hagar's Half Pound Cookies and Hoosier Tire.
---
Submitted By: Kim Tennyson
Back to News