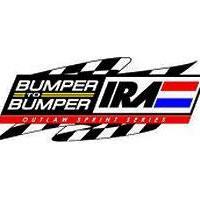 8/28/2017
IRA Interstate Racing Association
---
Double Header Ahead for Labor Day Weekend
As the calendar turns from August to September, Knoxville's season has ended and most other groups and tracks are wrapping their schedules up, but the Bumper to Bumper Interstate Racing Association (IRA) still has plenty of racing left to do. This coming weekend, September 2nd and 3rd marks the first of 4 straight two race weekends for the Wisconsin based winged 410 sprint car group.
Saturday September 2nd is a huge night for the IRA as they return to the Plymouth Dirt Track, during the Sheboygan County Fair. Not only will it be a fun night of slide jobs and carnival rides, but Saturday night will be the culmination of the 5 race Hopf Farms Bullring Showdown. The 4 previous Hopf Farms Races have treated the fans to great racing and different faces in victory lane as a different driver won each of the previous 4 races. Kyle Marten and Scotty Thiel have both picked up wins this season at the Plymouth Dirt Track and are likely to be up front all night on Saturday, but both men will have to contend with the Hopf Farms backed 17b entry of Bill Balog who always finds his way to the front of the field.
Hot laps Saturday night will begin at 5pm with racing to follow.
Hopf Farms Bullring Showdown Points
Scotty Thiel. 80
Mike Kertscher. 79
Kyle Marten. 75
Bill Balog. 71
Jeremy Schultz. 67
Scotty Neitzel. 66
Mike Reinke. 62
Blake Nimee. 60
Steve Meyer. 54
Matt Vandervere. 50
On Sunday the teams will travel to Francis Creek Wisconsin for the 2nd time this season to compete at 141 Speedway. 141 Speedway is perhaps the area's most unique track, and offers fans some great viewing areas to watch the high powered 410 cars do battle. The last time the IRA visited Francis Creek, Scotty Thiel stood victorious on a night that would start a hot streak he carried through most of July. Matt Vandervere was 2nd and Balog recovered from an early incident with a 3rd place run. Expect to see those 3 men battling hard again this weekend. Past IRA feature winners Mike Reinke , Scotty Neitzel, Jeremy Schultz, Steve Meyer, Blake Nimee, Ben Schmidt, and Scott Uttech are also usually strong at the high banked oval and with the season winding down expect them to run hard as they can still looking for their first IRA win of 2017. Wayne Modjeski, and Dave Uttech have been hot of late too, could they score their first career IRA win? Stay tuned...
IRA Points
Bill Balog (17B). 3094
Scotty Thiel (64). 2922
Scotty Neitzel (2W). 2656
Kyle Marten (99). 2441
Jeremy Schultz (5J). 2367
Blake Nimee (79). 2250
Steve Meyer (85M). 2181
Russel Borland (23). 2181
Dave Uttech (68). 2083
Wayne Modjeski (14AJ). 2008
Scott Uttech (7). 1965
Kris Spitz (4K). 1945
Matt Vandervere (10V). 1885
Dennis Spitz (41). 1882
Michael Decker (12). 1632
Mike Reinke (02). 1555
Mike Kertscher (80K). 1239
Ben Schmidt (73). 1130
Jordan Goldesberry (65). 1091
Jereme Schroeder (43). 1067
The IRA would like to thank our loyal sponsors, Bumper to Bumper Auto Parts, Osborn and Son Trucking, TW Metals, Carriage Auto Body, Cummins Onan, Hopf Farms, Hagar's Half Pound Cookies and Hoosier Tire.
---
Submitted By: Kim Tennyson
Back to News