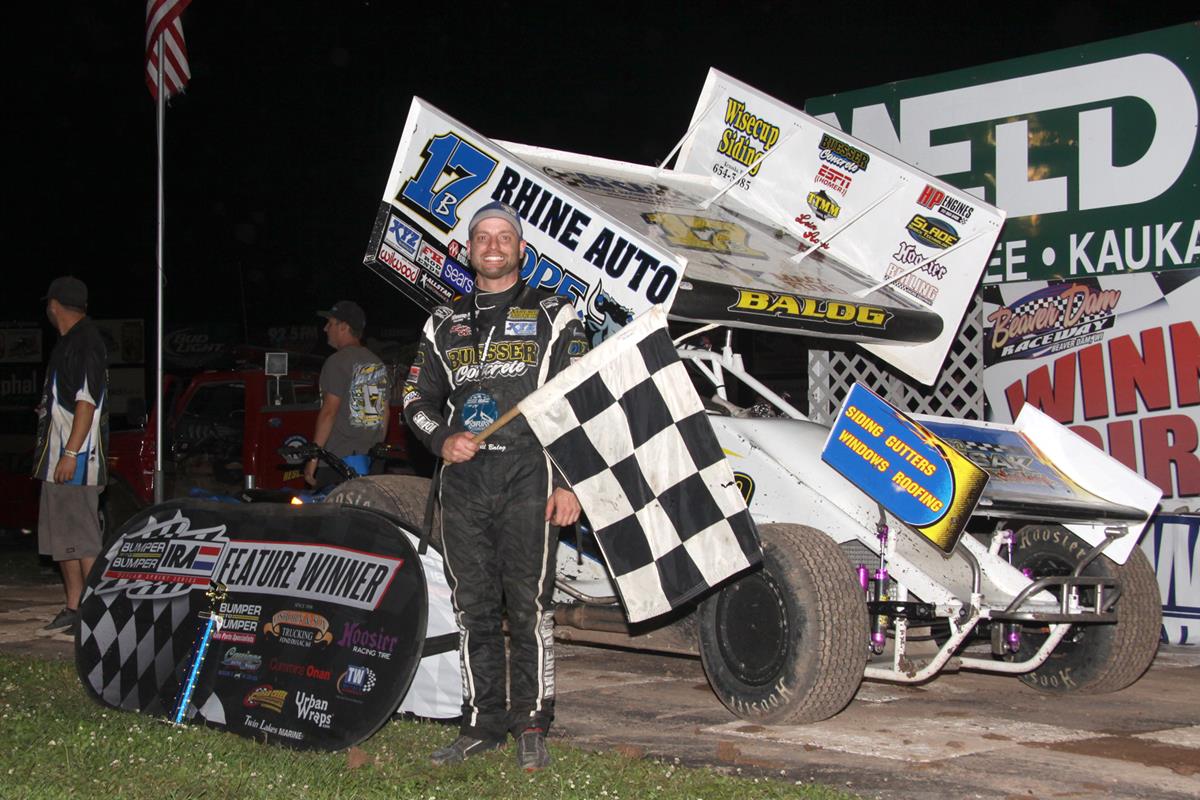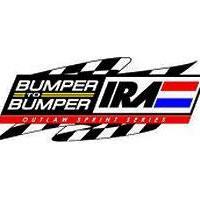 9/5/2017
IRA Interstate Racing Association
---
Balog Wins Labor Day Weekend at 141 Speedway
After a very rainy Saturday caused the Sheboygan County Fair race to be canceled, the final night for the Hopf Farms Bullring Showdown was moved to Sunday at the 141 Speedway. 32 teams signed in for action on the Labor Day weekend Sunday night. In Osborn and Son Trucking Qualifying Bill Balog set quick time over 2016 IRA champion Jeremy Schultz. Justin Henderson would time in 3rd followed by Todd King and Ben Schmidt.
Weld Wheels Heat Race 1 saw Ben Schmidt move from 3rd into 1st and never looked back. Bill Balog would get to 2nd but could not get his 17b machine around Schmidt. Blake Nimee would claim 3rd place honors with Dave Uttech in 4th and 2 time IRA champion Scotty Neitzel in 5th.
In Allstar Performance Heat Race 2 Hopf Farms Bullring Showdown point leader, Scotty Thiel utilized his front row starting spot to take the lead and eventually the checkered flag. Kris Spitz would bring his 4K home in 2nd ahead of Schultz. Mike Reinke would bring his 02 car home in 4th and Johnny Fahl would round out the top 5.
DMI Racing Heat Race 3 would be claimed by pole starting Matt Vandervere. Matt would hold off hard charging Justin Henderson for the win. Brandon McMullen would bring the Bob Hood Motorsports 10w across in 3rd with Kyle Marten in 4th and Danny Schlafer in 5th.
R&H Enterprises Heat Race 4 saw Phillip Mock claim the win in his 1m over a hard charging Bill Wirth who started 5th. Todd Daun would claim 3rd place and Mike Decker was 4th. Todd King brought his 22 machine across the line in 5th.
Behling Racing Equipment B main saw Steve Meyer lead flag to flag in his Meyer Electric sponsored sprint car. Josh Walter would bring his 12w home 2nd and KenJay Fiedler in 3rd. Scott Uttech would finish in the 4th position with Ty Bartz would round out the top 5 as the first non transfer car to the A main.
A main action was exciting. Balog took the early lead but Thiel quickly moved into 2nd. With 10 laps complete Fiedler would hit an infield tire and bring out a caution. On the restart Balog led Thiel and Schmidt, but just a couple of laps later Schmidt 73 would come to a stop, ending his night. Once again Balog would jump out to the lead but Thiel held 2nd, just a few laps later Dave Uttech's 68 would get turned around and Thiel would get caught up attempting to avoid Uttech and the flipping King. Thiel's chances of winning the Bullring Showdown would be all but over. The field would go back to green with 15 laps to go, Balog leading over Reinke and Henderson. Balog would lead the last 15 laps in route to winning his 10th IRA feature and co-winning the Hopf Farms Bullring Showdown with Thone Motorsports. Justin Henderson brought the Thone Motorsports car home in 2nd with Mike Reinke rounding out the podium. Bill Wirth would bring his 53w car across in 4th and Steve Meyer would finish 5th after charging from 20th.
The IRA would like to thank our loyal sponsors, Bumper to Bumper Auto Parts, Osborn and Son Trucking, TW Metals, Carriage Auto Body, Cummins Onan, Hopf Farms, Hagar's Half Pound Cookies and Hoosier Tire.
410 Sprints
IRA Interstate Racing Association
A Feature 1 30 laps
17B-Bill Balog, [2]; 2. 80K-Justin Henderson, [8]; 3. 02-Mike Reinke, [6]; 4. 53W-Bill Wirth, [12]; 5. 85M-Steve Meyer, [21]; 6. 2W-Scott Neitzel, [18]; 7. 4K-Kris Spitz, [11]; 8. 19-Todd Daun, [13]; 9. 12W-Josh Walter, [22]; 10. 10W-Brandon McMullen, [15]; 11. 99-Kyle Marten, [9]; 12. 12-Michael Decker, [17]; 13. 79-Blake Nimee, [14]; 14. 0-John Fahl, [19]; 15. 7-Scott Uttech, [24]; 16. 64-Scotty Thiel, [4]; 17. 1M-Phillip Mock, [7]; 18. 68-Dave Uttech, [16]; 19. 10V-Matt Vandevere, [10]; 20. 22-Todd King, [1]; 21. 73-Ben Schmidt, [5]; 22. 5J-Jeremy Schultz, [3]; 23. 95A-Ken Jay Fiedler, [23]; 24. 25-Danny Schlafer, [20]
B Feature 1 12 laps
85M-Steve Meyer, [1]; 2. 12W-Josh Walter, [4]; 3. 95A-Ken Jay Fiedler, [3]; 4. 7-Scott Uttech, [5]; 5. 95B-Ty Bartz, [9]; 6. 23-Russel Borland, [7]; 7. 5-Bryon Walters, [11]; 8. 7R-Andy Rein, [2]; 9. 18-Keith Fellner, [8]; 10. 41-Dennis Spitz, [6]; 11. 63-Nick Matuszewski, [10]; (DNS) 14AJ-Wayne Modjeski,
Heat 1 10 laps
73-Ben Schmidt, [3]; 2. 17B-Bill Balog, [4]; 3. 79-Blake Nimee, [5]; 4. 68-Dave Uttech, [2]; 5. 2W-Scott Neitzel, [1]; 6. 95A-Ken Jay Fiedler, [7]; 7. 23-Russel Borland, [8]; 8. (DNF) 14AJ-Wayne Modjeski, [6]
Heat 2 10 laps
64-Scotty Thiel, [2]; 2. 4K-Kris Spitz, [1]; 3. 5J-Jeremy Schultz, [4]; 4. 02-Mike Reinke, [3]; 5. 0-John Fahl, [5]; 6. 12W-Josh Walter, [7]; 7. 18-Keith Fellner, [8]; 8. (DNF) 95B-Ty Bartz, [6]
Heat 3 10 laps
10V-Matt Vandevere, [1]; 2. 80K-Justin Henderson, [4]; 3. 10W-Brandon McMullen, [5]; 4. 99-Kyle Marten, [3]; 5. 25-Danny Schlafer, [6]; 6. 85M-Steve Meyer, [2]; 7. 41-Dennis Spitz, [7]; 8. 63-Nick Matuszewski, [8]
Heat 4 10 laps
1M-Phillip Mock, [2]; 2. 53W-Bill Wirth, [5]; 3. 19-Todd Daun, [3]; 4. 12-Michael Decker, [7]; 5. 22-Todd King, [4]; 6. 7R-Andy Rein, [1]; 7. 7-Scott Uttech, [6]; (DNS) 5-Bryon Walters,
Qualifying 1
17B-Bill Balog, 00:11.238[2]; 2. 5J-Jeremy Schultz, 00:11.332[4]; 3. 80K-Justin Henderson, 00:11.436[1]; 4. 22-Todd King, 00:11.601[6]; 5. 73-Ben Schmidt, 00:11.752[22]; 6. 02-Mike Reinke, 00:11.765[26]; 7. 99-Kyle Marten, 00:11.796[12]; 8. 19-Todd Daun, 00:11.831[15]; 9. 68-Dave Uttech, 00:11.863[13]; 10. 64-Scotty Thiel, 00:11.890[30]; 11. 85M-Steve Meyer, 00:11.936[10]; 12. 1M-Phillip Mock, 00:11.969[17]; 13. 2W-Scott Neitzel, 00:11.981[18]; 14. 4K-Kris Spitz, 00:11.997[11]; 15. 10V-Matt Vandevere, 00:12.066[20]; 16. 7R-Andy Rein, 00:12.071[8]; 17. 79-Blake Nimee, 00:12.109[21]; 18. 0-John Fahl, 00:12.146[5]; 19. 10W-Brandon McMullen, 00:12.194[29]; 20. 53W-Bill Wirth, 00:12.268[31]; 21. 14AJ-Wayne Modjeski, 00:12.304[23]; 22. 95B-Ty Bartz, 00:12.344[3]; 23. 25-Danny Schlafer, 00:12.381[16]; 24. 7-Scott Uttech, 00:12.387[7]; 25. 95A-Ken Jay Fiedler, 00:12.471[24]; 26. 12W-Josh Walter, 00:12.490[9]; 27. 41-Dennis Spitz, 00:12.512[27]; 28. 12-Michael Decker, 00:12.529[25]; 29. 23-Russel Borland, 00:12.532[32]; 30. 18-Keith Fellner, 00:13.069[28]; 31. 63-Nick Matuszewski, 00:13.073[19]; (DNS) 5-Bryon Walters,
---
Submitted By: Kim Tennyson
Back to News