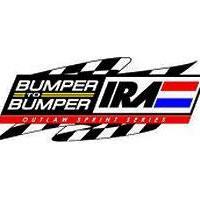 9/7/2017
IRA Interstate Racing Association
---
IRA Races Through Northern Wisconsin
When the calendar turns to September and the weather starts to cool down, fans know it's time for one of the biggest weekends of the year for the Bumper to Bumper Interstate Racing Association(IRA). Friday night, September 8th the series heads to the Amsoil Speedway in Superior Wisconsin for night 1 of their annual Northern Nationals. Then on Saturday the teams head to New Richmond Wisconsin's Cedar Lake Speedway for the Jerry Richert Memorial.
The Northern Nationals is always a huge event for the Amsoil Speedway, and with all their camping spots already sold out it seems this year will be no different. A standing room only crowd is expected to witness what is always an exciting show. Bill Balog will be trying to repeat his feature winning performance from one year ago, but an IRA driver has not been able to win back to back at the Northern Nationals since Balog himself won 3 in a row from 2010-2012. Since 2012, 2 time IRA champion Scotty Neitzel picked up a win, as well as Knoxville regulars Dusty Zomer and Davey Heskin. This year should once again see IRAs best up against some of the best from Knoxville and around the Midwest.
On Saturday fans will witness the 2017 Jerry Richert Memorial, a race that pays honor to the winner of the 2nd annual Knoxville Nationals, and the father to longtime Midwest driver Jerry Richert Jr, as well as father-in-law to Brooke Tatnell. The Richert Memorial is always one of the biggest shows all year and this year with $5000 up for grabs it's sure to be no different. Bill Balog will be looking for a repeat win at Cedar Lake, just like Amsoil Speedway, and if he can win both nights, he will become the first driver in IRA history to enter triple digit career wins, as he currently sits at 98 wins. But with numerous IRA veterans like Scotty Neitzel still looking for there first win of 2017, and young guns like Scotty Thiel and Kyle Marten, wins will not come easy. Throw in a handful of Knoxville regulars and Midwest heavy hitters, and fans will be treated to two nights of great racing at two spectacular venues.
The IRA would like to thank our loyal sponsors, Bumper to Bumper Auto Parts, Osborn and Son Trucking, TW Metals, Carriage Auto Body, Cummins Onan, Hopf Farms, Hagar's Half Pound Cookies and Hoosier Tire.
---
Submitted By: Kim Tennyson
Back to News