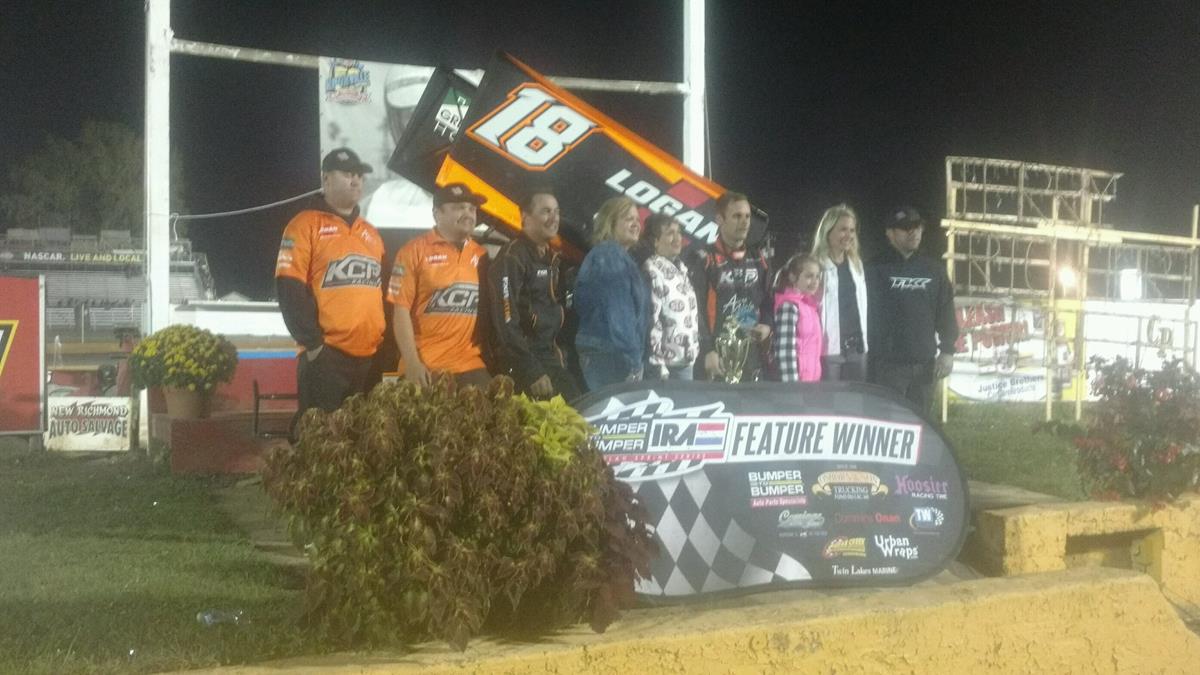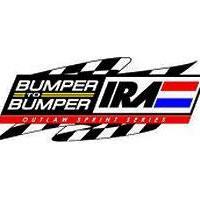 9/12/2017
IRA Interstate Racing Association
---
Madsen Wins 17th Annual Jerry Richert Memorial
27 Bumper to Bumper Interstate Racing Association (IRA) teams signed in to compete in the 17th annual Jerry Richert Memorial at Cedar Lake Speedway. Osborn and Son Trucking Qualifications saw 2017 Knoxville track champion Ian Madsen set quick time over Mike Reinke and Terry McCarl. Skylar Gee would time in 4th followed by defending Richert Memorial winner, Bill Balog.
Weld Wheels heat race 1 would see pole sitter, and son in law of Jerry Richert, Brooke Tatnell lead all 10 laps enroute to the heat win. Fast qualifier, Ian Madsen would drive to 2nd position and Austin Johnson would finish in 3rd. Justin Henderson would bring his Thone Motorsports entry across in 4th followed by Skylar Gee.
Allstar Performance heat race 2 would be claimed by RJ Johnson, who in just 2 starts with the IRA now has 2 heat wins. Bill Balog would take 2nd place honors over Scotty Thiel. Mike Reinke would bring his yellow 02 home in 4th ahead of former Richert Memorial winner, Scotty Neitzel.
DMI Racing/R&H Enterprises heat race 3 would give the fans one of the best races all night, as Scott Winters took the early lead but Jeremy Schultz would not settle for 2nd. The pair traded the lead nearly half a dozen times in the first 2 laps, before the yellow flag flew for Steve Meyer spinning in turn 2. On the restart Winters took the lead once again but Schultz would be able to maneuver around him and take the lead. The 2016 IRA champion would lead the remaining laps and pick up the win. Terry McCarl would also get past Winters to claim 2nd. Winters would settle for 3rd place over Austin McCarl. Iowa native Chris Martin would round out the top 5.
Behling Racing Equipment B main action saw Russel Borland lead all 12 laps to lock himself into the A main, followed by Todd King in his Gibsville Cheese backed 22. Steve Meyer would settle for 3rd with Wayne Modjeski in 4th. The 5th transfer spot would go to Brainard, Minnesota's Jared Goerges.
The A Main would be paced to green by a pair of 17s, Austin McCarl and Bill Balog. Balog took the early lead, and looked like he might be on his way to IRA win number 100 but quickly Ian Madsen worked into 2nd and then with 12 laps in, the KCP number 18 drove past Balog for the race lead. As the race wore on RJ Johnson behind the wheel of the Layton Performance 19 had worked his way to 3rd behind Ian Madsen and fan favorite Brooke Tatnell. With laps winding down, Tatnell was closing in on leader Ian Madsen, with the white flag in the air, Tatnell drove his 55 into turn 1, but jumped the cushion and got into the wall. Madsen would claim the win over RJ Johnson and Bill Balog. Skylar Gee would bring his 99x home in 4th and Austin McCarl was 5th.
The IRA is back in action 3 nights this week. First on Wednesday night, the series heads to Joliet Illinois for the Dirt 30, to kick off NASCAR weekend at the Chicagoland Speedway. Then Friday night the teams head to Spencer Iowa for the Clay County Fair. Saturday night the IRA makes its return to the Deer Creek Speedway in Spring Valley Minnesota.
The IRA would like to thank our loyal sponsors, Bumper to Bumper Auto Parts, Osborn and Son Trucking, TW Metals, Carriage Auto Body, Cummins Onan, Hopf Farms, Hagar's Half Pound Cookies and Hoosier Tire.
410 Sprints
IRA Interstate Racing Association
A Feature 1 30 laps
18-Ian Madsen, [6]; 2. 19-R.J. Johnson, [3]; 3. 17B-Bill Balog, [2]; 4. 99X-Skylar Gee, [4]; 5. 17A-Austin McCarl, [1]; 6. 5J-Jeremy Schultz, [5]; 7. 24-Terry McCarl, [10]; 8. 83-Justin Henderson, [13]; 9. 02-Mike Reinke, [9]; 10. 81-Austin Johnson, [8]; 11. 23W-Scott Winters, [12]; 12. 2W-Scott Neitzel, [15]; 13. 44-Chris Martin, [14]; 14. 85M-Steve Meyer, [21]; 15. 68-Dave Uttech, [17]; 16. 9-Jared Goerges, [23]; 17. 14AJ-Wayne Modjeski, [22]; 18. 55-Brooke Tatnell, [7]; 19. 4K-Kris Spitz, [24]; 20. 64-Scotty Thiel, [11]; 21. 56-Davey Heskin, [16]; 22. 22-Todd King, [20]; 23. 99-Kyle Marten, [18]; 24. 23-Russel Borland, [19]
B Feature 1 12 laps
23-Russel Borland, [2]; 2. 22-Todd King, [1]; 3. 85M-Steve Meyer, [4]; 4. 14AJ-Wayne Modjeski, [5]; 5. 9-Jared Goerges, [3]; 6. 4K-Kris Spitz, [7]; 7. 41-Dennis Spitz, [6]; 8. (DNF) 14K-Victoria (Tori) Knutson, [9]; (DNS) 12-Michael Decker,
Heat 1 10 laps
55-Brooke Tatnell, [1]; 2. 18-Ian Madsen, [4]; 3. 81-Austin Johnson, [2]; 4. 83-Justin Henderson, [5]; 5. 99X-Skylar Gee, [3]; 6. 68-Dave Uttech, [8]; 7. 14AJ-Wayne Modjeski, [9]; 8. 22-Todd King, [6]; 9. (DNF) 4K-Kris Spitz, [7]
Heat 2 10 laps
19-R.J. Johnson, [1]; 2. 17B-Bill Balog, [3]; 3. 64-Scotty Thiel, [2]; 4. 02-Mike Reinke, [4]; 5. 2W-Scott Neitzel, [6]; 6. 56-Davey Heskin, [5]; 7. 9-Jared Goerges, [7]; 8. 41-Dennis Spitz, [8]; 9. 12-Michael Decker, [9]
Heat 3 10 laps
5J-Jeremy Schultz, [1]; 2. 24-Terry McCarl, [4]; 3. 23W-Scott Winters, [2]; 4. 17A-Austin McCarl, [3]; 5. 44-Chris Martin, [5]; 6. 99-Kyle Marten, [8]; 7. 85M-Steve Meyer, [7]; 8. 23-Russel Borland, [6]; 9. 14K-Victoria (Tori) Knutson, [9]
Qualifying 1
18-Ian Madsen, 00:12.278[4]; 2. 02-Mike Reinke, 00:12.352[10]; 3. 24-Terry McCarl, 00:12.394[26]; 4. 99X-Skylar Gee, 00:12.405[9]; 5. 17B-Bill Balog, 00:12.453[11]; 6. 17A-Austin McCarl, 00:12.462[27]; 7. 81-Austin Johnson, 00:12.484[14]; 8. 64-Scotty Thiel, 00:12.492[19]; 9. 23W-Scott Winters, 00:12.539[8]; 10. 55-Brooke Tatnell, 00:12.552[12]; 11. 19-R.J. Johnson, 00:12.585[20]; 12. 5J-Jeremy Schultz, 00:12.591[22]; 13. 83-Justin Henderson, 00:12.621[24]; 14. 56-Davey Heskin, 00:12.625[1]; 15. 44-Chris Martin, 00:12.637[2]; 16. 22-Todd King, 00:12.665[5]; 17. 2W-Scott Neitzel, 00:12.668[13]; 18. 23-Russel Borland, 00:12.714[6]; 19. 4K-Kris Spitz, 00:12.722[3]; 20. 9-Jared Goerges, 00:12.839[7]; 21. 85M-Steve Meyer, 00:12.978[16]; 22. 68-Dave Uttech, 00:13.065[18]; 23. 41-Dennis Spitz, 00:13.136[15]; 24. 99-Kyle Marten, 00:13.192[21]; 25. 14AJ-Wayne Modjeski, 00:13.628[17]; 26. 12-Michael Decker, 00:13.863[25]; 27. 14K-Victoria (Tori) Knutson, 00:14.205[23]
---
Article Credit: Gared Tennyson
Submitted By: Kim Tennyson
Back to News