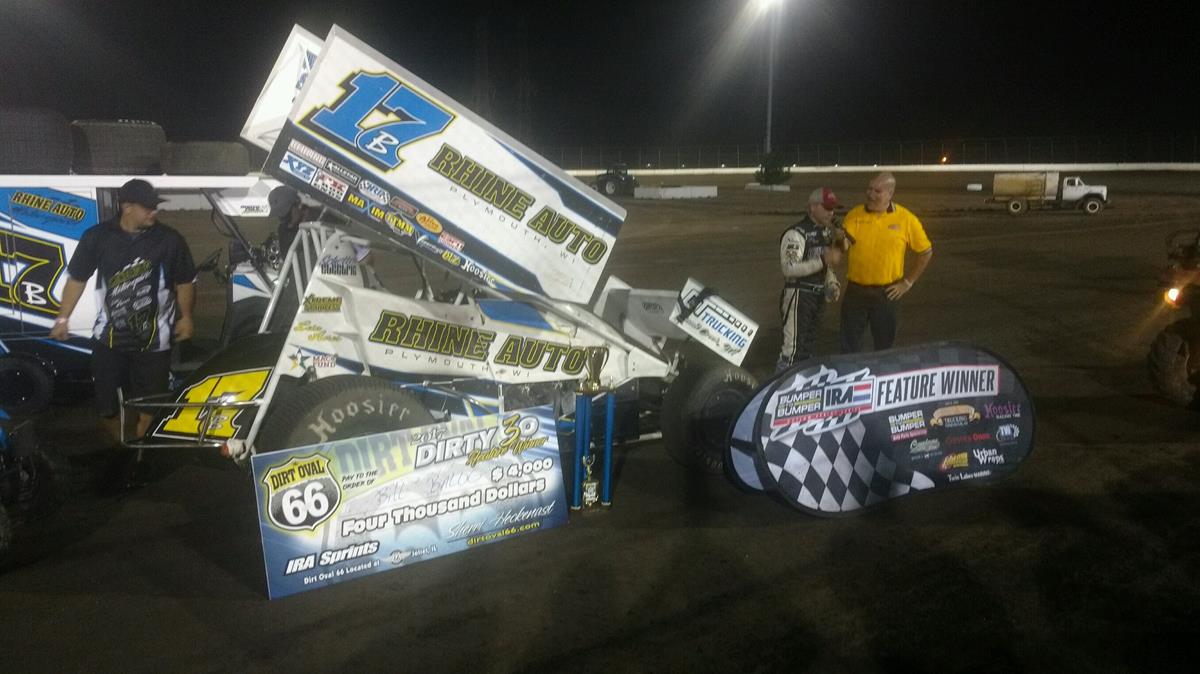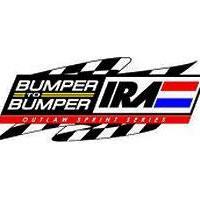 9/14/2017
IRA Interstate Racing Association
---
100th IRA Win for Balog
Wednesday night September 13th the Bumper to Bumper Interstate Racing Association(IRA) rolled through Joliet, Illinois, to the Dirt Oval 66 for the Dirty 30, kicking off NASCAR weekend at the Chicagoland Speedway. Osborn and Son Trucking Qualifying saw St. Mary's, NSW, Australia driver Ian Madsen set quick time aboard the KCP sponsored 18 machine. 2016 IRA champion Jeremy Schultz would time 2nd followed by the Swindell Speedlab 39 of Spencer Bayston. Terry McCarl and Bill Balog would be 4th and 5th.
Weld Wheels/Allstar Performance Heat Race 1 saw Justin Henderson take the early lead, but Bayston kept on his back door and as the pair came to the white flag, Bayston made his move and drove the Swindell Speedlab car past the Hopf Farms car. It looked like Henderson might get back by Bayston down the backstretch as the pair split the lapped car of Dennis Spitz, but Bayston hung on to claim the win. Henderson would settle for 2nd followed by Ian Madsen and Bill Balog. Jordan Goldesberry would round out the top 5 in the Rock Solid Lawn and Landscape 65.
DMI Racing/R&H Enterprises Heat Race 2 would be all Lynton Jeffrey's, as the late arrival lead every lap enroute to the heat win. Max McGhee would bring his 17m across in 2nd followed by Terry McCarl. Jeremy Schultz would finish in 4th with Iowa's Chris Martin following in 5th.
As the A Main started, Bill Balog utilized his pole starting position to take the early lead over Lynton Jeffrey, who had a very eventful day, breaking down on his way to the track and arriving late. A caution 5 laps in for Johnny Fahl spinning in turn 4 gave Jeffrey a shot at Balog, but on the restart Lynton would catch the berm in turn 4 and spin to a stop in nearly the same position as Fahl. The restart would put quick qualifier Ian Madsen in 2nd on Balog's bumper, Spencer Bayston would line up 3rd followed by Schultz and Max McGhee. Balog once again jumped out in front of the field on the restart. Just 4 laps later, Ian Madsen would be given another shot at the Rhine Auto 17b, as the caution flag once again flew, this time for Jordan Goldesberry's 65 sitting the wrong direction at the exit of turn 2. As hard as Ian Madsen tried, and as close as he kept to the 17b, Balog could not be beat, and as the checkered flags flew, Balog was victorious for the 100th time in his IRA career. Ian Madsen would settle for 2nd, and Terry McCarl would round out the podium after starting 10th. Spencer Bayston would bring the Kevin Swindell owned 39 across the line in 4th and Scotty Thiel claimed 5th in his Scott Thiel Builders 64 machine.
---
Submitted By: Kim Tennyson
Back to News