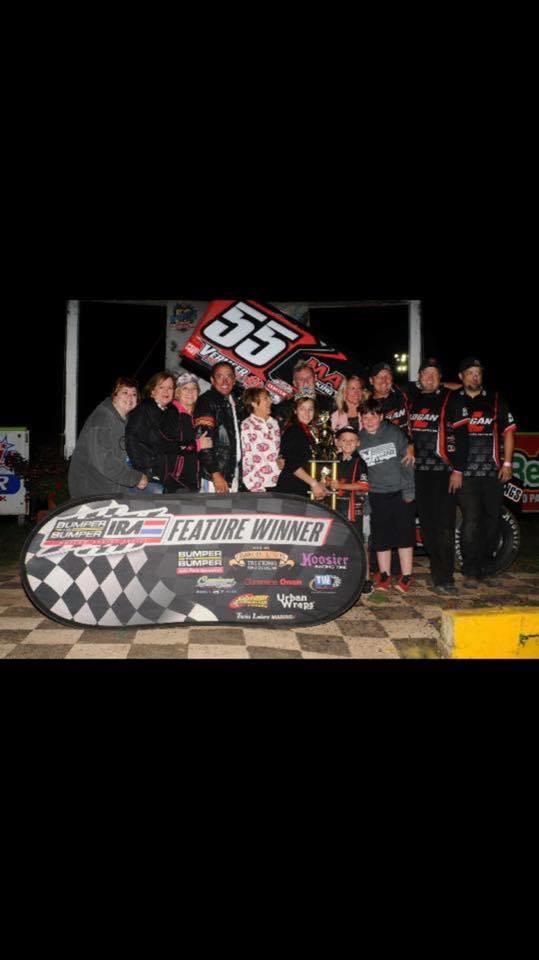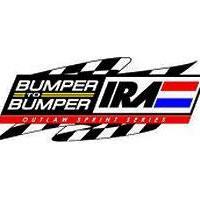 9/10/2018
IRA Interstate Racing Association
---
Aussies Dominate the Richert!
Brooke Tatnell out dueled fellow Australian Kerry Madsen to claim the 18th Annual Jerry Richert Memorial, in honor of his father in law and the 1962 Knoxville Nationals Champion Jerry Richert.
Heat race number 1 saw Jeremy Schultz take the early lead in the Captain Jim's Yacht Sales 5J. Travis Whitney challenged Schultz hard for the lead in the early laps before his DeWall Motorsports 16 popped out of gear sending him to the tail. Kerry Madsen would challenge Schultz for the lead on the restart but could not get around the 5J. Jeremy Schultz claimed the win over Madsen. Hunter Schurenburg finished in 3rd followed by Lynton Jeffrey and Russel Borland.
The 2nd heat race was dominated by Minnesota's Davey Heskin. Brooke Tatnell brought his 55 home in 2nd after fending off many challenges from the 2018 Knoxville Raceway rookie of the year Carson McCarl. McCarl settled for 3rd in front of Mike Reinke and Wayne Modjeski picked up the 5th and final transfer spot in the Oz Motorsports 73.
Heat 3 saw Scotty Thiel take the early lead but a motor problem at halfway would sideline the Professional Platting 64, giving the lead to Terry McCarl. McCarl would claim the win, followed by Parker Price-Miller. Sammy Swindell picked up 3rd with current points leader Jake Blackhurst in 4th and Jason Johnson in 5th.
The 4th heat race saw Wade Nygaard lead flag to flag picking up the win. Behind Nygaard, Bill Balog and Mark Dobmeier battled fiercely for second. Balog eventually getting the better of the two and finishing in second. Dobmeier was relegated to third over Brandon McMullen and Steve Meyer.
The B main saw Austin McCarl take the early lead but Travis Whitney quickly moved past the 17A and into the lead. McCarl took the lead back near the halfway point. A red flag with 1 to go for Tori Knutson getting upside down would create a green white checkered restart with McCarl leading over Skyler Gee. McCarl got a good restart and was able to use that to claim victory over Gee and Scott Winters. RJ Johnson would grab the 4th and final transfer spot over Travis Whitney who faded after leading early.
In The A main Lynton Jeffrey took the initial lead but quickly faced challenges from Brooke Tatnell. Tatnell would eventually take the lead from Jeffery as they neared lapped traffic. Kerry Madsen drove into 2nd and set his sights on Tatnell. A caution for Mark Dobmeier who stopped in turn three would set up a four lap dash to the finish. The pair of Australians dueled for the victory with Brooke Tatnell coming out on top of the Jerry Richert Memorial for the third time in his career. Madsen took second and Terry McCarl stood on the bottom step of the podium. Davey Heskin would bring his 56n home in 4th with Hunter Schuerenberg in 5th.
A Feature 1 30 laps | 00:33:50.497
55-Brooke Tatnell, 33:50.497[4]; 2. 2M-Kerry Madsen, 33:50.787[9]; 3. 24-Terry McCarl, 33:53.949[7]; 4. 56N-Davey Heskin, 33:54.725[1]; 5. 97G-Hunter Schuerenberg, 33:55.210[13]; 6. 12L-Lynton Jeffrey, 33:55.770[2]; 7. 17B-Bill Balog, 33:55.931[11]; 8. 25-Jake Blackhurst, 33:56.390[16]; 9. 17A-Austin McCarl, 33:56.933[21]; 10. 5J-Jeremy Schultz, 33:57.170[6]; 11. 85M-Steve Meyer, 33:57.745[19]; 12. 99X-Skylar Gee, 33:58.244[22]; 13. 44-Jason Johnson, 33:58.567[17]; 14. 9N-Wade Nygaard, 33:59.165[5]; 15. 1-Sammy Swindell, 33:59.296[8]; 16. 19L-R.J. Johnson, 34:00.149[24]; 17. 02-Mike Reinke, 34:00.671[3]; 18. 73-Wayne Modjeski, 34:00.544[20]; 19. (DNF) 23-Russel Borland, 33:51.254[18]; 20. (DNF) 13-Mark Dobmeier, 27:30.912[14]; 21. (DNF) 23W-Scott Winters, 26:58.131[23]; 22. (DNF) 7X-Carson McCarl, 25:41.866[12]; 23. (DNF) 10W-Brandon McMullen, 25:13.614[15]; 24. (DNF) 71-Parker Price-Miller, 16:02.235[10]
B Feature 1 15 laps | 00:20:29.604
17A-Austin McCarl, 20:29.604[1]; 2. 99X-Skylar Gee, 20:30.767[3]; 3. 23W-Scott Winters, 20:31.469[6]; 4. 19L-R.J. Johnson, 20:31.719[4]; 5. 16-Travis Whitney, 20:31.991[2]; 6. 7-Scott Uttech, 20:33.343[7]; 7. 1M-Phillip Mock, 20:33.377[5]; 8. 97X-Alan Gilbertson, 20:34.239[9]; 9. 05-Colin Smith, 20:34.861[12]; 10. 63-Nick Matuszewski, 20:36.166[8]; 11. 29-Hunter Custer, 20:36.596[13]; 12. 14K-Victoria (Tori) Knutson, 11:35.478[10]; 13. 12-Michael Decker, 11:40.127[11]; (DNS) 64-Scotty Thiel, 11:40.127; (DNS) 35-Skylar Prochaska, 11:40.127; (DNS) 14AJX-Heikkinen Patrick, 11:40.127
Heat 1 10 laps | 00:08:17.049
5J-Jeremy Schultz, 08:17.049[1]; 2. 2M-Kerry Madsen, 08:18.344[4]; 3. 97G-Hunter Schuerenberg, 08:20.959[5]; 4. 12L-Lynton Jeffrey, 08:21.791[3]; 5. 23-Russel Borland, 08:23.341[6]; 6. 19L-R.J. Johnson, 08:24.127[7]; 7. 16-Travis Whitney, 08:25.087[2]; 8. 12-Michael Decker, 08:27.337[9]; 9. 05-Colin Smith, 08:27.557[8]
Heat 2 10 laps | 00:04:23.082
56N-Davey Heskin, 04:23.082[1]; 2. 55-Brooke Tatnell, 04:28.648[4]; 3. 7X-Carson McCarl, 04:28.992[2]; 4. 02-Mike Reinke, 04:29.595[3]; 5. 73-Wayne Modjeski, 04:30.422[7]; 6. 99X-Skylar Gee, 04:31.653[5]; 7. 23W-Scott Winters, 04:33.065[6]; 8. 97X-Alan Gilbertson, 04:34.614[8]; 9. 29-Hunter Custer, 04:37.062[9]
Heat 3 10 laps | 00:03:49.607
24-Terry McCarl, 03:49.607[2]; 2. 71-Parker Price-Miller, 03:50.602[3]; 3. 1-Sammy Swindell, 03:51.915[4]; 4. 25-Jake Blackhurst, 03:53.408[6]; 5. 44-Jason Johnson, 03:55.353[5]; 6. 1M-Phillip Mock, 03:55.928[7]; 7. 63-Nick Matuszewski, 04:02.716[8]; 8. (DNF) 64-Scotty Thiel, 04:21.271[1]
64 with blown motor
Heat 4 10 laps | 00:04:42.442
9N-Wade Nygaard, 04:42.442[1]; 2. 17B-Bill Balog, 04:43.452[3]; 3. 13-Mark Dobmeier, 04:43.938[5]; 4. 10W-Brandon McMullen, 04:44.772[2]; 5. 85M-Steve Meyer, 04:45.352[6]; 6. 17A-Austin McCarl, 04:46.670[4]; 7. 7-Scott Uttech, 04:49.104[7]; 8. 14K-Victoria (Tori) Knutson, 04:51.606[8]; (DNS) 35-Skylar Prochaska, 04:51.606
Qualifying 1 2 laps | 00:18:09
2M-Kerry Madsen, 00:11.591[4]; 2. 55-Brooke Tatnell, 00:11.721[16]; 3. 1-Sammy Swindell, 00:11.806[14]; 4. 17A-Austin McCarl, 00:11.890[20]; 5. 12L-Lynton Jeffrey, 00:11.895[1]; 6. 02-Mike Reinke, 00:11.938[5]; 7. 71-Parker Price-Miller, 00:12.001[25]; 8. 17B-Bill Balog, 00:12.042[17]; 9. 16-Travis Whitney, 00:12.053[13]; 10. 7X-Carson McCarl, 00:12.080[11]; 11. 24-Terry McCarl, 00:12.096[30]; 12. 10W-Brandon McMullen, 00:12.117[9]; 13. 5J-Jeremy Schultz, 00:12.127[8]; 14. 56N-Davey Heskin, 00:12.135[12]; 15. 64-Scotty Thiel, 00:12.156[7]; 16. 9N-Wade Nygaard, 00:12.226[18]; 17. 97G-Hunter Schuerenberg, 00:12.285[26]; 18. 99X-Skylar Gee, 00:12.366[3]; 19. 44-Jason Johnson, 00:12.366[15]; 20. 13-Mark Dobmeier, 00:12.369[19]; 21. 23-Russel Borland, 00:12.371[6]; 22. 23W-Scott Winters, 00:12.385[21]; 23. 25-Jake Blackhurst, 00:12.423[23]; 24. 85M-Steve Meyer, 00:12.450[10]; 25. 19L-R.J. Johnson, 00:12.561[24]; 26. 73-Wayne Modjeski, 00:12.742[29]; 27. 1M-Phillip Mock, 00:12.799[33]; 28. 7-Scott Uttech, 00:12.986[34]; 29. 05-Colin Smith, 00:13.105[35]; 30. 97X-Alan Gilbertson, 00:13.134[32]; 31. 63-Nick Matuszewski, 00:13.298[22]; 32. 14K-Victoria (Tori) Knutson, 00:13.616[27]; 33. 12-Michael Decker, 00:13.807[28]; 34. 29-Hunter Custer, 00:14.276[31]; (DNS) 35-Skylar Prochaska,
Hotlaps 1 00:17:05
2M-Kerry Madsen, 00:11.734[4]; 2. 1-Sammy Swindell, 00:11.755[14]; 3. 12L-Lynton Jeffrey, 00:11.761[1]; 4. 56N-Davey Heskin, 00:11.834[12]; 5. 71-Parker Price-Miller, 00:11.882[25]; 6. 17B-Bill Balog, 00:11.942[17]; 7. 55-Brooke Tatnell, 00:11.962[16]; 8. 02-Mike Reinke, 00:11.969[5]; 9. 44-Jason Johnson, 00:11.971[15]; 10. 64-Scotty Thiel, 00:11.977[7]; 11. 16-Travis Whitney, 00:11.986[13]; 12. 99X-Skylar Gee, 00:11.994[3]; 13. 35-Skylar Prochaska, 00:12.010[2]; 14. 7X-Carson McCarl, 00:12.021[11]; 15. 17A-Austin McCarl, 00:12.094[20]; 16. 24-Terry McCarl, 00:12.137[30]; 17. 5J-Jeremy Schultz, 00:12.148[8]; 18. 97G-Hunter Schuerenberg, 00:12.200[26]; 19. 19L-R.J. Johnson, 00:12.215[24]; 20. 9N-Wade Nygaard, 00:12.228[18]; 21. 85M-Steve Meyer, 00:12.283[10]; 22. 10W-Brandon McMullen, 00:12.290[9]; 23. 13-Mark Dobmeier, 00:12.363[19]; 24. 23-Russel Borland, 00:12.381[6]; 25. 23W-Scott Winters, 00:12.385[21]; 26. 25-Jake Blackhurst, 00:12.500[23]; 27. 05-Colin Smith, 00:12.750[35]; 28. 1M-Phillip Mock, 00:12.812[33]; 29. 7-Scott Uttech, 00:12.898[34]; 30. 97X-Alan Gilbertson, 00:12.898[32]; 31. 73-Wayne Modjeski, 00:12.903[29]; 32. 29-Hunter Custer, 00:13.098[31]; 33. 63-Nick Matuszewski, 00:13.134[22]; 34. 12-Michael Decker, 00:13.325[28]; 35. 14K-Victoria (Tori) Knutson, 00:13.326[27]
---
Article Credit: Gared Tennyson
Submitted By: Kim Tennyson
Back to News