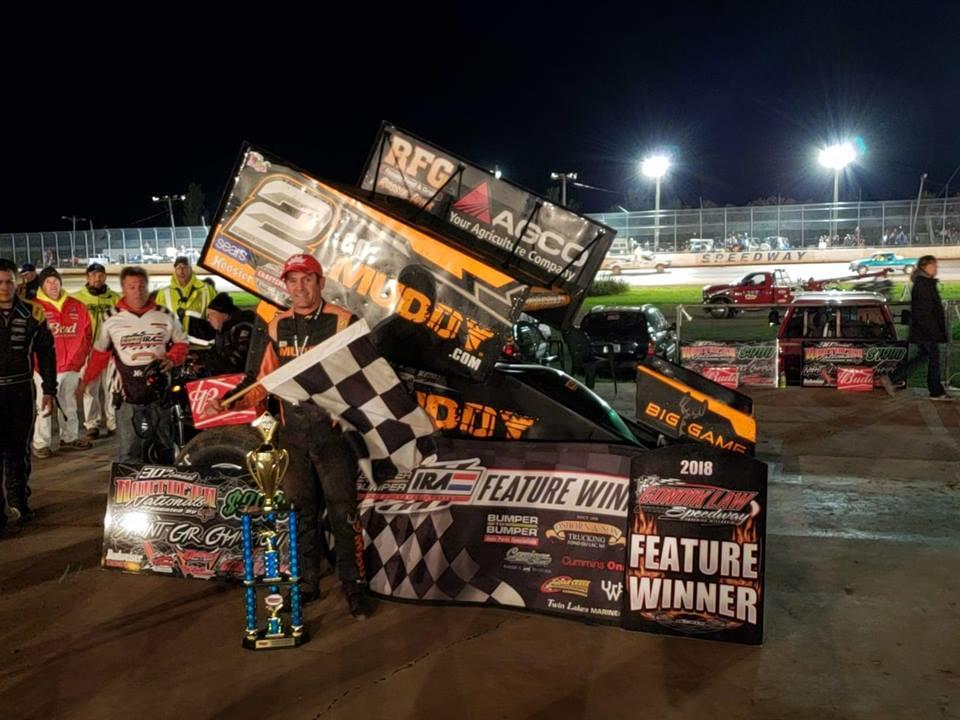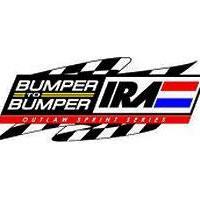 9/17/2018
IRA Interstate Racing Association
---
Madsen Wins His 3rd IRA Race of 2018
Kerry Madsen utilized restarts to work his way through the 24 car field and pick up his third IRA win in the last 4 Bumper to Bumper IRA races.
32 cars signed in for action at the Deer Creek Speedway for the first ever Open Wheel Nationals. Kerry Madsen set quick-time aboard the Go Muddy 2m machine. "T-Mac" Terry McCarl was 2nd quick followed by Scott Bogucki, Mike Reinke and Austin McCarl.
Heat race one saw Kerry Madsen drive from 4th to the lead by the time the checkered flag fell. Justin Henderson brought this 7x home in 2nd followed by 7th starting Scotty Thiel and Scotty Neitzel. Colin Smith made a last lap pass on Carson McCarl to take the fifth and final transfer position.
The second heat race saw the Phillips brothers, Tasker and Sawyer, get together on the start ending Tasker's heat and sending Sawyer to the tail. Balog would use the restart to propel him to the lead and the heat win. Terry McCarl brought the 24 car across the like in 2nd followed by Sawyer Phillips from the back and Matt Juhl. Scott Uttech would finish in the 5th position.
Heat three was dominated by point leader Jake Blackhurst winning by nearly a straight away. Ryan Bowers finished in second ahead of Brooke Tatnell, Skylar Prochaska and Russel Borland rounded out the top five.
The foutth and final heat race was exciting as Lynton Jeffry lead the first half until a caution bunched the field up and gave Le Duc, Alberta, Canada's Skylar Gee the shot he needed as he drove his 99 car from the sixth position to to the lead in the last half of the heat. Jeffry settled for second position over Jeremy Schultz, Mike Reinke and Travis Whitney.
The B main saw the Australian Scott Bogucki pick up the victory over Ben Schmidt in the Oz Motorsports 73. The McCarl brothers Carson and Austin took 3rd and 4th respectively to lock into the A main while Tasker Phillips missed the transfer by just 1 position finishing in fifth.
The A main was thrilling as Matt Juhl took the early lead over Mike Reinke and Terry McCarl. Kerry Madsen worked his way into second and began to track down Juhl. Madsen would move the Go Muddy 2m into the lead as McCarl followed suit and worked past Juhl. Madsen would pick up the win for his third IRA series win in four nights. Terry McCarl would settle for second over Lynton Jeffrey and Justin Henderson. Skyler Gee would round out the top five in his Pat Beck Motorsports 99.
A Feature 1 30 laps | 00:00:00
2M-Kerry Madsen, [5]; 2. 24-Terry McCarl, [4]; 3. 12L-Lynton Jeffrey, [10]; 4. 7X-Justin Henderson, [3]; 5. 99-Skylar Gee, [6]; 6. 09-Matt Juhl, [2]; 7. 17B-Bill Balog, [7]; 8. 28-Scott Bogucki, [21]; 9. 55-Brooke Tatnell, [9]; 10. 64-Scotty Thiel, [14]; 11. 25-Jake Blackhurst, [8]; 12. 73-Ben Schmidt, [22]; 13. 2W-Scott Neitzel, [15]; 14. 5J-Jeremy Schultz, [13]; 15. 97X-Carson McCarl, [23]; 16. 35-Skylar Prochaska, [16]; 17. 05-Colin Smith, [20]; 18. 23-Russel Borland, [18]; 19. 2KS-Austin McCarl, [24]; 20. 3P-Sawyer Phillips, [12]; 21. 19-Ryan Bowers, [11]; 22. 02-Mike Reinke, [1]; 23. 16-Travis Whitney, [17]; 24. 7-Scott Uttech, [19]
B Feature 1 12 laps | 00:10:55.808 Presented by Behling Racing
28-Scott Bogucki, 10:55.808[1]; 2. 73-Ben Schmidt, 11:00.293[5]; 3. 97X-Carson McCarl, 11:01.441[3]; 4. 2KS-Austin McCarl, 11:02.577[2]; 5. 7W-Tasker Phillips, 11:04.239[9]; 6. 29-Hunter Custer, 11:09.101[10]; 7. 14AJ-Wayne Modjeski, 11:09.434[7]; 8. 63-Nick Matuszewski, 10:39.160[8]; 9. (DNF) 97-Alan Gilbertson, [4]; 10. (DNF) 4K-Kris Spitz, [6]; (DNS) 12-Michael Decker, ; (DNS) 85M-Steve Meyer,
Heat 1 10 laps | 00:12:02.973 Presented by Real Wheels
2M-Kerry Madsen, 12:02.973[4]; 2. 7X-Justin Henderson, 12:05.273[2]; 3. 64-Scotty Thiel, 12:07.212[7]; 4. 2W-Scott Neitzel, 12:08.460[5]; 5. 05-Colin Smith, 12:09.493[8]; 6. 97X-Carson McCarl, 12:09.583[1]; 7. 85M-Steve Meyer, 07:49.328[6]; 8. 2KS-Austin McCarl, 04:18.828[3]
Heat 2 10 laps | 00:13:28.214 Presented by DMI
17B-Bill Balog, 13:28.214[3]; 2. 24-Terry McCarl, 13:30.453[4]; 3. 3P-Sawyer Phillips, 13:31.437[1]; 4. 09-Matt Juhl, 13:32.797[2]; 5. 7-Scott Uttech, 13:33.568[7]; 6. 73-Ben Schmidt, 13:33.980[6]; 7. 63-Nick Matuszewski, 13:36.275[8]; 8. 7W-Tasker Phillips, [5]
Heat 3 10 laps | 00:08:08.197 Presented by All Star Performance
25-Jake Blackhurst, 08:08.197[1]; 2. 19-Ryan Bowers, 08:13.048[2]; 3. 55-Brooke Tatnell, 08:14.392[3]; 4. 35-Skylar Prochaska, 08:15.772[5]; 5. 23-Russel Borland, 08:16.116[6]; 6. 28-Scott Bogucki, 08:18.453[4]; 7. 4K-Kris Spitz, 08:18.637[7]; 8. 29-Hunter Custer, 08:23.259[8]
Heat 4 10 laps | 00:09:25.977 Presented by R&H Enterprises
99-Skylar Gee, 09:25.977[6]; 2. 12L-Lynton Jeffrey, 09:26.370[3]; 3. 5J-Jeremy Schultz, 09:27.935[1]; 4. 02-Mike Reinke, 09:28.796[4]; 5. 16-Travis Whitney, 09:30.231[2]; 6. 97-Alan Gilbertson, 09:32.135[5]; 7. 14AJ-Wayne Modjeski, 09:33.119[7]; (DNS) 12-Michael Decker, 09:33.119
Qualifying 1 2 laps | 00:28:46.341 Presented by Osborne and Son Trucking
2M-Kerry Madsen, 00:12.037[28]; 2. 24-Terry McCarl, 00:12.057[9]; 3. 28-Scott Bogucki, 00:12.120[30]; 4. 02-Mike Reinke, 00:12.231[24]; 5. 2KS-Austin McCarl, 00:12.269[15]; 6. 17B-Bill Balog, 00:12.299[10]; 7. 55-Brooke Tatnell, 00:12.337[2]; 8. 12L-Lynton Jeffrey, 00:12.383[1]; 9. 7X-Justin Henderson, 00:12.388[5]; 10. 09-Matt Juhl, 00:12.432[31]; 11. 19-Ryan Bowers, 00:12.465[12]; 12. 16-Travis Whitney, 00:12.466[4]; 13. 97X-Carson McCarl, 00:12.477[25]; 14. 3P-Sawyer Phillips, 00:12.482[16]; 15. 25-Jake Blackhurst, 00:12.493[17]; 16. 5J-Jeremy Schultz, 00:12.512[23]; 17. 2W-Scott Neitzel, 00:12.563[18]; 18. 7W-Tasker Phillips, 00:12.618; 19. 35-Skylar Prochaska, 00:12.630[20]; 20. 97-Alan Gilbertson, 00:12.654[3]; 21. 85M-Steve Meyer, 00:12.696[7]; 22. 73-Ben Schmidt, 00:12.708[8]; 23. 23-Russel Borland, 00:12.740[22]; 24. 99-Skylar Gee, 00:12.747[14]; 25. 64-Scotty Thiel, 00:12.829[13]; 26. 7-Scott Uttech, 00:13.270[19]; 27. 4K-Kris Spitz, 00:13.380[27]; 28. 14AJ-Wayne Modjeski, 00:13.388[29]; 29. 05-Colin Smith, 00:13.410[21]; 30. 63-Nick Matuszewski, 00:13.527[6]; 31. 29-Hunter Custer, 00:14.327[26]; 32. 12-Michael Decker, [11]
Hotlaps 1 00:10:06.811
3P-Sawyer Phillips, [16]; 2. 35-Skylar Prochaska, [20]; 3. 14AJ-Wayne Modjeski, [29]; 4. 2KS-Austin McCarl, 00:12.229[15]; 5. 24-Terry McCarl, 00:12.290[9]; 6. 7X-Justin Henderson, 00:12.388[5]; 7. 17B-Bill Balog, 00:12.399[10]; 8. 55-Brooke Tatnell, 00:12.410[2]; 9. 64-Scotty Thiel, 00:12.460[13]; 10. 28-Scott Bogucki, 00:12.474[30]; 11. 2M-Kerry Madsen, 00:12.488[28]; 12. 73-Ben Schmidt, 00:12.545[8]; 13. 19-Ryan Bowers, 00:12.547[12]; 14. 16-Travis Whitney, 00:12.552[4]; 15. 97-Alan Gilbertson, 00:12.555[3]; 16. 25-Jake Blackhurst, 00:12.584[17]; 17. 12L-Lynton Jeffrey, 00:12.598[1]; 18. 99-Skylar Gee, 00:12.655[14]; 19. 02-Mike Reinke, 00:12.683[24]; 20. 85M-Steve Meyer, 00:12.788[7]; 21. 2W-Scott Neitzel, 00:12.802[18]; 22. 7W-Tasker Phillips, 00:12.803[32]; 23. 5J-Jeremy Schultz, 00:12.805[23]; 24. 23-Russel Borland, 00:12.809[22]; 25. 97X-Carson McCarl, 00:12.942[25]; 26. 09-Matt Juhl, 00:13.216[31]; 27. 7-Scott Uttech, 00:13.308[19]; 28. 4K-Kris Spitz, 00:13.320[27]; 29. 63-Nick Matuszewski, 00:13.343[6]; 30. 29-Hunter Custer, 00:14.007[26]; 31. 12-Michael Decker, 00:14.007[11]; 32. 05-Colin Smith, 00:14.007[21]
---
Article Credit: Gared Tennyson
Submitted By: Kim Tennyson
Back to News