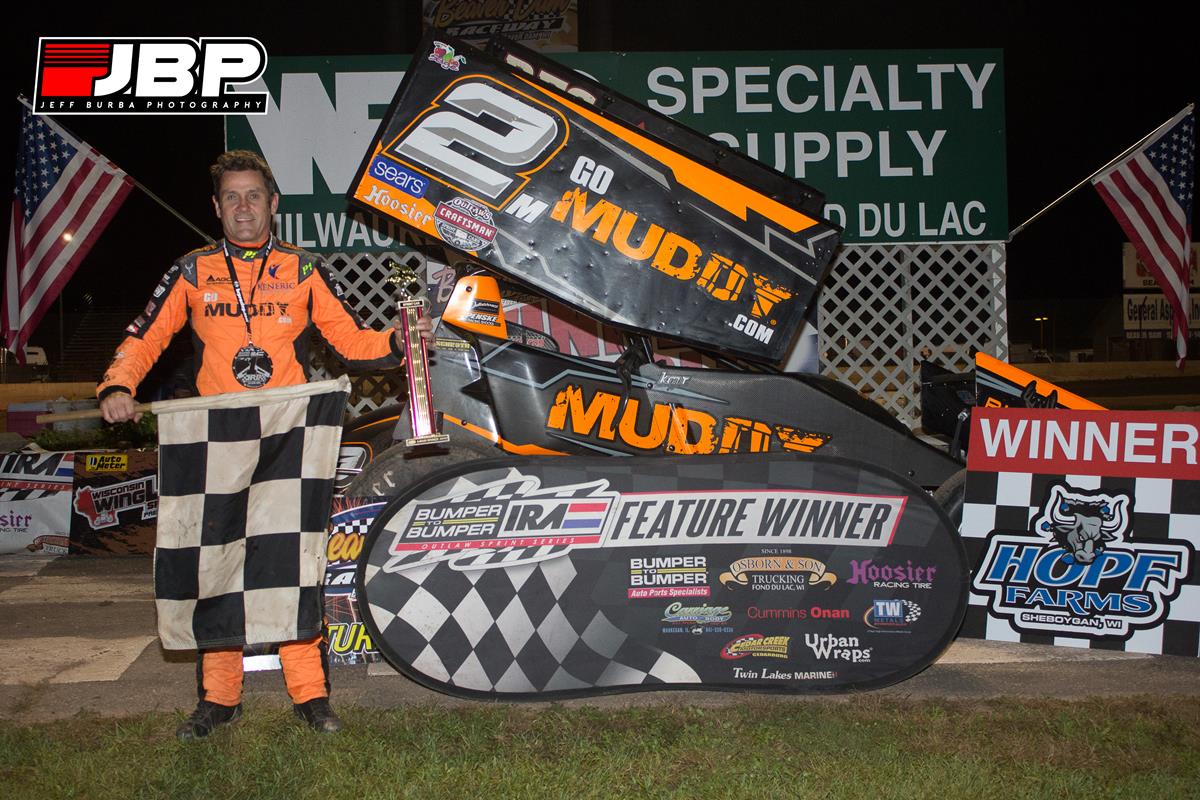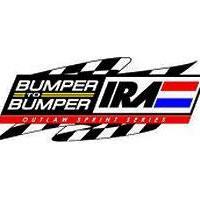 9/24/2018
IRA Interstate Racing Association
---
Kerry Madsen Wins Again
Kerry Madsen grabbed the lead away from Mike Reinke on lap 7 of the 30 lap feature and never looked back, winning his 4th IRA race in the last 5 events. Matt Vandervere charged from a 6th place starting position to the win in the Wisconsin wingLESS series presented by the IRA feature.
34 Bumper to Bumper Interstate Racing Association 410 Sprintcars signed in at Beaver Dam Raceway to compete in the Scott Semmelmann Memorial. Mike Reinke set quick time over Jordan Goldesberry and Scotty Neitzel. Jake Blackhurst and Bill Balog rounded out the top 5.
Heat 1 saw Bill Balog charge from 3rd to the lead in route to victory. Behind Balog, Scott Uttech moves from 6th to 2nd ahead of quick qualifier Mike Reinke. Scott Biertzer finished in 4th with Dave Uttech in 5th.
Heat race 2 was claimed by Scotty Thiel from the 3rd starting position. Jordan Goldesberry would finish in 2nd ahead of Steve Meyer and Russel Borland. Jeremy Schultz, who started in 9th, rounded out the top 5.
The 3rd heat race was claimed by Kerry Madsen over Scotty Neitzel. Ben Schmidt brought the Oz Motorsports car home in 3rd with a pair of Todd's in 4th and 5th, King ahead of Daun.
Heat number 4 was led flag to flag by pole sitter Phillip Mock. Behind Mock series point leader Jake Blackhurst claimed 2nd and Kris Spitz was 3rd. Trey Datweiler finish in 4th over MSA 360 regular Tim Haddy in 5th.
The B main was won by Brandon McMullen behind the wheel of the Bob Hood 10w. Lance Fassbender brought his 7f home in 2nd followed by Wayne Modjeski and Kevin Karnitz. Danny Schlaffer claimed the 5th and final transfer position into the A main.
In the A main Mike Reinke took the initial lead over Kerry Madsen. Madsen would finally wrestle the lead away from Reinke on lap 7, and never look back. Kerry Madsen led the remaining 23 laps in route to his 4th IRA victory in the last 5 nights of racing. Reinke would settle for 2nd ahead of Scotty Thiel. Scott Neitzel brought his orange 2w home in 4th followed by Phillip Mock.
A Feature 1 30 laps | 00:13:45.417
2M-Kerry Madsen, 13:45.417[2]; 2. 02-Mike Reinke, 13:48.148[1]; 3. 64-Scotty Thiel, 13:54.940[5]; 4. 2W-Scott Neitzel, 13:55.795[3]; 5. 1M-Phillip Mock, 13:55.915[6]; 6. 25-Jake Blackhurst, 13:56.633[8]; 7. 17B-Bill Balog, 13:57.024[7]; 8. 65-Jordan Goldesberry, 13:58.411[9]; 9. 4K-Kris Spitz, 13:45.626[13]; 10. 73-Ben Schmidt, 13:47.348[10]; 11. 85M-Steve Meyer, 13:52.186[12]; 12. 5J-Jeremy Schultz, 13:54.574[19]; 13. 10W-Brandon McMullen, 13:55.097[20]; 14. 22-Todd King, 13:59.438[16]; 15. 7-Scott Uttech, 14:00.704[11]; 16. 23-Russel Borland, 14:01.196[15]; 17. 21H-Tim Haddy, 13:48.661[18]; 18. 14AJ-Wayne Modjeski, 13:53.665[22]; 19. 19-Todd Daun, 13:54.129[17]; 20. 63K-Kevin Karnitz, 13:56.118[23]; 21. 11-Danny Schlafer, 15:16.888[24]; 22. (DNF) 68-Dave Uttech, 11:25.464[4]; 23. (DNF) 4B-Scott Biertzer, 08:57.306[14]; 24. (DNF) 7F-Lance Fassbender, 07:29.723[21]
B Feature 1 12 laps | 00:06:18.036 Presented by Behling Racing
10W-Brandon McMullen, 06:18.036[1]; 2. 7F-Lance Fassbender, 06:18.731[3]; 3. 14AJ-Wayne Modjeski, 06:20.298[4]; 4. 63K-Kevin Karnitz, 06:20.816[9]; 5. 11-Danny Schlafer, 06:22.216[6]; 6. 65X-Austin Deblauw, 06:23.353[5]; 7. 43-Jereme Schroeder, 06:31.695[2]; 8. 18-Keith Fellner, 06:31.781[11]; 9. 63-Nick Matuszewski, 06:34.193[7]; 10. 45-Matt Wiese, 06:34.636[10]; 11. 11X-Tony Wondra, 06:18.449[12]; 12. 29-Hunter Custer, 06:20.638[8]; (DNS) 12-Michael Decker, 06:20.638; (DNS) 32-Jeremy Hunt, 06:20.638
Heat 1 10 laps | 00:04:56.624 Presented by Real Wheels
17B-Bill Balog, 04:56.624[3]; 2. 7-Scott Uttech, 05:07.725[6]; 3. 02-Mike Reinke, 05:07.810[4]; 4. 4B-Scott Biertzer, 05:08.958[1]; 5. 68-Dave Uttech, 05:16.343[2]; 6. 11-Danny Schlafer, 04:57.650[7]; 7. 63K-Kevin Karnitz, 05:05.479[8]; 8. 32-Jeremy Hunt, 05:07.064[9]; 9. (DNF) 12-Michael Decker, 04:42.320[5]
Heat 2 10 laps | 00:05:15.252 Presented by Diversified Machine Inc
64-Scotty Thiel, 05:15.252[3]; 2. 65-Jordan Goldesberry, 05:23.852[4]; 3. 85M-Steve Meyer, 05:26.444[2]; 4. 23-Russel Borland, 05:28.143[1]; 5. 5J-Jeremy Schultz, 05:29.602[9]; 6. 14AJ-Wayne Modjeski, 05:16.659[6]; 7. 63-Nick Matuszewski, 05:21.595[7]; 8. 43-Jereme Schroeder, 05:24.672[5]; 9. 11X-Tony Wondra, 05:27.546[8]
Heat 3 10 laps | 00:04:17.195 Presented by All Star Performance
2M-Kerry Madsen, 04:17.195[2]; 2. 2W-Scott Neitzel, 04:26.054[4]; 3. 73-Ben Schmidt, 04:26.291[3]; 4. 22-Todd King, 04:29.801[1]; 5. 19-Todd Daun, 04:17.316[5]; 6. 65X-Austin Deblauw, 04:20.241[6]; 7. 29-Hunter Custer, 04:24.708[7]; 8. 18-Keith Fellner, 04:29.774[8]
Heat 4 10 laps | 00:09:30.382 Presented by R & H Enterprises
1M-Phillip Mock, 09:30.382[1]; 2. 25-Jake Blackhurst, 09:32.087[4]; 3. 4K-Kris Spitz, 09:32.958[2]; 4. 23D-Trey Datweiler, 09:35.424[6]; 5. 21H-Tim Haddy, 09:37.175[7]; 6. 7F-Lance Fassbender, 09:38.331[5]; 7. 45-Matt Wiese, 09:41.913[8]; 8. (DNF) 10W-Brandon McMullen, 04:27.304[3]
Qualifying 1 2 laps | 00:00:30 Presented by Osborne and Son Trucking
02-Mike Reinke, 00:13.737[26]; 2. 65-Jordan Goldesberry, 00:13.756[27]; 3. 2W-Scott Neitzel, 00:13.892[10]; 4. 25-Jake Blackhurst, 00:13.892[6]; 5. 17B-Bill Balog, 00:13.920[25]; 6. 64-Scotty Thiel, 00:14.073[4]; 7. 73-Ben Schmidt, 00:14.124[18]; 8. 10W-Brandon McMullen, 00:14.183[5]; 9. 68-Dave Uttech, 00:14.287[29]; 10. 85M-Steve Meyer, 00:14.312[15]; 11. 2M-Kerry Madsen, 00:14.337[8]; 12. 4K-Kris Spitz, 00:14.367[22]; 13. 4B-Scott Biertzer, 00:14.486[14]; 14. 23-Russel Borland, 00:14.547[7]; 15. 22-Todd King, 00:14.606[20]; 16. 1M-Phillip Mock, 00:14.733[30]; 17. 12-Michael Decker, 00:14.872[16]; 18. 43-Jereme Schroeder, 00:14.918[28]; 19. 19-Todd Daun, 00:14.929[32]; 20. 7F-Lance Fassbender, 00:15.015[34]; 21. 7-Scott Uttech, 00:15.124[2]; 22. 14AJ-Wayne Modjeski, 00:15.169[11]; 23. 65X-Austin Deblauw, 00:15.185[12]; 24. 23D-Trey Datweiler, 00:15.248[9]; 25. 11-Danny Schlafer, 00:15.369[1]; 26. 63-Nick Matuszewski, 00:15.504[23]; 27. 29-Hunter Custer, 00:15.616[24]; 28. 21H-Tim Haddy, 00:15.630[19]; 29. 63K-Kevin Karnitz, 00:15.682[21]; 30. 11X-Tony Wondra, 00:15.708[3]; 31. 18-Keith Fellner, 00:15.767[17]; 32. 45-Matt Wiese, 00:16.387[33]; 33. 32-Jeremy Hunt, 00:16.831[13]; 34. 5J-Jeremy Schultz, [31]
---
Article Credit: Gared Tennyson
Submitted By: Kim Tennyson
Back to News