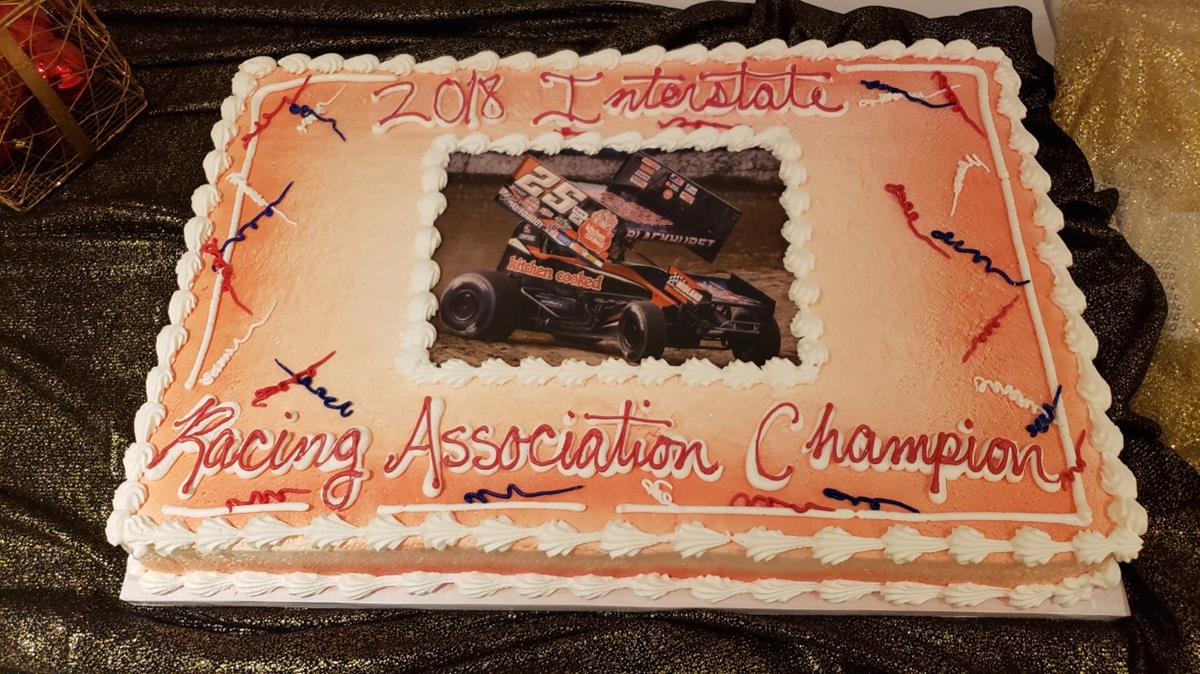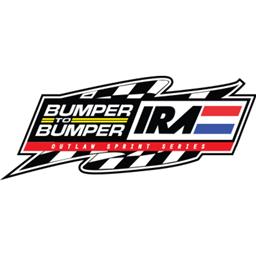 12/19/2018
IRA Interstate Racing Association
---
IRA SALUTES ITS' CHAMPIONS, BLACKHURST & COX
IRA SALUTES ITS' CHAMPIONS, BLACKHURST & COX
12/15 Milwaukee, WI The Interstate Racing Association (IRA) hosted its' 52nd annual Awards Banquet, honoring their Bumper To Bumper IRA Outlaw Sprint Series, and AutoMeter Wisconsin wingLESS Sprints presented by Gandrud Chevrolet, Saturday at Milwaukee's Hilton Garden Inn Grand Ballroom. A capacity crowd of 350 filled the festive room honoring the 43 combined eligible teams.
The comedic voice of the IRA, Ray Underwood, kept the large room entertained, while photographer extraordinaire Dave Olson's video opened the enthusiastic gala. IRA President Steve Sinclair proudly hosted his 26th consecutive IRA banquet and helped present numerous special awards. Fifteen winged 410 teams, and a remarkable twenty-eight wingLESS teams met the 80% participation requirements needed to be point fund eligible. All teams were represented at the banquet.
Jake Blackhurst topped the recipients as he was crowned the 2018 Bumper To Bumper IRA Outlaw Sprint Series Champion, adding his name to the prestigious list of IRA champions dating back to 1966. The young charger who alongside his father Paul made the long tows north from their Illinois home pay off. Blackhurst and Scotty Thiel had a great back and forth points battle all season long which ended with the youngster taking the title by a mere 7 points. Blackhurst took home the $10,000 first place check, a set of HRP wings, and numerous other contingency awards for their efforts, plus a beautiful painting courtesy of Dave Olson's Studio 360, and the traditional Hoosier championship jacket.
The Blackhurst's big night wasn't over though, as Paul Blackhurst was named as the Smith Titanium/Allstar Performance IRA Mechanic of the Year.
Veteran racer Tim Cox proved his formula of consistency to be the right one, claiming his first AutoMeter Wisconsin wingLESS Sprint Series presented by Gandrud Chevrolet championship. Despite only winning one A-main, Cox's dominance with top 5 finishes led him to a popular championship among the 4th year group. The versatile Cox, who has competed strongly in numerous other series on both dirt and pavement throughout his stellar career proved again that he is a class act and a great representative of this country's fastest growing sprint series, as car counts of 40 were commonplace. Cox took home the lion's share of the cash awards plus the tallest hardware of the night and an outstanding championship tribute painting by Dave Olson's Studio 360. Cox also received the traditional Hoosier tire championship jacket plus a contingency envelope topped by a prize from Triple X. Tim's accolades were completed as he was honored as the series Allstar Performance Mechanic of the Year too, as he properly made the set up calls on his unique four coil chassis.
Runnerup finishers, Scotty Thiel in the Bumper To Bumper To Bumper IRA Outlaw Sprints, and Doug Schenck in the AutoMeter Wisconsin wingLESS each made two of the best speeches of the night as each has finished second in their respective divisions the past three years in a row, and despite having outstanding years, explained how it felt to fall just short of their championship aspirations. Both put passion and humor in their remarks entertaining the overflow gathering.
Brandon McMullen, a past 360 sprint champion who piloted the gorgeous Bob Hood entry with IRA this year, finished a solid 8th in the 410 points chase and claimed the Hepfner Race Products (HRP) Rookie of the Year honors. In addition to the cash bonus, Dave Olson Studio 360 painting, and Hoosier jacket, the team also won a wing combo courtesy of HRP. The Hood Team continued their big night by claiming the Super Shox package which provides them with shocks for the 2019 season as their choice in the popular Contingency Product Drawing which is such a unique part of the IRA banquet.
Greg Olsen won Rookie of the Year honors in the AutoMeter WI wingLESS division. The criteria in this division is that a driver couldn't have run a full size sprint car of any type more than 3 times prior to a full season with the group. Olsen showed steady improvement all season eventually finishing 17th in points.
Dean and Stacy Hopf of Hopf Farms were awarded the prestigious Rick Schmidt Memorial IRA Member of the Year honors. The Hopf's not only put up sponsor funds for their own Hopf Farms Bullring Showdown mini-series, but they helped along with Roy Fenske to raise the purse dramatically for the season ending Wisconsin Sprint Car Championships. But most importantly, the couple is passionate for both local racing and local race teams, as they contribute to numerous IRA teams, as the familiar Hopf Farms logo is seen on several cars.
IRA has been blessed with many generous supporters of their efforts throughout the years. Local businessmen such as Gene Wright, Bill Grogan, Rick Schmidt, Howie Gleason, and Dean Osborn to name a few, stand out for their generosity in their overall support of IRA sprint car racing over the years, and this year Ken Iles of Carriage Auto Body was recognized with a JBP photo award for his long time contribution to his late father Roger's annual tribute race.
Mike Decker was honored as the Bumper To Bumper To Bumper IRA Sprint Series Most Improved Driver. Decker, a 100% participation driver, picked up a career best 5th place effort gathering Hard Charger honors at the 141 Speedway event back in May, leading to Decker's career best 13th place in the final points chase.
Likeable Tom Eller was named AutoMeter WI wingLESS Most Improved Driver. Eller's perseverance throughout the past two years provided constant improvement leading him to a 23rd place points finish.
Jeremy Schultz's #5j was awarded the Studio 360 Best Appearing Bumper To Bumper IRA Outlaw Sprint Series Car, receiving a unique curved photo display courtesy of Dave Olson.
Allen Hafford's first edition 2018 entry was awarded the Jeff Burba Photography (JBP) Best Appearing AutoMeter WI wingLESS Car and was awarded a nicely framed photo of his #38.
The Contingency Product Drawing is a big part of the night and a IRA tradition which has all point fund eligible teams involved as prize packages are created for the exact number of eligible teams, and then teams are randomly selected to choose which prize package they want, thus every eligible team has an equal chance to pick first. Some of the more notable 410 series winners were Scotty Neitzel and Steve Meyer each winning 2019 Maxim chassis. Neitzel had a huge night as he also won a set of All Pro cylinder heads, a Walker air filter, a MSD box, and set of Outerwears prefilters. Scott Uttech a Wilwood inboard brake kit and a Simpson helmet, and Impact belts. Bill Balog a complete DMI driveline and KSE power steering pump. Kris Spitz a pair of Weld wheels and front hubs. Jeremy Schultz a complete front-end assembly courtesy of R&H Enterprises plus prizes Smith Titanium, Bell, and Ultrashield. Russel Borland netted a DMI hub/spindle/kingpin kit plus product from EMI, Smith and J&J. Nick Matuszewski took home a VELOCITY top & nose wing combo plus a DMI hub/spindle/kingpin kit, and J&J items. Scotty Thiel took the Triple X chassis package, Ti22 hubs, and awards from Velocita and Behling Racing Equipment. Wayne Modjeski took a HRP wing combo and items from XYZ Machining. Hunter Custer claimed a DMI driveline kit, a set of Schoenfeld headers, and a award from Slade Shock Technology. Ben Schmidt claimed Maxim parts plus items from M&W and a set of FK Rod ends. And Mike Decker also took Maxim parts plus Afco shocks and a Velocity nose wing. Additionally several other certificates from companies such as Quarter Master, AutoMeter, Weld, Allstar, Saldana, Pyrotect, Simpson, Behling, and R&H were included.
With 28 teams eligible for the product drawing in the wingLESS class, all eyes were on the big prize, a new GM604 engine courtesy of Gandrud Chevrolet. And the drama was worth it as an ecstatic Jim Sivia (who can still be heard screaming throughout the Milwaukee area) was the winner. While all 28 teams went home with something in addition to their point fund checks, "some" of the more notable prize winners were; Nick Petska and Paul Shaffer winning Maxim parts. Nathan Crane a set of Schoenfeld headers, Natalie Klemko a Wilwood inboard brake kit, Jimmy Kouba won the use of Super Shox for the 2019 season. Ryan Zielski Butlerbilt front axle and king pin tethers. Allen Hafford product from EMI, Jordan Mattson a set of Impact belts. Greg Olsen an Impact h&n device. Vince Bartolotta a front axle courtesy of Behling's. Rod Colburn and Derek Crane each won a pair of DMI torsion bars, and numerous teams went home with Quarter Master gear sets, and other goodies.
Following champion Jake Blackhurst in the 410 eligible points were second place Scotty Thiel, 3rd Jeremy Schultz, 4th Bill Balog, 5th Steve Meyer, 6th Scotty Neitzel, 7th Russel Borland, 8th Brandon McMullen, 9th Scott Uttech, 10th Kris Spitz, 11th Wayne Modjeski, 12th Ben Schmidt, 13th Mike Decker, 14th Hunter Custer, and 15th Nick Matuszewski.
The 28 teams in AutoMeter WI wingLESS points following champion Tim Cox were, 2 Doug Schenck, 3 Ryan Zielski, 4 Allen Hafford, 5 Jordan Mattson, 6 Nathan Crane, 7 (tie) Jimmy Sivia and Jimmy Kouba, 9 Craig Campton, 10 Matt Vandervere, 11 Chris Klemko, 12 Derek Crane, 13 Nick Petska, 14 Chris Dodd, 15 Jake Kouba, 16 Dennis Spitz, 17 Greg Olsen, 18 Natalie Klemko, 19 James Walldan, 20 Shawn Swim, 21 Jordan Paulsen, 22 Vince Bartolotta, 23 Tom Eller, 24 Rod Colburn, 25 William Huck, 26 Randy Stanford, 27 Jim Wehrman, and 28 Paul Shaffer
The Bumper to Bumper IRA Outlaw Sprints open their 2019 season April 6th at 34 Raceway in West Burlington, IA.
The AutoMeter WI wingLESS Sprints open their 2019 season at Beaver Dam Raceway in Wisconsin, and will be joined by the Bumper To Bumper IRA Outlaw Sprints, and Badger Midgets on April 20th.
---
Article Credit: Steve Sinclair
Submitted By: Kim Tennyson
Back to News