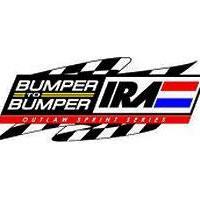 7/27/2019
IRA Interstate Racing Association
---
Schultz Victorious in the North Woods
Jeremy Schultz led all 20 laps enroute to the victory at the Langlade County Fair in Antigo, Wisconsin. As the checkered flags flew the Jerry's Automotive 5J led the field across the line. Fifth starting Bill Balog was able to work his way into the second spot, but could not catch Schultz. Steve Meyer finished in the third position while Scotty Thiel and Ben Schmidt filled out the top five.
Twenty Bumper to Bumper Interstate Racing Association 410 sprint car teams traveled up to the north woods to do battle at the Langlade County Fair. Bill Balog set quick time over Scotty Neitzel. Followed by Steve Meyer. Jeremy Schultz timed his 5J machine in fourth and Scotty Thiel rounded out the top five.
Heat race number one was claimed by Bill Balog, who needed just one lap to work from his fouth starting position into the lead. Jeremy Schultz would finish in second followed by a returning Bill Wirth. Jereme Schroeder brought his black and pink car home in fourth with Nick Matuszewski in fifth.
Scott Biertzer drove his Hopf Farms sponsored 4B to the victory in heat two, followed by Scotty Thiel and Scotty Neitzel. Jordan Goldesberry piloting the Rock Solid Lawn Care 65 finished in fourh, while Wayne Modjeski was fifth.
Heat three saw Dave Uttech pick up the win over Russel Borland. Steve Meyer brought the Meyer Electric car home in third ahead of Chippewa Falls native Hunter Custer. Johnny Fahl of Brown Deer, Wisconsin rounded out the top five.
A Feature 1 20 laps | 00:13:03.715 Presented by Bumper to Bumper Auto Parts
5J-Jeremy Schultz, 13:03.715[2]; 2. 17B-Bill Balog, 13:05.437[5]; 3. 85M-Steve Meyer, 13:08.373[1]; 4. 64-Scotty Thiel, 13:08.792[3]; 5. 73-Ben Schmidt, 13:09.239[4]; 6. 23-Russel Borland, 13:10.140[6]; 7. 2W-Scott Neitzel, 13:11.028[7]; 8. 4B-Scott Biertzer, 13:12.272[8]; 9. 65-Jordan Goldesberry, 13:12.933[9]; 10. 68-Dave Uttech, 13:18.457[10]; 11. 53W-Bill Wirth, 13:07.881[20]; 12. 63-Nick Matuszewski, 13:10.379[14]; 13. 43-Jereme Schroeder, 13:12.050[12]; 14. 45-Matt Wiese, 13:07.996[16]; 15. (DNF) 29-Hunter Custer, 10:09.423[11]; 16. (DNF) 0-John Fahl, 09:19.137[19]; 17. (DNF) 14AJ-Wayne Modjeski, 08:51.207[13]; 18. (DNF) 73AF-Joey Moughan, 07:30.385[15]; 19. (DNF) 14AJX-Bernie Miller, 07:08.811[18]; (DNS) 4K-Kris Spitz, 07:08.811
Heat 1 8 laps | 00:08:36 Presented by Weld Wheels / EMI
17B-Bill Balog, 08:36.485[4]; 2. 5J-Jeremy Schultz, 08:39.143[3]; 3. 53W-Bill Wirth, 08:42.033[2]; 4. 43-Jereme Schroeder, 08:46.207[5]; 5. 63-Nick Matuszewski, 08:48.002[6]; 6. 73-Ben Schmidt, 08:49.760[1]; 7. 45-Matt Wiese, 08:50.469[7]
Heat 2 8 laps | 00:04:36 Presented by All Star Performance
4B-Scott Biertzer, 04:36.617[2]; 2. 64-Scotty Thiel, 04:37.271[3]; 3. 2W-Scott Neitzel, 04:37.523[4]; 4. 65-Jordan Goldesberry, 04:39.011[1]; 5. 14AJ-Wayne Modjeski, 04:46.545[6]; 6. 4K-Kris Spitz, 04:06.441[5]; (DNS) 14AJX-Bernie Miller, 04:06.441
Heat 3 8 laps | 00:04:14 Presented by AutoMeter / Behling Racing
68-Dave Uttech, 04:14.970[2]; 2. 23-Russel Borland, 04:16.693[1]; 3. 85M-Steve Meyer, 04:17.896[4]; 4. 29-Hunter Custer, 04:21.979[3]; 5. (DNF) 0-John Fahl, 03:51.513[6]; 6. (DNF) 73AF-Joey Moughan, 01:58.108[5]
Qualifying 1 00:00:36 Presented by Osborn and Son Trucking
17B-Bill Balog, 00:16.752[10]; 2. 2W-Scott Neitzel, 00:17.035[4]; 3. 85M-Steve Meyer, 00:17.052[14]; 4. 5J-Jeremy Schultz, 00:17.102[17]; 5. 64-Scotty Thiel, 00:17.198[13]; 6. 23-Russel Borland, 00:17.239[15]; 7. 53W-Bill Wirth, 00:17.279[9]; 8. 4B-Scott Biertzer, 00:17.303[16]; 9. 68-Dave Uttech, 00:17.351[8]; 10. 73-Ben Schmidt, 00:17.377[6]; 11. 65-Jordan Goldesberry, 00:17.539[19]; 12. 73AF-Joey Moughan, 00:17.544[12]; 13. 43-Jereme Schroeder, 00:17.664[18]; 14. 4K-Kris Spitz, 00:17.681[20]; 15. 29-Hunter Custer, 00:17.697[5]; 16. 63-Nick Matuszewski, 00:17.833[11]; 17. 14AJ-Wayne Modjeski, 00:17.937[2]; 18. 0-John Fahl, 00:17.977[3]; 19. 45-Matt Wiese, 00:18.137[1]; 20. 14AJX-Bernie Miller, 00:21.602[7]
---
Article Credit: Gared Tennyson
Submitted By: Kim Tennyson
Back to News