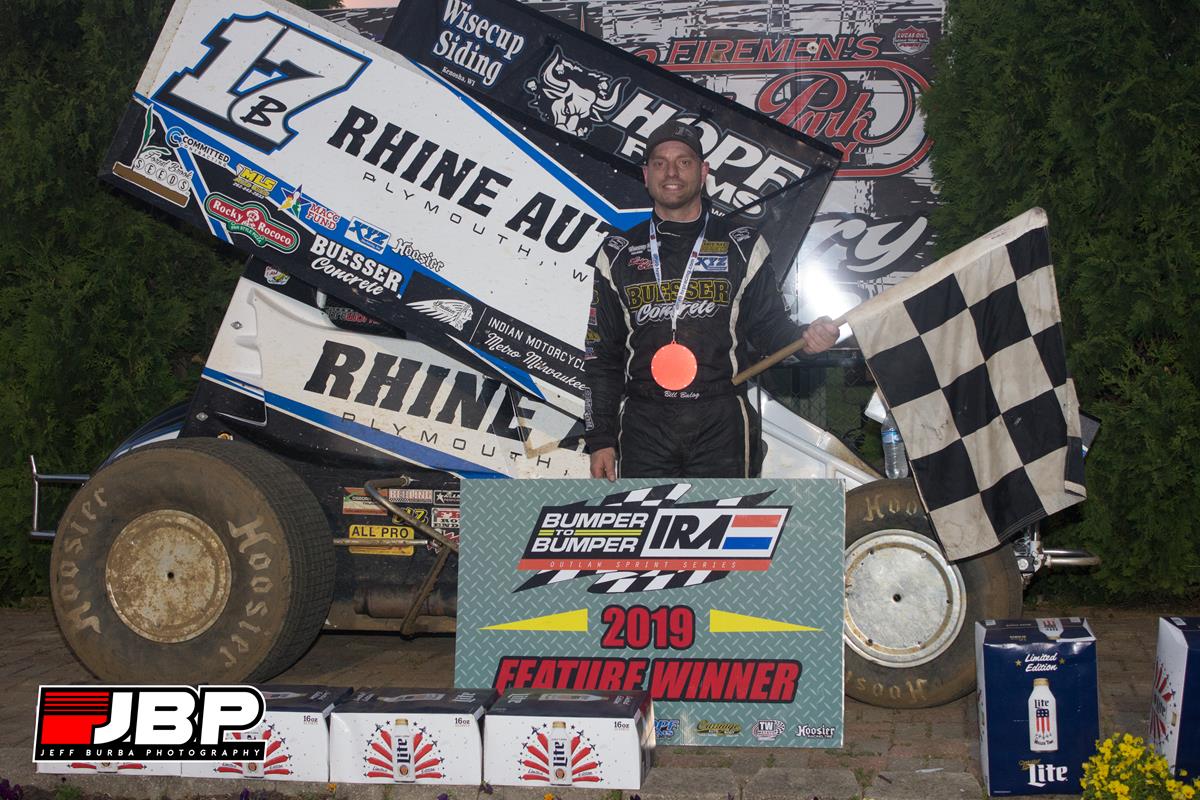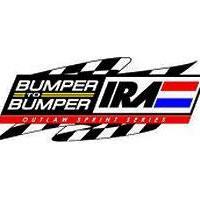 7/28/2019
IRA Interstate Racing Association
---
Nightmare in the North Woods
Eighteen Bumper to Bumper IRA winged sprint teams made the continued track through the north woods for the third night of a huge four day weekend. Scotty Thiel set quick time over "The Gladiator" Ben Schmidt. Springfield Illinois' Jordan Goldesberry timed third quick followed by Jeremy Schultz and Bill Balog.
Heat race number one saw Steve Meyer pick up the win in his Meyer Electric backed machine over Scotty Thiel. Jeremy Schultz crossed in third with Jereme Schroeder in fourth and Joey Moughan in fifth.
The second heat race was claimed by IRA stalwart Scotty Neitzel over a pair of Bills with Bill Wirth in second and Bill Balog in third. Ben Schmidt brought his Oz Motorsports car home in fourth over Nick Matuszewski.
The final heat race saw Russel Borland reach the checkered flag first ahead of Jordan Goldesberry and Scott Biertzer. Dave Uttech finished fourth and Borland's car owner Matt Wiese finished in the fifth spot.
Scotty Thiel took the lead early, and led most of the feature. Bill Balog who started in the eigth position had charged to second when a caution with just a couple laps left put "The Northpole Nightmare" on the rear bumper of Thiel. On the restart Balog would work around "The Big Wheel" and as the pair entered the next corner Thiel lost the handle of his 64 car and spun out. Balog would lead the remaining laps and claim the victory. Jeremy Schultz finished in the second spot followed by Jordan Goldesberry, Scotty Neitzel
and Scott Biertzer.
A Feature 1 30 laps | 00:00:00 Presented by Bumper to Bumper Auto Parts
17B-Bill Balog, [8]; 2. 5J-Jeremy Schultz, [3]; 3. 65-Jordan Goldesberry, [6]; 4. 2W-Scott Neitzel, [5]; 5. 4B-Scott Biertzer, [12]; 6. 68-Dave Uttech, [9]; 7. 73AF-Joey Moughan, [4]; 8. 23-Russel Borland, [7]; 9. 64-Scotty Thiel, [2]; 10. 43-Jereme Schroeder, [13]; 11. (DNF) 85M-Steve Meyer, [1]; 12. (DNF) 45-Matt Wiese, [14]; 13. (DNF) 73-Ben Schmidt, [10]; 14. (DNF) 53W-Bill Wirth, [11]; 15. (DNF) 14AJ-Wayne Modjeski, [16]; 16. (DNF) 63-Nick Matuszewski, [15]; (DNS) 29-Hunter Custer, ; (DNS) 14AJX-zzzHeikkinen zzzzPatrick,
Heat 1 10 laps | 00:00:00 Presented by Weld Wheels / EMI
85M-Steve Meyer, [1]; 2. 64-Scotty Thiel, [4]; 3. 5J-Jeremy Schultz, [3]; 4. 43-Jereme Schroeder, [5]; 5. 73AF-Joey Moughan, [2]; 6. 14AJX-zzzHeikkinen zzzzPatrick, [6]
Heat 2 10 laps | 00:00:00 Presented by All Star Performance
2W-Scott Neitzel, [2]; 2. 53W-Bill Wirth, [1]; 3. 17B-Bill Balog, [3]; 4. 73-Ben Schmidt, [4]; 5. 63-Nick Matuszewski, [6]; 6. 14AJ-Wayne Modjeski, [5]
Heat 3 10 laps | 00:00:00 Presented by AutoMeter / Behling Racing Products
23-Russel Borland, [1]; 2. 65-Jordan Goldesberry, [4]; 3. 4B-Scott Biertzer, [2]; 4. 68-Dave Uttech, [3]; 5. 45-Matt Wiese, [5]; (DNS) 29-Hunter Custer,
Qualifying 1 00:00:00 Presented by Osborn and Son Trucking
64-Scotty Thiel, 00:12.611[10]; 2. 73-Ben Schmidt, 00:12.745[1]; 3. 65-Jordan Goldesberry, 00:12.820[2]; 4. 5J-Jeremy Schultz, 00:12.840[12]; 5. 17B-Bill Balog, 00:12.858[14]; 6. 68-Dave Uttech, 00:12.898[6]; 7. 73AF-Joey Moughan, 00:12.923[15]; 8. 2W-Scott Neitzel, 00:12.924[7]; 9. 4B-Scott Biertzer, 00:13.197[3]; 10. 85M-Steve Meyer, 00:13.287[8]; 11. 53W-Bill Wirth, 00:13.420[17]; 12. 23-Russel Borland, 00:13.550[11]; 13. 43-Jereme Schroeder, 00:13.553[5]; 14. 14AJ-Wayne Modjeski, 00:13.612[4]; 15. 45-Matt Wiese, 00:13.990[9]; 16. 14AJX-zzzHeikkinen zzzzPatrick, 00:14.652[16]; 17. 63-Nick Matuszewski, [13]; 18. (DNF) 29-Hunter Custer, [18]
---
Submitted By: Kim Tennyson
Back to News