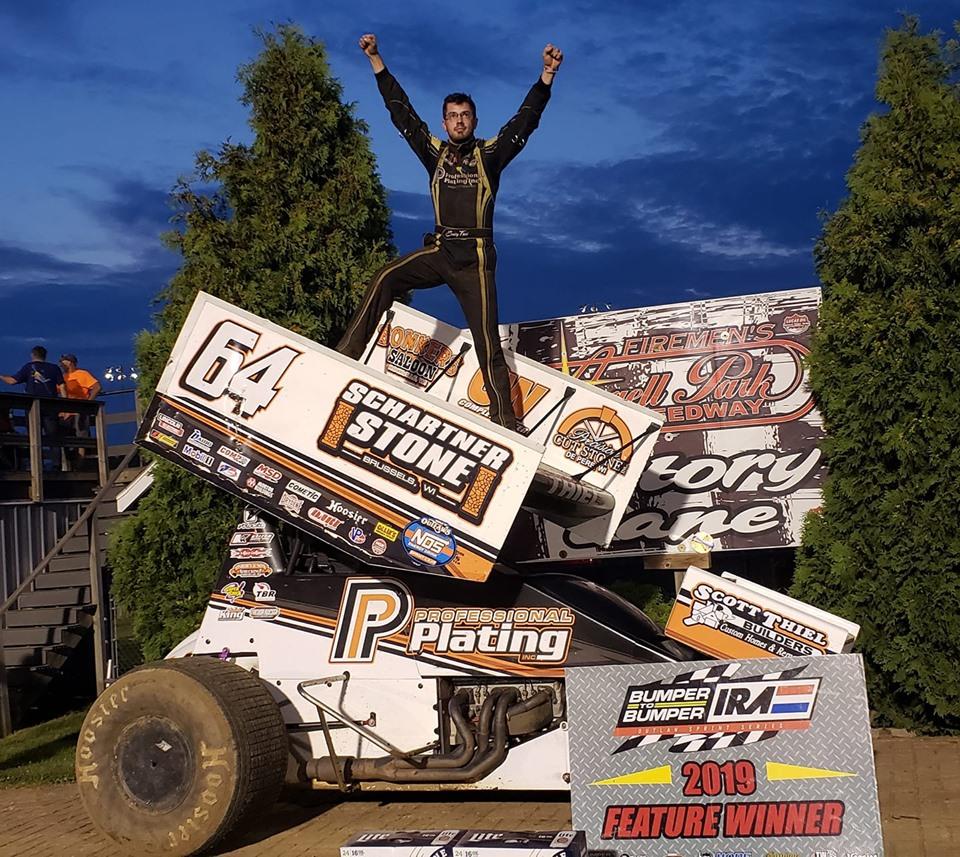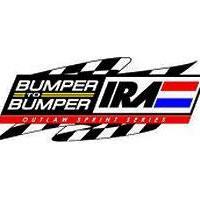 7/30/2019
IRA Interstate Racing Association
---
Thiel Sweeps Norm Nelson Classic
With a grueling four day treck through Wisconsin coming to an end, 23 Bumper to Bumper Interstate Racing Association teams signed into Angell Park Speedway to compete in the Norm Nelson Classic. Scotty Thiel set quick time over Bill Balog and Russel Borland. Ben Schmidt timed in third quick while Dave Uttech was fifth.
Scotty Thiel quickly charged from fourth place to the lead of heat race one and claimed victory, giving him hopes of a clean sweep for the night. Behind Thiel a pair of Oz Motorsports cars claimed second and third with Joey Moughan beating Ben Schmidt to the line. Josh Walters finished in the fourth spot with Steve Meyer rebounding from an early flat tire finishing in fifth.
In heat race two, Jeremy Schultz lead all 10 laps en-route to victory over Scotty Neitzel. Series points leader Bill Balog finished in third over Dave Uttech and Scott Biertzer.
The third and final heat race was won by Mike Reinke In the SCA 02. Jordan Goldesberry brought his mount home in second followed by Todd Daun and Russel Borland. Jereme Schroeder rounded out the top five.
The A main invert helped keep Scotty Thiel's chances of a clean sweep as "The Big Wheel" drew the 1 and would start on the pole of the feature. Thiel jumped out to the early lead and led the first 11 laps unchallenged until a caution would bunch up the pack. Mike Reinke would restart on Thiel's bumper and made Scotty's job hard, pressuring Thiel through lapped traffic, but in the closing laps the Schartner Stone 64 was able to pull away and pick up his second win of the season. Mike Reinke would finish in the second spot while Jordan Goldesberry claimed third for the second night in a row. Steve Meyer finished in the fourth spot and Bill Balog rounded out the top five.
A Feature 1 30 laps | 00:22:20.254 Presented by Bumper to Bumper Auto Parts
64-Scotty Thiel, 22:20.254[1]; 2. 02-Mike Reinke, 22:21.856[4]; 3. 65-Jordan Goldesberry, 22:27.795[3]; 4. 85M-Steve Meyer, 22:27.826[5]; 5. 17B-Bill Balog, 22:28.474[6]; 6. 23-Russel Borland, 22:29.018[8]; 7. 2W-Scott Neitzel, 22:29.631[10]; 8. 73AF-Joey Moughan, 22:30.355[11]; 9. 5J-Jeremy Schultz, 22:32.199[2]; 10. 12W-Josh Walter, 22:35.793[13]; 11. 73-Ben Schmidt, 22:37.212[9]; 12. 19-Todd Daun, 22:21.213[14]; 13. 68-Dave Uttech, 22:24.820[7]; 14. 20R-Rob Pribnow, 22:25.564[18]; 15. 43-Jereme Schroeder, 22:26.893[12]; 16. 14AJK-Kurt Davis, 22:32.578[20]; 17. 14AJ-Wayne Modjeski, 22:33.341[21]; 18. 63-Nick Matuszewski, 22:36.137[19]; 19. 0-John Fahl, 22:22.095[22]; 20. 29-Hunter Custer, 22:23.114[16]; 21. 18-Keith Fellner, 22:26.855[23]; 22. 45-Matt Wiese, 22:28.589[17]; 23. (DNF) 4B-Scott Biertzer, 07:13.560[15]
Heat 1 10 laps | 00:07:20.559 Presented by Weld Wheels / EMI
64-Scotty Thiel, 07:20.559[4]; 2. 73AF-Joey Moughan, 07:24.400[5]; 3. 73-Ben Schmidt, 07:24.885[3]; 4. 12W-Josh Walter, 07:26.891[6]; 5. 85M-Steve Meyer, 07:28.018[2]; 6. 45-Matt Wiese, 07:34.312[7]; 7. 18-Keith Fellner, 07:23.692[8]; 8. (DNF) 14AJ-Wayne Modjeski, 03:05.703[1]
Heat 2 10 laps | 00:04:36.061 Presented by All Star Performance
5J-Jeremy Schultz, 04:36.061[1]; 2. 2W-Scott Neitzel, 04:38.483[2]; 3. 17B-Bill Balog, 04:41.670[4]; 4. 68-Dave Uttech, 04:41.819[3]; 5. 4B-Scott Biertzer, 04:46.151[6]; 6. 20R-Rob Pribnow, 04:36.407[8]; 7. 63-Nick Matuszewski, 04:40.073[5]; 8. 0-John Fahl, 04:47.408[7]
Heat 3 10 laps | 00:02:03.492 Presented by AutoMeter / Behling Racing Products
02-Mike Reinke, 02:03.492[1]; 2. 65-Jordan Goldesberry, 02:05.819[3]; 3. 23-Russel Borland, 02:10.890[4]; 4. 43-Jereme Schroeder, 02:13.600[5]; 5. 19-Todd Daun, 02:15.936[2]; 6. 29-Hunter Custer, 02:19.431[6]; 7. 14AJK-Kurt Davis, 02:04.871[7]
Qualifying 1 00:05:21.322 Presented by Osborn and Son Trucking
64-Scotty Thiel, 00:11.891[2]; 2. 17B-Bill Balog, 00:11.976[13]; 3. 23-Russel Borland, 00:12.248[17]; 4. 73-Ben Schmidt, 00:12.328[7]; 5. 68-Dave Uttech, 00:12.416[11]; 6. 65-Jordan Goldesberry, 00:12.423[8]; 7. 85M-Steve Meyer, 00:12.428[15]; 8. 2W-Scott Neitzel, 00:12.430[9]; 9. 19-Todd Daun, 00:12.493[1]; 10. 14AJ-Wayne Modjeski, 00:12.514[6]; 11. 5J-Jeremy Schultz, 00:12.525[22]; 12. 02-Mike Reinke, 00:12.534[4]; 13. 73AF-Joey Moughan, 00:12.589[16]; 14. 63-Nick Matuszewski, 00:12.634[5]; 15. 43-Jereme Schroeder, 00:12.637[12]; 16. 12W-Josh Walter, 00:12.665[18]; 17. 4B-Scott Biertzer, 00:12.700[19]; 18. 29-Hunter Custer, 00:12.907[14]; 19. 45-Matt Wiese, 00:13.041[3]; 20. 0-John Fahl, 00:13.306[21]; 21. 14AJK-Kurt Davis, 00:13.313[20]; 22. 18-Keith Fellner, 00:13.352[10]; 23. 20R-Rob Pribnow, 00:14.396[23]
Hotlaps 1 00:11:57.096
73AF-Joey Moughan, [16]; 2. 17B-Bill Balog, 00:12.145[13]; 3. 5J-Jeremy Schultz, 00:12.319[22]; 4. 23-Russel Borland, 00:12.363[17]; 5. 73-Ben Schmidt, 00:12.456[7]; 6. 2W-Scott Neitzel, 00:12.671[9]; 7. 65-Jordan Goldesberry, 00:12.709[8]; 8. 4B-Scott Biertzer, 00:12.732[19]; 9. 85M-Steve Meyer, 00:12.777[15]; 10. 68-Dave Uttech, 00:12.844[11]; 11. 0-John Fahl, 00:12.857[21]; 12. 02-Mike Reinke, 00:12.859[4]; 13. 64-Scotty Thiel, 00:12.946[2]; 14. 29-Hunter Custer, 00:12.968[14]; 15. 43-Jereme Schroeder, 00:13.021[12]; 16. 12W-Josh Walter, 00:13.274[18]; 17. 14AJK-Kurt Davis, 00:13.322[20]; 18. 45-Matt Wiese, 00:13.558[3]; 19. 18-Keith Fellner, 00:13.685[10]; 20. 19-Todd Daun, 00:14.092[1]; 21. 63-Nick Matuszewski, 00:14.389[5]; 22. 20R-Rob Pribnow, 00:14.554[23]; (DNS) 14AJ-Wayne Modjeski, 00:14.554
---
Article Credit: Gared Tennyson
Submitted By: Kim Tennyson
Back to News