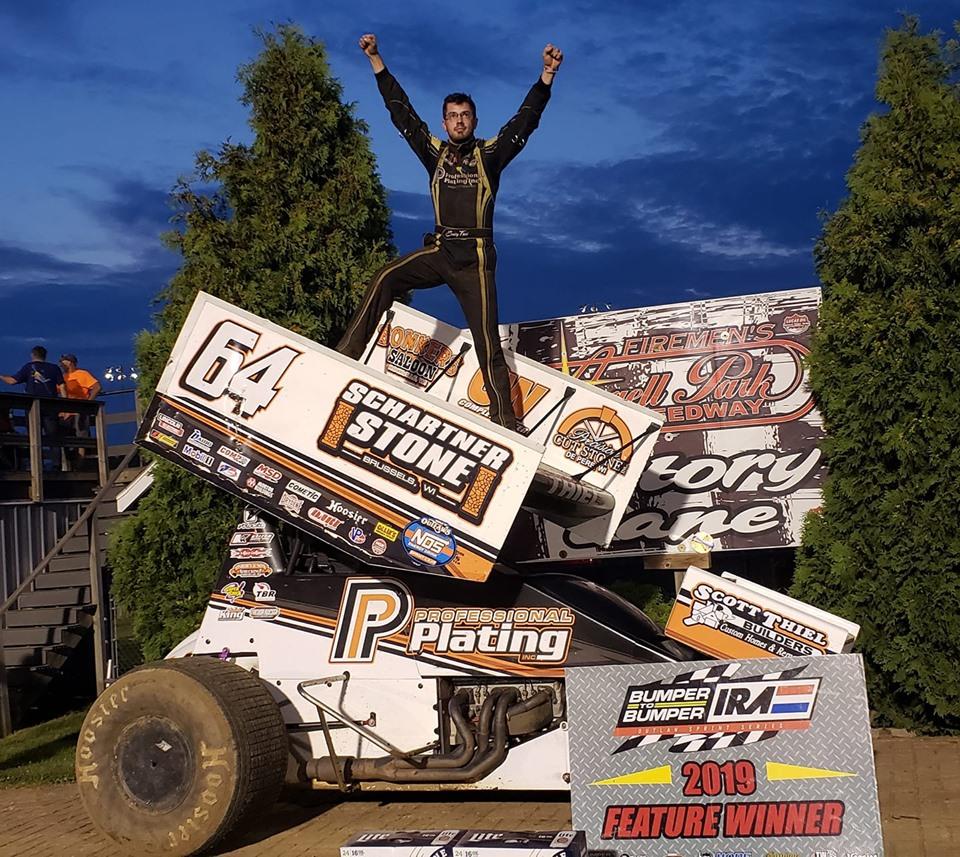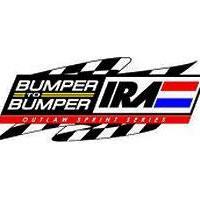 8/19/2019
IRA Interstate Racing Association
---
Thiel Once Again Victorious at Angell Park
After a thrilling event at Wilmot on Saturday night, 23 Bumper to Bumper Interstate Racing Association 410 teams trekked north to Angell Park Speedway for CornFest. Bill Balog set quick time aboard the Rhine Auto 17B over Jeremy Schultz and Scotty Thiel. Russel Borland timed his Wiese Motorsports 23 in fourth followed by Brandon Wimmer.
Heat race number one saw veteran IRA competitor and two time champion Scotty Neitzel lead all ten laps in route to victory. Steve Meyer would cross the line in second followed by Bill Balog. Russel Borland once again fourth followed by the leading contender for rookie of the year, Joey Moughan.
The second heat race was claimed by another veteran of Wisconsin sprint car racing, as Mike Reinke took the victory over Jeremy Schultz and Jordan Goldesberry. Brandon Wimmer brought his throwback 7TW car home in fourth followed by Dave Uttech in fifth.
The third and final heat race was claimed by Josh Walter and his 12w machine. Scotty Thiel brought his 64 home in second followed by Ben Schmidt, Hunter Custer and Matt Wiese.
With preliminary action finished and the feature line up set it was time for A main competition. Jeremy Schultz took the lead early and would lead the first fifteen laps on the feature while Scotty Thiel worked his way into the second spot. As the field crossed the line on lap sixteen it was the Scott Thiel Motorsports 64 leading Schultz in his 5J. Thiel would maintain the lead until the closing laps when Schultz would once again take control of the race, but only for a lap, as with two laps remaining Thiel once again passed the Jerry's Automotive 5J and would go on to claim victory. Schultz would settle for second followed by Jordan Goldesberry and Scotty Neitzel. Indiana's Brandon Wimmer rounded out the top five.
A Feature 1 30 laps | 00:27:18.316 Presented by Bumper to Bumper
64-Scotty Thiel, 27:18.316[5]; 2. 5J-Jeremy Schultz, 27:19.951[1]; 3. 65-Jordan Goldesberry, 27:22.477[2]; 4. 2W-Scott Neitzel, 27:25.133[9]; 5. 7TW-Brandon Wimmer, 27:25.728[7]; 6. 85M-Steve Meyer, 27:26.667[11]; 7. 73AF-Joey Moughan, 27:27.123[13]; 8. 02-Mike Reinke, 27:30.397[6]; 9. 73-Ben Schmidt, 27:31.619[4]; 10. 19-Todd Daun, 27:32.516[16]; 11. 23-Russel Borland, 27:32.662[10]; 12. 12W-Josh Walter, 27:19.425[8]; 13. 68-Dave Uttech, 27:21.838[14]; 14. 63-Nick Matuszewski, 27:26.268[20]; 15. 29-Hunter Custer, 27:29.224[12]; 16. 20R-Rob Pribnow, 27:30.091[21]; 17. 14AJ-Wayne Modjeski, 27:30.297[18]; 18. 43-Jereme Schroeder, 27:31.038[19]; 19. 45-Matt Wiese, 27:31.785[15]; 20. 0-Jordon Mattson, 27:29.808[22]; 21. (DNF) 4K-Kris Spitz, 12:34.757[17]; 22. (DNF) 17B-Bill Balog, 05:42.021[3]
Heat 1 10 laps | 00:04:52.071 Presented by Weld Wheels
2W-Scott Neitzel, 04:52.071[2]; 2. 85M-Steve Meyer, 04:54.502[1]; 3. 17B-Bill Balog, 04:55.258[4]; 4. 23-Russel Borland, 04:56.382[3]; 5. 73AF-Joey Moughan, 04:57.358[6]; 6. 19-Todd Daun, 05:03.341[5]; 7. 63-Nick Matuszewski, 05:03.698[7]; 8. 20R-Rob Pribnow, 04:56.179[8]
Heat 2 10 laps | 00:04:58.209 Presented by All Star Performance
02-Mike Reinke, 04:58.209[1]; 2. 5J-Jeremy Schultz, 04:59.016[4]; 3. 65-Jordan Goldesberry, 05:01.047[2]; 4. 7TW-Brandon Wimmer, 05:02.236[3]; 5. 68-Dave Uttech, 05:05.823[6]; 6. 14AJ-Wayne Modjeski, 05:09.622[7]; 7. 43-Jereme Schroeder, 04:59.909[5]; 8. 0-Jordon Mattson, 05:04.372[8]
Heat 3 10 laps | 00:13:02.290 Presented by EMI / Behling Racing Products
12W-Josh Walter, 13:02.290[2]; 2. 64-Scotty Thiel, 13:02.859[4]; 3. 73-Ben Schmidt, 13:06.006[3]; 4. 29-Hunter Custer, 13:07.917[6]; 5. 45-Matt Wiese, 13:11.687[7]; 6. (DNF) 4K-Kris Spitz, 12:54.362[5]; 7. (DNF) 4B-Scott Biertzer, 03:46.359[1]
Qualifying 1 00:18:20 Presented by Osborn and Son Trucking
17B-Bill Balog, 00:12.280[21]; 2. 5J-Jeremy Schultz, 00:12.282[19]; 3. 64-Scotty Thiel, 00:12.344[15]; 4. 23-Russel Borland, 00:12.406[20]; 5. 7TW-Brandon Wimmer, 00:12.431[7]; 6. 73-Ben Schmidt, 00:12.488[3]; 7. 2W-Scott Neitzel, 00:12.532[14]; 8. 65-Jordan Goldesberry, 00:12.541[2]; 9. 12W-Josh Walter, 00:12.563[6]; 10. 85M-Steve Meyer, 00:12.599[11]; 11. 02-Mike Reinke, 00:12.604[12]; 12. 4B-Scott Biertzer, 00:12.624[8]; 13. 19-Todd Daun, 00:12.669[17]; 14. 43-Jereme Schroeder, 00:12.691[18]; 15. 4K-Kris Spitz, 00:12.804[23]; 16. 73AF-Joey Moughan, 00:12.817[16]; 17. 68-Dave Uttech, 00:12.884[4]; 18. 29-Hunter Custer, 00:12.932[10]; 19. 63-Nick Matuszewski, 00:13.109[13]; 20. 14AJ-Wayne Modjeski, 00:13.135[22]; 21. 45-Matt Wiese, 00:13.171[5]; 22. 20R-Rob Pribnow, 00:13.824[1]; 23. 0-Jordon Mattson, 00:13.971[9]
Hotlaps 1 00:05:07
12W-Josh Walter, [6]; 2. 17B-Bill Balog, 00:12.054[21]; 3. 5J-Jeremy Schultz, 00:12.311[19]; 4. 64-Scotty Thiel, 00:12.342[15]; 5. 73AF-Joey Moughan, 00:12.410[16]; 6. 02-Mike Reinke, 00:12.446[12]; 7. 2W-Scott Neitzel, 00:12.488[14]; 8. 23-Russel Borland, 00:12.542[20]; 9. 19-Todd Daun, 00:12.573[17]; 10. 73-Ben Schmidt, 00:12.631[3]; 11. 43-Jereme Schroeder, 00:12.690[18]; 12. 85M-Steve Meyer, 00:12.697[11]; 13. 4K-Kris Spitz, 00:12.817[23]; 14. 68-Dave Uttech, 00:12.842[4]; 15. 4B-Scott Biertzer, 00:12.848[8]; 16. 29-Hunter Custer, 00:12.853[10]; 17. 45-Matt Wiese, 00:12.886[5]; 18. 63-Nick Matuszewski, 00:12.893[13]; 19. 65-Jordan Goldesberry, 00:12.904[2]; 20. 7TW-Brandon Wimmer, 00:12.913[7]; 21. 14AJ-Wayne Modjeski, 00:13.507[22]; 22. 20R-Rob Pribnow, 00:14.175[1]; 23. 0-Jordon Mattson, 00:14.447[9]
---
Article Credit: Gared Tennyson
Submitted By: Kim Tennyson
Back to News