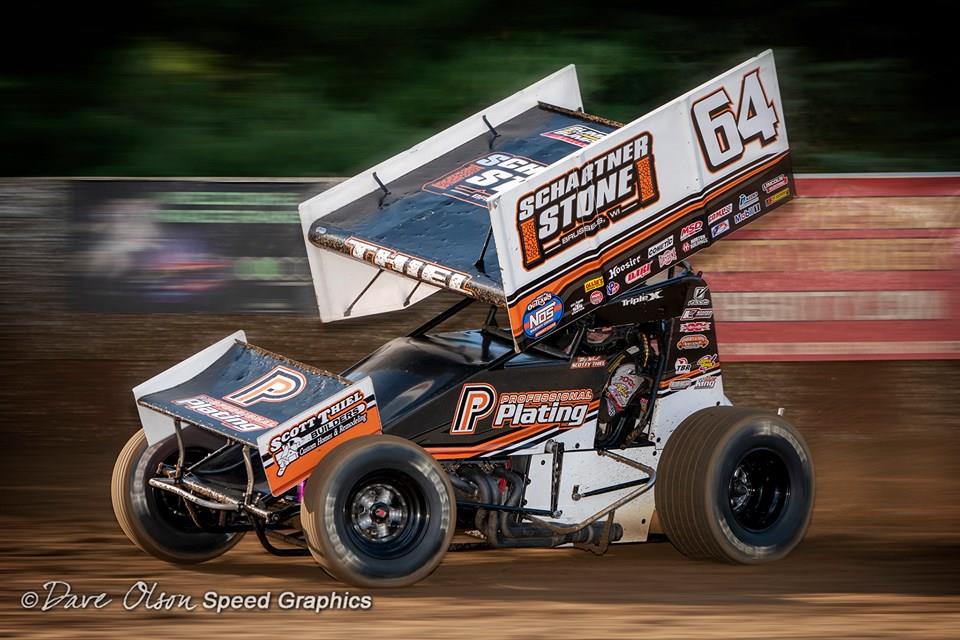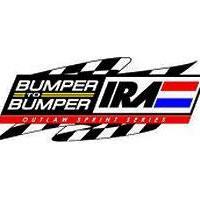 8/26/2019
IRA Interstate Racing Association
---
Thiel Rides Momentum to Second Victory in a Row.
A chilly August night saw 28 Bumper to Bumper IRA sprint cars competing at Beaver Dam Raceway. Qualifying saw Bill Balog set quick time while heat races were won by Jake Blackhurst, Steve Meyer, and Jeremy Schultz. Hunter Custer claimed his first career IRA checkered flag, picking up the B main victory.
Scotty Thiel riding a wave of momentum after Sunday's feature win jumped out to the early race lead over Scotty Neitzel and Indiana's Brinton Marvel. The eighteen year old Marvel was able to move past Neitzel's orange 2w but quickly his inexperience with the track showed as Neitzel was able to work back around him on the tricky 3/8ths mile. A caution early on for contact between Todd Daun and Nick Matuszewski sent both cars spinning into the infield. Back under green, Thiel once again drove away from the pack and Bill Balog worked his way past Mike Reinke and Marvel and into third position. Another caution would come out with 20 laps remaining, this time a red flag as Matt Wiese got into the front stretch wall exiting turn four and got upside down.
Back to green and once again Thiel gaps the field, but behind him Bill Balog is able to work around Neitzel and into second spot. With 18 laps remaining Marvel and Jeremy Schultz made contact entering turn three sending Marvel into the wall backwards rupturing his fuel cell. The field would stop for an open red situation giving teams a chance to make changes to the cars while track crews cleaned up the fuel spill in turn three.
Now with 18 laps remaining and a chance to make adjustments Scotty Thiel leads the field back to green but he is followed by the man who has dominated Beaver Dam Raceway in recent memory, Bill Balog. Thiel took away again on the restart, but as he entered lap traffic Balog was able to pull to the bumper of the Professional Plating 64. Balog stalked Thiel through lapped traffic, but didn't seem to quite have the speed to get around him. With just 9 laps to go, Thiel worked by the 65 of Austin Deblauw, and as Balog attempted to find a way by, he made contact with the back of Deblauw's car and got into the front stretch wall, sending the Rhine Auto 17b flipping under the flag stand.
The final 9 laps would go caution free, with Thiel leading all 30 laps in route to his second victory in a row. Mike Reinke brought his SCA 02 car home in the second spot behind Thiel and the returning Jake Blackhurst charged from the 10th starting spot to the final step on the podium.
A Feature 1 30 laps | 00:57:26.206
64-Scotty Thiel, 57:26.206[2]; 2. 02-Mike Reinke, 57:28.387[4]; 3. 25-Jake Blackhurst, 57:28.781[10]; 4. 5J-Jeremy Schultz, 57:29.853[8]; 5. 2W-Scott Neitzel, 57:31.036[1]; 6. 7TW-Brandon Wimmer, 57:31.424[11]; 7. 73AF-Joey Moughan, 57:31.960[13]; 8. 23-Russel Borland, 57:32.495[12]; 9. 85M-Steve Meyer, 57:33.782[5]; 10. 68-Dave Uttech, 57:34.891[7]; 11. 12W-Josh Walter, 57:37.114[15]; 12. 65D-Austin Deblauw, 57:40.084[21]; 13. 29-Hunter Custer, 57:26.604[19]; 14. 14AJ-Wayne Modjeski, 57:27.753[22]; 15. 43-Jereme Schroeder, 57:28.135[16]; 16. 0-John Fahl, 57:29.979[23]; 17. 20R-Rob Pribnow, 57:30.709[24]; 18. 73-Ben Schmidt, 56:51.995[9]; 19. 17B-Bill Balog, 47:28.073[6]; 20. 4K-Kris Spitz, 47:22.983[14]; 21. 21-Brinton Marvel, 52:02.643[3]; 22. 45-Matt Wiese, 17:10.594[20]; 23. 19-Todd Daun, 16:55.605[17]; 24. 63-Nick Matuszewski, 11:42.848[18]
B Feature 1 10 laps | 00:04:57.979
29-Hunter Custer, 04:57.979[2]; 2. 45-Matt Wiese, 04:58.548[1]; 3. 65D-Austin Deblauw, 04:59.723[4]; 4. 14AJ-Wayne Modjeski, 05:00.052[5]; 5. 0-John Fahl, 05:01.368[3]; 6. 20R-Rob Pribnow, 05:02.895[6]; 7. 18S-Bryce Schmitt, 05:06.296[7]; 8. 18-Keith Fellner, 05:09.622[8]; 9. 22S-Brian Strane, 05:13.429[9]
Heat 1 10 laps | 00:05:37.406
25-Jake Blackhurst, 05:37.406[1]; 2. 17B-Bill Balog, 05:37.699[4]; 3. 68-Dave Uttech, 05:39.719[2]; 4. 02-Mike Reinke, 05:40.455[3]; 5. 12W-Josh Walter, 05:44.862[6]; 6. 43-Jereme Schroeder, 05:48.530[5]; 7. 65D-Austin Deblauw, 05:49.030[8]; 8. 45-Matt Wiese, 05:39.205[7]; 9. 18S-Bryce Schmitt, 05:43.885[9]
Heat 2 10 laps | 00:07:42.149
85M-Steve Meyer, 07:42.149[2]; 2. 64-Scotty Thiel, 07:44.159[3]; 3. 23-Russel Borland, 07:44.269[1]; 4. 73AF-Joey Moughan, 07:44.642[5]; 5. 21-Brinton Marvel, 07:46.423[4]; 6. 19-Todd Daun, 07:49.832[6]; 7. 29-Hunter Custer, 07:51.314[7]; 8. 14AJ-Wayne Modjeski, 07:52.191[8]; 9. 22S-Brian Strane, 04:43.548[9]
Heat 3 10 laps | 00:05:34.364
5J-Jeremy Schultz, 05:34.364[1]; 2. 7TW-Brandon Wimmer, 05:35.756[2]; 3. 2W-Scott Neitzel, 05:38.054[3]; 4. 73-Ben Schmidt, 05:38.891[4]; 5. 4K-Kris Spitz, 05:42.377[5]; 6. 63-Nick Matuszewski, 05:48.736[6]; 7. 0-John Fahl, 05:36.182[7]; 8. 20R-Rob Pribnow, 05:36.710[9]; 9. 18-Keith Fellner, 05:42.993[8]
Qualifying 1 00:10:08
17B-Bill Balog, 00:11.809[15]; 2. 21-Brinton Marvel, 00:11.899[22]; 3. 73-Ben Schmidt, 00:11.958[9]; 4. 02-Mike Reinke, 00:11.987[24]; 5. 64-Scotty Thiel, 00:12.000[19]; 6. 2W-Scott Neitzel, 00:12.049[5]; 7. 68-Dave Uttech, 00:12.157[21]; 8. 85M-Steve Meyer, 00:12.171[7]; 9. 7TW-Brandon Wimmer, 00:12.176[27]; 10. 25-Jake Blackhurst, 00:12.185[11]; 11. 23-Russel Borland, 00:12.206[28]; 12. 5J-Jeremy Schultz, 00:12.317[18]; 13. 43-Jereme Schroeder, 00:12.318[12]; 14. 73AF-Joey Moughan, 00:12.346[13]; 15. 4K-Kris Spitz, 00:12.390[10]; 16. 12W-Josh Walter, 00:12.461[3]; 17. 19-Todd Daun, 00:12.641[17]; 18. 63-Nick Matuszewski, 00:12.646[8]; 19. 45-Matt Wiese, 00:12.663[6]; 20. 29-Hunter Custer, 00:12.863[1]; 21. 0-John Fahl, 00:12.863[16]; 22. 65D-Austin Deblauw, 00:12.866[23]; 23. 14AJ-Wayne Modjeski, 00:13.021[2]; 24. 18-Keith Fellner, 00:13.082[20]; 25. 18S-Bryce Schmitt, 00:13.768[25]; 26. 22S-Brian Strane, 00:14.104[4]; 27. 20R-Rob Pribnow, 00:14.124[14]; (DNS) 14AJK-Kurt Davis, 00:14.124
Hotlaps 1 00:12:25
02-Mike Reinke, 00:12.592[24]; 2. 21-Brinton Marvel, 00:12.700[22]; 3. 7TW-Brandon Wimmer, 00:12.739[27]; 4. 23-Russel Borland, 00:12.885[28]; 5. 68-Dave Uttech, 00:12.917[21]; 6. 64-Scotty Thiel, 00:12.967[19]; 7. 5J-Jeremy Schultz, 00:13.087[18]; 8. 65D-Austin Deblauw, 00:13.248[23]; 9. 17B-Bill Balog, 00:13.347[15]; 10. 18-Keith Fellner, 00:13.440[20]; 11. 63-Nick Matuszewski, 00:13.475[8]; 12. 25-Jake Blackhurst, 00:13.633[11]; 13. 85M-Steve Meyer, 00:13.797[7]; 14. 4K-Kris Spitz, 00:13.805[10]; 15. 18S-Bryce Schmitt, 00:13.857[25]; 16. 73-Ben Schmidt, 00:13.858[9]; 17. 43-Jereme Schroeder, 00:14.048[12]; 18. 12W-Josh Walter, 00:14.090[3]; 19. 19-Todd Daun, 00:14.101[17]; 20. 2W-Scott Neitzel, 00:14.131[5]; 21. 0-John Fahl, 00:14.321[16]; 22. 20R-Rob Pribnow, 00:14.391[14]; 23. 29-Hunter Custer, 00:14.438[1]; 24. 45-Matt Wiese, 00:15.302[6]; 25. 22S-Brian Strane, 00:15.866[4]
---
Article Credit: Gared Tennyson
Submitted By: Kim Tennyson
Back to News