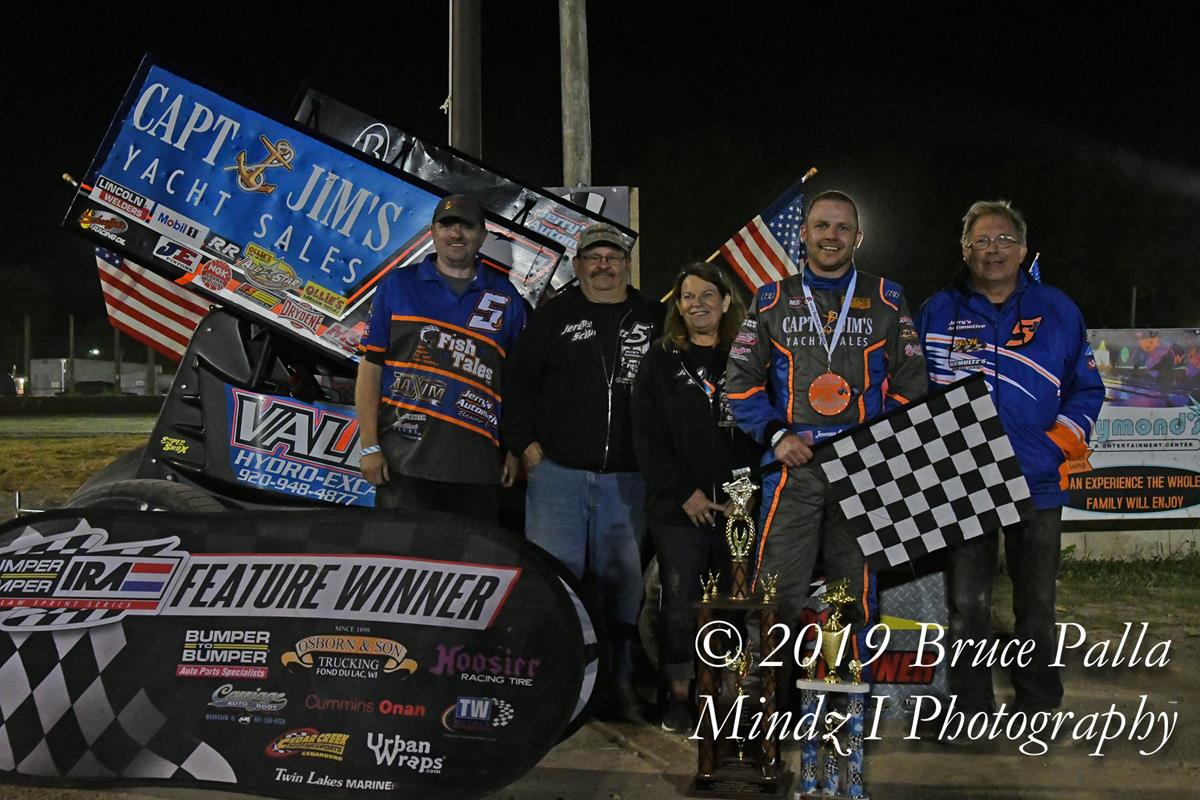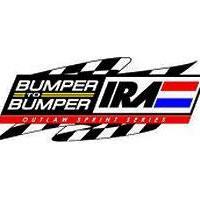 8/31/2019
IRA Interstate Racing Association
---
The King Reigns Supreme At Wilmot
25 Bumper to Bumper IRA sprint car teams entered the Wilmot Raceway on a chilly Friday night in August. The crowd was packed, many fans showed up just to watch 3 time NASCAR champion and NASCAR Hall of Fame inductee Tony Stewart.
Preliminary action saw Bill Balog set quick time in Osborn and Son Trucking qualifications. Heat races were won by Scotty Neitzel, Dave Uttech, and Tony Stewart.
With the field set it was time for 30 laps around the 3/8ths mile Wilmot Raceway. Tony Stewart jumped out to the early lead. Stewart in the Rush Truck Centers 14 had a comfortable lead over Todd Daun as he neared lapped traffic. Just as Stewart reached the tail of the field, the yellow flag would fly for a spun out car. The same scenario would repeat itself 3 more times, just as Stewart reached the back of the pack, a caution would fly. These timely cautions would help Bill Balog who had driven from the 10th starting spot, but found himself in a podium position with more then half the race remaining. Scotty Thiel rebounding from motor issues early in the night had also driven from a 25th starting spot to just outside the top 10. A restart with 16 to go would set up a thrilling series of events. As the field clicked laps off, Balog worked past Jeremy Schultz - The King of the Sherm Nation and into second while Scotty Thiel had cracked the top 10. With just a handful of laps remaining Bill Balog had caught Tony Stewart, and the pair looked to add another chapter to their rivalry. The duo would make contact in turns 3 and 4, then Balog's car appeared to break as he slowed and rolled over the berm in turn 1. While that was happening Scotty Thiel had a wheel break on his Professional Plating machine, both of there nights were over.
It seemed clear now, with 3 laps remaining Stewart looked destined to take the win, but Jeremy Schultz, a former Wilmot Raceway track champion and IRA series champion, would not go down without a fight. Schultz pulled even with Stewart down the backstretch, while Stewart maintained the lead, Schultz wouldn't let him forget he was there, then as the white flag was about to wave, Stewart spun his car off of turn 4. As the 14 machine sat stopped at the bottom of turn 4, the crowd in disbelief, we were once again yellow. This time a 2 lap shootout would decide the winner. Schultz would set the pace, but Joey Moughan was starting in 2nd. Schultz was able to get a good restart and carried that to the feature win over Moughan and Scotty Neitzel. Ben Schmidt and Jordan Goldesberrry rounded out the top 5.
A Feature 1 30 laps | 00:33:20.310
5J-Jeremy Schultz, 33:20.310[5]; 2. 73AF-Joey Moughan, 33:21.251[9]; 3. 2W-Scott Neitzel, 33:22.568[3]; 4. 14AJX-Ben Schmidt, 33:22.796[4]; 5. 65-Jordan Goldesberry, 33:23.889[7]; 6. 11-Danny Schlafer, 33:24.873[18]; 7. 4K-Kris Spitz, 33:25.244[12]; 8. 73-Jake Blackhurst, 33:25.847[13]; 9. 68-Dave Uttech, 33:26.227[6]; 10. 43-Jereme Schroeder, 33:26.957[11]; 11. 14-Tony Stewart, 33:31.113[1]; 12. 63-Nick Matuszewski, 33:28.791[16]; 13. 29-Hunter Custer, 33:29.288[17]; 14. 14R-Sean Rayhall, 33:29.575[19]; 15. 5H-Patrick Haynes, 33:30.454[24]; 16. 0-John Fahl, 33:30.825[20]; 17. 22S-Brian Strane, 33:31.425[22]; 18. (DNF) 23-Russel Borland, 30:07.881[8]; 19. (DNF) 17B-Bill Balog, 25:48.882[10]; 20. (DNF) 64-Scotty Thiel, 25:55.259[25]; 21. (DNF) 70-Chris Klemko, 26:04.241[15]; 22. (DNF) 19-Todd Daun, 19:35.161[2]; 23. (DNF) 65D-Austin Deblauw, 17:14.059[14]; 24. (DNF) 14AJ-Wayne Modjeski, 14:35.176[23]; 25. (DNF) 45-Matt Wiese, 14:44.878[21]
Heat 1 10 laps | 00:07:13.556
2W-Scott Neitzel, 07:13.556[1]; 2. 17B-Bill Balog, 07:14.164[4]; 3. 19-Todd Daun, 07:16.948[2]; 4. 4K-Kris Spitz, 07:17.932[3]; 5. 65D-Austin Deblauw, 07:21.192[6]; 6. 11-Danny Schlafer, 07:21.854[5]; 7. 45-Matt Wiese, 07:24.049[8]; 8. (DNF) 5H-Patrick Haynes, 05:33.680[7]; (DNS) 64-Scotty Thiel, 00:13.783
Heat 2 10 laps | 00:06:17.489
68-Dave Uttech, 06:17.489[2]; 2. 73AF-Joey Moughan, 06:18.652[4]; 3. 23-Russel Borland, 06:20.474[3]; 4. 14AJX-Ben Schmidt, [1]; 5. 73-Jake Blackhurst, 06:23.039[5]; 6. 29-Hunter Custer, 06:26.976[6]; 7. 14R-Sean Rayhall, 06:26.976[7]; 8. 22S-Brian Strane, 06:26.976[8]
Heat 3 10 laps | 00:03:58.495
14-Tony Stewart, 03:58.495[3]; 2. 65-Jordan Goldesberry, 03:58.735[2]; 3. 5J-Jeremy Schultz, 04:01.009[4]; 4. 43-Jereme Schroeder, 04:04.770[1]; 5. 70-Chris Klemko, 04:08.511[6]; 6. 63-Nick Matuszewski, 04:09.498[5]; 7. 0-John Fahl, 04:10.163[7]
Qualifying 1 00:00:44.254
17B-Bill Balog, 00:12.982[10]; 2. 73AF-Joey Moughan, 00:13.061[14]; 3. 5J-Jeremy Schultz, 00:13.187[9]; 4. 64-Scotty Thiel, 00:13.225[1]; 5. 23-Russel Borland, 00:13.230[24]; 6. 14-Tony Stewart, 00:13.336[19]; 7. 19-Todd Daun, 00:13.348[18]; 8. 68-Dave Uttech, 00:13.366[17]; 9. 65-Jordan Goldesberry, 00:13.417[20]; 10. 2W-Scott Neitzel, 00:13.438[16]; 11. 14AJX-Ben Schmidt, 00:13.490[13]; 12. 43-Jereme Schroeder, 00:13.506[22]; 13. 4K-Kris Spitz, 00:13.542[12]; 14. 73-Jake Blackhurst, 00:13.556[6]; 15. 63-Nick Matuszewski, 00:13.615[23]; 16. 65D-Austin Deblauw, 00:13.667[11]; 17. 29-Hunter Custer, 00:13.672[2]; 18. 70-Chris Klemko, 00:13.796[15]; 19. 11-Danny Schlafer, 00:13.832[3]; 20. 14R-Sean Rayhall, 00:13.905[25]; 21. 0-John Fahl, 00:13.930[5]; 22. 45-Matt Wiese, 00:14.088[21]; 23. 22S-Brian Strane, 00:14.486[8]; 24. 14AJ-Wayne Modjeski, [4]; 25. 5H-Patrick Haynes, [7]
---
Article Credit: Gared Tennyson
Submitted By: Kim Tennyson
Article Media
Back to News