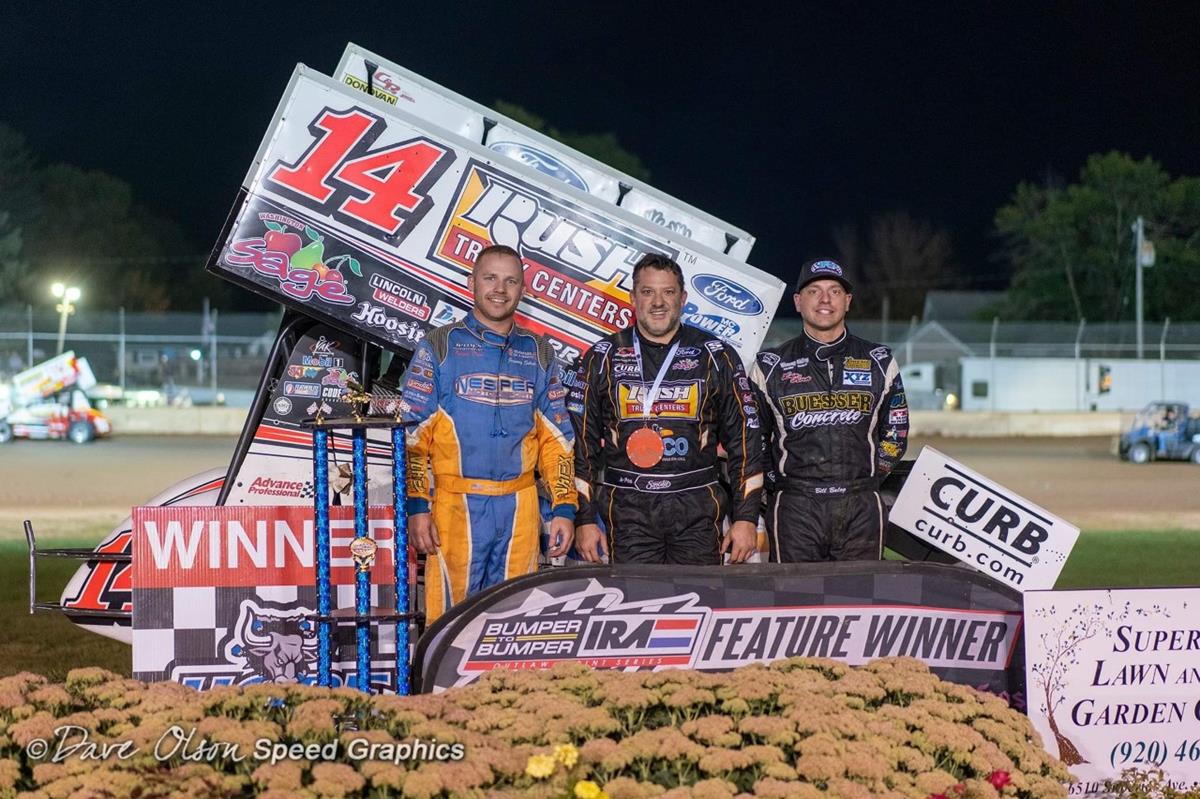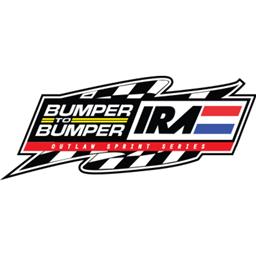 9/1/2019
IRA Interstate Racing Association
---
Ford/Smoke First on Race Day
With a sold out crowd and the sights and sounds of the Sheboygan County Fair in the background, 26 Bumper to Bumper IRA teams did battle at round 4 of the Hopf Farms Bullring Showdown.
Preliminary action saw Bill Balog set quick time in Osborn and Son Trucking Qualifying. Heat races were won by Dave Uttech, Jeremy Schultz, and Scotty Neitzel. The B main was won by Danny Schlafer, piloting the Darrell Dodd owned 11.
The feature invert draw put Dave Uttech and Tony Stewart on the front row. The initial A main start saw Scotty Thiel get upside down in turn 1 collecting Scotty Neitzel. A complete restart gave Dave Uttech another shot to get the jump on the 3 time NASCAR Champion, but the Ford powered 14 was just to strong, powering around the outside of turns 1 and 2 to take the lead. Stewart was able to pull away from the field as he approached the tail of the pack. Bill Balog quickly moved from his 7th starting spot into the second position. Balog set his sights on once again spoiling Tony Stewart's hopes of winning at the Sheboygan County Fairgrounds.
Balog chased Stewart through lapped traffic, looking for any opportunity to work around the Rush Truck Centers 14. Balog tried to slide Stewart on a couple occasions, but got out of the gas because he would not clear Stewart. With just a couple of laps left on the scoreboard, the yellow flag waved for a spinning car, setting up a couple lap dash to the finish. On 3 previous occasions Tony Stewart and Bill Balog had run toe to toe at Plymouth for the win, with Tony winning the first battle and Balog winning the 2nd and 3rd. As the green flag flew, Balog followed Stewart into turns 1 and 2, looking to set up a move. Stewart ran the final laps perfect, holding off the Rhine Auto 17b. The last two times Stewart had ran at the Plymouth Dirt Track Balog took the lead on the final lap between turn 4 and the flagstand. Stewart running a perfect race, had to be concerned about losing the lead again on the final lap. This time however Stewart was unchallenged, putting the record between him and Balog at 2 and 2. Stewart's win is the first win for a Ford powered 410 sprint car that we were able to find since 2013. Bill Balog settled for second followed by Jeremy Schultz and Dave Uttech. Mike Reinke brought the SCA 02 home in fifth.
Hopf Points after 8.31.19
Place Team Car Number Total
1 Rhine Auto 17B 97
2 SCA 02 81
3 Wiese Motrsports 23 75
4 Oz Motorsports 73 69
5 Scott Thiel Motorsports 64 66
6 Oz Motorsports 73AF 61
7 Neitzel 2W 57
8 Meyer Electric 85M 56
9 Spitz 4K 50
11 MoJo Motorsports 14AJ 45
13 Schroeder 43 39
14 Custer 29 35
15 Fellner 18 27
17 1229 Motorsports 63 24
18 Wiese Motrsports 45 15
A Feature 1 30 laps | 00:27:20.174
14-Tony Stewart, 27:20.174[2]; 2. 17B-Bill Balog, 27:21.495[7]; 3. 5J-Jeremy Schultz, 27:23.224[3]; 4. 68-Dave Uttech, 27:26.011[1]; 5. 02-Mike Reinke, 27:26.794[11]; 6. 73-Jake Blackhurst, 27:27.093[10]; 7. 23-Russel Borland, 27:28.192[13]; 8. 65-Jordan Goldesberry, 27:28.262[5]; 9. 73AF-Joey Moughan, 27:28.651[4]; 10. 14AJX-Ben Schmidt, 27:30.150[12]; 11. 14AJ-Wayne Modjeski, 27:30.978[15]; 12. 4K-Kris Spitz, 27:31.422[18]; 13. 2W-Scott Neitzel, 27:31.925[8]; 14. 12W-Josh Walter, 27:33.134[16]; 15. 85M-Steve Meyer, 27:34.413[9]; 16. 11-Danny Schlafer, 27:35.664[19]; 17. 0-John Fahl, 27:20.437[21]; 18. 29-Hunter Custer, 27:22.175[17]; 19. 14R-Sean Rayhall, 27:22.275[20]; 20. 18S-Bryce Schmitt, 27:23.659[23]; 21. 22S-Brian Strane, 27:26.435[22]; 22. 18-Keith Fellner, 15:37.924[24]; 23. 43-Jereme Schroeder, [14]; 24. 64-Scotty Thiel, [6]
B Feature 1 10 laps | 00:09:51.846
11-Danny Schlafer, 09:51.846[1]; 2. 14R-Sean Rayhall, 09:56.837[2]; 3. 0-John Fahl, 10:00.144[3]; 4. 22S-Brian Strane, 10:03.972[5]; 5. 18S-Bryce Schmitt, 10:04.717[7]; 6. 18-Keith Fellner, 09:52.103[8]; 7. 63-Nick Matuszewski, 03:30.010[4]; 8. 45-Matt Wiese, 03:30.722[6]
Heat 1 10 laps | 00:02:13
68-Dave Uttech, 02:02.295[1]; 2. 17B-Bill Balog, 02:03.369[4]; 3. 65-Jordan Goldesberry, 02:05.203[2]; 4. 73AF-Joey Moughan, 02:07.464[3]; 5. 43-Jereme Schroeder, 02:09.035[5]; 6. 29-Hunter Custer, 02:09.733[6]; 7. 63-Nick Matuszewski, 02:10.278[8]; 8. 14R-Sean Rayhall, 02:13.260[7]; 9. 18S-Bryce Schmitt, 02:01.404[9]
Heat 2 10 laps | 00:06:30
5J-Jeremy Schultz, 06:30.871[1]; 2. 14-Tony Stewart, 06:32.703[3]; 3. 73-Jake Blackhurst, 06:33.293[4]; 4. 14AJX-Ben Schmidt, 06:36.896[2]; 5. 14AJ-Wayne Modjeski, 06:39.081[6]; 6. 12W-Josh Walter, 06:42.175[5]; 7. 0-John Fahl, 06:43.374[7]; 8. 22S-Brian Strane, 06:35.437[8]; 9. 18-Keith Fellner, 06:36.907[9]
Heat 3 10 laps | 00:04:49
2W-Scott Neitzel, 04:49.538[1]; 2. 02-Mike Reinke, 04:51.823[2]; 3. 64-Scotty Thiel, 04:52.575[4]; 4. 23-Russel Borland, 04:54.918[7]; 5. 85M-Steve Meyer, 04:56.258[3]; 6. 4K-Kris Spitz, 04:57.633[6]; 7. 11-Danny Schlafer, 04:57.967[5]; 8. 45-Matt Wiese, 05:02.345[8]
Qualifying 1 00:00:24
17B-Bill Balog, 00:11.601[26]; 2. 73-Jake Blackhurst, 00:11.658[6]; 3. 64-Scotty Thiel, 00:11.723[8]; 4. 73AF-Joey Moughan, 00:11.765[3]; 5. 14-Tony Stewart, 00:11.769[21]; 6. 85M-Steve Meyer, 00:11.775[12]; 7. 65-Jordan Goldesberry, 00:11.802[17]; 8. 14AJX-Ben Schmidt, 00:11.859[9]; 9. 02-Mike Reinke, 00:11.892[23]; 10. 68-Dave Uttech, 00:11.896[4]; 11. 5J-Jeremy Schultz, 00:11.915[24]; 12. 2W-Scott Neitzel, 00:11.962[7]; 13. 43-Jereme Schroeder, 00:11.975[15]; 14. 12W-Josh Walter, 00:12.041[10]; 15. 11-Danny Schlafer, 00:12.156[18]; 16. 29-Hunter Custer, 00:12.177[1]; 17. 14AJ-Wayne Modjeski, 00:12.185[22]; 18. 4K-Kris Spitz, 00:12.194[19]; 19. 14R-Sean Rayhall, 00:12.373[11]; 20. 0-John Fahl, 00:12.430[5]; 21. 23-Russel Borland, 00:12.449[20]; 22. 63-Nick Matuszewski, 00:12.450[16]; 23. 22S-Brian Strane, 00:12.469[25]; 24. 45-Matt Wiese, 00:12.507[14]; 25. 18S-Bryce Schmitt, 00:12.736[13]; 26. 18-Keith Fellner, 00:12.838[2]
Hotlaps 1 00:09:52
64-Scotty Thiel, 00:11.832[8]; 2. 17B-Bill Balog, 00:11.944[26]; 3. 14-Tony Stewart, 00:11.948[21]; 4. 23-Russel Borland, 00:12.097[20]; 5. 2W-Scott Neitzel, 00:12.144[7]; 6. 14AJX-Ben Schmidt, 00:12.169[9]; 7. 65-Jordan Goldesberry, 00:12.183[17]; 8. 5J-Jeremy Schultz, 00:12.250[24]; 9. 02-Mike Reinke, 00:12.328[23]; 10. 68-Dave Uttech, 00:12.337[4]; 11. 73-Jake Blackhurst, 00:12.355[6]; 12. 4K-Kris Spitz, 00:12.419[19]; 13. 85M-Steve Meyer, 00:12.466[12]; 14. 73AF-Joey Moughan, 00:12.540[3]; 15. 0-John Fahl, 00:12.628[5]; 16. 22S-Brian Strane, 00:12.686[25]; 17. 12W-Josh Walter, 00:12.722[10]; 18. 14AJ-Wayne Modjeski, 00:12.732[22]; 19. 14R-Sean Rayhall, 00:12.753[11]; 20. 45-Matt Wiese, 00:12.896[14]; 21. 18-Keith Fellner, 00:12.955[2]; 22. 63-Nick Matuszewski, 00:12.966[16]; 23. 43-Jereme Schroeder, 00:12.997[15]; 24. 29-Hunter Custer, 00:13.009[1]; 25. 18S-Bryce Schmitt, 00:13.225[13]; 26. 11-Danny Schlafer, 00:13.225[18]
---
Article Credit: Gared Tennyson
Submitted By: Kim Tennyson
Back to News