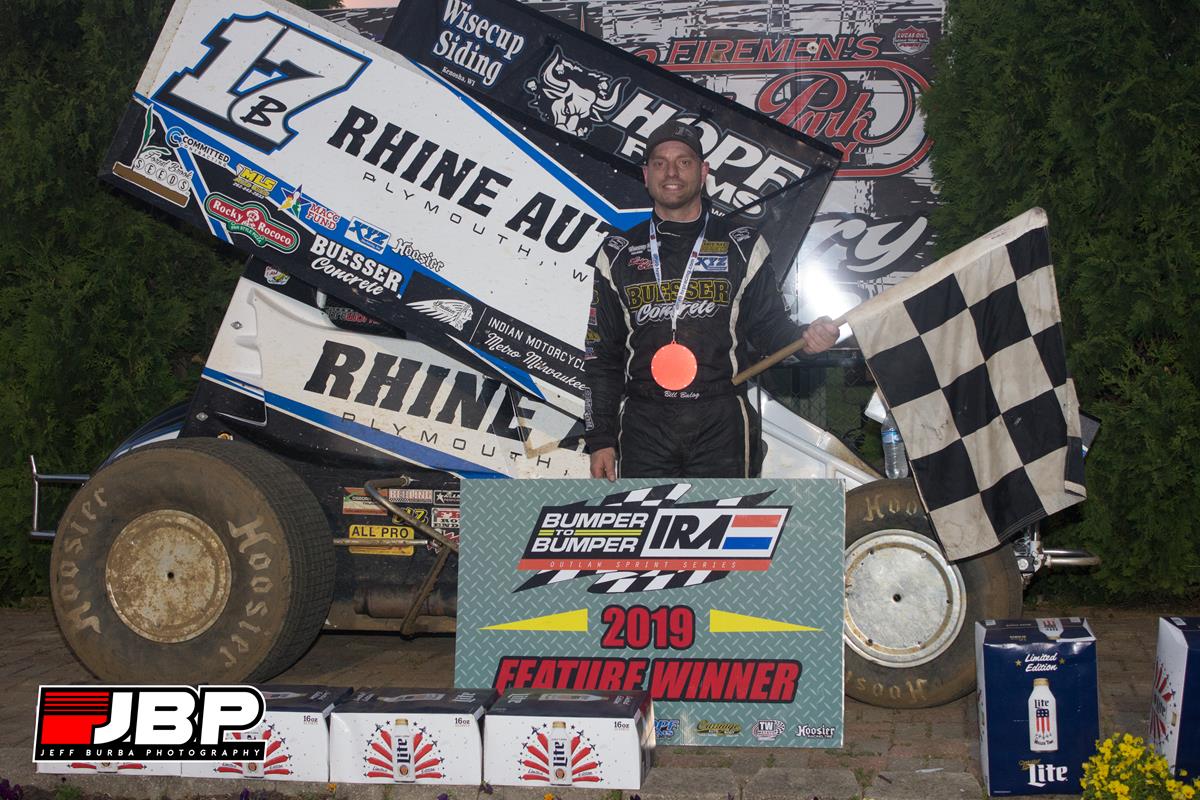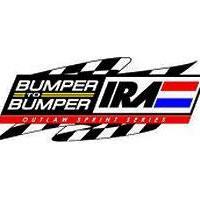 9/15/2019
IRA Interstate Racing Association
---
Balog and Dodd Victorious at Semmelmann Memorial
On a beautiful September night in Wisconsin, 25 Bumper to Bumper winged outlaw sprints and 37 Wisconsin wingLESS teams entered the Beaver Dam Raceway for the Scott Semmelmann Memorial.
Scotty Neitzel set quick time in front of his hometown crowd in the 410s while Tim Cox was fastest in the wingLESS. Winged heat races were won by Jake Blackhurst, Scotty Thiel and Paul Nienhiser. Wisconsin wingLESS heat race winners were Derek Crane, Jimmy Sivia, Brian Kristan and Mitchell Davis. Hunter Custer won the B main for the 410s while Shawn Swim, and Zach Raidart took the wingLESS B's.
The wingLESS A main saw Chris Dodd take the lead early, but a yellow would negate that and set up a complete restart. Dodd again jumped out in front of the pack, but another caution in the early laps once again caused a restart. Jake Kouba was able to use the restart to propel past Dodd's 01 and into the lead. Dodd stalked Kouba through lapped traffic looking for a way past. Dodd would find an opening and power around the yellow 6 to take the lead back. Dodd never looked back, picking up the win in dominant fashion. Jake Kouba finished second from the 12th starting position. Tim Cox was third followed by Greg Olsen. Zack Raidart rounded out the top five after starting 18th.
The winged 410 A main saw Scotty Thiel take the lead early in the Scott Thiel Builders 64. Thiel set a blistering pace out front running right against the wall. Thiel established a large gap over Russel Borland in second and Joey Moughan in third. Moughan would go to the bottom of the race track in turns three and four and move past Borland, but could not gain much ground on Thiel. In the closing laps, sixth starting Bill Balog worked into third and began working around Moughan. At the same time Thiel had gotten caught in lapped traffic and could not find the fast way around the surface. With one lap to go, Balog had moved into second and caught Thiel. Scotty Thiel decided to try and run through the middle of turns three and four looking for grip, but Bill Balog was able to get a better run off of turn four and by .055 seconds, the Rhine Auto 17B won. Thiel was second followed by Joey Moughan. Russel Borland was fourth and Jordan Goldesberry was fifth.
A Feature 1 30 laps | 00:26:36.328 Presented by Bumper to Bumper Auto Parts
17B-Bill Balog, 26:36.328[9]; 2. 64-Scotty Thiel, 26:36.383[2]; 3. 73AF-Joey Moughan, 26:38.674[3]; 4. 23-Russel Borland, 26:42.344[6]; 5. 65-Jordan Goldesberry, 26:42.675[8]; 6. 02-Mike Reinke, 26:43.383[11]; 7. 5J-Jeremy Schultz, 26:44.115[7]; 8. 73-Jake Blackhurst, 26:46.464[4]; 9. 85M-Steve Meyer, 26:47.544[10]; 10. 20R-Rob Pribnow, 26:51.239[16]; 11. 9X-Paul Nienhiser, 27:14.219[24]; 12. 2W-Scott Neitzel, 26:36.719[1]; 13. 12W-Josh Walter, 26:38.285[12]; 14. 14AJ-Wayne Modjeski, 26:38.329[15]; 15. 68-Dave Uttech, 26:41.878[5]; 16. 4K-Kris Spitz, 26:43.588[13]; 17. 11-Danny Schlafer, 26:47.261[18]; 18. 0-John Fahl, 26:50.447[21]; 19. 29-Hunter Custer, 26:51.857[19]; 20. 43-Jereme Schroeder, 26:37.646[14]; 21. 22S-Brian Strane, 26:42.795[23]; 22. 45-Matt Wiese, 26:52.877[22]; 23. (DNF) 19-Todd Daun, 11:17.515[17]; 24. (DNF) 63-Nick Matuszewski, 11:01.558[20]; (DNS) 18-Keith Fellner, 11:01.558
B Feature 1 10 laps | 00:04:37.153
29-Hunter Custer, 04:37.153[1]; 2. 11-Danny Schlafer, 04:39.250[2]; 3. 0-John Fahl, 04:39.955[3]; 4. 63-Nick Matuszewski, 04:41.675[5]; 5. 22S-Brian Strane, 04:43.240[7]; 6. 45-Matt Wiese, 04:45.287[6]; 7. 18-Keith Fellner, 04:46.394[8]; 8. (DNF) 18S-Bryce Schmitt, 04:23.713[4]
Heat 1 10 laps | 00:05:23 Presented by Weld Wheels
73-Jake Blackhurst, 05:23.710[1]; 2. 5J-Jeremy Schultz, 05:26.098[2]; 3. 2W-Scott Neitzel, 05:26.870[4]; 4. 65-Jordan Goldesberry, 05:28.503[3]; 5. 12W-Josh Walter, 05:33.305[6]; 6. 43-Jereme Schroeder, 05:36.823[5]; 7. 11-Danny Schlafer, 04:43.447[7]; 8. 45-Matt Wiese, 05:28.997[9]; 9. 22S-Brian Strane, 04:43.447[8]
Heat 2 10 laps | 00:05:09.312 Presented by All Star Performance / AutoMeter
64-Scotty Thiel, 05:09.312[1]; 2. 17B-Bill Balog, 05:10.576[4]; 3. 85M-Steve Meyer, 05:17.049[2]; 4. 68-Dave Uttech, 05:18.988[3]; 5. 14AJ-Wayne Modjeski, 05:19.504[6]; 6. 19-Todd Daun, 05:20.238[5]; 7. 0-John Fahl, 05:09.910[7]; 8. 63-Nick Matuszewski, 05:13.117[8]
Heat 3 10 laps | 00:04:52.707 Presented by EMI / Behling Racing
9X-Paul Nienhiser, 04:52.707[1]; 2. 02-Mike Reinke, 04:53.880[2]; 3. 73AF-Joey Moughan, 04:55.495[4]; 4. 23-Russel Borland, 04:57.165[3]; 5. 4K-Kris Spitz, 05:00.902[5]; 6. 20R-Rob Pribnow, 05:07.032[9]; 7. 18S-Bryce Schmitt, 04:54.715[7]; 8. 29-Hunter Custer, 04:55.855[6]; 9. 18-Keith Fellner, 04:58.463[8]
Qualifying 1 00:00:00 Presented by Osborn and Son Trucking
2W-Scott Neitzel, 00:11.660[2]; 2. 17B-Bill Balog, 00:11.665[9]; 3. 73AF-Joey Moughan, 00:11.718[21]; 4. 65-Jordan Goldesberry, 00:11.787[11]; 5. 68-Dave Uttech, 00:11.793[24]; 6. 23-Russel Borland, 00:11.830[3]; 7. 5J-Jeremy Schultz, 00:11.871[7]; 8. 85M-Steve Meyer, 00:11.893[22]; 9. 02-Mike Reinke, 00:11.914[23]; 10. 73-Jake Blackhurst, 00:11.966[14]; 11. 64-Scotty Thiel, 00:12.006[19]; 12. 9X-Paul Nienhiser, 00:12.091[12]; 13. 43-Jereme Schroeder, 00:12.140[25]; 14. 19-Todd Daun, 00:12.184[16]; 15. 4K-Kris Spitz, 00:12.202[5]; 16. 12W-Josh Walter, 00:12.242[6]; 17. 14AJ-Wayne Modjeski, 00:12.314[18]; 18. 29-Hunter Custer, 00:12.343[17]; 19. 11-Danny Schlafer, 00:12.427[1]; 20. 0-John Fahl, 00:12.435[4]; 21. 18S-Bryce Schmitt, 00:12.487[15]; 22. 22S-Brian Strane, 00:12.662[13]; 23. 63-Nick Matuszewski, 00:12.788[10]; 24. 18-Keith Fellner, 00:12.821[20]; 25. 45-Matt Wiese, 00:12.977[8]; (DNS) 20R-Rob Pribnow,
A Feature 1 20 laps | 00:28:02.410 Presented by AutoMeter
01-Chris Dodd, 28:02.410[1]; 2. 6-Jake Kouba, 28:03.629[12]; 3. 40-Tim Cox, 28:08.144[4]; 4. 9-Greg Olsen, 28:08.849[9]; 5. 23Z-Zach Raidart, 28:10.262[18]; 6. 38-Allen Hafford, 27:53.850[15]; 7. 29-Randy Stanford, 27:54.617[19]; 8. 4-Jordan Paulsen, 27:54.848[14]; 9. 6B-Vince Bartolotta, 27:55.174[21]; 10. 9A-Andy Hunt, 27:55.474[10]; 11. 19K-Derek Crane, 27:56.772[6]; 12. 20-Natalie Klemko, 27:58.086[16]; 13. 12-Shawn Swim, 28:01.491[17]; 14. 91-Jimmy Sivia, 27:52.545[3]; 15. 0-Jordan Mattson, 27:52.836[13]; 16. 61-Rod Colburn, 28:03.267[23]; 17. 22W-Bruce Waterworth, 27:58.550[24]; 18. (DNF) 18-Nick Petska, 27:42.931[20]; 19. (DNF) 4TJ-Brian Kristan, 21:09.609[5]; 20. (DNF) 70-Chris Klemko, 21:15.832[22]; 21. (DNF) 14AJ-B.G. Wood, 21:00.178[8]; 22. (DNF) 50-Rusty Egan, 21:00.353[11]; 23. (DNF) 10-Mitchell Davis, 12:28.551[7]; 24. (DNF) 21Z-Ryan Zielski, 04:50.205[2]
B Feature 1 12 laps | 00:06:53.076
12-Shawn Swim, 06:53.076[3]; 2. 29-Randy Stanford, 06:53.534[2]; 3. 6B-Vince Bartolotta, 06:54.139[4]; 4. 61-Rod Colburn, 06:54.728[5]; 5. 41-Dennis Spitz, 06:55.261[1]; 6. 51-Charles Spoonmore, 06:56.010[11]; 7. 22-Greg Alt, 06:57.380[7]; 8. 52-Craig Lager, 06:58.690[6]; 9. 4G-George Gaertner III, 07:03.554[10]; 10. 39-William Huck, 07:08.244[9]; 11. (DNF) 99J-Seth Johnson, 06:43.207[8]
B Feature 2 12 laps | 00:14:50.591
23Z-Zach Raidart, 14:50.591[6]; 2. 18-Nick Petska, 14:52.838[2]; 3. 70-Chris Klemko, 14:53.369[4]; 4. 22W-Bruce Waterworth, 14:54.944[10]; 5. 77-James Walldan, 14:55.742[7]; 6. 00-Paul Shaffer, 14:55.970[8]; 7. 11-Lance Walldan, 14:56.747[11]; 8. (DNF) 89-George Gaertner Jr, 09:08.754[3]; 9. (DNF) 94-Jim Wehrman, 11:05.088[9]; 10. (DNF) 2-Zach Hansen, 08:46.876[1]; 11. (DNF) 29OG-Tom Eller, 02:33.536[5]
Heat 1 8 laps | 00:01:06
19K-Derek Crane, 01:00.385[2]; 2. 40-Tim Cox, 01:01.236[4]; 3. 0-Jordan Mattson, 01:02.000[1]; 4. 2-Zach Hansen, 01:03.017[5]; 5. 9A-Andy Hunt, 01:03.496[3]; 6. 12-Shawn Swim, 01:03.961[6]; 7. 52-Craig Lager, 01:04.328[8]; 8. 22W-Bruce Waterworth, 01:05.139[10]; 9. 22-Greg Alt, 01:05.361[7]; 10. 11-Lance Walldan, 01:06.712[9]
Heat 2 8 laps | 00:06:01
91-Jimmy Sivia, 06:01.770[4]; 2. 50-Rusty Egan, 06:03.013[2]; 3. 9-Greg Olsen, 06:03.119[3]; 4. 20-Natalie Klemko, 06:04.316[6]; 5. 41-Dennis Spitz, 06:04.611[1]; 6. 6B-Vince Bartolotta, 06:05.310[7]; 7. 23Z-Zach Raidart, 06:05.612[10]; 8. 00-Paul Shaffer, 06:06.520[9]; 9. 39-William Huck, 06:06.999[8]; 10. (DNF) 51-Charles Spoonmore, 00:49.155[5]
Heat 3 8 laps | 00:05:15
4TJ-Brian Kristan, 05:15.387[2]; 2. 21Z-Ryan Zielski, 05:17.077[4]; 3. 4-Jordan Paulsen, 05:17.832[1]; 4. 14AJ-B.G. Wood, 05:19.753[3]; 5. 29-Randy Stanford, 05:21.958[5]; 6. 89-George Gaertner Jr, 05:23.003[6]; 7. 29OG-Tom Eller, 05:23.227[7]; 8. 99J-Seth Johnson, 05:24.659[8]; 9. 94-Jim Wehrman, 05:26.799[9]
Heat 4 8 laps | 00:02:10
10-Mitchell Davis, [3]; 2. 01-Chris Dodd, [4]; 3. 6-Jake Kouba, [2]; 4. 38-Allen Hafford, [1]; 5. 18-Nick Petska, [5]; 6. 70-Chris Klemko, [8]; 7. 61-Rod Colburn, [6]; 8. 77-James Walldan, [7]; 9. 4G-George Gaertner III, [9]
Qualifying 1 00:01:00
40-Tim Cox, [23]; 2. 91-Jimmy Sivia, [15]; 3. 21Z-Ryan Zielski, [12]; 4. 01-Chris Dodd, [8]; 5. 9A-Andy Hunt, [14]; 6. 9-Greg Olsen, [4]; 7. 14AJ-B.G. Wood, [26]; 8. 10-Mitchell Davis, [29]; 9. 19K-Derek Crane, [9]; 10. 50-Rusty Egan, [1]; 11. 4TJ-Brian Kristan, [10]; 12. 6-Jake Kouba, [38]; 13. 0-Jordan Mattson, [18]; 14. 41-Dennis Spitz, [7]; 15. 4-Jordan Paulsen, [33]; 16. 38-Allen Hafford, [5]; 17. 2-Zach Hansen, [34]; 18. 51-Charles Spoonmore, [6]; 19. 29-Randy Stanford, [20]; 20. 18-Nick Petska, [11]; 21. 12-Shawn Swim, [28]; 22. 20-Natalie Klemko, [13]; 23. 89-George Gaertner Jr, [35]; 24. 61-Rod Colburn, [2]; 25. 22-Greg Alt, [21]; 26. 6B-Vince Bartolotta, [17]; 27. 29OG-Tom Eller, [22]; 28. 77-James Walldan, [27]; 29. 52-Craig Lager, [32]; 30. 39-William Huck, [36]; 31. 99J-Seth Johnson, [16]; 32. 70-Chris Klemko, [3]; 33. 11-Lance Walldan, [24]; 34. 00-Paul Shaffer, [19]; 35. 94-Jim Wehrman, [37]; 36. 4G-George Gaertner III, [31]; 37. 22W-Bruce Waterworth, [25]; 38. 23Z-Zach Raidart, [30]
---
Article Credit: Gared Tennyson
Submitted By: Kim Tennyson
Back to News