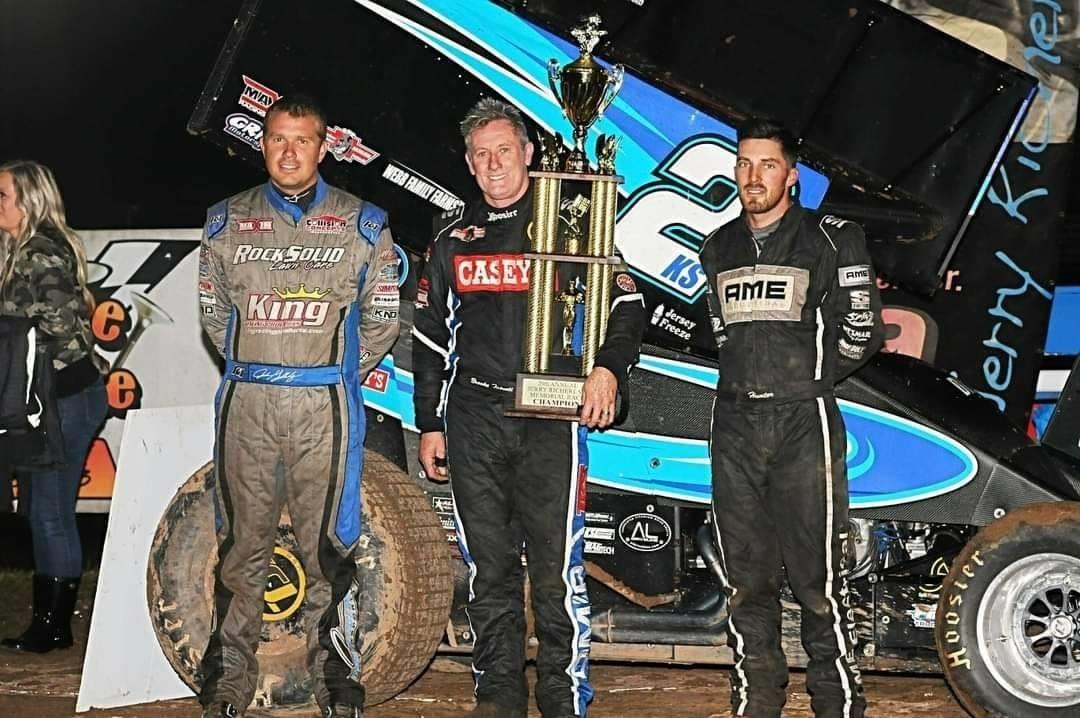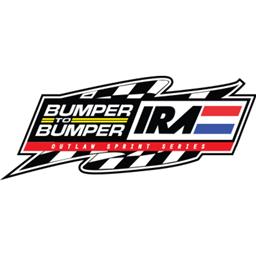 9/15/2020
IRA Interstate Racing Association
---
Tatnell Four Time Winner of Richert Memorial
After an action packed Friday night, the teams of the Bumper to Bumper IRA sprints traveled north to New Richmond, Wisconsin for perhaps the most prestigious race of the season, the 20th Annual Jerry Richert Memorial.
Though the state faced weather all week, and into the day on Saturday, the track proved to be racy early as both Justin Henderson and Paige Polyak won their heat races from the third position. But the most impressive performance early in the night may have came from Sage Fruit Top Apple Rookie of the Year contender Danny Schlafer, who picked up a dash win over some of the strongest cars in the pits including Justin Henderson and Friday night's winner Hunter Schuerenberg, putting himself on the pole for the A main.
When the green flag flew to start the A main, Brooke Tatnell took the early lead as Bill Balog and Justin Henderson battled for third behind Schlafer. Henderson would take third and then quickly move past Schlafer for second. Tatnell would slice his way through lapped traffic keeping Henderson and Balog behind him until inside of 10 laps to go when Justin Henderson jumped the cushion in turn two and got upside down bringing out the red flag. Under the caution it became apparent that Bill Balog had a right rear tire going down. He would stay out in the second position, and attempt to run the slowly deflating tire, but just a couple laps back to green the caution would wave again, this time for Bill Balog who's right rear had blown. This time Jordan Goldesberry would restart in second with Schuerenberg in third. Meanwhile, Danny Schlafer who had fallen back as far as eleventh had raced his way back to the fourth spot. Jordan Goldesberry began to run the middle of the track, a line that appeared could be faster then Tatnell's line around the high side, but another red flag would fly, this time for Danny Schlafer who got into the wall and then upside down attempting to work past Hunter Schuerenberg for third. Once the race restarted, there was just five laps left. Goldesberry continued to try and make the middle work while Tatnell rode the cushion. Goldesberry kept Tatnell's 2KS machine within striking distance but could not overtake it. When the checkered waved Brooke Tatnell was victorious, becoming the only four time winner of the event honoring his father in law.
410 Sprints 25 Entries
A Feature 1 30 Laps | 00:37:39.092
2KS-Brooke Tatnell[2]; 2. 65-Jordan Goldesberry[6]; 3. 55-Hunter Schuerenberg[7]; 4. 19P-Paige Polyak[5]; 5. 49-Josh Schneiderman[9]; 6. 73-Jake Blackhurst[8]; 7. 35-Skylar Prochaska[11]; 8. 2W-Scott Neitzel[14]; 9. 20R-Rob Pribnow[15]; 10. 17B-Bill Balog[4]; 11. 4B-Scott Biertzer[17]; 12. 23-Russel Borland[12]; 13. 14R-Sean Rayhall[19]; 14. 29-Hunter Custer[18]; 15. 68-Dave Uttech[13]; 16. 14-Jack Routson[10]; 17. 0-John Fahl[20]; 18. 14K-Victoria (Tori) Knutson[21]; 19. 3-Tony Kaus[24]; 20. 77-Wayne Modjeski[23]; 21. 4K-Kris Spitz[16]; 22. 25-Danny Schlafer[1]; 23. 7-Justin Henderson[3]; 24. (DNS) 73AF-Joey Moughan
Dash 1 4 Laps | 00:02:07.000
25-Danny Schlafer[1]; 2. 7-Justin Henderson[5]; 3. 19P-Paige Polyak[2]; 4. 55-Hunter Schuerenberg[4]; 5. 49-Josh Schneiderman[3]
Dash 2 4 Laps | 00:02:11.000
2KS-Brooke Tatnell[4]; 2. 17B-Bill Balog[3]; 3. 65-Jordan Goldesberry[1]; 4. 73-Jake Blackhurst[5]; 5. 14-Jack Routson[2]
Heat 1 10 Laps | 00:07:54.000 | Weld Wheels
7-Justin Henderson[4]; 2. 73-Jake Blackhurst[1]; 3. 65-Jordan Goldesberry[3]; 4. 23-Russel Borland[6]; 5. 20R-Rob Pribnow[8]; 6. 4B-Scott Biertzer[7]; 7. 14R-Sean Rayhall[5]; 8. 73AF-Joey Moughan[2]; 9. (DNS) 13-Patrick Heikkinen
Heat 2 10 Laps | 00:04:18.000 | Hepfner Racing Products
19P-Paige Polyak[4]; 2. 25-Danny Schlafer[2]; 3. 55-Hunter Schuerenberg[3]; 4. 14-Jack Routson[1]; 5. 68-Dave Uttech[5]; 6. 29-Hunter Custer[7]; 7. 14K-Victoria (Tori) Knutson[8]; 8. 77-Wayne Modjeski[6]
Heat 3 10 Laps | 00:04:35.000 | EMI
49-Josh Schneiderman[2]; 2. 17B-Bill Balog[4]; 3. 2KS-Brooke Tatnell[3]; 4. 35-Skylar Prochaska[1]; 5. 2W-Scott Neitzel[5]; 6. 4K-Kris Spitz[6]; 7. 0-John Fahl[7]; 8. 3-Tony Kaus[8]
Qualifying 1 | 00:00:27.000 | Osborn and Son Trucking
7-Justin Henderson, 00:11.892[4]; 2. 19P-Paige Polyak, 00:11.900[25]; 3. 17B-Bill Balog, 00:11.906[7]; 4. 65-Jordan Goldesberry, 00:12.036[19]; 5. 55-Hunter Schuerenberg, 00:12.040[10]; 6. 2KS-Brooke Tatnell, 00:12.099[5]; 7. 73AF-Joey Moughan, 00:12.104[15]; 8. 25-Danny Schlafer, 00:12.184[17]; 9. 49-Josh Schneiderman, 00:12.221[18]; 10. 73-Jake Blackhurst, 00:12.237[9]; 11. 14-Jack Routson, 00:12.316[13]; 12. 35-Skylar Prochaska, 00:12.386[12]; 13. 14R-Sean Rayhall, 00:12.410[16]; 14. 68-Dave Uttech, 00:12.466[11]; 15. 2W-Scott Neitzel, 00:12.485[20]; 16. 23-Russel Borland, 00:12.720[3]; 17. 77-Wayne Modjeski, 00:12.848[22]; 18. 4K-Kris Spitz, 00:12.881[21]; 19. 4B-Scott Biertzer, 00:12.902[24]; 20. 29-Hunter Custer, 00:12.942[1]; 21. 0-John Fahl, 00:12.983[2]; 22. 20R-Rob Pribnow, 00:13.176[8]; 23. 14K-Victoria (Tori) Knutson, 00:13.366[14]; 24. 3-Tony Kaus, 00:13.527[23]; 25. (DNS) 13-Patrick Heikkinen
Hot Laps 1 | 00:05:12.000
7-Justin Henderson[4]; 2. 73AF-Joey Moughan[15]; 3. 35-Skylar Prochaska[12]; 4. 19P-Paige Polyak[25]; 5. 25-Danny Schlafer[17]; 6. 68-Dave Uttech[11]; 7. 55-Hunter Schuerenberg[10]; 8. 2W-Scott Neitzel[20]; 9. 49-Josh Schneiderman[18]; 10. 4B-Scott Biertzer[24]; 11. 65-Jordan Goldesberry[19]; 12. 14R-Sean Rayhall[16]; 13. 14-Jack Routson[13]; 14. 3-Tony Kaus[23]; 15. 4K-Kris Spitz[21]; 16. 14K-Victoria (Tori) Knutson[14]; 17. 77-Wayne Modjeski[22]; 18. 17B-Bill Balog[7]; 19. 73-Jake Blackhurst[9]; 20. 23-Russel Borland[3]; 21. 29-Hunter Custer[1]; 22. 0-John Fahl[2]; 23. 13-Patrick Heikkinen[6]; 24. 20R-Rob Pribnow[8]; 25. 2KS-Brooke Tatnell[5]
---
Article Credit: Gared Tennyson
Submitted By: Kim Tennyson
Back to News