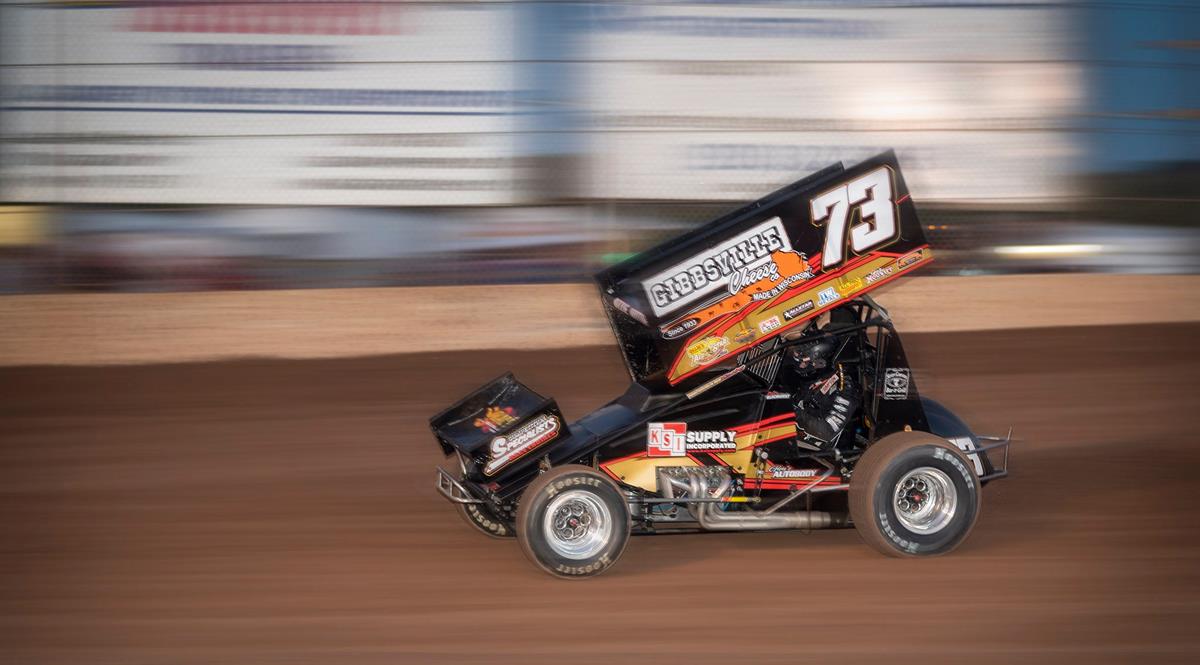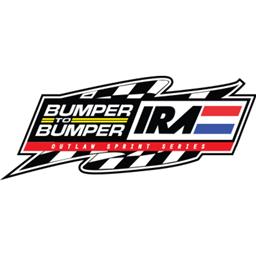 9/21/2020
IRA Interstate Racing Association
---
Blackhurst Takes Semmelmann Memorial
As the 2020 Bumper to Bumper IRA season nears its end, 32 of the best winged sprint drivers in the Upper Midwest embarked upon the Beaver Dam Raceway for the Scott Semmelmann Memorial.
Qualifying would prove to set up a very interesting night as series points leader Bill Balog would blow an engine before setting a time, and would be forced to start heat race four from the tail. As the heat races rolled off Balog was not the only high profile driver who needed to win a heat race to make the dashes, Jordan Goldesberry, defending Beaver Dam winner qualified 14th and would also need to win his heat race. For Goldesberry a heat win came relatively easy as he started on the pole. Schlafer challenged the yellow and blue 65 for the first couple laps of the heat race but Goldesberry proved to have the stronger car and would win his heat. As heat four rolled onto the track all eyes were on the white and blue 17B starting eighth. A win would mean he made the dash draw, anything else would put him buried deep in the A main line up. On the first lap Balog quickly moved by most of the pack and into third. The North Pole Nightmare would then drive past Todd Daun and into second place with his sights set on Scotty Neitzel. As the checkered flag flew it was Neitzel who was victorious, meaning fans would see Balog attempt to pick up the feature win from the thirteenth starting spot.
The A main got off to a quick start as Joey Moughan and Jake Blackhurst took the top two spots over Russel Borland and Jordan Goldesberry. A caution would wave on lap six when Joey Moughan came to a stop from the lead. Bill Balog has already charged from thirteenth to fourth in those six laps and on the restart quickly moved into second. By lap twelve Bill Balog had worked past Jake Blackhurst and into the lead. Lap nineteen would spell disaster for Bill Balog as he would make contact with an infield tire and knock the front end out of his Rhine Auto 17B, ending his night and handing the lead back to Jake Blackhurst. Blackhurst would lead the remaining laps, surviving multiple cautions, including a red flag on the last lap that would end the race for Scott Biertzer who got upside down on the backstretch. Biertzer would be okay, but due to curfew issues, the checkered would be displayed and the race would be complete. Blackhurst would get Oz Motorsports there first win of the season, followed by Jordan Goldesberry and Scotty Neitzel.
410 Sprints 32 Entries
A Feature 1 30 Laps | 00:46:28.983
73-Jake Blackhurst[7]; 2. 65-Jordan Goldesberry[5]; 3. 2W-Scott Neitzel[8]; 4. 5J-Jeremy Schultz[6]; 5. 10W-Mike Reinke[4]; 6. 26T-Travis Arenz[10]; 7. 14R-Sean Rayhall[17]; 8. 55-Austin Deblauw[16]; 9. 20R-Rob Pribnow[23]; 10. 4K-Kris Spitz[19]; 11. 14-Jack Routson[20]; 12. 4B-Scott Biertzer[9]; 13. 77-Wayne Modjeski[18]; 14. 19-Todd Daun[15]; 15. 29-Hunter Custer[21]; 16. 73AF-Joey Moughan[1]; 17. 23-Russel Borland[2]; 18. 17B-Bill Balog[13]; 19. 9K-Kyle Schuett[22]; 20. 25-Danny Schlafer[11]; 21. 43-Jereme Schroeder[24]; 22. 68-Dave Uttech[14]; 23. 18S-Bryce Schmitt[12]; 24. 79-Blake Nimee[3]
B Feature 1 12 Laps | 00:05:59.170
29-Hunter Custer[2]; 2. 9K-Kyle Schuett[1]; 3. 20R-Rob Pribnow[6]; 4. 43-Jereme Schroeder[3]; 5. 30-Doug Wondra[8]; 6. 4-Bailey Goldesberry[4]; 7. 21-Will Gerrits[11]; 8. 7-Scott Uttech[5]; 9. 21H-Tim Haddy[7]; 10. 88-Christopher Flick[10]; 11. 20-Kevin Seidler[12]; 12. 0-John Fahl[9]
Dash 1 4 Laps | 00:02:07.919
73AF-Joey Moughan[1]; 2. 79-Blake Nimee[2]; 3. 65-Jordan Goldesberry[4]; 4. 73-Jake Blackhurst[5]; 5. 4B-Scott Biertzer[3]
Dash 2 4 Laps | 00:03:23.111
23-Russel Borland[1]; 2. 10W-Mike Reinke[4]; 3. 5J-Jeremy Schultz[2]; 4. 2W-Scott Neitzel[3]; 5. 26T-Travis Arenz[5]
Heat 1 10 Laps | 00:03:05.000
5J-Jeremy Schultz[2]; 2. 79-Blake Nimee[4]; 3. 68-Dave Uttech[1]; 4. 55-Austin Deblauw[6]; 5. 77-Wayne Modjeski[5]; 6. 9K-Kyle Schuett[3]; 7. 20R-Rob Pribnow[7]; 8. 88-Christopher Flick[8]
Heat 2 10 Laps | 00:02:39.000
65-Jordan Goldesberry[1]; 2. 25-Danny Schlafer[2]; 3. 10W-Mike Reinke[4]; 4. 4B-Scott Biertzer[3]; 5. 14-Jack Routson[6]; 6. 7-Scott Uttech[7]; 7. 29-Hunter Custer[5]; 8. 21-Will Gerrits[8]
Heat 3 10 Laps | 00:05:03.000
26T-Travis Arenz[1]; 2. 18S-Bryce Schmitt[2]; 3. 73AF-Joey Moughan[3]; 4. 23-Russel Borland[4]; 5. 4K-Kris Spitz[5]; 6. 43-Jereme Schroeder[6]; 7. 21H-Tim Haddy[7]; 8. 20-Kevin Seidler[8]
Heat 4 10 Laps | 00:04:06.000
2W-Scott Neitzel[2]; 2. 17B-Bill Balog[8]; 3. 73-Jake Blackhurst[4]; 4. 19-Todd Daun[1]; 5. 14R-Sean Rayhall[3]; 6. 4-Bailey Goldesberry[6]; 7. 30-Doug Wondra[7]; 8. 0-John Fahl[5]
Qualifying 1 | 00:00:24.000
79-Blake Nimee, 00:11.606[27]; 2. 10W-Mike Reinke, 00:11.908[17]; 3. 23-Russel Borland, 00:11.939[32]; 4. 73-Jake Blackhurst, 00:12.004[23]; 5. 9K-Kyle Schuett, 00:12.005[16]; 6. 4B-Scott Biertzer, 00:12.020[9]; 7. 73AF-Joey Moughan, 00:12.088[8]; 8. 14R-Sean Rayhall, 00:12.092[30]; 9. 5J-Jeremy Schultz, 00:12.094[10]; 10. 25-Danny Schlafer, 00:12.112[29]; 11. 18S-Bryce Schmitt, 00:12.161[22]; 12. 2W-Scott Neitzel, 00:12.172[18]; 13. 68-Dave Uttech, 00:12.179[4]; 14. 65-Jordan Goldesberry, 00:12.179[2]; 15. 26T-Travis Arenz, 00:12.220[25]; 16. 19-Todd Daun, 00:12.226[24]; 17. 77-Wayne Modjeski, 00:12.262[28]; 18. 29-Hunter Custer, 00:12.270[31]; 19. 4K-Kris Spitz, 00:12.279[26]; 20. 0-John Fahl, 00:12.346[14]; 21. 55-Austin Deblauw, 00:12.359[1]; 22. 14-Jack Routson, 00:12.381[19]; 23. 43-Jereme Schroeder, 00:12.456[3]; 24. 4-Bailey Goldesberry, 00:12.581[13]; 25. 20R-Rob Pribnow, 00:12.668[7]; 26. 7-Scott Uttech, 00:12.678[5]; 27. 21H-Tim Haddy, 00:13.207[21]; 28. 30-Doug Wondra, 00:13.304[12]; 29. 88-Christopher Flick, 00:13.481[6]; 30. 21-Will Gerrits, 00:13.574[15]; 31. 20-Kevin Seidler, 00:13.649[11]; 32. 17B-Bill Balog, 00:13.649[20]
Hot Laps 1 | 00:04:35.000
17B-Bill Balog[20]; 2. 68-Dave Uttech[4]; 3. 25-Danny Schlafer[29]; 4. 79-Blake Nimee[27]; 5. 23-Russel Borland[32]; 6. 14R-Sean Rayhall[30]; 7. 10W-Mike Reinke[17]; 8. 14-Jack Routson[19]; 9. 29-Hunter Custer[31]; 10. 5J-Jeremy Schultz[10]; 11. 2W-Scott Neitzel[18]; 12. 73AF-Joey Moughan[8]; 13. 18S-Bryce Schmitt[22]; 14. 4K-Kris Spitz[26]; 15. 77-Wayne Modjeski[28]; 16. 65-Jordan Goldesberry[2]; 17. 9K-Kyle Schuett[16]; 18. 0-John Fahl[14]; 19. 4B-Scott Biertzer[9]; 20. 43-Jereme Schroeder[3]; 21. 7-Scott Uttech[5]; 22. 55-Austin Deblauw[1]; 23. 4-Bailey Goldesberry[13]; 24. 30-Doug Wondra[12]; 25. 21-Will Gerrits[15]; 26. 20R-Rob Pribnow[7]; 27. 88-Christopher Flick[6]; 28. 20-Kevin Seidler[11]; 29. 26T-Travis Arenz[25]; 30. 73-Jake Blackhurst[23]; 31. 19-Todd Daun[24]; 32. 21H-Tim Haddy[21]
---
Article Credit: Gared Tennyson
Submitted By: Kim Tennyson
Back to News