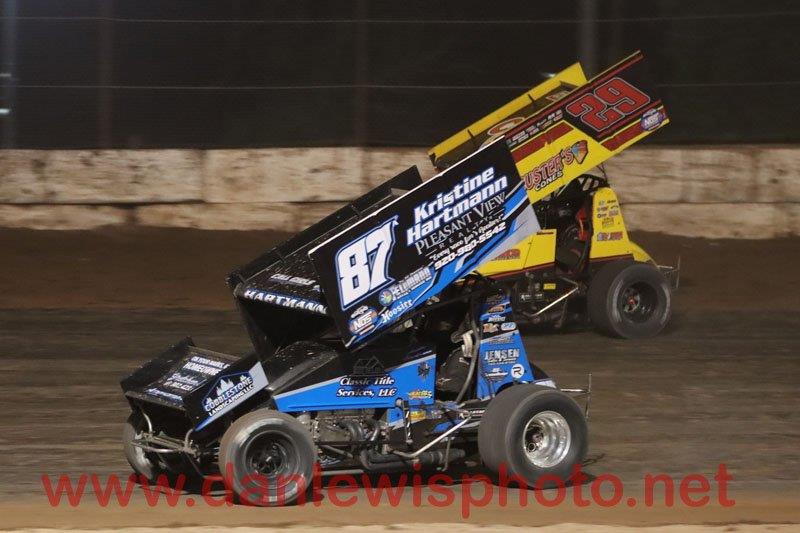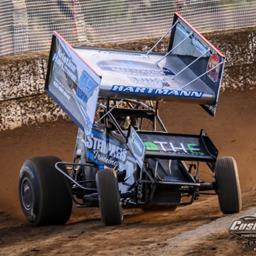 ---
Austin Hartmann tallies Outagamie top-20, eyes Antigo-Plymouth IRA twinbill
(PEDAL DOWN PROMOTIONS) July 27, 2022 – With a large Outagamie County Fair crowd filling the grandstands and the lighted carnival rides in the background accentuating the picturesque scene, Austin Hartmann and the 87A Hartmann Racing team made their first journey to Outagamie Speedway in Seymour, Wis. with a 410-cubic-inch powerplant under the hood Friday, July 22, coming away with a top-20 A-main showing with the Bumper to Bumper Interstate Racing Association 410 Sprint Car Series.
Hartmann opened the night by turning in the 12th fastest qualifying lap in the 24-car IRA field with a time of 12.439 seconds around the third-mile banked oval.
After lining up on the pole of the first eight-lap IRA heat race, outside front row starter Jeremy Schultz got the jump as Hartmann settled into second on the fast and tacky racing surface. Hartmann held tight to the cushion and held off Russel Borland over the duration of the race to secure a second-place finish.
The third-year Sprint Car driver started 11th in the 30-lap IRA main event and found the going difficult as he struggled with a power steering issue on a track surface which had slicked off since the completion of the preliminary events.
By lap 7, Hartmann had settled into the 17th spot before the first of three caution/red flags appeared on lap 14 when the car of Jack Routson slowed along the backstretch.
On the restart, a red flag appeared when Jake Blackhurst flipped into the turn three wall. When the race resumed, Hartmann was running 14th before the third and final caution flag was displayed on lap 18 for an infield tire, which had been pushed onto the track.
Hartmann slipped back to 17th on lap 23 and held onto the spot over the final seven laps en route to his seventh top-20 A-main finish of the 2022 IRA season in nine IRA A-main appearances in a race won by Danny Schlafer.
"The car was great and fun to drive in qualifying and the heat race," Hartmann said. "The feature was not so fun, as I lost all my fluid for power steering, which also runs the wing slider. Running with no power steering for 28 or so laps was not so easy.'
A scheduled IRA event at Wilmot Speedway in Wilmot, Wis. was cancelled on Saturday, July 23 due to severe weather in the area.
This weekend Hartmann and the 87A Hartmann Racing team are set to compete in an IRA doubleheader starting Friday, July 29 at Langlade County Speedway in Antigo, Wis., followed by a return visit to The Plymouth Dirt Track in Plymouth, Wis. on Saturday, July 30.
"I'm excited coming into this upcoming weekend, as we feel more and more confident with the car," Hartmann said. "We have been trying some new things that have been working lately, so I'm eager to see how this weekend goes."
Those unable to make it to track can follow all of the Bumper to Bumper Interstate Racing Association 410 Sprint Car Series action throughout the 2022 campaign via FloRacing by visiting https://www.floracing.com.
Additional information on the 87A Hartmann Racing team can be found by visiting the team's Facebook page – https://www.facebook.com/87Ahartmannracing.
The 87A Hartmann Racing team has assembled a strong group of partners in support of the team's maiden voyage with the Bumper to Bumper IRA Series, including Kristine Hartmann of Pleasant View Realty, Shufflebotham Tree Service, Call Girls Motorsports, Pallet Works LLC, AF Inc., Bennett Transport Inc., SCA Inc., Gretchen Tillman New American Funding, Classic Title Services, CP Services, Cobblestone Landscaping, Jensen Sales & Services, Lee's Color Studio, Dave's Fabrication, Racer's Hall Sports Bar and Grill, Feldmann Sales & Service, RC Custom Design, Hepfner Racing Products, Pit Road Apparel, the Bumper to Bumper Interstate Racing Association 410 Sprint Car Series and Sage Fruit.
The 87A Hartmann Racing team consists of Hunter Annis, Eric Bergschultz, Karlee Hartmann, Andrew Shufflebotham, Jarrett Neese, Caitlin Shaw and Kristine Hartmann.
87A Hartmann Racing Sponsor Showcase – Racer's Hall Sports Bar & Grill
Located at W4408 County Road C in Plymouth, Wis., Racer's Hall Sports Bar & Grill offers casual dining with a full menu and daily specials, along with a great racing, sports-themed atmosphere, including five big-screen TVs, along with indoor and outdoor dining areas.
The banquet hall and pavilion areas can be reserved for parties, banquets, weddings and business meetings covering a wide range of sizes.
Former championship-winning Sportsman and Limited Late Model racer Jim Pitzen purchased the former Kerm's Hall in September 2000. Over the past 22 years, Jim and Sarah Pitzen have made several improvements and renovations, including adding a kitchen and dining room, as well as remodeling all of the bathrooms and adding two outdoor decks.
Outdoor activities include horseshoe pits and garden tractor pull area, which hosts the Creekside Garden Tractor Pullers Association on a regular basis from June through October.
In addition, Racer's Hall hosts summer and fall horseshoe leagues and a winter bean bag league, while serving as the site of several benefits and fundraisers throughout the course of the year.
Racer's Hall Sports Bar is open Tuesday through Sunday from 11 a.m. to 2 a.m. The Racer's Hall Grill serves food on Tuesday, Wednesday and Thursday from 11 a.m. to 7 p.m., Friday from 11 a.m. to 9 p.m. and Saturday from 11 a.m. to 5 p.m. An appetizer-only menu is featured on Sunday. Reservations are required for groups of eight or more.
To contact or learn more about Racer's Hall, call 920-892-6900, email spitzen@racershall.com or visit www.racershall.com.
Pedal Down Promotions is a full-service public relations and media services company devoted to helping its clients effectively communicate with targeted audiences through press releases, newsletters, profile and feature articles, website and social media content development, printed media, editing and layout, graphic design and book publishing services.
For more information on Pedal Down Promotions, email pedaldownpromotions@gmail.com, visit www.pedaldownpromo.com or call 920-323-7970.
Austin Hartmann 87A Hartmann Racing
2022 Season
By The Numbers
Total Events – 14
IRA Events – 12
World of Outlaws Events – 2
A Main Victories – 0
B Main Victories – 0
Top Five A Main Finishes – 0
Top 10 A Main Finishes – 0
Top 15 A Main Finishes – 2
Top 20 A Main Finishes – 7
Heat Race Victories – 0
Dash Appearances – 1
Dash Victories – 0
Austin Hartmann 87A Hartmann Racing
Upcoming 2022 Schedule
Friday, July 29 – Langlade County Speedway, Antigo, Wis. (IRA)
Saturday, July 30 – Plymouth Dirt Track, Plymouth, Wis. (IRA)
Saturday, Aug. 20 – Wilmot Raceway, Wilmot, Wis. (IRA)
Sunday, Aug. 21 – Angell Park Speedway, Angell Park, Wis. (IRA)
---
Article Credit: Jeff Pederson-Pedal Down Promotions
Submitted By: Jeff Pederson
Back to News