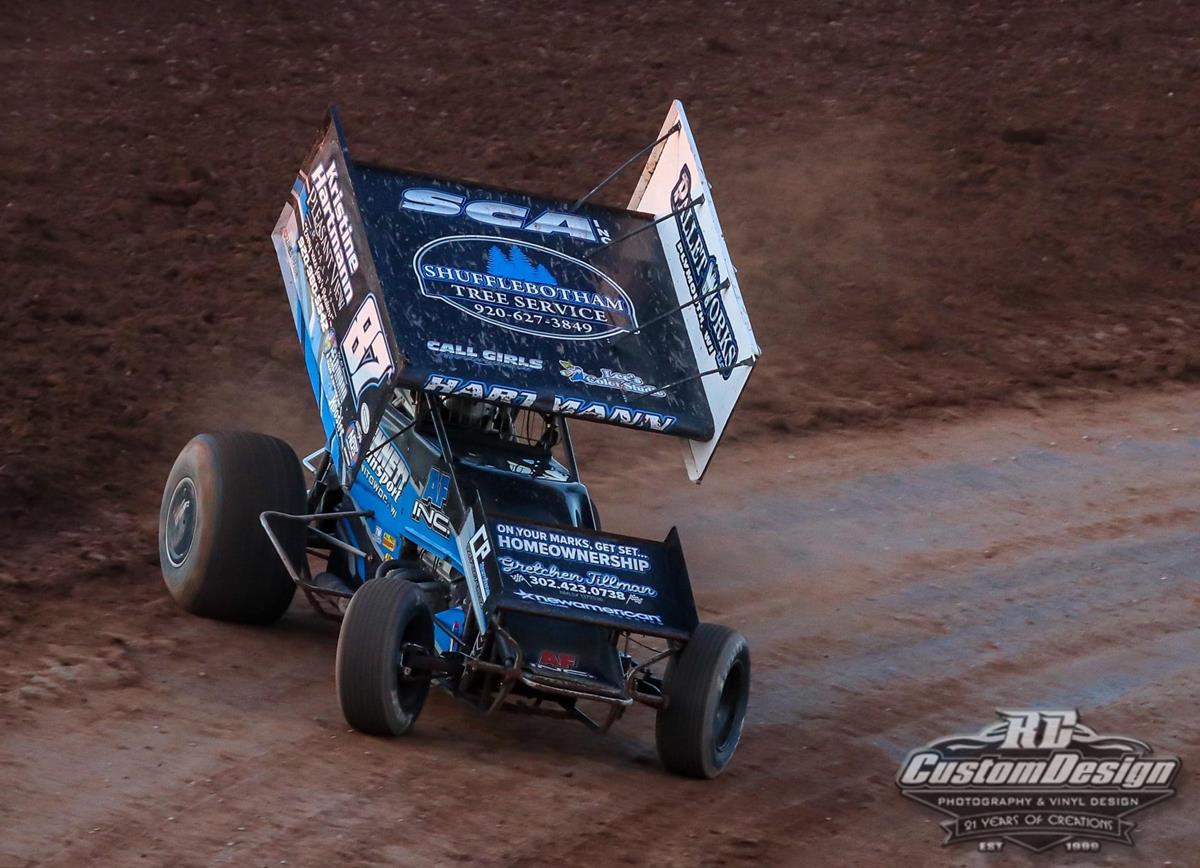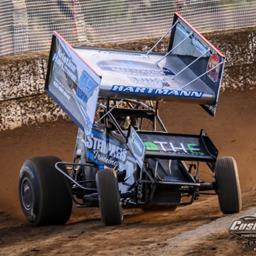 ---
Austin Hartmann earns hard charger honors, two top-15 showings in IRA Antigo-Plymouth doubleheader
(PEDAL DOWN PROMOTIONS) August 3, 2022 – The gradual building process continued to take shape for 410 Winged Sprint Car rookie Austin Hartmann and the 87A Hartmann Racing team with a pair of steady performances in Bumper to Bumper Interstate Racing Association 410 Sprint Car Series competition at Langlade County Speedway in Antigo, Wis. on Friday, July 29 and at the Plymouth, Wis.-based team's home track at The Plymouth Dirt Track at the Sheboygan County Fairgrounds in Plymouth, Wis. on Saturday, July 30.
The IRA doubleheader weekend opened with the team's first trip north to the big, wide, half-mile Langlade County Speedway facility in Antigo, Wis., during the Langlade County Fair on Friday, July 29. Hartmann opened the night by timing in 15th in the 21-car field with a lap of 19.571 seconds.
After lining up fifth in the third eight-lap IRA heat race, Hartmann held down the fifth position in the running order until the final lap when he suffered a rear-end failure heading down the backstretch, which relegated him to a seventh-place finish and sent the 87A Hartmann Racing team into scramble mode to put the car back together for the A-main.
Some quick and efficient crew work got Hartmann back on the track for the 25-lap A main, where he officially started 19th. A strong start vaulted Hartmann past several cars in the opening laps, as he worked his way around Al Schlafer, Hunter Custer, Tyler Tischendorf, Kris Spitz and Jack Vanderboom, during the course of the race on the way to a 14th-place finish in the non-stop event, which was won by Danny Schlafer.
Hartmann's third top-15 A-main finish of the IRA season also netted him hard charger honors, after moving up five spots in the main event.
"It was our first time racing at Antigo and qualifying went the best it could really, as the track faded quickly," Hartmann said. "In the heat race, we were running fifth until the rear axle snapped. Luckily, it happened going down the backstretch and not in the corner.
"The crew, along with Ozzie and Mikey from Team 73, got the car back together for the A main," he said. "The car felt great in the feature and we were able to run up to 14th to turn a night that didn't start out very well into a good night for us."
The following night saw the team travel back home for its third appearance of the season at The Plymouth Dirt Track. With 22 IRA 410 Sprint Cars on hand, Hartmann turned in his best qualifying effort of the 2022 season, as he timed in third with a lap of 11.769 seconds around the third-mile clay oval.
After lining up fourth in the third eight-lap heat race, Hartmann finished fourth to advance to his second IRA dash of the 2022 campaign. The third-year Sprint Car racer started and finished fifth in the second four-lap IRA dash to secure the 10th starting spot in the 30-lap main event.
Hartmann worked primarily the low groove during the majority of the A-main en route to a strong 12th-place main event showing in a race won by Kyle Schuett.
The finish marked Hartmann's fourth top-15 and ninth top-20 A-main showing in the first 14 IRA events of the 2022 season.
"Saturday started great with a good run in qualifying," Hartmann said. "I honestly didn't feel the greatest with my laps, but I guess that's sometimes when you end up being faster. In the heat race, the plan was to make it into the dash, which we did before I pulled a terrible pill.
"Going into the feature was a little tricky for me, as we were battling small issues with the car's handling all night, so we put something new into the car and it was okay, but just not enough to go forward," he said.
After the event at The Plymouth Dirt Track on July 30, Hartmann moved up to ninth place in the Bumper to Bumper IRA Sprint Car Series point standings with 10 races remaining in the 2022 IRA season.
With no IRA races scheduled during the next two weekends, the 87A Hartmann Racing team will return to action with an IRA doubleheader weekend starting Saturday, Aug. 20 at Wilmot Raceway in Wilmot, Wis. and concluding Sunday, Aug. 21 at Angell Park Speedway in Sun Prairie, Wis. during the annual Corn Fest celebration.
Those unable to make it to track can follow all of the Bumper to Bumper Interstate Racing Association 410 Sprint Car Series action throughout the 2022 campaign via FloRacing by visiting https://www.floracing.com.
Additional information on the 87A Hartmann Racing team can be found by visiting the team's Facebook page – https://www.facebook.com/87Ahartmannracing.
The 87A Hartmann Racing team has assembled a strong group of partners in support of the team's maiden voyage with the Bumper to Bumper IRA Series, including Kristine Hartmann of Pleasant View Realty, Shufflebotham Tree Service, Call Girls Motorsports, Pallet Works LLC, AF Inc., Bennett Transport Inc., SCA Inc., Gretchen Tillman New American Funding, Classic Title Services, CP Services, Cobblestone Landscaping, Jensen Sales & Services, Lee's Color Studio, Dave's Fabrication, Racer's Hall Sports Bar and Grill, Feldmann Sales & Service, RC Custom Design, Hepfner Racing Products, Pit Road Apparel, the Bumper to Bumper Interstate Racing Association 410 Sprint Car Series and Sage Fruit.
The 87A Hartmann Racing team consists of Hunter Annis, Eric Bergschultz, Karlee Hartmann, Andrew Shufflebotham, Jarrett Neese, Caitlin Shaw and Kristine Hartmann.
87A Hartmann Racing Sponsor Showcase – RC Custom Design
Since opening in 1999, RC Custom Design has grown over the past 23 years into a full-service graphic design, vinyl graphics and photography business under the direction of owner Rob Eisentraut with a strong foundation in the motorsports field.
"RC Custom Design started as a small side project and has grown into a full shop and a semi full-time business," Eisentraut said. "Our main product lines have always been, but not limited to, the vinyl graphics and photography with a special emphasis on local and national motorsports. We also service local business and customers with vinyl graphic needs, logo design services, apparel design, personal and product photography and product design layouts."
To contact or learn more about RC Custom Design, contact Rob Eisentraut by phone at 262-323-1046, email rcdesign74@yahoo.com or through the RC Custom Design Facebook page https://www.facebook.com/rccustomdesign.
Pedal Down Promotions is a full-service public relations and media services company devoted to helping its clients effectively communicate with targeted audiences through press releases, newsletters, profile and feature articles, website and social media content development, printed media, editing and layout, graphic design and book publishing services.
For more information on Pedal Down Promotions, email pedaldownpromotions@gmail.com, visit www.pedaldownpromo.com or call 920-323-7970.
Austin Hartmann 87A Hartmann Racing
2022 Season
By The Numbers
Total Events – 16
IRA Events – 14
World of Outlaws Events – 2
A Main Victories – 0
B Main Victories – 0
Top Five A Main Finishes – 0
Top 10 A Main Finishes – 0
Top 15 A Main Finishes – 4
Top 20 A Main Finishes – 9
Heat Race Victories – 0
Dash Appearances – 2
Dash Victories – 0
Austin Hartmann 87A Hartmann Racing
Upcoming 2022 Schedule
Saturday, Aug. 20 – Wilmot Raceway, Wilmot, Wis. (IRA)
Sunday, Aug. 21 – Angell Park Speedway, Angell Park, Wis. (IRA)
Saturday, Aug. 27 – Wilmot Raceway, Wilmot, Wis. (IRA)
---
Submitted By: Jeff Pederson
Back to News