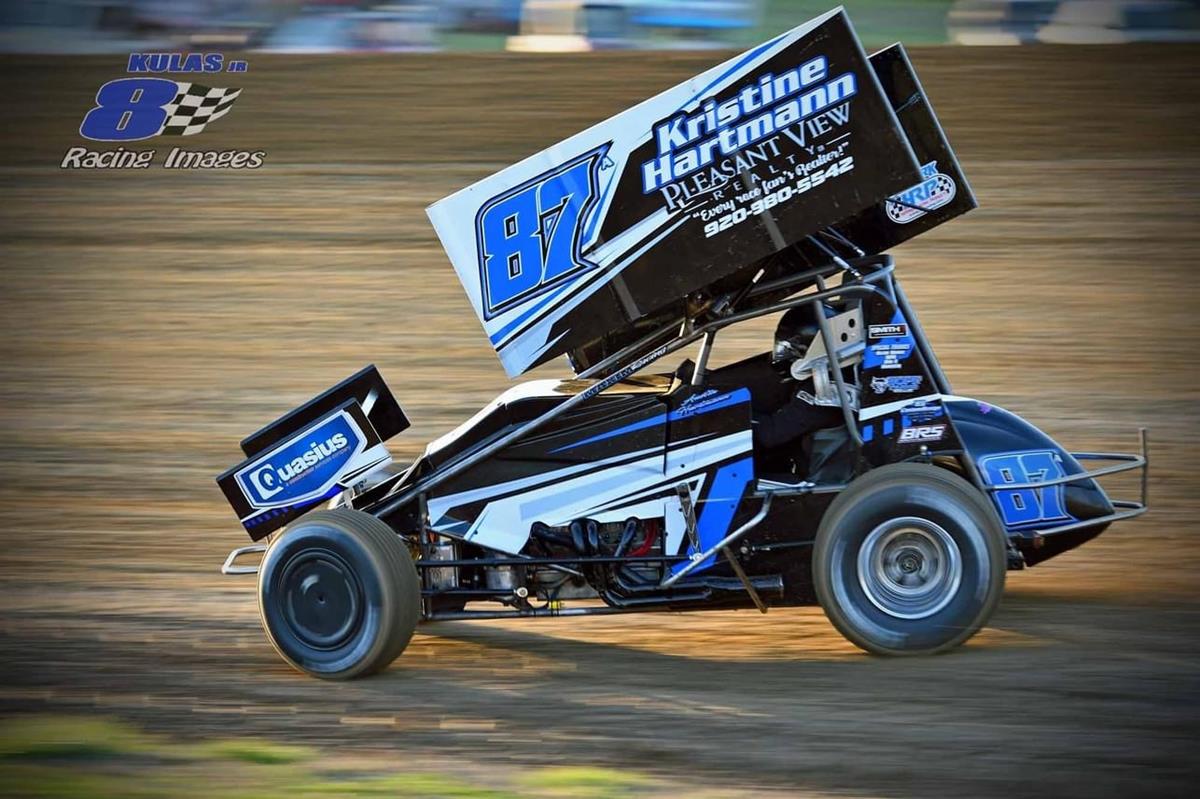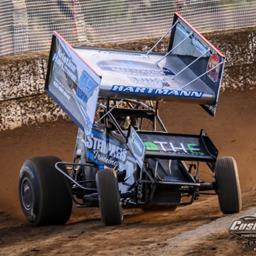 ---
Austin Hartmann fires up 2023 IRA season in Iowa, eyes return to Beaver Dam Raceway
(PEDAL DOWN PROMOTIONS) April 12, 2023 – With their rookie season of 410 Sprint Car competition now firmly planted in the rearview mirror, Austin Hartmann and the members of the 87A Hartmann Racing team flipped the page to their second full campaign on the Bumper to Bumper Interstate Racing Association 410 Sprint Car Series tour, during the IRA-Midwest Open Wheel Association (MOWA) Morning Sun Farm Implement 410 Clash doubleheader race weekend Friday, April 7 and Saturday, April 8 at 34 Raceway in West Burlington, Iowa.
In his 34 Raceway debut on Friday, April 7, Hartmann signed in among a strong field of 48 competitors on hand to kick off the 2023 IRA campaign. Hartmann opened the night by turning in the 14th fastest qualifying lap in split field qualifying group B in 13.828 seconds.
After starting seventh in the eight-lap fourth heat race, Hartmann came home 10th. The 2020 Midwest Sprint Car Association Rookie of the Year Award winner then placed ninth after starting 10th in the 10-lap second B main.
With another 48-car field on hand on Saturday, April 8, Hartmann qualified 10th in split field qualifying group B with a lap of 13.020 seconds. After starting fifth in the fourth eight lap IRA-MOWA heat race, the Plymouth, Wis. resident came home seventh.
Hartmann then capped the 2023 IRA season opening doubleheader weekend event by placing sixth after starting third in the second 10 lap IRA-MOWA B main.
"At first glance, 34 Raceway reminded me of Beaver Dam Raceway," Hartmann said. "The two tracks have very similar straightaways. The team and I set a goal for the weekend to get this new chassis figured out for different track conditions, as well as learn the new Hoosier tires. We took good notes on the car and track conditions that will hopefully help us coming up in the future when we make our return to 34 Raceway later in the season."
Hartmann is now set to return to the site of his best career A-main finish this Saturday, April 15 as the Bumper to Bumper Interstate Racing Association 410 Sprint Car Series makes its lone scheduled appearance of the 2023 season at Beaver Dam Raceway in Beaver Dam, Wis. Street Stocks and Legends also on the card for the annual Jim Wipperfurth Memorial event.
In the IRA's last appearance at Beaver Dam Raceway on Sept. 17, 2022, Hartmann posted a career-best sixth place showing in the 30-lap Scott Semmelmann Memorial A main event.
Pit gates open at 4 p.m. with spectator gates opening at 4:30 p.m. and racing scheduled to begin at 6:30 p.m.
"Our team is super excited to get back to Beaver Dam Raceway and use what we learned this weekend at 34 Raceway to help us there," Hartmann said. "The new tires threw us for a loop, but we are excited to get more nights on them."
All 2023 Bumper to Bumper Interstate Racing Association 410 Sprint Car Series events will be streamed live on FloRacing.
The 87A Hartmann Racing team recently debuted a new website, which can be accessed at https://www.team87a.com.
Additional information on the 87A Hartmann Racing team can be found by visiting the team's Facebook page – https://www.facebook.com/87Ahartmannracing.
The sponsorship partners for the 2023 87A Hartmann Racing team include Kristine Hartmann of Pleasant View Realty, Shufflebotham Tree Service, Competition Specialists, Schmidt's Landscaping, Feldmann Sales & Service, Holler n Hills, Steinpreis Trucking, KSI Supply Inc., Quasius Construction, SwitchGear Brewing LLC, TheD8Dispensary, AF Inc., RC Custom Design, Hepfner Racing Products, Berryman Racing Shocks and Maxim Chassis.
The 2023 87A Hartmann Racing team consists of Hunter Annis, Eric Bergschultz, Karlee Hartmann, Andrew Shufflebotham and Kristine Hartmann.
87A Hartmann Racing Sponsor Showcase – SwitchGear Brewing Co.
The 87A Hartmann Racing team is pleased to welcome SwitchGear Brewing Co., located at 44D Gottfried St. in Elkhart Lake, Wis., on board as a sponsorship partner for the 2023 racing season.
Since opening in May 2017 in the historic feed mill in downtown Elkhart Lake, SwitchGear Brewing Co. has become well known throughout Sheboygan County and beyond for creating flavors for all beer connoisseurs using high quality ingredients.
SwitchGear Brewing Co.'s interior pays tribute to the history of Elkhart Lake, while relaying a modern, industrial vibe.
To contact SwitchGear Brewing Co., call 920-781-5120, email info@switchgearbrewing.com or visit https://www.switchgearbrewing.com.
Pedal Down Promotions is a full-service public relations and media services company devoted to helping its clients effectively communicate with targeted audiences through press releases, newsletters, profile and feature articles, website and social media content development, printed media, editing and layout, graphic design and book publishing services.
For more information on Pedal Down Promotions, email pedaldownpromotions@gmail.com, visit www.pedaldownpromo.com or call 920-323-7970.
Austin Hartmann - 87A Hartmann Racing
2023 Upcoming Schedule
Saturday, April 15 – Beaver Dam Raceway, Beaver Dam, Wis. (IRA)
Saturday, April 29 – Cedar Lake Speedway, New Richmond, Wis. (IRA)
Sunday, April 30 – Mason City Motor Speedway, Mason City, Iowa (IRA)
Austin Hartmann 87A Hartmann Racing
2023 Season
By The Numbers
Total Events – 2
IRA Events – 2
World of Outlaws Events – 0
All Star Events – 0
A Main Victories – 0
B Main Victories – 0
Top Five A Main Finishes – 0
Top 10 A Main Finishes – 0
Top 15 A Main Finishes – 0
Top 20 A Main Finishes – 0
Heat Race Victories – 0
Dash Appearances – 0
Dash Victories – 0
Fast Qualifier Awards – 0
---
Article Credit: Jeff Pederson-Pedal Down Promotions
Submitted By: Jeff Pederson
Back to News