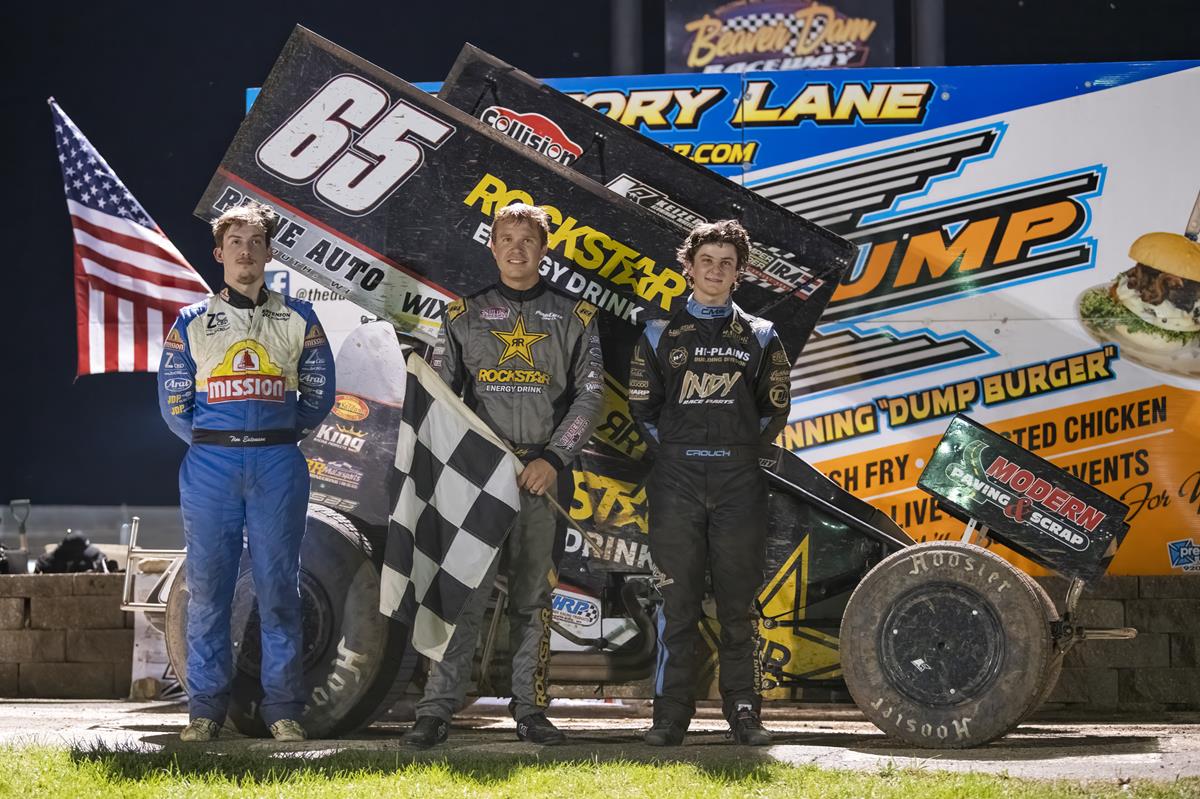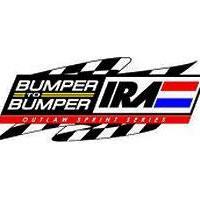 4/16/2023
IRA Interstate Racing Association
---
Defending Champ Goldesberry Rolls to Early Season Victory at Beaver Dam
Photo Credit: Emily Schwanke
Rain early threatened the Bumper to Bumper IRA Outlaw Sprints home opener at Beaver Dam Raceway but crews worked hard to ensure that after the showers passed there was a great racetrack for the evening's action. With 25 cars in the pits and a packed grandstand the stage was set for a thriller.
Hometown star Scotty Neitzel topped the charts in qualifying while Josh Schneiderman, Kyle Schuett and Blake Nimee all picked up their first heat race wins of the season. Nimee doubled down with a dash win, and Russel Borland won dash 2, setting the front row for the evenings 30 lap Wipperfurth Memorial feature.
The initial green flag start saw the inside line stack up, resulting in contact that sent Jeremy Schroeder upside down ending his night. The second attempt to get going proved much better as Blake Nimee, in his first year chasing an IRA championship, grabbed the early lead from Russel Borland. On lap 12 defending champion Jordan Goldesberry would move his Rockstar Energy machine past Nimee's SRF Painting & Staining car and into the lead. From there Goldesberry never looked back, but behind him the fans in attendance saw two rising stars go to war. Lubbock Texas' Brenham Crouch had taken over 2nd and quickly Tim Estenson of Fargo North Dakota moved into 3rd. It should be noted that Estenson arrived to the track late and did not see the Beaver Dam Raceway until he pulled onto the track for heat race action. Estenson who started 13 set his sights on Crouch and the 2nd position, but the teenager piloting the High Plains Building division car was not going to lay down. The pair threw slider after slider at each other with neither gaining the upper hand. At one point Estenson's Mission Foods car made contact with Crouch's car and both machines hit the front stretch wall. The duo of young drivers were both able to power out of the collision and continue their battle. Once the checkered flag flew, Goldesberry was victorious by half a second over Estenson and then Crouch. Blake Nimee and 2023 Rookie of the Year contender Travis Arenz rounded out the top 5.
The IRA sprints will take next weekend off and then return to action with a pair of races on April 29th and 30th. The 29th will see the series return to the Cedar Lake Speedway while the 30th will be the first ever visit to Iowa's Mason City Motor Speedway. Both events will be live on Flo for those who cannot attend.
A Feature 1 30 Laps | 00:29:44.902
65-Jordan Goldesberry[6]; 2. 14-Tim Estenson[13]; 3. 1-Brenham Crouch[4]; 4. 79-Blake Nimee[1]; 5. 25T-Travis Arenz[15]; 6. 2W-Scott Neitzel[3]; 7. 96-Jake Blackhurst[7]; 8. 25-Danny Schlafer[5]; 9. 10W-Mike Reinke[12]; 10. 49-Josh Schneiderman[8]; 11. U2-Jack Vanderboom[14]; 12. 47-Todd King[11]; 13. 23-Russel Borland[2]; 14. 4K-Kris Spitz[24]; 15. 29-Hunter Custer[17]; 16. 88-Christopher Flick[22]; 17. 24-Scott Conger[18]; 18. 08-Katelyn Krebsbach[23]; 19. 39V-William Huck[21]; 20. 21H-Tim Haddy[20]; 21. (DNF) 9K-Kyle Schuett[9]; 22. (DNF) 87A-Austin Hartmann[10]; 23. (DNF) 43-Jereme Schroeder[16]; 24. (DNF) 26R-Preston Ruh[19]; 25. (DNF) 26-Tyler Tischendorf[25]
Dash 1 4 Laps | 00:06:07.428
79-Blake Nimee[2]; 2. 2W-Scott Neitzel[1]; 3. 25-Danny Schlafer[4]; 4. 96-Jake Blackhurst[3]; 5. 9K-Kyle Schuett[5]
Dash 2 4 Laps | 00:02:27.528
23-Russel Borland[1]; 2. 1-Brenham Crouch[4]; 3. 65-Jordan Goldesberry[2]; 4. 49-Josh Schneiderman[5]; 5. 87A-Austin Hartmann[3]
Heat 1 8 Laps | 00:08:21.143
49-Josh Schneiderman[2]; 2. 65-Jordan Goldesberry[3]; 3. 2W-Scott Neitzel[4]; 4. U2-Jack Vanderboom[5]; 5. 47-Todd King[1]; 6. 24-Scott Conger[7]; 7. 39V-William Huck[8]; 8. 26-Tyler Tischendorf[6]
Heat 2 8 Laps | 00:02:51.900
9K-Kyle Schuett[2]; 2. 10W-Mike Reinke[1]; 3. 1-Brenham Crouch[4]; 4. 25T-Travis Arenz[6]; 5. 87A-Austin Hartmann[3]; 6. 43-Jereme Schroeder[5]; 7. 21H-Tim Haddy[7]; 8. 4K-Kris Spitz[8]
Heat 3 8 Laps | 00:05:11.962
79-Blake Nimee[1]; 2. 25-Danny Schlafer[2]; 3. 14-Tim Estenson[9]; 4. 96-Jake Blackhurst[4]; 5. 23-Russel Borland[3]; 6. 29-Hunter Custer[5]; 7. 26R-Preston Ruh[6]; 8. 88-Christopher Flick[8]; 9. 08-Katelyn Krebsbach[7]
Qualifying 1 | 00:00:25.235
2W-Scott Neitzel, 00:11.785[4]; 2. 1-Brenham Crouch, 00:11.853[7]; 3. 96-Jake Blackhurst, 00:11.896[16]; 4. 65-Jordan Goldesberry, 00:12.027[2]; 5. 87A-Austin Hartmann, 00:12.046[10]; 6. 23-Russel Borland, 00:12.070[24]; 7. 49-Josh Schneiderman, 00:12.109[13]; 8. 9K-Kyle Schuett, 00:12.173[19]; 9. 25-Danny Schlafer, 00:12.204[15]; 10. 47-Todd King, 00:12.206[9]; 11. 10W-Mike Reinke, 00:12.207[8]; 12. 79-Blake Nimee, 00:12.217[17]; 13. U2-Jack Vanderboom, 00:12.240[14]; 14. 43-Jereme Schroeder, 00:12.393[18]; 15. 29-Hunter Custer, 00:12.489[6]; 16. 26-Tyler Tischendorf, 00:12.587[1]; 17. 25T-Travis Arenz, 00:12.606[3]; 18. 26R-Preston Ruh, 00:12.678[11]; 19. 24-Scott Conger, 00:12.933[5]; 20. 21H-Tim Haddy, 00:13.646[22]; 21. 08-Katelyn Krebsbach, 00:13.771[21]; 22. 39V-William Huck, 00:13.803[20]; 23. (DNS) 4K-Kris Spitz, 00:13.803; 24. (DNS) 88-Christopher Flick, 00:13.803; 25. (DNS) 14-Tim Estenson, 00:13.803
Hot Laps 1 | 00:05:15.729
96-Jake Blackhurst[16]; 2. 23-Russel Borland[24]; 3. 25-Danny Schlafer[15]; 4. 9K-Kyle Schuett[19]; 5. 1-Brenham Crouch[7]; 6. 87A-Austin Hartmann[10]; 7. 26R-Preston Ruh[11]; 8. 43-Jereme Schroeder[18]; 9. 2W-Scott Neitzel[4]; 10. 49-Josh Schneiderman[13]; 11. U2-Jack Vanderboom[14]; 12. 79-Blake Nimee[17]; 13. 10W-Mike Reinke[8]; 14. 4K-Kris Spitz[12]; 15. 65-Jordan Goldesberry[2]; 16. 25T-Travis Arenz[3]; 17. 29-Hunter Custer[6]; 18. 26-Tyler Tischendorf[1]; 19. 24-Scott Conger[5]; 20. 88-Christopher Flick[23]; 21. 08-Katelyn Krebsbach[21]; 22. (DNF) 14-Tim Estenson[25]; 23. (DNF) 21H-Tim Haddy[22]; 24. (DNF) 39V-William Huck[20]; 25. (DNF) 47-Todd King[9]
---
Article Credit: Gared Tennyson
Submitted By: Dakoda Tennyson
Back to News