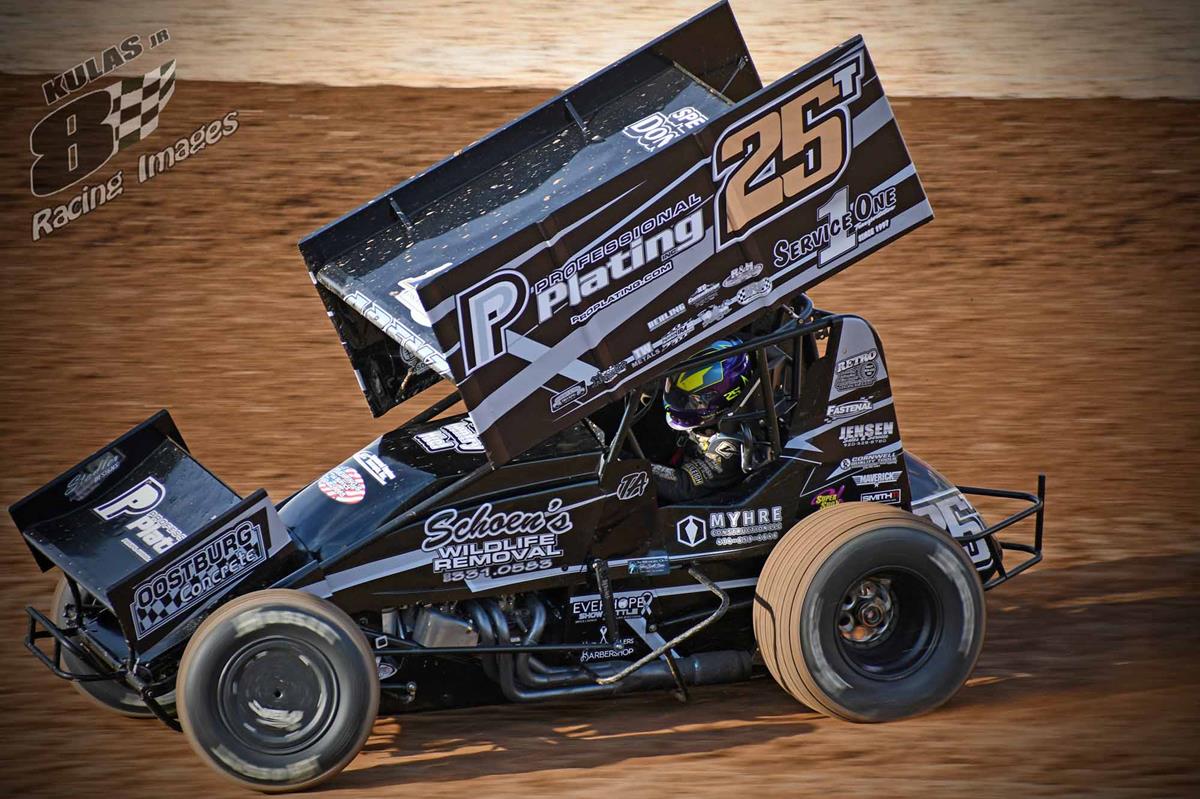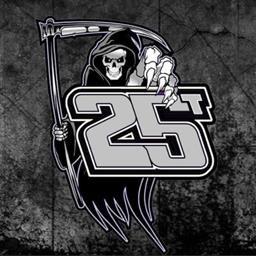 ---
Arenz charges to top-five IRA showing at Beaver Dam Raceway
(PEDAL DOWN PROMOTIONS) April 20, 2023 – While the "R" after his name on the 2023 Bumper to Bumper Interstate Racing Association 410 Sprint Car Series full-time driver roster might indicate otherwise, Travis Arenz looked like anything but a rookie, storming from his 15th starting spot to claim a fifth place showing behind the wheel of the 25T Travis Arenz Motorsports machine in the 30-lap IRA Jim Wipperfurth Memorial A main Saturday, April 15 at Beaver Dam Raceway in Beaver Dam, Wis.
After falling short of making the A-main starting lineup during both nights of the 2023 season opening IRA-Midwest Open Wheel Association (MOWA) Morning Sun Farm Implement 410 Clash doubleheader weekend at 34 Raceway in his debut at the West Burlington, Iowa facility on April 7-8, Arenz returned to much more familiar footing for the third IRA event of the 2023 campaign at a track where he has visited victory lane in Midwest Sprint Car Association 360 Sprint Car competition and the results definitely showed.
Arenz opened the night by turning in the 17th fastest qualifying time in the 25-car field with a lap of 12.606 seconds around the high-banked third-mile clay oval.
After lining up sixth in the second eight-lap IRA heat race, Arenz wasted no time in working the high groove to maneuver around Jereme Schroeder and Austin Hartmann to take over fourth in the running order exiting turn two on the opening lap. The Sheboygan Falls, Wis. driver then held on to the fourth spot the rest of the way.
Following an incident involving Tim Haddy and Jereme Schroeder on the initial start, Arenz rolled off from the 15th starting position in the 30-lap IRA main event and used a nifty move on lap four to bolt past both Todd King and Jack Vanderboom.
After a caution for William Huck on lap 5, Arenz restarted 11th before passing Mike Reinke for 10th on lap 6 and Josh Schneiderman to seize ninth two laps later.
Following another caution for a spin involving Russel Borland on lap 9, the 2021 and 2022 Midwest Sprint Car Association and Plymouth Dirt Track Racing 360 Sprint Car champion restarted eighth and put together three consecutive flawless laps using multiple grooves of the well-manicured racing surface to slip past IRA front runners Scotty Neitzel, Danny Schlafer and Jake Blackhurst and grab fifth on lap 12.
Arenz held strong over the final 18 non-stop laps to secure a fifth place showing behind Blake Nimee (fourth), Brenham Crouch (third), Tim Estenson (second) and race winner Jordan Goldesberry.
"We didn't get the gearing right, unfortunately, in qualifying," Arenz said. "We even made a change after hot laps, but it definitely still wasn't enough. I have an idea now where we need to be with this motor.
"I was somewhat happy with the heat race," he said. "We moved forward and turned a few good laps. Overall, I was happy with the fifth place finish in the A main for how early in the season it is. Once I get more laps in with the 410 car, I'll be aiming for top-three finishes every night."
Following an off weekend, Arenz will return to Bumper to Bumper Interstate Racing Association 410 Sprint Car Series action with a doubleheader weekend of competition at two new tracks to the Travis Arenz Motorsports team, starting at Cedar Lake Speedway in New Richmond, Wis. on Saturday, April 29 and concluding on Sunday, April 30 with the IRA's first-ever appearance at Mason City Speedway in Mason City, Iowa.
"I go to each new track with the same approach, which is to try to learn it as quickly as possible and watch previous film to see how the track unfolds over a complete night of racing," Arenz said. "That will be my approach to racing at two new tracks to us, Cedar Lake Speedway and Mason City Speedway, during our next weekend of racing with the IRA."
Pit gates open at 3 p.m. and spectator gates open at 5 p.m. with hot laps at 5:30 p.m. and racing at 6 p.m. for the Spring Open Wheel Spectacular at Cedar Lake Speedway, which also features Traditional Sprint Cars, Winged Limited Sprint Cars and 600cc Winged Micro Sprints.
Pits open at 3 p.m. with spectator gates opening at 4 p.m., hot laps at 5 p.m. and racing scheduled to begin at 5:30 p.m. for the IRA's inaugural event at Mason City Speedway, which also features USRA Stock Cars, USRA B Mods, USRA Hobby Stocks and Outlaw Mini Mods.
All 2023 Bumper to Bumper Interstate Racing Association 410 Sprint Car Series events will be streamed live on FloRacing.
The 2023 Travis Arenz Motorsports sponsorship partners include Professional Plating Inc., Service One Transportation, Inc, Don and Lynn Kiel, Oostburg Concrete, Lakeshore Family Funeral Homes, Schoen's Wildlife Removal, Premier Insurance Solutions-Craig Ladwig, Pallet Works, DW Fence, Little Bears Tree Service LLC, Lake Auto Glass and Service, Myhre Construction LLC, Roth's Auto Restoration, Hair Fellers Barbershop, Fastenal of Plymouth, Jensen Sales and Humphrey's Turner Hall Bar & Grill, Amy Bruechert Reality, Cornwell Tools-Paul Epping, Advanced Engine Concepts, Inc., Duehring's Tax Service, Everhope Show Cattle, HRP Wings and Behling Racing Equipment.
The 2023 Travis Arenz Motorsports team consists of pit crew members Greg Piedot, Jerrod Gamb, Emily Stadler, Cameron Fritz, Alex Wesenburg, Tony Fox and Trevor Hittman.
Additional information on the Travis Arenz Motorsports team can be found by visiting the team's Facebook and Twitter pages.
Travis Arenz Motorsports Sponsor Showcase – Don and Lynn Kiel
Don and Lynn Kiel's first date was attending a race at The Plymouth Dirt Track in Plymouth, Wis. in June 1998 and they have been together ever since, marrying on Feb. 14, 2005. Lynn spent her working career in the banking industry retiring after 39 years in 2017 as an assistant vice-president at a local Manitowoc bank.
Lynn's interest in racing started when she attended the races at the 141 Speedway as a child with her dad, Andy Endries. RIP ANDY!
Don's interest in racing started when he bought Dean Divine's Modified in the early 1970s. Don's driving experience involved Modifieds and Mini Sprints, as well as 360 Sprint Cars at Manitowoc Expo Speedway in 2011 and 2012.
Don spent four years in the United States Air Force, enlisting the night of his graduation party. He was honorably discharged after four years in 1967 as an Airman First Class. Don was a Minuteman Missile electrician serving as team chief his last year and actually got to take part in the test firing of four Minuteman Missiles at Vandenburg Air Force Base in Lompoc, Calif. Don was based at F. E. Warren Air Force Base in Cheyenne, Wyo. for 41 months.
Don started flying in Cheyenne at the age of 19, secured his first flying job three days after his honorable discharge from the U.S. Air Force at age 22 and retired at age 60. He retired as Senior Captain on the 300 passenger Airbus A 330-300 flying to London, Paris, Rome, Amsterdam and Frankfurt. He has logged over 30,000 hours of flying time with a lot of stories to tell.
For a glimpse of Don's career, Google Don Kiel Wisconsin Aviation Hall of Fame. For a view of his favorite aircraft that he owned for four years, check out the Warbird Takeoff by Googling Beech 18 Takeoff Great Radial Engine Sound. Click on the 32 second video. Don and Lynn continue to fly his 1952 Cessna 170B, both on wheels and skis in the winter.
Don loves to say it's pretty cool when your vocation and avocation are one in the same!
"We started out sponsoring Travis Arenz by buying him a set of rear tires four years ago and the rest is history," Don Kiel said. "Travis is a very talented racer from the tiniest detail to the actual racing. I love to watch Travis feel the track out and then work his magic. I sponsor Travis as I feel he is one of the best!"
Pedal Down Promotions is a full-service public relations and media services company devoted to helping its clients effectively communicate with targeted audiences through press releases, newsletters, profile and feature articles, website and social media content development, printed media, editing and layout, graphic design and book publishing services.
For more information on Pedal Down Promotions, email pedaldownpromotions@gmail.com, visit www.pedaldownpromo.com or call 920-323-7970.
Travis Arenz Motorsports
Upcoming 2023 Schedule
Saturday, April 29 – Cedar Lake Speedway, New Richmond, Wis. (IRA)
Sunday, April 30 – Mason City Motor Speedway, Mason City, Iowa (IRA)
Saturday, May 13 – Wilmot Raceway, Wilmot, Wis. (IRA/All Stars)
Travis Arenz Motorsports
410 Sprint Car
2023 Season
By The Numbers
Total IRA Events – 3
A Main Victories – 0
Top Five A Main Finishes – 1
Top 10 A Main Finishes – 1
Top 15 A Main Finishes – 1
Top 20 A Main Finishes – 1
Heat Race Victories – 0
B Main Victories – 0
Dash Appearances – 0
Dash Victories – 0
Fast Qualifier Awards – 0
Travis Arenz Motorsports
360 Sprint Car
2023 Season
By The Numbers
Total MSA-PDTR Events – 0
A Main Victories – 0
Top Five A Main Finishes – 0
Top 10 A Main Finishes – 0
Heat Race Victories – 0
B Main Victories – 0
Fast Qualifier Awards – 0
---
Article Credit: Jeff Pederson-Pedal Down Promotions
Submitted By: Jeff Pederson
Back to News