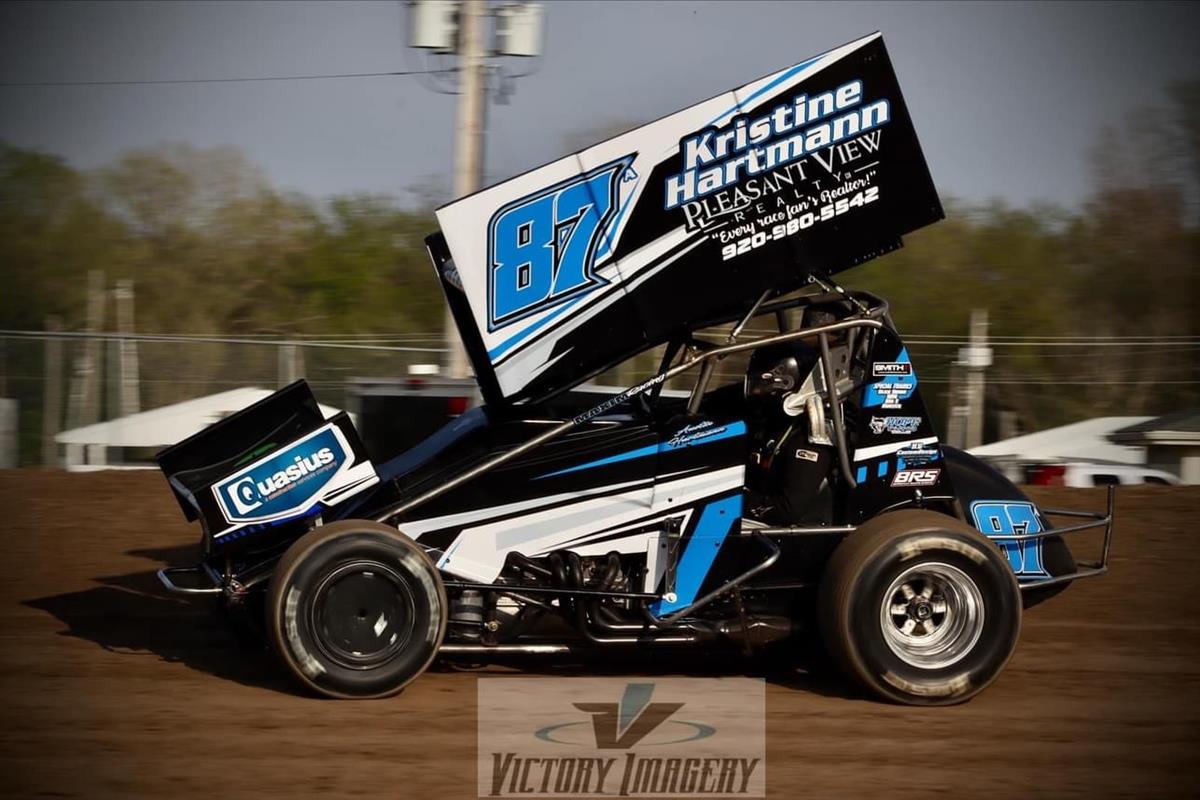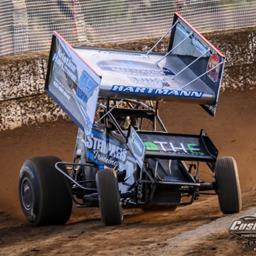 ---
Austin Hartmann storms to career-best A-main showing at Wilmot Raceway
(PEDAL DOWN PROMOTIONS) May 10, 2023 – After sitting idle for three weeks, Austin Hartmann and the 87A Hartmann Racing team returned to action in impressive fashion by racking up a career-best fifth place A-main finish in a non-sanctioned 410 Winged Sprint Car event at Wilmot Raceway in Wilmot, Wis. on Saturday, May 6.
With 24 410 Winged Sprint Cars checked in for the program, Hartmann turned in the fifth-fastest overall lap in his group qualifying session with a time of 13.248 seconds around the third-mile clay oval.
The fourth-year driver then lined up third in the second eight-lap heat race before turning in a fifth place finish to secure the fourth starting spot in the 25-lap A main. Hartmann drove a smooth and consistent race, while enduring a couple of restarts due to on-track incidents.
As the laps wound down, Hartmann executed a nifty move to slip past Kurt Davis utilizing the low groove and nail down a career-best fifth place finish in a race won by Bill Balog.
"We qualified fifth overall in the group qualifying session," Hartmann said. "The heat race went alright. We were close on set up, but not great. The feature went pretty good. The car faded too quickly, but, all in all, we'll take a fifth place finish. We are excited for the fun weekend ahead of us with the All Stars for two nights and also with the IRA on the second night.
"I'm super proud of my pit crew guys, Hunter Annis and Eric Bergschultz," he said. "They've put in the work and used their minds to make this car faster every time it hits the track."
The Plymouth, Wis. driver is set to compete in a pair of $6,000-to-win events with the Tezos All Star Circuit of Champions 410 Sprint Car Series this weekend starting with an All Stars Series event at Jacksonville Speedway in Jacksonville, Ill. on Friday, May 12.
Pit gates open at 4 p.m. with spectator gates opening at 5:30 p.m., followed by hot laps at 6:15 p.m. and racing at 7 p.m.
The 87A Hartmann Racing team will then compete in a Tezos All Star Circuit of Champions – Bumper to Bumper Interstate Racing Association co-sanctioned event at Wilmot Raceway in Wilmot, Wis. on Saturday, May 13.
Pit gates open at 2 p.m. with spectator gates opening at 4 p.m., followed by hot laps at 6 p.m.
Both events will be streamed live on FloRacing.
All 2023 Bumper to Bumper Interstate Racing Association 410 Sprint Car Series events will be streamed live on FloRacing.
The 87A Hartmann Racing team recently debuted a new website, which can be accessed at https://www.team87a.com.
Additional information on the 87A Hartmann Racing team can be found by visiting the team's Facebook page – https://www.facebook.com/87Ahartmannracing.
The sponsorship partners for the 2023 87A Hartmann Racing team include Kristine Hartmann of Pleasant View Realty, Shufflebotham Tree Service, Competition Specialists, Schmidt's Landscaping, Feldmann Sales & Service, Holler n Hills, Steinpreis Trucking, KSI Supply Inc., Quasius Construction, SwitchGear Brewing LLC, TheD8Dispensary, AF Inc., Hopf Farms, RC Custom Design, Hepfner Racing Products, Berryman Racing Shocks and Maxim Chassis.
The 2023 87A Hartmann Racing team consists of Hunter Annis, Eric Bergschultz, Karlee Hartmann, Andrew Shufflebotham and Kristine Hartmann.
87A Hartmann Racing Sponsor Showcase – Competition Specialists
Headquartered at 1342 Earl St. in Menasha, Wis., Competition Specialists has been a high-performance race engine builder, specializing in oval track engines, since 1982.
Under the leadership of Steve Blom and Jason Johnson, Competition Specialists aims to carry on the tradition of reliable and powerful racing engines. With Steve's 40-plus years of engine-building knowledge and Jason's family tradition of building race-winning engines with his Hall of Fame great grandpa and grandpa, this newly formed partnership forged in 2022 brings proven winning power.
Competition Specialists builds a wide range of race engines for Sprint Cars, Dirt Late Models, Asphalt Late Models, Modifieds, Street Stocks, Sportsman and road course cars. In addition, the team of engine builders at Competition Specialists can build marine engines (inboard, small block and big block), hot rod engines (Mopar, Ford and Chevrolet) and other V-8 engines by request.
Competition Specialists features a full-service machine shop where detail is the highest priority from drop off to ready-for-assembly, including the ability to mill heads, blocks and injections. The machine shop also includes lathes to turn cranks and cams. The top-of-the line equipment showcased throughout the shop can also balance cranks, rods and flywheels, while providing the ability to flow cylinder heads for maximum horsepower.
Precision and inspection rank as a top priority for every part that comes through the Competition Specialists machine shop doors. Through a thorough evaluation and examination process, Competition Specialists' technical staff can find cracks invisible to the eye by closely magnifying every inch of every part.
Contact Competition Specialists by calling 920-725-9384, emailing sales@competitionspecialists.com, visiting www.competitionspecialists.com or checking out the Competition Specialists Facebook page.
Pedal Down Promotions is a full-service public relations and media services company devoted to helping its clients effectively communicate with targeted audiences through press releases, newsletters, profile and feature articles, website and social media content development, printed media, editing and layout, graphic design and book publishing services.
For more information on Pedal Down Promotions, email pedaldownpromotions@gmail.com, visit www.pedaldownpromo.com or call 920-323-7970.
Austin Hartmann - 87A Hartmann Racing
2023 Upcoming Schedule
Friday, May 12 – Jacksonville Speedway, Jacksonville, Ill. (All Stars)
Saturday, May 13 - Wilmot Raceway, Wilmot, Wis. (IRA/All Stars)
Saturday, May 20 – Plymouth Dirt Track, Plymouth, Wis. (IRA)
Saturday, May 21 – Angell Park Speedway, Sun Prairie, Wis. (IRA)
Austin Hartmann 87A Hartmann Racing
2023 Season
By The Numbers
Total Events – 4
IRA Events – 3
World of Outlaws Events – 0
All Star Events – 0
A Main Victories – 0
B Main Victories – 0
Top Five A Main Finishes – 1
Top 10 A Main Finishes – 1
Top 15 A Main Finishes – 1
Top 20 A Main Finishes – 1
Heat Race Victories – 0
Dash Appearances – 1
Dash Victories – 0
Fast Qualifier Awards – 0
---
Article Credit: Jeff Pederson-Pedal Down Promotions
Submitted By: Jeff Pederson
Back to News