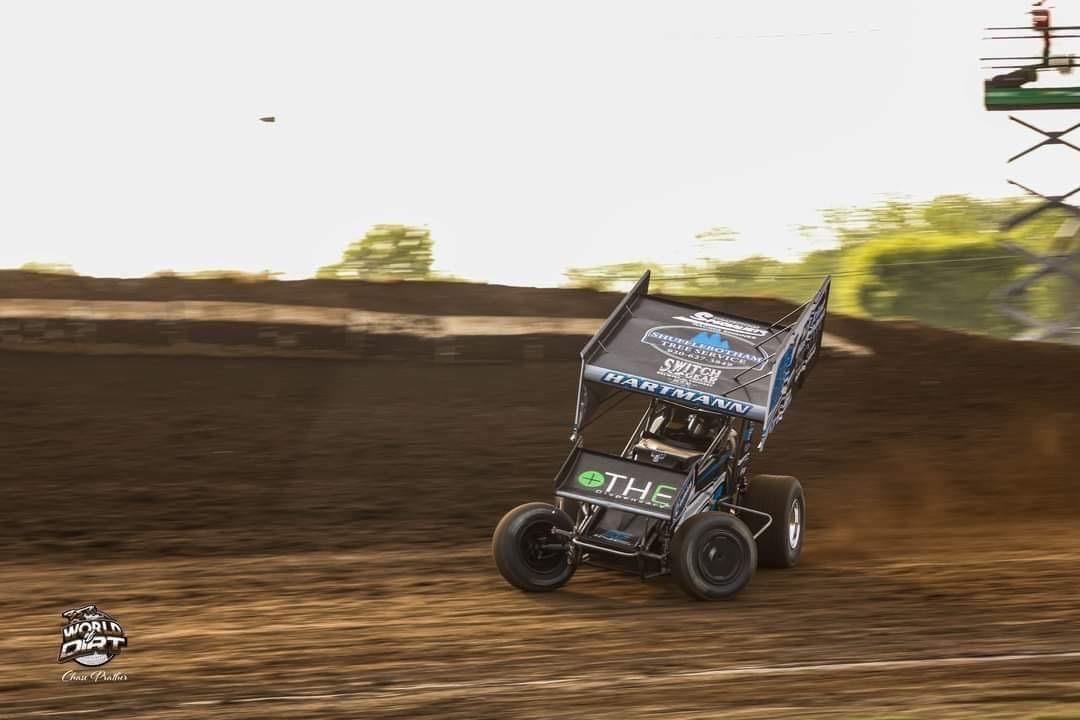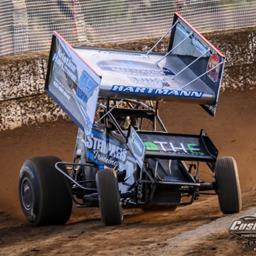 ---
Austin Hartmann makes All Stars A-main debut at Wilmot Raceway
(PEDAL DOWN PROMOTIONS) May 17, 2023 – Fresh off of a career-best fifth place A-main showing in non-sanctioned Wilmot Raceway 410 Sprint Car action on May 6, Austin Hartmann and the 87A Hartmann Racing team embraced the extra challenge of entering a pair of Tezos All Star Circuit of Championships events last week, including the team's debut at Jacksonville Speedway in Jacksonville, Ill. on Friday, May 12, piggybacked with a return engagement at Wilmot Raceway in Wilmot, Wis. for a Tezos All Star Circuit of Champions-Bumper to Bumper Interstate Racing Association 410 Sprint Car Series co-sanctioned event on Saturday, May 13.
Hartmann opened the doubleheader weekend among a strong field of 38 competitors for Tezos All Stars Circuit of Champions competition at the quarter-mile high-banked Jacksonville Speedway clay bullring.
The Plymouth, Wis. driver qualified 17th with a lap of 10.671 before placing ninth after starting eighth in the second eight-lap heat race. Hartmann then rolled off from the 13th starting spot in the 12-lap B Main and advanced four spots to finish ninth.
"I was pretty impressed with the Jacksonville track," Hartmann said. "I thought it would've been a little bit bigger, but we definitely learned a lot and got some decent notes. I'm excited to go back to Jacksonville for a weekly 410 race on June 23rd. That's for sure!"
On Saturday, May 13, Hartmann and the 87A Hartmann Racing team returned to Wilmot Raceway with a stellar field of 44 cars on hand for the All Star-IRA Challenge event.
The fourth-year Sprint Car competitor opened up strong by ripping off the 10th fastest qualifying lap on the three-eighth mile semi-banked clay oval with a time of 12.650 seconds.
After starting second in the third eight-lap All Star-IRA heat race, Hartmann was running fourth when a caution flag appeared on lap 4 for a flip involving Zeth Sabo. On the restart, Hartmann felt heavy pressure from Danny Schlafer and Brenham Crouch in a duel for an A-main transfer spot.
Hartmann stayed cool and fended off Schlafer and Crouch over the final four laps to advance to a Tezos All Star Circuit of Champions A-main field for the first time in his career.
The 2020 Midwest Sprint Car Association and Plymouth Dirt Track Racing 360 Sprint Car Rookie of the Year Award recipient started 13th in the 30-lap All Star-IRA main event. Hartmann stayed smooth and consistent throughout the caution-free main event on the way to a 20th place finish in a race won by Tyler Courtney.
"In qualifying, the car felt pretty good, which set us up good for the heat race," Hartmann said. "The heat race went well too. The track kind of threw us a curveball all night long, but it was very good getting into the feature through the heat race. The feature definitely could have gone better, but we were able to roll it into the trailer in one piece, which is always a victory.
"The All Stars are difficult competitors, but running laps with them will only make us better and want to be better," he said. "I was super proud of Hunter [Annis] this weekend. He worked his tail off making sure everything was taken care of car wise, as well as changing engines for Saturday's show at Wilmot."
Austin Hartmann and the 87A Hartmann Racing team will return to its hometown track – The Plymouth Dirt Track in Plymouth, Wis. on Saturday, May 20 for an all-open wheel program also featuring the Bumper to Bumper Interstate Racing Association 410 Sprint Car Series, Plymouth Dirt Track Racing - Midwest Sprint Car Association 360 Sprint Cars and Badger Midgets.
Pit gates open at 2 p.m., followed by grandstand gates at 4:30 p.m. with hot laps at 5:30 p.m.
On Sunday, May 21, the team will head to Angell Park Speedway in Sun Prairie, Wis. for the track's 2023 season opener, featuring the Bumper to Bumper Interstate Racing Association 410 Sprint Car Series, along with the Badger Midgets and the Wisconsin Legend Dirt Racing Series.
Pit gates open at 1:30 p.m., followed by spectator gates at 4 p.m. with racing at 6 p.m.
All 2023 Bumper to Bumper Interstate Racing Association 410 Sprint Car Series events will be streamed live on FloRacing.
The 87A Hartmann Racing team recently debuted a new website, which can be accessed at https://www.team87a.com.
Additional information on the 87A Hartmann Racing team can be found by visiting the team's Facebook page – https://www.facebook.com/87Ahartmannracing.
The sponsorship partners for the 2023 87A Hartmann Racing team include Kristine Hartmann of Pleasant View Realty, Shufflebotham Tree Service, Competition Specialists, Schmidt's Landscaping, Feldmann Sales & Service, Holler n Hills, Steinpreis Trucking, KSI Supply Inc., Quasius Construction, SwitchGear Brewing LLC, TheD8Dispensary, AF Inc., Hopf Farms, RC Custom Design, Hepfner Racing Products, Berryman Racing Shocks and Maxim Chassis.
The 2023 87A Hartmann Racing team consists of Hunter Annis, Eric Bergschultz, Karlee Hartmann, Andrew Shufflebotham and Kristine Hartmann.
87A Hartmann Racing Sponsor Showcase – Schmidt's Landscaping
Located at 3127 County Road A in Sheboygan Falls, Wis., Schmidt's Landscaping offers full lawn landscape design, along with mulch and soil delivery, weather features, hardscape, outdoor lighting, irrigation systems, seeding, sodding, hydro turf, pruning, shrub planting, tiling, light excavating, patio and retaining wall services. In addition, Schmidt's Landscaping provides snow removal and plowing services during the winter months.
Schmidt's Landscaping has provided beautiful landscape designs, concrete and patio work, floral and trees galore for 38 years starting with original owners Cliff and Marian Schmidt, then passed down to their son-in-law Brian, and now to Cliff and Marian's nephew, Tim, and his wife, Tabitha.
To contact Schmidt's Landscaping, call 920-565-3782, email brian@schmidtlandscaping.com, visit https://www.schmidtlandscaping.com or check out the Schmidt's Landscaping Facebook and Twitter pages.
Pedal Down Promotions is a full-service public relations and media services company devoted to helping its clients effectively communicate with targeted audiences through press releases, newsletters, profile and feature articles, website and social media content development, printed media, editing and layout, graphic design and book publishing services.
For more information on Pedal Down Promotions, email pedaldownpromotions@gmail.com, visit www.pedaldownpromo.com or call 920-323-7970.
Austin Hartmann - 87A Hartmann Racing
2023 Upcoming Schedule
Saturday, May 20 – Plymouth Dirt Track, Plymouth, Wis. (IRA)
Saturday, May 21 – Angell Park Speedway, Sun Prairie, Wis. (IRA)
Saturday, May 27 – Wilmot Raceway, Wilmot, Wis. (IRA)
Sunday, May 28 – 141 Speedway, Francis Creek, Wis. (IRA)
Austin Hartmann 87A Hartmann Racing
2023 Season
By The Numbers
Total Events – 6
IRA Events – 5
World of Outlaws Events – 0
All Star Events – 2
A Main Victories – 0
B Main Victories – 0
Top Five A Main Finishes – 1
Top 10 A Main Finishes – 1
Top 15 A Main Finishes – 1
Top 20 A Main Finishes – 2
Heat Race Victories – 0
Dash Appearances – 1
Dash Victories – 0
Fast Qualifier Awards – 0
---
Article Credit: Jeff Pederson-Pedal Down Promotions
Submitted By: Jeff Pederson
Back to News