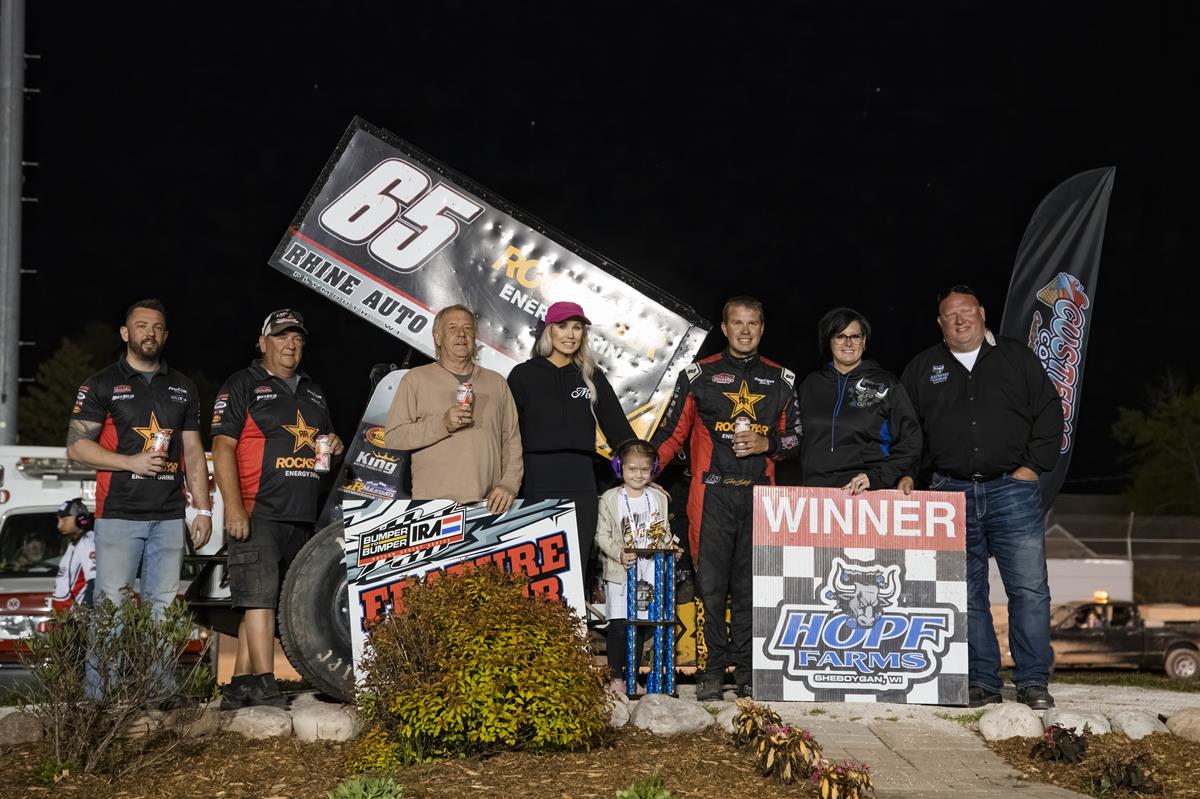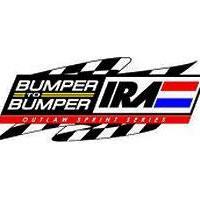 5/21/2023
IRA Interstate Racing Association
---
Goldesberry Triumphs in Plymouth Thriller
Goldesberry Triumphs in Plymouth Thriller
By Madeline "Chatty Madi" Schultz
When the field of 24 sprints took the green, fans thought it would be a race-long battle between the 35 of Zach Hampton and the 2-time champion Jake Blackhurst. The North Pole Nightmare, Bill Balog would stalk the prey of the two as four laps ticked by. By lap four, the nightmare would make the pass on Blackhurst. Balog would continue to lead but had Blackhurst constantly in striking distance. Caution would arise for Ion Steer and Tyler Tischendorf. Balog would try to get a good jump on the restart, but Blackhurst and Goldesberry would have lassoed onto his tail. The two would reel in the Nightmare and the defending 2022 Champion Jordan Goldesberry would exchange for the lead.
In thrilling fashion; Goldesberry, Balog, and Blackhurst would exchange the lead every lap. The white would fly for the 2022 champion, Balog threw everything he had at the Rockstar Energy Drink/Rhine Auto 65 and would tap the wall while Goldesberry took the checkered. The 'Lightning Leprechaun' Russel Borland out of Kewaskum, WI takes second. Rookie of the Year contender, Brenham Couch, would round out the podium.
The weekend isn't over yet! Tonight the Bumper to Bumper IRA Sprint Car Series concludes the weekend at Angell Park Speedway for their 2023 Season Opener. Pits Open - at 1:30 pm, Fan Gates - at 4:00 pm, Hot Laps - at 5:00 pm, and Racing Begins - 6:00 pm.
Can't be there? Watch the action live on FloRacing: https://flosports.link/3z8dvo9
Photos by Emily Schwanke
410 Sprints - Winged 31 Entries
A Feature 1 30 Laps | 00:17:37.316
65-Jordan Goldesberry[5]; 2. 23-Russel Borland[8]; 3. 1-Brenham Crouch[3]; 4. 96-Jake Blackhurst[1]; 5. 2W-Scott Neitzel[6]; 6. 35-Zach Hampton[2]; 7. 3N-Jake Neuman[13]; 8. 87A-Austin Hartmann[9]; 9. 10W-Mike Reinke[7]; 10. 79-Blake Nimee[12]; 11. 10V-Kurt Davis[17]; 12. 9K-Kyle Schuett[16]; 13. U2-Jack Vanderboom[10]; 14. 4K-Kris Spitz[14]; 15. 21-Will Gerrits[18]; 16. 88-Christopher Flick[20]; 17. 16-Anthony Knierim[19]; 18. 29-Hunter Custer[24]; 19. 68-Dave Uttech[22]; 20. 25-Danny Schlafer[15]; 21. 17B-Bill Balog[4]; 22. 19CW-Ion Stear[23]; 23. 49-Josh Schneiderman[11]; 24. 26-Tyler Tischendorf[21]
B Feature 1 12 Laps | 00:08:21.457
16-Anthony Knierim[1]; 2. 88-Christopher Flick[4]; 3. 26-Tyler Tischendorf[5]; 4. 68-Dave Uttech[3]; 5. 19CW-Ion Stear[10]; 6. 29-Hunter Custer[2]; 7. 99-Tyler Brabant[7]; 8. 3B-Shelby Bosie[13]; 9. 25T-Travis Arenz[12]; 10. 26R-Preston Ruh[6]; 11. 24-Scott Conger[8]; 12. 39V-William Huck[9]; 13. (DNS) 47-Todd King
Dash 1 4 Laps | 00:02:26.665
96-Jake Blackhurst[1]; 2. 1-Brenham Crouch[3]; 3. 65-Jordan Goldesberry[5]; 4. 10W-Mike Reinke[2]; 5. 87A-Austin Hartmann[4]
Dash 2 4 Laps | 00:02:48.886
35-Zach Hampton[1]; 2. 17B-Bill Balog[2]; 3. 2W-Scott Neitzel[4]; 4. 23-Russel Borland[3]; 5. U2-Jack Vanderboom[5]
Heat 1 8 Laps | 00:05:04.964
1-Brenham Crouch[2]; 2. 96-Jake Blackhurst[3]; 3. 10W-Mike Reinke[4]; 4. 25-Danny Schlafer[6]; 5. 9K-Kyle Schuett[9]; 6. 10V-Kurt Davis[7]; 7. 16-Anthony Knierim[1]; 8. 29-Hunter Custer[5]; 9. 24-Scott Conger[8]; 10. 19CW-Ion Stear[10]
Heat 2 8 Laps | 00:03:45.305
17B-Bill Balog[2]; 2. 49-Josh Schneiderman[1]; 3. 79-Blake Nimee[6]; 4. 3N-Jake Neuman[5]; 5. 65-Jordan Goldesberry[3]; 6. 35-Zach Hampton[4]; 7. 68-Dave Uttech[7]; 8. 26R-Preston Ruh[8]; 9. 39V-William Huck[9]; 10. (DNF) 47-Todd King[10]; 11. (DNS) 3B-Shelby Bosie
Heat 3 8 Laps | 00:10:59.493
23-Russel Borland[1]; 2. U2-Jack Vanderboom[3]; 3. 87A-Austin Hartmann[2]; 4. 4K-Kris Spitz[5]; 5. 2W-Scott Neitzel[4]; 6. 21-Will Gerrits[7]; 7. 88-Christopher Flick[9]; 8. 26-Tyler Tischendorf[8]; 9. (DNF) 25T-Travis Arenz[10]; 10. (DNF) 99-Tyler Brabant[6]
Qualifying 1 | 00:00:23.830
10W-Mike Reinke, 00:11.695[3]; 2. 35-Zach Hampton, 00:11.791[6]; 3. 2W-Scott Neitzel, 00:11.879[1]; 4. 96-Jake Blackhurst, 00:11.944[5]; 5. 65-Jordan Goldesberry, 00:11.948[19]; 6. U2-Jack Vanderboom, 00:12.058[10]; 7. 1-Brenham Crouch, 00:12.123[4]; 8. 17B-Bill Balog, 00:12.135[29]; 9. 87A-Austin Hartmann, 00:12.140[9]; 10. 16-Anthony Knierim, 00:12.216[14]; 11. 49-Josh Schneiderman, 00:12.234[16]; 12. 23-Russel Borland, 00:12.287[7]; 13. 29-Hunter Custer, 00:12.320[2]; 14. 3N-Jake Neuman, 00:12.357[15]; 15. 4K-Kris Spitz, 00:12.367[25]; 16. 25-Danny Schlafer, 00:12.417[24]; 17. 79-Blake Nimee, 00:12.486[27]; 18. 99-Tyler Brabant, 00:12.528[13]; 19. 10V-Kurt Davis, 00:12.529[11]; 20. 68-Dave Uttech, 00:12.562[22]; 21. 21-Will Gerrits, 00:12.689[12]; 22. 24-Scott Conger, 00:12.767[17]; 23. 3B-Shelby Bosie, 00:12.840[8]; 24. 26-Tyler Tischendorf, 00:12.842[28]; 25. 9K-Kyle Schuett, 00:13.011[26]; 26. 26R-Preston Ruh, 00:13.182[18]; 27. 88-Christopher Flick, 00:13.224[23]; 28. 19CW-Ion Stear, 00:13.367[21]; 29. 39V-William Huck, 00:14.031[31]; 30. 25T-Travis Arenz[20]; 31. 47-Todd King[30]
Hot Laps 1 | 00:03:09.323
17B-Bill Balog[29]; 2. 35-Zach Hampton[6]; 3. 9K-Kyle Schuett[26]; 4. 96-Jake Blackhurst[5]; 5. 49-Josh Schneiderman[16]; 6. 1-Brenham Crouch[4]; 7. 2W-Scott Neitzel[1]; 8. 87A-Austin Hartmann[9]; 9. 65-Jordan Goldesberry[19]; 10. 3B-Shelby Bosie[8]; 11. 23-Russel Borland[7]; 12. 10W-Mike Reinke[3]; 13. 3N-Jake Neuman[15]; 14. 47-Todd King[30]; 15. 16-Anthony Knierim[14]; 16. 26-Tyler Tischendorf[28]; 17. 19CW-Ion Stear[21]; 18. 79-Blake Nimee[27]; 19. 4K-Kris Spitz[25]; 20. 25-Danny Schlafer[24]; 21. 68-Dave Uttech[22]; 22. 10V-Kurt Davis[11]; 23. U2-Jack Vanderboom[10]; 24. 99-Tyler Brabant[13]; 25. 29-Hunter Custer[2]; 26. 24-Scott Conger[17]; 27. 21-Will Gerrits[12]; 28. 26R-Preston Ruh[18]; 29. 88-Christopher Flick[23]; 30. 39V-William Huck[31]; 31. 25T-Travis Arenz[20]
MyRacePassPowered by MyRacePass5/21/2023 10:35AM CST
Media Results for 5/20/2023 at Plymouth Dirt Track-Sheboygan Co Fair - Plymouth, WI
360 Sprints - Winged 27 Entries
A Feature 1 25 Laps | 00:19:13.410
7-Lance Fassbender[1]; 2. 35-Ben Schmidt[3]; 3. 2-Christopher Clayton[7]; 4. 63K-Kevin Karnitz[4]; 5. 98-Brandon McMullen[8]; 6. 11-Tony Wondra[10]; 7. 30-Doug Wondra[6]; 8. 66-Nick Daywalt[11]; 9. 53-Shane Wenninger[17]; 10. 22B-Brandon Berth[9]; 11. 69S-TJ Smith[18]; 12. 69-Bill Taylor[21]; 13. 85J-Logan Julien[13]; 14. 4-Alex Pokorski[5]; 15. 08-Katelyn Krebsbach[19]; 16. 51-Chris Larson[20]; 17. 54G-Scott Grissom[14]; 18. 53A-Spyder Akright[15]; 19. 6K-Kurt Davis[2]; 20. (DNF) 3-Justin Erickson[12]; 21. (DNF) 21H-TJ Haddy[22]; 22. (DNF) 25T-Travis Arenz[16]
B Feature 1 10 Laps | 00:14:52.521
25T-Travis Arenz[10]; 2. 53-Shane Wenninger[6]; 3. 69S-TJ Smith[3]; 4. 08-Katelyn Krebsbach[1]; 5. 51-Chris Larson[2]; 6. 69-Bill Taylor[8]; 7. 1-Tommy Colburn[9]; 8. 5-Kevin Seidler[4]; 9. 66T-Tristan Koenings[7]; 10. 54-Randy Post[5]; 11. (DNS) 12P-JJ Pagel
Heat 1 | 00:02:20.000
98-Brandon McMullen[3]; 2. 7-Lance Fassbender[1]; 3. 35-Ben Schmidt[4]; 4. 11-Tony Wondra[5]; 5. 3-Justin Erickson[7]; 6. 53-Shane Wenninger[2]; 7. 69S-TJ Smith[8]; 8. 69-Bill Taylor[6]; 9. 66T-Tristan Koenings[9]
Heat 2 | 00:06:13.000
30-Doug Wondra[1]; 2. 63K-Kevin Karnitz[2]; 3. 22B-Brandon Berth[3]; 4. 85J-Logan Julien[4]; 5. 66-Nick Daywalt[7]; 6. 51-Chris Larson[6]; 7. 5-Kevin Seidler[8]; 8. 1-Tommy Colburn[5]; 9. (DNS) 25T-Travis Arenz
Heat 3 | 00:10:27.000
2-Christopher Clayton[1]; 2. 4-Alex Pokorski[3]; 3. 6K-Kurt Davis[4]; 4. 53A-Spyder Akright[2]; 5. 54G-Scott Grissom[5]; 6. 08-Katelyn Krebsbach[6]; 7. 21H-TJ Haddy[9]; 8. 54-Randy Post[8]; 9. (DNF) 12P-JJ Pagel[7]
Qualifying 1 10 Laps | 01:25:07.000
35-Ben Schmidt, 00:13.331[1]; 2. 98-Brandon McMullen, 00:13.376[7]; 3. 53-Shane Wenninger, 00:13.780[4]; 4. 7-Lance Fassbender, 00:13.789[5]; 5. 11-Tony Wondra, 00:13.813[8]; 6. 69-Bill Taylor, 00:13.847[3]; 7. 3-Justin Erickson, 00:13.879[9]; 8. 69S-TJ Smith, 00:14.641[6]; 9. 66T-Tristan Koenings, 00:14.733[2]
Qualifying 2 10 Laps | 00:02:21.000
25T-Travis Arenz, 00:13.343[6]; 2. 22B-Brandon Berth, 00:13.527[5]; 3. 63K-Kevin Karnitz, 00:13.630[1]; 4. 30-Doug Wondra, 00:13.678[7]; 5. 85J-Logan Julien, 00:13.795[3]; 6. 1-Tommy Colburn, 00:13.955[8]; 7. 51-Chris Larson, 00:14.088[4]; 8. 66-Nick Daywalt, 00:14.417[2]; 9. 5-Kevin Seidler, 00:14.672[9]
Qualifying 3 10 Laps | 00:01:44.000
6K-Kurt Davis, 00:13.349[1]; 2. 4-Alex Pokorski, 00:13.540[5]; 3. 53A-Spyder Akright, 00:13.992[7]; 4. 2-Christopher Clayton, 00:14.378[4]; 5. 54G-Scott Grissom, 00:14.385[8]; 6. 08-Katelyn Krebsbach, 00:14.431[3]; 7. 21H-TJ Haddy, 00:14.790[9]; 8. 12P-JJ Pagel, 00:14.793[2]; 9. 54-Randy Post, 00:14.901[6]
MyRacePassPowered by MyRacePass5/21/2023 10:35AM CST
Media Results for 5/20/2023 at Plymouth Dirt Track-Sheboygan Co Fair - Plymouth, WI
Badger Midgets 31 Entries
AFS A Feature 25 Laps | 00:12:06.726 | Advanced Fastening Supply
40-Jace Sparks[1]; 2. 20-Cody Weisensel[4]; 3. 55-Todd Kluever[6]; 4. 19E-Daltyn England[9]; 5. 2-Kyle Stark[7]; 6. 9S-Mike Stroik[2]; 7. 57-Daniel Robinson[3]; 8. 3W-Brandon Waelti[5]; 9. 36-Chris Baue[17]; 10. 5K-Kevin Douglas[8]; 11. 15C-RJ Corson[16]; 12. 28-Jim Fuerst[22]; 13. 29-Harrison Kleven[19]; 14. 7-Brian Peterson[13]; 15. 87-Jake Dohner[18]; 16. 10A-Tommy Colburn[11]; 17. 68-Eric Blumer[21]; 18. 8-Jake Goeglein[15]; 19. 53M-Miles Doherty[20]; 20. 59-Kyle Koch[12]; 21. (DNF) 56-Charles Rufi[10]; 22. (DNF) 40JR-Dave Collins Jr[14]
High Performance Lubricants B 12 Laps | 00:04:58.372 | High Performance Lubricants
15C-RJ Corson[3]; 2. 36-Chris Baue[5]; 3. 87-Jake Dohner[4]; 4. 29-Harrison Kleven[7]; 5. 53M-Miles Doherty[9]; 6. 68-Eric Blumer[11]; 7. 28-Jim Fuerst[6]; 8. 31-Shay Sassano[1]; 9. 1W-Robby Wirth[13]; 10. 45-Trey Weishoff[2]; 11. 10-Denny Smith[8]; 12. 17-Nick Kilian[10]; 13. (DNF) 41-Parker Jones[12]
Behlings Heat 3 8 Laps | 00:19:23.000 | Behlings
55-Todd Kluever[8]; 2. 19E-Daltyn England[3]; 3. 40-Jace Sparks[5]; 4. 7-Brian Peterson[1]; 5. 10A-Tommy Colburn[2]; 6. 31-Shay Sassano[4]; 7. (DNF) 5X-Adam Taylor[6]; 8. (DNS) 38-Matt Rechek
Simpson Race Products Heat 2 8 Laps | 00:09:08.000 | Simpson Race Products
2-Kyle Stark[4]; 2. 57-Daniel Robinson[5]; 3. 3W-Brandon Waelti[7]; 4. 40JR-Dave Collins Jr[1]; 5. 59-Kyle Koch[2]; 6. 53M-Miles Doherty[8]; 7. 15C-RJ Corson[3]; 8. (DNF) 6B-Mitchell Davis[6]
Auto Meter Heat 1 8 Laps | 00:05:43.000 | Auto Meter
5K-Kevin Douglas[5]; 2. 20-Cody Weisensel[7]; 3. 9S-Mike Stroik[6]; 4. 56-Charles Rufi[3]; 5. 8-Jake Goeglein[1]; 6. 45-Trey Weishoff[2]; 7. (DNS) 87-Jake Dohner; 8. (DQ) 36-Chris Baue[8]
Qualifying 1 25 Laps | 00:04:01.000 | Five-One Motorsports Fast Time
55-Todd Kluever, 00:14.017[14]; 2. 3W-Brandon Waelti, 00:14.061[15]; 3. 36-Chris Baue, 00:14.191[9]; 4. 38-Matt Rechek, 00:14.218[18]; 5. 6B-Mitchell Davis, 00:14.289[28]; 6. 20-Cody Weisensel, 00:14.460[17]; 7. 5X-Adam Taylor, 00:14.536[4]; 8. 57-Daniel Robinson, 00:14.560[21]; 9. 9S-Mike Stroik, 00:14.628[23]; 10. 40-Jace Sparks, 00:14.913[30]; 11. 2-Kyle Stark, 00:14.920[5]; 12. 5K-Kevin Douglas, 00:14.999[25]; 13. 31-Shay Sassano, 00:15.048[13]; 14. 53M-Miles Doherty, 00:15.133[20]; 15. 87-Jake Dohner, 00:15.138[6]; 16. 19E-Daltyn England, 00:15.190[11]; 17. 15C-RJ Corson, 00:15.225[2]; 18. 56-Charles Rufi, 00:15.250[12]; 19. 10A-Tommy Colburn, 00:15.251[19]; 20. 59-Kyle Koch, 00:15.261[16]; 21. 45-Trey Weishoff, 00:15.308[31]; 22. 7-Brian Peterson, 00:15.338[22]; 23. 40JR-Dave Collins Jr, 00:15.649[1]; 24. 8-Jake Goeglein, 00:15.776[29]; 25. 10-Denny Smith, 00:15.856[24]; 26. 29-Harrison Kleven, 00:15.860[3]; 27. 28-Jim Fuerst, 00:15.894[26]; 28. 41-Parker Jones, 00:15.982[7]; 29. 1W-Robby Wirth, 00:16.472[27]; 30. 68-Eric Blumer, 00:16.857[8]; 31. (DNS) 17-Nick Kilian, 00:16.857
Non Qualifier 8 Laps | 00:05:04.000 | Madison Extinguisher Service
28-Jim Fuerst[1]; 2. 68-Eric Blumer[5]; 3. 41-Parker Jones[6]; 4. 29-Harrison Kleven[2]; 5. 10-Denny Smith[3]; 6. 1W-Robby Wirth[4]; 7. 17-Nick Kilian[7]
MyRacePassPowered by MyRacePass5/21/2023 10:35AM CST
---
Article Credit: Madeline "Chatty Madi" Schultz
Submitted By: Madeline Schultz
Article Media
Back to News