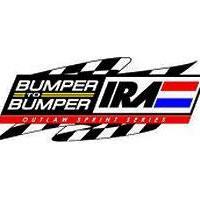 5/23/2023
IRA Interstate Racing Association
---
Balog Rolls to the Top of the Prairie
Balog and Schuett would lead the field to the green for 30 circuits around Angell Park Speedway. The 17B would immediately take charge of the cushion as he would take the lead early. Schuett would keep him within striking distance. Blackhurst, Hampton, and Goldesberry would try to follow behind the two as they began to weave through traffic.
Kyle Schuett would soon get sucked up by the cushion, allowing the 96 of Blackhurst to move into second. Twenty to go, it's been Balog on a mission to the checkered. Blackhurst and Hampton's job would be to play catch up. Caution would wave on lap 11 for the 9K machine who rolled to a stop in turn one.
Balog, Blackhurst, Hampton, Goldsberry, and Schlafer would be the top five on the restart. Out of one, Blackhurst would try to sneak a pass, but it wouldn't stick and allow Hampton to slide by. The fight for second would be on. Balog would continue to lead the field, leaving the rest of the field behind him.
Ten laps would remain for the 10 time champion as he continued to count down the laps. Hampton would reel in Balog for a chance to snag the lead, with 8 laps to go. Blackhurts would sneak around Hampton on the cushion to pass for second and try to make a move on Balog. Blackhurst would get it pushed into the cushion and bring out our yellow flag with some front end damage with six laps to go.
Rerack the field and crack the whip one more time. Balog has a rear-view mirror full of competitors like Hampton and the defending champion Jordan Goldesberry. It was clear air for the Nightmare, as he counted down the laps to the white then checkered. Hampton would cross the line second, and Goldesberry third.
The action isn't stopping anytime soon. The Bumper to Bumper IRA Sprints head into yet another double-header weekend. Saturday May 27th Wilmot Raceway Hosts an Open Wheel Spectacular featuring the IRA Sprints, Badger Midgets, and the MSA Sprints. Sunday, May 28th hosts "Sunday Funday" at 141 Speedway. Watch the action live with FloRacing: https://flosports.link/3z8dvo9
Tickets for the Rayce Rudeen Foundation $26,000 to-win race: https://www.myracepass.com/series/1012/tickets/1330743
410 Sprints - Winged 27 Entries
Bumper to Bumper A Feature 30 Laps | 00:19:13.481
17B-Bill Balog[2]; 2. 35-Zach Hampton[5]; 3. 65-Jordan Goldesberry[7]; 4. 10W-Mike Reinke[10]; 5. 2W-Scott Neitzel[13]; 6. 25-Danny Schlafer[3]; 7. 25T-Travis Arenz[12]; 8. 1-Brenham Crouch[6]; 9. 23-Russel Borland[9]; 10. 79-Blake Nimee[14]; 11. 3B-Shelby Bosie[21]; 12. 3N-Jake Neuman[8]; 13. 4K-Kris Spitz[15]; 14. U2-Jack Vanderboom[20]; 15. 10V-Kurt Davis[17]; 16. 99-Tyler Brabant[22]; 17. 87A-Austin Hartmann[11]; 18. 26R-Preston Ruh[16]; 19. 24-Scott Conger[24]; 20. 68-Dave Uttech[18]; 21. 88-Christopher Flick[23]; 22. (DNF) 96-Jake Blackhurst[4]; 23. (DNF) 9K-Kyle Schuett[1]; 24. (DNF) 21-Will Gerrits[19]
Behling Racing Equipment B Feature 10 Laps | 00:04:43.979
21-Will Gerrits[2]; 2. U2-Jack Vanderboom[3]; 3. 3B-Shelby Bosie[4]; 4. 99-Tyler Brabant[6]; 5. 88-Christopher Flick[5]; 6. 24-Scott Conger[8]; 7. 38-Allen Hafford[7]; 8. 39V-William Huck[9]; 9. 29-Hunter Custer[1]
FineLine Fabricating LLC Dash 1 4 Laps | 00:04:18.989
9K-Kyle Schuett[2]; 2. 25-Danny Schlafer[1]; 3. 35-Zach Hampton[4]; 4. 65-Jordan Goldesberry[3]; 5. 23-Russel Borland[5]
EPYK Media Dash 2 4 Laps | 00:04:13.557
17B-Bill Balog[2]; 2. 96-Jake Blackhurst[1]; 3. 1-Brenham Crouch[4]; 4. 3N-Jake Neuman[3]; 5. 10W-Mike Reinke[5]
Shufflebotham Tree Service Heat 1 8 Laps | 00:05:14.047
96-Jake Blackhurst[2]; 2. 87A-Austin Hartmann[1]; 3. 10W-Mike Reinke[4]; 4. 3N-Jake Neuman[3]; 5. 79-Blake Nimee[5]; 6. 68-Dave Uttech[8]; 7. 88-Christopher Flick[9]; 8. (DNF) 21-Will Gerrits[7]; 9. (DNF) 29-Hunter Custer[6]
Kristine Hartmann Pleasant View Reality Heat 2 8 Laps | 00:04:26.151
65-Jordan Goldesberry[2]; 2. 25T-Travis Arenz[1]; 3. 9K-Kyle Schuett[4]; 4. 25-Danny Schlafer[3]; 5. 4K-Kris Spitz[5]; 6. 26R-Preston Ruh[6]; 7. U2-Jack Vanderboom[7]; 8. 38-Allen Hafford[8]; 9. 24-Scott Conger[9]
CSR and Sons Trucking Heat 3 8 Laps | 00:05:11.680
1-Brenham Crouch[1]; 2. 35-Zach Hampton[2]; 3. 17B-Bill Balog[3]; 4. 2W-Scott Neitzel[5]; 5. 23-Russel Borland[4]; 6. 10V-Kurt Davis[6]; 7. 3B-Shelby Bosie[8]; 8. 99-Tyler Brabant[7]; 9. 39V-William Huck[9]
Competition Specialists Qualifying | 00:08:16.000
10W-Mike Reinke, 00:12.002[23]; 2. 9K-Kyle Schuett, 00:12.006[17]; 3. 23-Russel Borland, 00:12.036[14]; 4. 3N-Jake Neuman, 00:12.106[19]; 5. 25-Danny Schlafer, 00:12.116[21]; 6. 17B-Bill Balog, 00:12.160[15]; 7. 96-Jake Blackhurst, 00:12.178[16]; 8. 65-Jordan Goldesberry, 00:12.180[20]; 9. 35-Zach Hampton, 00:12.204[13]; 10. 87A-Austin Hartmann, 00:12.260[1]; 11. 25T-Travis Arenz, 00:12.322[27]; 12. 1-Brenham Crouch, 00:12.332[4]; 13. 79-Blake Nimee, 00:12.342[9]; 14. 4K-Kris Spitz, 00:12.392[10]; 15. 2W-Scott Neitzel, 00:12.405[8]; 16. 29-Hunter Custer, 00:12.470[2]; 17. 26R-Preston Ruh, 00:12.487[26]; 18. 10V-Kurt Davis, 00:12.556[6]; 19. 21-Will Gerrits, 00:12.557[3]; 20. U2-Jack Vanderboom, 00:12.598[5]; 21. 99-Tyler Brabant, 00:12.625[24]; 22. 68-Dave Uttech, 00:12.670[12]; 23. 38-Allen Hafford, 00:12.923[11]; 24. 3B-Shelby Bosie, 00:12.960[7]; 25. 88-Christopher Flick, 00:13.096[25]; 26. 24-Scott Conger, 00:13.275[18]; 27. 39V-William Huck, 00:13.788[22]
Box3 Media Hot Laps 1 | 00:03:45.000
25-Danny Schlafer[21]; 2. 96-Jake Blackhurst[16]; 3. 35-Zach Hampton[13]; 4. 10W-Mike Reinke[23]; 5. 65-Jordan Goldesberry[20]; 6. 25T-Travis Arenz[27]; 7. 23-Russel Borland[14]; 8. 9K-Kyle Schuett[17]; 9. 17B-Bill Balog[15]; 10. 3N-Jake Neuman[19]; 11. 68-Dave Uttech[12]; 12. 1-Brenham Crouch[4]; 13. 10V-Kurt Davis[6]; 14. 38-Allen Hafford[11]; 15. 79-Blake Nimee[9]; 16. 29-Hunter Custer[2]; 17. U2-Jack Vanderboom[5]; 18. 3B-Shelby Bosie[7]; 19. 2W-Scott Neitzel[8]; 20. 4K-Kris Spitz[10]; 21. 87A-Austin Hartmann[1]; 22. 21-Will Gerrits[3]; 23. 24-Scott Conger[18]; 24. 99-Tyler Brabant[24]; 25. 88-Christopher Flick[25]; 26. 39V-William Huck[22]; 27. 26R-Preston Ruh[26]
Photo by Diane Mech Photography
---
Article Credit: Madeline "Chatty Madi" Schultz
Submitted By: Madeline Schultz
Back to News