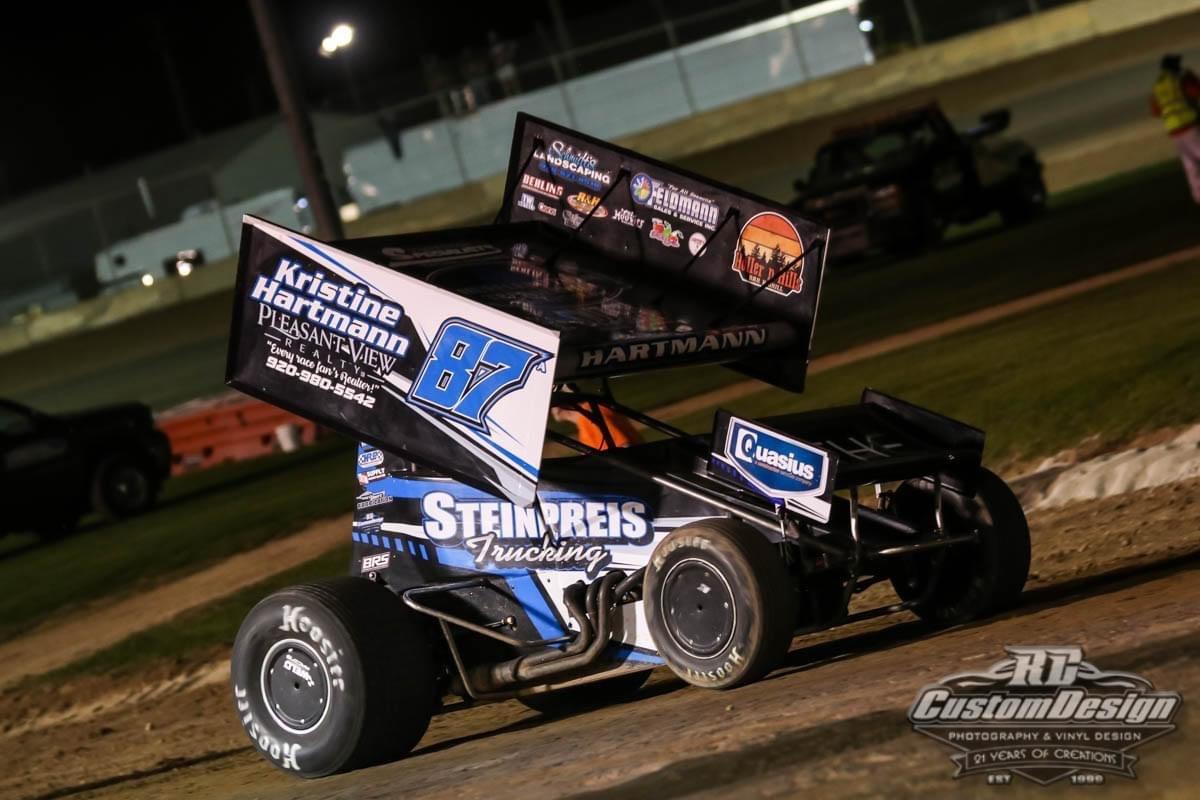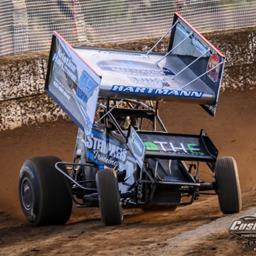 ---
Plymouth top 10 highlights Austin Hartmann's IRA doubleheader weekend
(PEDAL DOWN PROMOTIONS) May 24, 2023 – The first of six scheduled "home games" for the Plymouth, Wis.-based Austin Hartmann - 87A Hartmann Racing team at The Plymouth Dirt Track in Plymouth, Wis. proved to provide one of the team's best overall efforts of the young 2023 Bumper to Bumper Interstate Racing Association 410 Sprint Car Series season Saturday, May 20.
Hartmann opened the program by qualifying ninth in the 31-car field with a lap of 12.140 seconds around the third-mile clay oval. After rolling off second in the third eight-lap IRA heat race, Hartmann earned a third place finish to earn a spot in the IRA dash field used set the top 10 spots in the A main.
The fourth-year Sprint Car driver started fourth and placed fifth in the first four-lap IRA dash to earn the ninth starting spot in the 30-lap Frank Filskov Memorial IRA A main.
The Plymouth, Wis. competitor settled into ninth place in the early going of the main event before a spin involving Josh Schneiderman brought out a caution flag on lap 5. Following the restart, Blake Nimee worked the high groove to briefly move around the low riding Hartmann on lap 8.
However, Hartmann battled back to regain ninth in the running order on lap 12. Following the second caution flag of the race on lap 13 for a two-car incident involving Tyler Tischendorf and Ion Stear, Hartmann worked his way past Mike Reinke in turn three to assume eighth on lap 14.
The 2020 Plymouth Dirt Track Racing and Midwest Sprint Car Association Rookie of the Year Award recipient held on over the final 16 laps to finish eighth and earn his second top-10 A-main showing of the 2023 season.
"Plymouth went very well, I'd say," Hartmann said. "The car felt fast and comfortable all night long no matter what we did to it. We also got good notes for our next visit."
One night later at Angell Park Speedway, Hartmann began the evening by qualifying 10th in the 27-car IRA field with a lap of 12.260 seconds. After starting on the pole of the first eight-lap IRA heat race, Hartmann placed second to gain a spot in the 30-lap headliner.
Hartmann rolled off 11th in the 30-lap IRA headliner and dueled for the 12th and 13th positions through the majority of the race on a fast and undulating track surface until the second of two caution flags flew on lap 25 for the slowing car of Jake Blackhurst.
Over the final five laps, Hartmann fell back several spots with an ill-handling car on the way to a 17th place finish in a race won by Bill Balog.
"We had a good night at Angell Park as well," Hartmann said. "The car felt pretty planted all night, considering the track conditions. The wing slider seal gave out on the last caution of the feature, which allowed the wing to slide forward and back on its own. That made the car essentially unable to be driven properly on that tricky track surface."
Austin Hartmann and the 87A Hartman Racing team are now gearing up for another doubleheader weekend with the Bumper to Bumper Interstate Racing Association 410 Sprint Car Series starting with the team's third appearance of the season at Wilmot Raceway in Wilmot, Wis. on Saturday, May 27 with the Midwest Sprint Car Association 360 Sprint Cars and Badger Midgets also on the all-open wheel card.
Pit gates open at 3 p.m. with spectator gates opening at 5 p.m. and hot laps at 6 p.m.
On Sunday, May 28, the team will travel north for an IRA 410 Sprint Car Series event at 141 Speedway in Francis Creek, Wis., which will also include IRA Lightning Sprints, Sport Compacts and Legends.
Pit and spectator gates open at 3 p.m. with racing starting at 6 p.m.
"I'm very excited for this upcoming weekend," Hartmann said. "I am enjoying the doubleheader weekends. I would like to say 'thank you' to everyone who makes this car go around the track. It's not just me behind the wheel. I couldn't do it without our partners on the car, as well as my family and crew."
All 2023 Bumper to Bumper Interstate Racing Association 410 Sprint Car Series events will be streamed live on FloRacing.
The 87A Hartmann Racing team recently debuted a new website, which can be accessed at https://www.team87a.com.
Additional information on the 87A Hartmann Racing team can be found by visiting the team's Facebook page – https://www.facebook.com/87Ahartmannracing.
The sponsorship partners for the 2023 87A Hartmann Racing team include Kristine Hartmann of Pleasant View Realty, Shufflebotham Tree Service, Competition Specialists, Schmidt's Landscaping, Feldmann Sales & Service, Holler n Hills, Steinpreis Trucking, KSI Supply Inc., Quasius Construction, SwitchGear Brewing LLC, TheD8Dispensary, AF Inc., Hopf Farms, RC Custom Design, Hepfner Racing Products, Berryman Racing Shocks and Maxim Chassis.
The 2023 87A Hartmann Racing team consists of Hunter Annis, Eric Bergschultz, Parker Annis, Karlee Hartmann, Andrew Shufflebotham and Kristine Hartmann.
87A Hartmann Racing Sponsor Showcase – Feldmann Sales & Service
The Austin Hartmann – 87A Hartmann Racing team is pleased to welcome back Feldmann Sales & Service back as a sponsorship partner for the 2023 season.
Located at 1014 South Wisconsin Drive in Howards Grove, Wis., Feldmann Sales & Service has been in business since 1948. As a small, family-owned business, Feldmann Sales and Service's mission to offer the latest in parts and products at the best prices with unparalleled service, along with a full line of Polaris, Kubota, Echo Stihl, Ariens, Simplicity, Toro and Land Pride equipment, including ATVs, Ranger RZRs, tractors and chainsaws.
In addition to featuring a full showroom of equipment for all seasons, Feldmann Sales & Service's team of certified technicians offers ATV maintenance, lawn equipment service and trailer service.
To contact Feldmann Sales & Service, call 920-565-3939, email sales@feldmannsales.com or visit http://www.feldmannsales.com/.
Pedal Down Promotions is a full-service public relations and media services company devoted to helping its clients effectively communicate with targeted audiences through press releases, newsletters, profile and feature articles, website and social media content development, printed media, editing and layout, graphic design and book publishing services.
For more information on Pedal Down Promotions, email pedaldownpromotions@gmail.com, visit www.pedaldownpromo.com or call 920-323-7970.
Austin Hartmann - 87A Hartmann Racing
2023 Upcoming Schedule
Saturday, May 27 – Wilmot Raceway, Wilmot, Wis. (IRA)
Sunday, May 28 – 141 Speedway, Francis Creek, Wis. (IRA)
Friday, June 2 – Dodge County Fairgrounds Speedway, Beaver Dam, Wis. (IRA-All Stars)
Saturday, June 3 – Plymouth Dirt Track, Plymouth, Wis. (IRA-All Stars)
Austin Hartmann 87A Hartmann Racing
2023 Season
By The Numbers
Total Events – 8
IRA Events – 6
World of Outlaws Events – 0
All Star Events – 2
A Main Victories – 0
B Main Victories – 0
Top Five A Main Finishes – 1
Top 10 A Main Finishes – 2
Top 15 A Main Finishes – 2
Top 20 A Main Finishes – 4
Heat Race Victories – 0
Dash Appearances – 2
Dash Victories – 0
Fast Qualifier Awards – 0
---
Article Credit: Jeff Pederson-Pedal Down Promotions
Submitted By: Jeff Pederson
Back to News