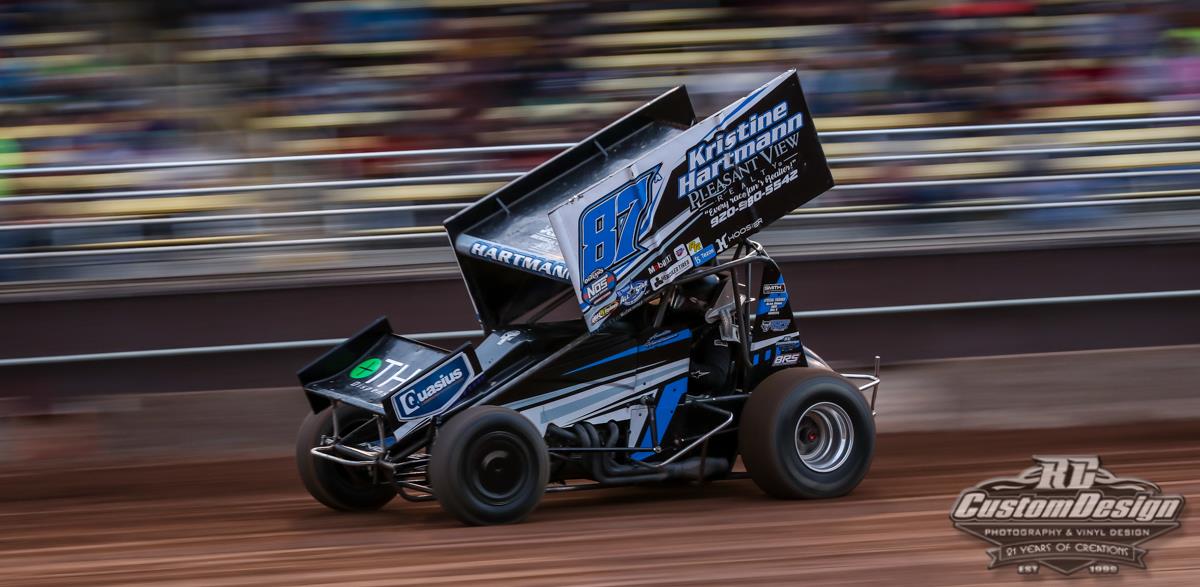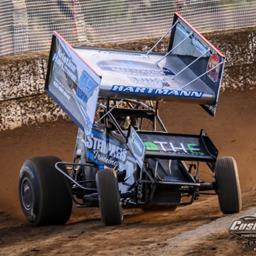 ---
Hartmann wraps up 2023 IRA 410 Sprint Car campaign with top-10 points distinction
(PEDAL DOWN PROMOTIONS) October 4, 2023 – The grueling six-month Bumper to Bumper Interstate Racing Association 410 Sprint Car Series schedule, which featured trips to 14 different tracks in six states, drew to a close for Austin Hartmann and the 87A Hartmann Racing team with a rock solid ninth place showing in the final point standings, following the sixth annual Wisconsin Sprint Car Championships at The Plymouth Dirt Track in Plymouth, Wis. on Saturday, Sept. 30.
The Plymouth, Wis. driver opened the night by qualifying 25th overall in the 38-car field with a lap of 11.696 seconds. The 2020 Midwest Sprint Car Association and Plymouth Dirt Track Racing Rookie of the Year Award winner used a strong start to work past Will Armitage on the drop of the green flag of the fourth eight-lap IRA heat race. Hartmann held down the fifth spot the rest of the way to advance to the 30-lap Rick Schmidt Memorial IRA A main.
After rolling off 20th in the 30-lap IRA 410 Sprint Car Series A main, Hartmann drove a smooth race to come home with a 20th place showing.
In 33 410 Sprint Car events during the 2023 season, Hartmann tallied one top-five, six top-10 and 12 top-15 A-main showings, while recording two heat race victories and six IRA dash appearances.
After turning in a 10th place showing in the 2022 IRA 410 Sprint Car Series point standings during his rookie season, Hartmann closed out the 2023 IRA 410 Sprint Car Series season one spot better in ninth place in the final point standings.
"I would like to thank all of the sponsors, crew members, friends and family, who have supported myself and the team during the course of the season," Hartmann said. "I wouldn't have the opportunity to do this without the help of each of them."
Additional information on the 87A Hartmann Racing team can be found by visiting the team's website www.team87a.com and Facebook page https://www.facebook.com/87Ahartmannracing.
The sponsorship partners for the 2023 87A Hartmann Racing team include Kristine Hartmann of Pleasant View Realty, Shufflebotham Tree Service, Competition Specialists, Schmidt's Landscaping, Feldmann Sales & Service, Holler n Hills, Steinpreis Trucking, KSI Supply Inc., Quasius Construction, SwitchGear Brewing LLC, TheD8Dispensary, AF Inc., Hopf Farms, RC Custom Design, Hepfner Racing Products, Berryman Racing Shocks and Maxim Chassis.
The 2023 87A Hartmann Racing team consists of Hunter Annis, Eric Bergschultz, Parker Annis, Karlee Hartmann, Andrew Shufflebotham and Kristine Hartmann.
87A Hartmann Racing Sponsor Showcase – TheD8Dispensary
The Austin Hartmann – 87A Hartmann Racing team is thrilled to welcome TheD8Dispensary a sponsorship partner for the 2023 season.
Located at 2113 South Business Drive in Sheboygan, Wis., TheD8Dispensary is a medical cannabis dispensary offering pure Delta-8 THC, Delta-10 THC and THCP products with the largest variety in the surrounding area. TheD8Dispensary features the most compassionate and knowledgeable staff in the industry, which aims to provide assistance and answer questions about the natural benefits of medical cannabis dispensary products.
To contact TheD8Dispensary, call (920) 395-2904 or visit https://www.thed8dispensary.com/sheboygan.
Pedal Down Promotions is a full-service public relations and media services company devoted to helping its clients effectively communicate with targeted audiences through press releases, newsletters, profile and feature articles, website and social media content development, printed media, editing and layout, graphic design and book publishing services.
For more information on Pedal Down Promotions, email pedaldownpromotions@gmail.com, visit www.pedaldownpromo.com or call 920-323-7970.
Austin Hartmann 87A Hartmann Racing
Final 2023 Statistics
Total Events – 33
IRA Events – 27
World of Outlaws Events – 3
All Star Events – 4
A Main Victories – 0
B Main Victories – 0
Top Five A Main Finishes – 1
Top 10 A Main Finishes – 6
Top 15 A Main Finishes – 12
Top 20 A Main Finishes – 23
Heat Race Victories – 2
Dash Appearances – 6
Dash Victories – 0
Fast Qualifier Awards – 0
Bumper to Bumper Interstate Racing Association Points Finish – 9th
---
Article Credit: Jeff Pederson-Pedal Down Promotions
Submitted By: Jeff Pederson
Back to News