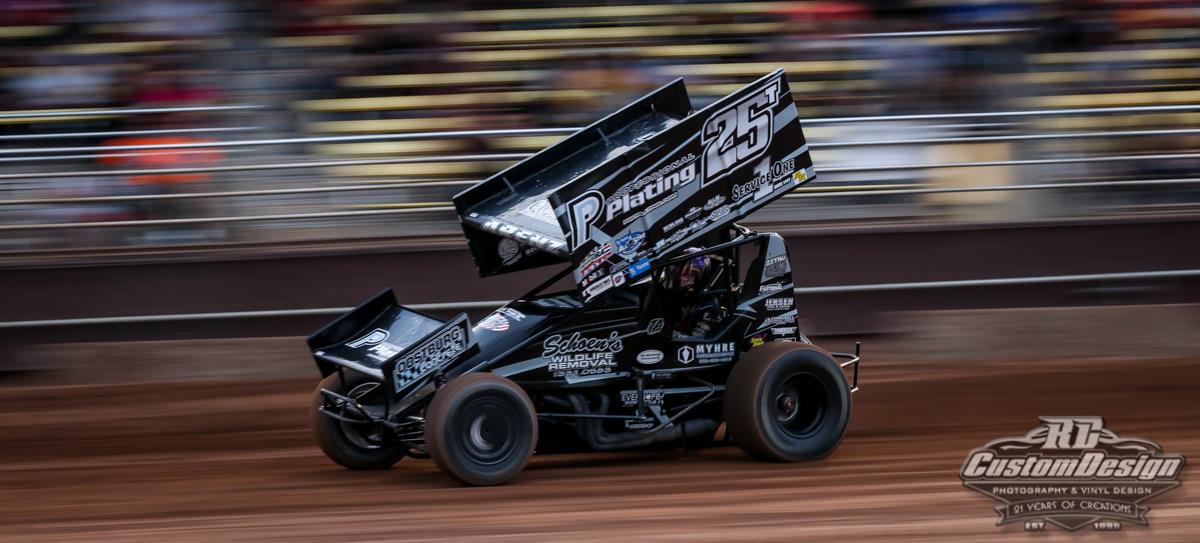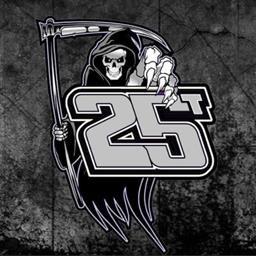 ---
Arenz caps breakout rookie IRA 410 Sprint Car campaign
(PEDAL DOWN PROMOTIONS) October 4, 2023 – After depleting their allotment of 410 Sprint Car motors at Gondik Law Speedway in Superior, Wis. on Friday, Sept. 8, Travis Arenz and the members of the Travis Arenz Motorsports team dug out the team's 360 motor to close out the 2023 Bumper to Bumper Interstate Racing Association 410 Sprint Car season as part of the sixth annual Wisconsin Sprint Car Championships at The Plymouth Dirt Track in Plymouth, Wis. on Saturday, Sept. 30.
With his underpowered motor bolted in for the 2023 lid-sealing event, Arenz qualified 35th in the 38-car IRA field with a lap of 12.269 seconds. The 2021 and 2022 Plymouth Dirt Track Racing and Midwest Sprint Car Association 360 Sprint Car champion then lined up 10th and finished ninth in the third eight-lap IRA heat race.
The Sheboygan Falls, Wis. competitor started 18th in the 12-lap IRA B main needing to finish in the top four to advance to the 30-lap IRA Rick Schmidt Memorial A main.
Despite racing against his fellow 410 Sprint Car competitors with a 360 motor, Arenz put on a show, advancing from 18th to seventh on lap 7. However, Arenz was unable to advance further to the front before ending his rookie IRA 410 Sprint Car Series season with a seventh place B main finish.
Arenz's first full season in the 410 Sprint Car ranks turned heads as he earned his first career IRA A-main victory at The Plymouth Dirt Track in Plymouth, Wis. on Saturday, July 1 to go along with 12 top-five and 15 top-10 A-main showings, as well as three heat race victories, seven dash appearances and two dash victories.
On the strength of his third place showing in the final 2023 Bumper to Bumper IRA 410 Sprint Car Series point standings, Arenz claimed the Sage Fruit Apple Cup Award for finishing as the second highest point earning rookie in the final 2023 IRA point standings.
"I learned a lot in my rookie season with the IRA," Arenz said. "The biggest thing was that qualifying pretty much makes the night. This is something I am still working on becoming more consistent with, but we are making improvements.
"Winning our first IRA feature as a rookie has to be my proudest moment of the season," he said. "The entire night just had this feeling. Everything went the way it needed to go to get that first feature win. I'm also proud of what we accomplished with the small budget we had this year compared to others that we race with."
The 2023 Travis Arenz Motorsports sponsorship partners include Professional Plating Inc., Service One Transportation, Inc, Don and Lynn Kiel, Oostburg Concrete, Lakeshore Family Funeral Homes, Schoen's Wildlife Removal, Premier Insurance Solutions-Craig Ladwig, Pallet Works, DW Fence, Little Bears Tree Service LLC, Lake Auto Glass and Service, Myhre Construction LLC, Roth's Auto Restoration, Hair Fellers Barbershop, Fastenal of Plymouth, Jensen Sales and Service, Humphrey's Turner Hall Bar & Grill, Carbliss Hand Crafted Cocktails, Amy Bruechert Reality, Cornwell Tools-Paul Epping, Advanced Engine Concepts, Inc., Duehring's Tax Service, Everhope Show Cattle, HRP Wings and Behling Racing Equipment.
The 2023 Travis Arenz Motorsports team consists of pit crew members Greg Piedot, Jerrod Gamb, Emily Stadler, Cameron Fritz, Bobby Bonelli and Trevor Hittman (public relations).
"I have so many people to thank," Arenz said. "All of our great sponsors, especially those who have stuck with us over all these years, are very much appreciated. I also want to thank our many, many fans and, of course, all my crew members.
"Plans for 2024 are uncertain at the moment," he said. "Regardless, we will still have a 410 car in the shop."
Additional information on the Travis Arenz Motorsports team can be found by visiting the team's Facebook and Twitter pages.
Travis Arenz Motorsports Sponsor Showcase – Amy Bruechert Realty
Travis Arenz Motorsports is pleased to have Amy Bruechert Reality on board for the team's rookie season of competition with the Bumper to Bumper Interstate Racing Association 410 Sprint Car Series in 2023.
Located at 178 Center Ave. in Luxemburg, Wis. Amy Bruechert Realty has a passion for real estate. In her experience working as a realtor for over a decade, Bruechert has created lasting relationships, while guiding both buying and selling clients to reach their real estate goals with honesty, prompt communication, expertise and professionalism from start to finish, while working to make the process as stress-free and enjoyable as possible.
For more information on Amy Bruechert Reality, email amy.bruechertrealestate@gmail.com, call 706-482-8557 or visit
amy.townncountryre.com.
Pedal Down Promotions is a full-service public relations and media services company devoted to helping its clients effectively communicate with targeted audiences through press releases, newsletters, profile and feature articles, website and social media content development, printed media, editing and layout, graphic design and book publishing services.
For more information on Pedal Down Promotions, email pedaldownpromotions@gmail.com, visit www.pedaldownpromo.com or call 920-323-7970.
Travis Arenz Motorsports
410 Sprint Car
Final 2023 Statistics
Total Events – 28
IRA Events – 27
All Star Events – 3
A Main Victories – 1
Top Five A Main Finishes – 12
Top 10 A Main Finishes – 15
Top 15 A Main Finishes – 20
Top 20 A Main Finishes – 21
Heat Race Victories – 3
B Main Victories – 0
Dash Appearances – 7
Dash Victories – 2
Fast Qualifier Awards – 0
Bumper to Bumper Interstate Racing Association Final Points Finish – 3rd
Travis Arenz Motorsports
360 Sprint Car
Final 2023 Statistics
Total MSA-PDTR Events – 2
A Main Victories – 0
Top Five A Main Finishes – 0
Top 10 A Main Finishes – 0
Heat Race Victories – 0
B Main Victories – 1
Fast Qualifier Awards – 0
---
Article Credit: Jeff Pederson-Pedal Down Promotions
Submitted By: Jeff Pederson
Back to News