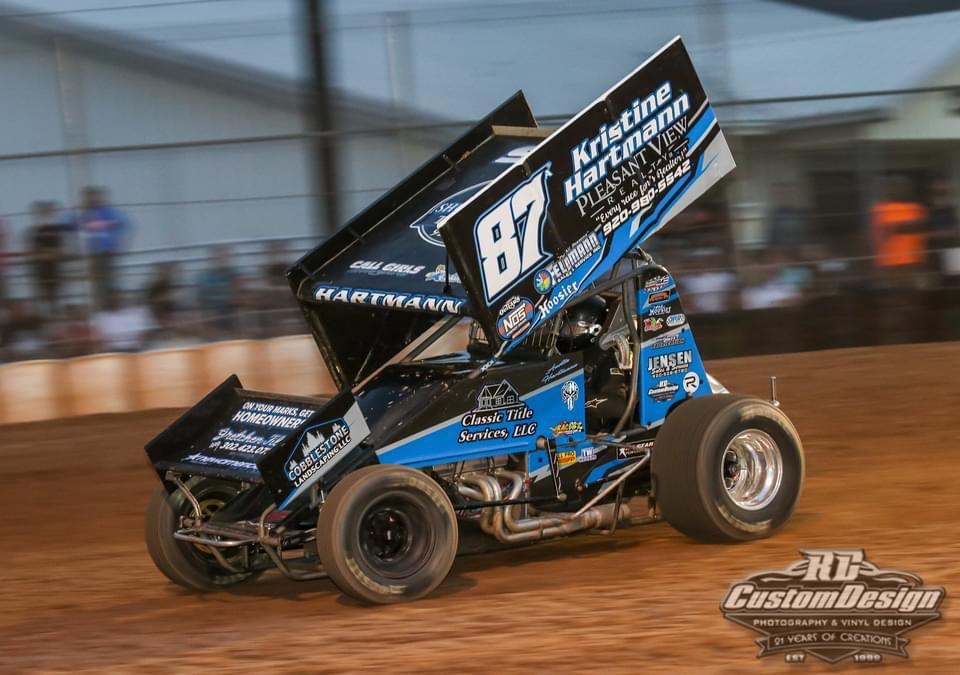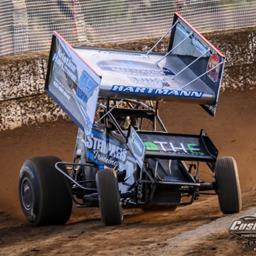 ---
Austin Hartmann-87A Hartmann Racing to fire up second full IRA tour at 34 Raceway
(PEDAL DOWN PROMOTIONS) March 22, 2023 – After turning in a 10th place showing in their rookie season of Winged 410 Sprint Car action with the Bumper to Bumper Interstate Racing Association Sprint Car Series in 2022, Austin Hartmann and the members of the 87A Hartmann Racing team are ready to embark on another full season of competition against the Upper Midwest's top 410 Sprint Car drivers and teams during the upcoming 2023 IRA campaign.
Hartmann's five-and-a-half-month 2022 campaign racing wheel to wheel with many of the nation's top 410 Sprint Car drivers at 13 different tracks in three states saw the Plymouth, Wis native enter 26 events, including 24 IRA races.
During his first year behind the wheel of a 410 Sprint Car in 2022, the 2020 Midwest Sprint Car Association and Plymouth Dirt Track Racing 360 Sprint Car rookie of the year earned one top-10, eight top-15 and 17 top-20 A-main showings in 22 A-main appearances on the way to a 10th place finish in the 2022 IRA point standings. In addition, Hartmann posted one heat race victory, one B-main triumph, one fast qualifier award and six dash appearances during his initial IRA campaign.
The highlights of Hartmann's 2022 season included qualifying for his first career NOS Energy Drink World of Outlaws Series A main at Beaver Dam Raceway in Beaver Dam, Wis. on June 18, claiming his first career IRA fast qualifier award at The Plymouth Dirt Track in Plymouth, Wis. on Sept. 3 and turning in a career-best sixth-place IRA A main showing in the Scott Semmelmann Memorial at Beaver Dam Raceway on Sept. 17.
The Hartmann 87A Racing team's 2023 schedule features 37 races at 17 different tracks in six states, including 32 IRA events. The 2023 campaign will kick off with an IRA-Midwest Open Wheel Association (MOWA) co-sanctioned doubleheader event at 34 Raceway in West Burlington, Iowa on Friday, April 7 and Saturday, April 8.
The 87A Hartmann Racing team also plans to enter three NOS Energy Drink World of Outlaws Sprint Car Series events during the 2023 campaign, including a NOS Energy Drink World of Outlaws Sprint Car Series doubleheader at Beaver Dam Raceway in Beaver Dam, Wis. on Friday, June 16 and Saturday, June 17 and another NOS Energy Drink World of Outlaws event at Wilmot Raceway in Wilmot, Wis. on Saturday, July 8.
Also on the team's 2023 racing slate is a Tezos All Star Circuit of Champions Series event at Jacksonville Speedway in Jacksonville, Ill. on Friday, May 12 and a return visit to Jacksonville Speedway with the POWRi 410 Outlaw Sprints League during Illinois Speed Week on Friday, June 23.
"I am very excited to get the 2023 season going and running the entire IRA Series schedule is again in our plans this year," Hartmann said. "The team is eager to apply what we learned during our rookie season with the 410 and with the IRA last year and work on improving on our consistency in the main events during the 2023 season."
The 87A Hartmann Racing team recently debuted a new website, which can be accessed at https://www.team87a.com.
Additional information on the 87A Hartmann Racing team can be found by visiting the team's Facebook page – https://www.facebook.com/87Ahartmannracing.
The sponsorship partners for the 2023 87A Hartmann Racing team include Kristine Hartmann of Pleasant View Realty, Shufflebotham Tree Service, Competition Specialists, Schmidt's Landscaping, Feldmann Sales & Service, Holler n Hills, Steinpreis Trucking, KSI Supply Inc., Quasius Construction, SwitchGear Brewing LLC, TheD8Dispensary, AF Inc., RC Custom Design, Hepfner Racing Products, Berryman Racing Shocks and Maxim Chassis.
The 2023 87A Hartmann Racing team consists of Hunter Annis, Eric Bergschultz, Karlee Hartmann, Andrew Shufflebotham and Kristine Hartmann.
87A Hartmann Racing Sponsor Showcase –
Kristine Hartmann of Pleasant View Realty
KRISTINE HARTMANN, REALTOR OF Pleasant View Realty, better known as "Every Race Fans Realtor," has 25-plus years of experience selling real estate throughout Wisconsin.
Kristine's passion for the sport of racing connects with her competitive drive and ambition as a Realtor in the community.
Contact Kristine Hartmann with all your real estate needs and ask her for the special Racing Rates!
You can find her on Facebook @ KRISTINE HARTMANN, REALTOR. Also, she can be found at the 87A trailer at any IRA race and would be happy to chat racing and real estate!
For more information, visit https://www.facebook.com/PVRKRISTINE, call/text 920-980-5542 or email kristine@pleasantviewrealty.com.
Pedal Down Promotions is a full-service public relations and media services company devoted to helping its clients effectively communicate with targeted audiences through press releases, newsletters, profile and feature articles, website and social media content development, printed media, editing and layout, graphic design and book publishing services.
For more information on Pedal Down Promotions, email pedaldownpromotions@gmail.com, visit www.pedaldownpromo.com or call 920-323-7970.
Austin Hartmann - 87A Hartman Racing
2023 Schedule
Friday, April 7 – 34 Raceway, West Burlington, Iowa (IRA/MOWA)
Saturday, April 8 – 34 Raceway, West Burlington, Iowa (IRA/MOWA)
Saturday, April 15 – Beaver Dam Raceway, Beaver Dam, Wis. (IRA)
Saturday, April 29 – Cedar Lake Speedway, New Richmond, Wis. (IRA)
Sunday, April 30 – Mason City Motor Speedway, Mason City, Iowa (IRA)
Friday, May 12 – Jacksonville Speedway, Jacksonville, Ill. (All Stars)
Saturday, May 13 – Wilmot Raceway, Wilmot, Wis. (IRA/All Stars)
Saturday, May 20 – The Plymouth Dirt Track, Plymouth, Wis. (IRA)
Sunday, May 21 – Angell Park Speedway, Sun Prairie, Wis. (IRA)
Saturday, May 27 – Wilmot Raceway, Wilmot, Wis. (IRA)
Sunday, May 28 – 141 Speedway, Francis Creek, Wis. (IRA)
Friday, June 2 – Dodge County Fairgrounds, Beaver Dam, Wis. (IRA/All Stars)
Saturday, June 3 – The Plymouth Dirt Track, Plymouth, Wis. (IRA/All Stars)
Saturday, June 10 – Sycamore Speedway, Maple Park, Ill. (IRA)
Sunday, June 11 – Angell Park Speedway, Francis Creek, Wis. (IRA)
Friday, June 16 – Beaver Dam Raceway, Beaver Dam, Wis. (World of Outlaws)
Saturday, June 17 – Beaver Dam Raceway, Beaver Dam, Wis. (World of Outlaws)
Friday, June 23 – Jacksonville Speedway, Jacksonville, Ill. (POWRi)
Saturday, June 24 – Fairbury Speedway, Fairbury, Ill. (IRA)
Saturday, July 1 – The Plymouth Dirt Track, Plymouth, Wis. (IRA)
Saturday, July 8 – Wilmot Raceway (World of Outlaws)
Thursday, July 13 – I-94 Speedway, Fergus Falls, Minn. (IRA/NOSA)
Friday, July 14 – River Cities Speedway, Grand Forks, North Dakota (IRA/NOSA)
Saturday, July 15–River Cities Speedway, Grand Forks,North Dakota (IRA/NOSA)
Friday, July 21 – Outagamie Speedway, Seymour, Wis. (IRA)
Friday, July 28 – The Plymouth Dirt Track, Plymouth, Wis. (IRA)
Saturday, July 29 – Wilmot Raceway, Wilmot, Wis. (IRA)
Saturday, Aug. 19 – Wilmot Raceway, Wilmot, Wis. (IRA)
Sunday, Aug. 20 – Angell Park Speedway, Sun Prairie, Wis. (IRA)
Friday, Aug. 25 – 34 Raceway, West Burlington, Iowa (IRA)
Saturday, Aug. 26–Federated Auto Parts I-55 Raceway, Pevely, MO. (IRA/MOWA)
Friday, Sept. 1 – Dodge County Speedway, Beaver Dam, Wis. (IRA)
Saturday, Sept. 2 – The Plymouth Dirt Track, Plymouth, Wis. (IRA)
Friday, Sept. 8 – Gondik Law Speedway, Superior, Wis. (IRA)
Saturday, Sept. 9 – Cedar Lake Speedway, New Richmond, Wis. (IRA)
Saturday, Sept. 16 – 141 Speedway, Francis Creek, Wis. (IRA)
Saturday, Sept. 30 – The Plymouth Dirt Track, Plymouth, Wis. (IRA)
Austin Hartmann 87A Hartmann Racing
Final 2022 Season
By The Numbers
Total Events – 26
IRA Events – 24
World of Outlaws Events – 2
A Main Victories – 0
B Main Victories – 1
Top Five A Main Finishes – 0
Top 10 A Main Finishes – 1
Top 15 A Main Finishes – 8
Top 20 A Main Finishes – 17
Heat Race Victories – 1
Dash Appearances – 6
Dash Victories – 0
Fast Qualifier Awards – 1
A Main Appearances – 22
Final Interstate Racing Association Points Finish – 10th
---
Article Credit: Jeff Pederson-Pedal Down Promotions
Submitted By: Jeff Pederson
Back to News