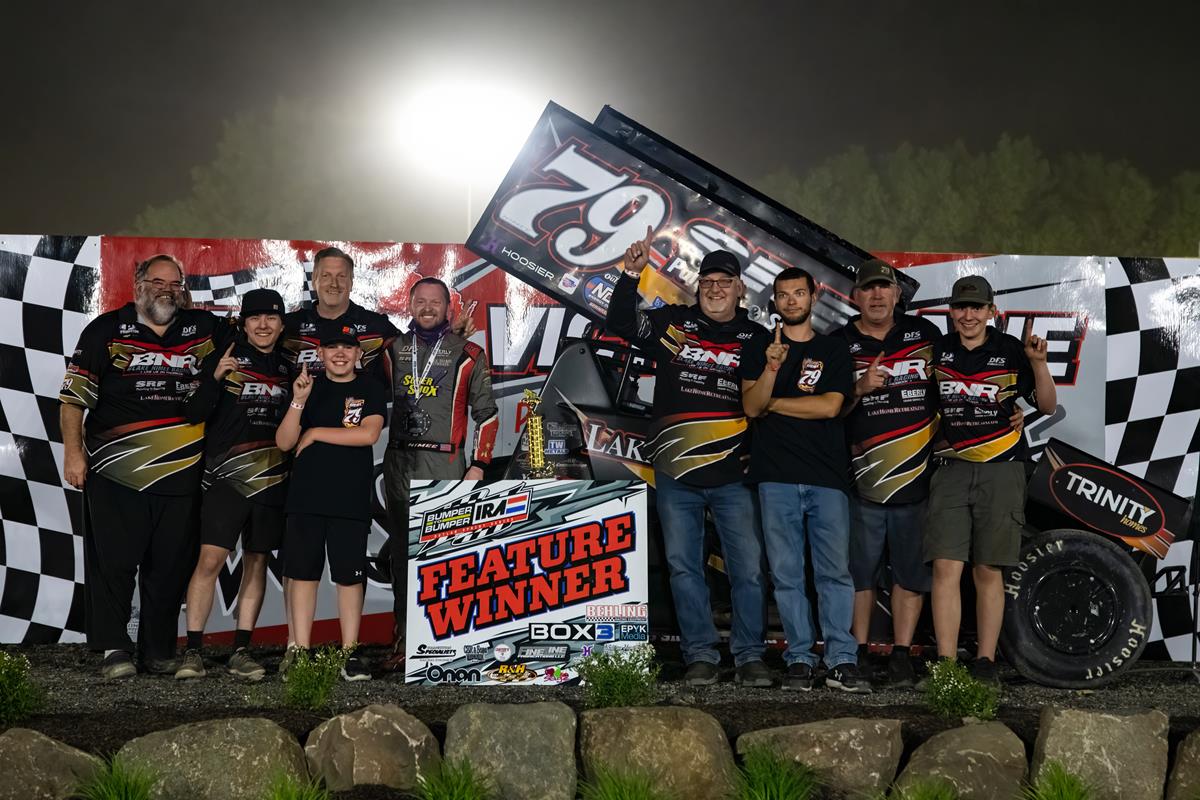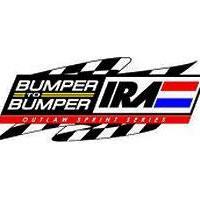 5/28/2023
IRA Interstate Racing Association
---
Nimee Holds off Champions for Win at Wilmot
Nimee Holds off Champions for Win at Wilmot
Nimee and Schlafer would lead the field out of turn four for thirty circuits around Wilmot Raceway. Nimee would immediately pounce on the low side of the raceway and begin to run away from the rest of the field. The Lone Wolf of Danny Schlafer would be in striking distance of the Oswego, IL native as they head down the backstretch. Neitzel would challenge Schlafer for a second and would steal it momentarily. The North Pole Nightmare and the defending 2022 IRA Champion Jordan Goldesberry would be next to challenge for a podium finish.
Five laps in and Nimee would continue to lead the way around Wilmot Raceway. Nietzel second, Goldesberry third, Balog fourth, Schlafer fifth. Balog would take to the cushion and take fourth away from the Lone Wolf and knock on Goldesberry's door for third. The Lightning Leprechaun of Russel Borland would also challenge for a top-five spot.
Balog passed Goldesberry for third and began to challenge the Iron Man Scotty Neitzel who was hanging onto second. Nimee would continue to weave through traffic as Goldesberry and Balog battled for second. Just as the action started to heat up, we'd have a caution for the 21 of Will Gerrits.
Nimee would have company in the form of Balog, Goldesberry, Neitzel, and Borland. Rookie of the Year contenders Travis Arenz and Brenham Crouch would be eighth and ninth on this restart.
Balog would jump to the cushion while others dove to the tractor tires. 10 laps remained for Blake Nimee and the 79 team. Balog and Goldesberry would be heading to slider city as they both exchanged second and third every lap. The top three separated from the rest as Balog continued to strike against Nimee and Goldesberry. Balog would take a two-for-one and pass for the lead, but Nimee quickly regained the lead.
White would wave and none of them were about to back down. Nimee would lead the group into turns one and two, Balog would challenge on the top of the backstretch and into turn three and four to pass Goldesberry for second, but Nimee would be victorious. Balog would settle for second, and Goldesberry third.
The Bumper to Bumper IRA Sprints is back in action TONIGHT at 141 Speedway for Sunday Funday and Round Two of our "Series within a Series" Hopf Farms Bullring Showdown. If you can't be there, watch the action live on FloRacing: https://flosports.link/3z8dvo9
Driver's Meeting: Verona Safety Equipment
Qualifying – COMPETITION SPECIALISTS
Hot Laps: Box 3 Media
Heat 1: Shufflebotham Tree Service
Heat Race #2- Kristine Hartmann Realtor w/ Pleasant View Reality
Heat Race #3- CRS & Sons Trucking
Dash #1- Fine-Line Fabrications
Dash #2- EPYK Media
Dash Redraw: A-Main apparel
B-Main: BEHLING RACING EQUIPMENT
Victory Lane: Custer's Cones Catering & Events
A Feature 30 Laps | 00:16:33.612
79-Blake Nimee[1]; 2. 17B-Bill Balog[7]; 3. 65-Jordan Goldesberry[5]; 4. 1-Brenham Crouch[9]; 5. 23-Russel Borland[8]; 6. 49-Josh Schneiderman[6]; 7. 2W-Scott Neitzel[4]; 8. 25T-Travis Arenz[12]; 9. 10W-Mike Reinke[3]; 10. 25-Danny Schlafer[2]; 11. U2-Jack Vanderboom[10]; 12. 87A-Austin Hartmann[11]; 13. 10V-Kurt Davis[15]; 14. 9K-Kyle Schuett[13]; 15. 4K-Kris Spitz[19]; 16. 70-Chris Klemko[16]; 17. 19CW-Ion Stear[17]; 18. 55-Austin Deblauw[20]; 19. 26R-Preston Ruh[21]; 20. 42P-Preston Perlmutter[18]; 21. 68-Dave Uttech[14]; 22. 16-Anthony Knierim[22]; 23. 21-Will Gerrits[23]; 24. 34-Kevin Hinich[24]
B Feature 1 10 Laps | 00:09:36.000
26R-Preston Ruh[2]; 2. 16-Anthony Knierim[1]; 3. 21-Will Gerrits[3]; 4. 34-Kevin Hinich[6]; 5. 19-Todd Daun[5]; 6. 24-Scott Conger[9]; 7. 33$-Shane O'Banion[7]; 8. 13-Van Gurley Jr[11]; 9. 43-Jereme Schroeder[10]; 10. 99-Tyler Brabant[14]; 11. 29-Hunter Custer[8]; 12. 38-Allen Hafford[12]; 13. 4-Jordan Paulsen[4]; 14. 39V-William Huck[13]
Dash 1 4 Laps
79-Blake Nimee[1]; 2. 10W-Mike Reinke[2]; 3. 65-Jordan Goldesberry[3]; 4. 17B-Bill Balog[5]; 5. 1-Brenham Crouch[4]
Dash 2 4 Laps | 00:04:25.000
25-Danny Schlafer[4]; 2. 2W-Scott Neitzel[1]; 3. 49-Josh Schneiderman[3]; 4. 23-Russel Borland[5]; 5. U2-Jack Vanderboom[2]
Heat 1 8 Laps | 00:06:05.000
1-Brenham Crouch[1]; 2. 17B-Bill Balog[4]; 3. 65-Jordan Goldesberry[3]; 4. 9K-Kyle Schuett[2]; 5. 4K-Kris Spitz[5]; 6. 19-Todd Daun[9]; 7. 24-Scott Conger[7]; 8. 13-Van Gurley Jr[8]; 9. 16-Anthony Knierim[6]
Heat 2 8 Laps | 00:04:18.000
79-Blake Nimee[2]; 2. 10W-Mike Reinke[4]; 3. 87A-Austin Hartmann[3]; 4. 10V-Kurt Davis[5]; 5. 19CW-Ion Stear[1]; 6. 21-Will Gerrits[7]; 7. 33$-Shane O'Banion[6]; 8. 39V-William Huck[8]
Heat 3 8 Laps | 00:06:56.000
23-Russel Borland[2]; 2. 25-Danny Schlafer[3]; 3. 2W-Scott Neitzel[4]; 4. 70-Chris Klemko[6]; 5. 42P-Preston Perlmutter[1]; 6. 4-Jordan Paulsen[7]; 7. 43-Jereme Schroeder[8]; 8. 99-Tyler Brabant[9]; 9. 26R-Preston Ruh[5]
Heat 4 8 Laps | 00:06:26.000
49-Josh Schneiderman[3]; 2. 25T-Travis Arenz[1]; 3. 68-Dave Uttech[2]; 4. U2-Jack Vanderboom[4]; 5. 55-Austin Deblauw[5]; 6. 34-Kevin Hinich[7]; 7. 29-Hunter Custer[6]; 8. 38-Allen Hafford[8]
Qualifying A | 00:10:09.000
17B-Bill Balog, 00:12.873[14]; 2. 10W-Mike Reinke, 00:12.939[16]; 3. 65-Jordan Goldesberry, 00:13.056[12]; 4. 87A-Austin Hartmann, 00:13.068[4]; 5. 9K-Kyle Schuett, 00:13.098[11]; 6. 79-Blake Nimee, 00:13.239[7]; 7. 1-Brenham Crouch, 00:13.260[1]; 8. 19CW-Ion Stear, 00:13.362[9]; 9. 4K-Kris Spitz, 00:13.444[5]; 10. 10V-Kurt Davis, 00:13.510[8]; 11. 16-Anthony Knierim, 00:13.542[17]; 12. 33$-Shane O'Banion, 00:13.569[15]; 13. 24-Scott Conger, 00:14.050[2]; 14. 21-Will Gerrits, 00:14.057[6]; 15. 13-Van Gurley Jr, 00:14.359[10]; 16. 39V-William Huck, 00:14.442[13]; 17. (DNS) 19-Todd Daun, 00:14.442
Qualifying B | 00:10:01.000
2W-Scott Neitzel, 00:13.076[4]; 2. U2-Jack Vanderboom, 00:13.174[17]; 3. 25-Danny Schlafer, 00:13.202[6]; 4. 49-Josh Schneiderman, 00:13.228[1]; 5. 23-Russel Borland, 00:13.271[9]; 6. 68-Dave Uttech, 00:13.310[3]; 7. 42P-Preston Perlmutter, 00:13.381[10]; 8. 25T-Travis Arenz, 00:13.400[16]; 9. 26R-Preston Ruh, 00:13.576[13]; 10. 55-Austin Deblauw, 00:13.601[5]; 11. 70-Chris Klemko, 00:13.783[2]; 12. 29-Hunter Custer, 00:13.797[12]; 13. 4-Jordan Paulsen, 00:13.931[8]; 14. 34-Kevin Hinich, 00:13.971[11]; 15. 43-Jereme Schroeder, 00:13.976[7]; 16. 38-Allen Hafford, 00:14.198[15]; 17. 99-Tyler Brabant, 00:14.954[14]
Hot Laps | 00:11:31.000
2W-Scott Neitzel[21]; 2. 23-Russel Borland[26]; 3. 17B-Bill Balog[14]; 4. 25-Danny Schlafer[23]; 5. 25T-Travis Arenz[33]; 6. U2-Jack Vanderboom[34]; 7. 68-Dave Uttech[20]; 8. 26R-Preston Ruh[30]; 9. 87A-Austin Hartmann[4]; 10. 10W-Mike Reinke[16]; 11. 13-Van Gurley Jr[10]; 12. 9K-Kyle Schuett[11]; 13. 19CW-Ion Stear[9]; 14. 79-Blake Nimee[7]; 15. 1-Brenham Crouch[1]; 16. 33$-Shane O'Banion[15]; 17. 49-Josh Schneiderman[18]; 18. 29-Hunter Custer[29]; 19. 70-Chris Klemko[19]; 20. 4K-Kris Spitz[5]; 21. 34-Kevin Hinich[28]; 22. 55-Austin Deblauw[22]; 23. 16-Anthony Knierim[17]; 24. 38-Allen Hafford[32]; 25. 43-Jereme Schroeder[24]; 26. 42P-Preston Perlmutter[27]; 27. 65-Jordan Goldesberry[12]; 28. 4-Jordan Paulsen[25]; 29. 21-Will Gerrits[6]; 30. 10V-Kurt Davis[8]; 31. 99-Tyler Brabant[31]; 32. 24-Scott Conger[2]; 33. 39V-William Huck[13]; 34. 19-Todd Daun[3]
Photo by Emily Schwanke
---
Article Credit: Madeline "Chatty Madi" Schultz
Submitted By: Madeline Schultz
Back to News