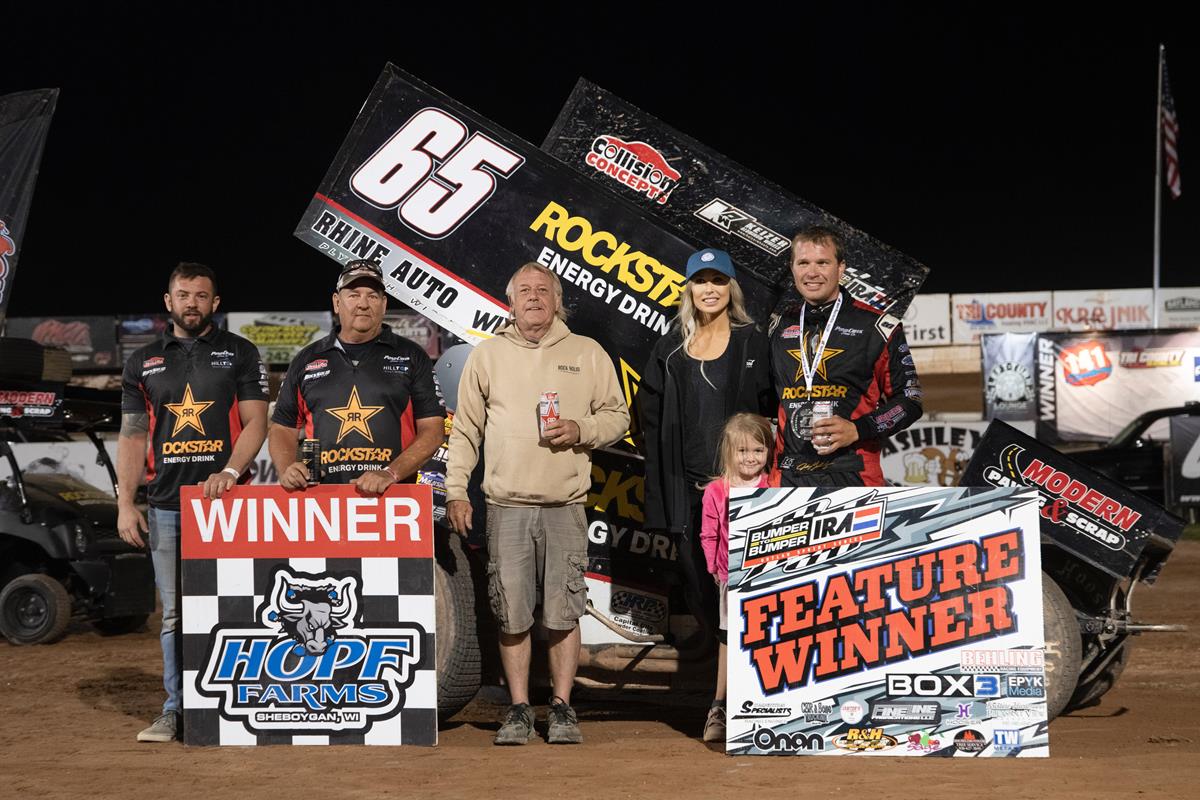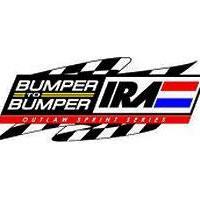 5/29/2023
IRA Interstate Racing Association
---
Goldesberry Goes Two for Two with Hopf Farms Bullring Showdown Series
Goldesberry Goes Two for Two on Hopf Farms Bullring Showdown Series
By Madeline "Chatty Madi" Schultz
Nimee and Balog would be the first to drag race around 141 Speedway. Balog would lead lap one, but we would draw out the first caution for Flick before the entirety of the field crossed the flagstand. We would double up the field once more, but Goldesberry and Nimee would be the first to battle.
Nimee would lead lap one try two, but Goldesberry would take over the second lap. Balog would attempt to peak underneath the 79 after, but didn't work that time. Goldesberry would begin to hit lap traffic with half a dozen in. Blake Nimee and Bill Balog would begin to reel in Goldesberry during this time. Both of those competitors would weave through traffic on the cushion as 10 laps were scored.
Goldesberry would continue to lead the way, but Balog would pass the lakehomeretreats.com 79 for second with seventeen to go. Goldesberry, with a commanding 2.5 second lead, had just ten more laps to go in order to clinch another win at 141 Speedway.
Balog would be on the tailtank of Goldesberry again as they counted down to 9 laps to go. Goldesberry and Balog would weave through competitors but Goldesberry would still be on top. Heavy traffic would arise for the defending champion, causing Goldesberry to wash up in turns 1 and 2 allowing the North Pole Nightmare to draw closer. Five laps would remain for the defending champion when the second caution of the feature would wave for the 4K of Spitz.
Jordan Goldesberry's lead would vanish and Balog and Nimee would be breathing down his neck. We'd crack the whip for five more circuits around the speedway. On the green, Goldesberry would jump to the cushion to battle Balog on the bottom. Rockstar Energy Drink's Jordan Goldesberry would count the laps down on the cushion to take the checkered on the night. Goldesberry would take round two of the Hopf Farms Bullring Showdown.
Next weekend is the weekend race fans have been waiting for. On Friday, June 2nd, the All Star Circuit of Champions return to battle in the Badger state at the Horsepower Half Mile of Dodge County Fairgrounds. Wisconsin Sprint Car's largest payday will take place on Saturday, June 3rd at the Plymouth Dirt Track for the Rayce Rudeen Foundation Race worth $26,000 to win. With the expected number of fans at these two races, we encourage fans to purchase tickets in advance. For all tickets, please visit www.irasprints.com/schedule
Tickets for Dodge County Fairgrounds (June 2nd): https://www.myracepass.com/series/1012/tickets/1330731
Tickets for Rayce Rudeen Foundation Race (June 3rd): https://www.myracepass.com/series/1012/tickets/1330743
All Bumper to Bumper IRA Sprints races are streamed live on FloRacing: https://flosports.link/3z8dvo9
Photo by Emily Schwanke
A Feature 1 30 Laps | 00:17:54.901
65-Jordan Goldesberry[2]; 2. 17B-Bill Balog[3]; 3. 79-Blake Nimee[1]; 4. 1-Brenham Crouch[10]; 5. 25T-Travis Arenz[6]; 6. 10W-Mike Reinke[7]; 7. 2W-Scott Neitzel[4]; 8. 9K-Kyle Schuett[5]; 9. 26R-Preston Ruh[13]; 10. 23-Russel Borland[9]; 11. 25-Danny Schlafer[19]; 12. 49-Josh Schneiderman[15]; 13. 87A-Austin Hartmann[11]; 14. 68-Dave Uttech[8]; 15. U2-Jack Vanderboom[14]; 16. 21-Will Gerrits[20]; 17. 29-Hunter Custer[16]; 18. 33$-Shane O'Banion[21]; 19. 99-Tyler Brabant[18]; 20. 24-Scott Conger[22]; 21. (DNF) 4K-Kris Spitz[12]; 22. (DNF) 42P-Preston Perlmutter[17]; 23. (DNF) 88-Christopher Flick[23]; 24. (DNF) 7F-Lance Fassbender[24]
B Feature 1 10 Laps | 00:06:41.814
25-Danny Schlafer[1]; 2. 21-Will Gerrits[2]; 3. 33$-Shane O'Banion[3]; 4. 24-Scott Conger[6]; 5. 88-Christopher Flick[4]; 6. 7F-Lance Fassbender[7]; 7. 38-Allen Hafford[5]; 8. 39V-William Huck[8]
Dash 1 4 Laps | 00:03:00.456
79-Blake Nimee[1]; 2. 17B-Bill Balog[3]; 3. 9K-Kyle Schuett[2]; 4. 10W-Mike Reinke[5]; 5. 23-Russel Borland[4]
Dash 2 4 Laps | 00:04:48.042
65-Jordan Goldesberry[1]; 2. 2W-Scott Neitzel[3]; 3. 25T-Travis Arenz[4]; 4. 68-Dave Uttech[2]; 5. 1-Brenham Crouch[5]
Heat 1 8 Laps | 00:07:56.286
17B-Bill Balog[1]; 2. 10W-Mike Reinke[4]; 3. 23-Russel Borland[2]; 4. 4K-Kris Spitz[5]; 5. U2-Jack Vanderboom[6]; 6. 99-Tyler Brabant[7]; 7. 88-Christopher Flick[8]; 8. 25-Danny Schlafer[3]; 9. 39V-William Huck[9]
Heat 2 8 Laps | 00:07:14.995
9K-Kyle Schuett[2]; 2. 79-Blake Nimee[3]; 3. 1-Brenham Crouch[4]; 4. 68-Dave Uttech[1]; 5. 49-Josh Schneiderman[7]; 6. 29-Hunter Custer[5]; 7. 38-Allen Hafford[8]; 8. 7F-Lance Fassbender[9]; 9. 21-Will Gerrits[6]
Heat 3 8 Laps | 00:05:57.739
25T-Travis Arenz[2]; 2. 65-Jordan Goldesberry[3]; 3. 87A-Austin Hartmann[1]; 4. 2W-Scott Neitzel[4]; 5. 26R-Preston Ruh[5]; 6. 42P-Preston Perlmutter[6]; 7. 33$-Shane O'Banion[7]; 8. 24-Scott Conger[8]
Qualifying 1 | 00:20:05.612
10W-Mike Reinke, 00:11.081[19]; 2. 1-Brenham Crouch, 00:11.332[13]; 3. 2W-Scott Neitzel, 00:11.385[14]; 4. 25-Danny Schlafer, 00:11.424[11]; 5. 79-Blake Nimee, 00:11.443[7]; 6. 65-Jordan Goldesberry, 00:11.449[6]; 7. 23-Russel Borland, 00:11.530[12]; 8. 9K-Kyle Schuett, 00:11.557[20]; 9. 25T-Travis Arenz, 00:11.618[25]; 10. 17B-Bill Balog, 00:11.660[5]; 11. 68-Dave Uttech, 00:11.672[17]; 12. 87A-Austin Hartmann, 00:11.680[2]; 13. 4K-Kris Spitz, 00:11.692[18]; 14. 29-Hunter Custer, 00:11.789[24]; 15. 26R-Preston Ruh, 00:11.875[15]; 16. U2-Jack Vanderboom, 00:11.878[4]; 17. 21-Will Gerrits, 00:11.884[16]; 18. 42P-Preston Perlmutter, 00:11.889[26]; 19. 99-Tyler Brabant, 00:11.919[10]; 20. 49-Josh Schneiderman, 00:12.006[3]; 21. 33$-Shane O'Banion, 00:12.058[9]; 22. 88-Christopher Flick, 00:12.081[1]; 23. 38-Allen Hafford, 00:12.269[8]; 24. 24-Scott Conger, 00:12.288[23]; 25. 39V-William Huck, 00:12.497[22]; 26. (DQ) 7F-Lance Fassbender, 00:11.977[21]
Hot Laps 1 | 00:04:34.726
1-Brenham Crouch[13]; 2. 10W-Mike Reinke[19]; 3. 25-Danny Schlafer[11]; 4. 25T-Travis Arenz[25]; 5. 29-Hunter Custer[24]; 6. 9K-Kyle Schuett[20]; 7. 4K-Kris Spitz[18]; 8. 2W-Scott Neitzel[14]; 9. 42P-Preston Perlmutter[26]; 10. 68-Dave Uttech[17]; 11. 26R-Preston Ruh[15]; 12. 23-Russel Borland[12]; 13. 24-Scott Conger[23]; 14. 21-Will Gerrits[16]; 15. 99-Tyler Brabant[10]; 16. 39V-William Huck[22]; 17. 65-Jordan Goldesberry[6]; 18. U2-Jack Vanderboom[4]; 19. 79-Blake Nimee[7]; 20. 17B-Bill Balog[5]; 21. 87A-Austin Hartmann[2]; 22. 88-Christopher Flick[1]; 23. 33$-Shane O'Banion[9]; 24. 7F-Lance Fassbender[21]; 25. 49-Josh Schneiderman[3]; 26. 38-Allen Hafford[8]
---
Article Credit: Madeline "Chatty Madi" Schultz
Submitted By: Madeline Schultz
Article Media
Back to News