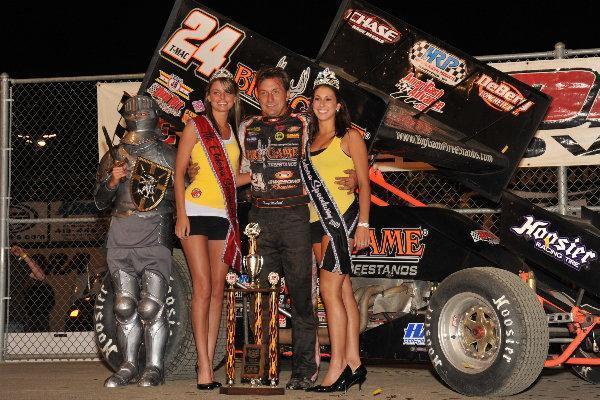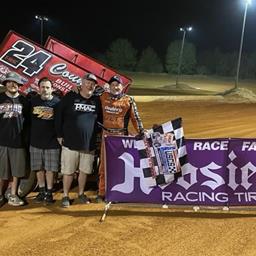 ---
Tuesdays with TMAC – Season in Review!
Tuesdays with TMAC – Season in Review!
(Bill W) November 17, 2009 – 2009 was a great season by all accounts for the Big Game Treestands #24 and driver Terry McCarl. In 88 sprint car events, there were 19 wins, 49 top five finishes and 68 top ten finishes. Wins spanned eight states on ten different tracks. The Altoona, Iowa driver was victorious with five different sanctioning bodies including the World of Outlaws, All Star Circuit of Champions, Insterstate Racing Association, Lucas Oil ASCS National Series and the Jackson Sprint Touring Series.
After competing with the World of Outlaws for four seasons, the decision was made to run a "true" Outlaw season, picking and choosing what venues to run in 2009. By all measures, the season was a success for the team. "I was really proud of our season," says TMAC. "We had a lot of big wins, and we ran well most nights."
The Iowa native may have had his best season ever at Knoxville. His finishes were outstanding at the famous half-mile, and despite missing a handful of shows, finished the season third in points there, just 124 behind champion Johnny Herrera. "We missed four full point nights there," says TMAC. "I believe our worst finish outside of the Nationals was fourth. I'm very proud of the way our team ran so strongly at Knoxville. Even though we have six championships there, we've never run as strong there as we did in 2009. We were able to get the owners' championship for Tod, which was great."
The Knoxville Nationals was a disappointment, as most had TMAC tabbed for the podium and a possible win. He went in with five consecutive wins including a $10,000 All Star score at Huset's, and his third 360 Nationals title. "In the two Outlaw shows at Knoxville, we were second in the first, and won the second one (June)," he says. "We were on a roll there definitely headed into the Nationals, and maybe we used up all of our good luck. Even starting fifteenth in the Nationals, I truly believed we could win if things went our way for 40 laps. On our qualifying night, we were thrown a curve with the track in time trials. It was a track I have never seen there. We went from 12th to sixth without any yellows in the feature that night, and fourth (Stevie Smith) and fifth (Tyler Walker) were right there in front of me. I knew we were fast. I felt really good about things, but we just missed it on Sunday night."
TMAC finally broke through at one of his favorite tracks, the Eldora Speedway near Rossburg, Ohio. Not only did he win the Ohio Speedweek opener there with the All Stars, he added the "Knight Before the King's Royal" with the World of Outlaws. "It was big, because we had never won there, and it's a track I love to go back to," he says. "We had been able to win at Williams Grove and Knoxville, but it was really the crown jewel we were missing. It was tough, because it was opening night of Speedweek, and there were around 48 cars there. We had to start in the sixth row, so it was very rewarding. To come back and win the 'Knight Before the King's Royal', and then charge from 22nd to fifth in the King's Royal was pretty incredible too. If it hadn't laid rubber in the King's Royal, I would have liked our chances of even winning it."
Even though he didn't run full-time with the WoO, TMAC was a force to be reckoned with and was running up front. In 32 shows with the WoO, there were two wins and 22 top tens. "We missed most of the season with the World of Outlaws, but we were still tenth in money earnings with them," he says. "Counting our other shows, I believe we were fourth in the nation in money earnings. We were seventh with the Outlaws in laps led, and we were out front at several tracks."
TMAC likes the track records and set several this season. He bested the six and 25-lap marks at Knoxville, as well as setting the one-lap standards at the Tulare Thunderbowl in California, ELKO Speedway in Minnesota, Huset's Speedway in South Dakota and turned a blistering record lap at the Belleville Highbanks in Belleville, Kansas. "A couple of those have been broken since," he says. "But we're always proud to break those records."
In the next month or so, the team will consider his schedule for 2009. "There's a chance we could run the full Outlaw tour, and a chance we may run a similar schedule as this year," says TMAC. "I don't know right now."
2009 Season at a Glance…
• 88 Sprint Shows
• 19 wins
• 49 top fives
• 68 top tens
Won two World of Outlaws features (Eldora-Knight Before King's Royal, Knoxville)
Won four All Star features (Ocala, Eldora-Ohio Speedweek, Huset's, Terre Haute)
Won four IRA features (Hartford, MI, Oshkosh, Dodge County, Superior)
Won two ASCS features (Knoxville 360 Nationals Prelim and Finale)
Won the Jackson Spring Nationals
Moved into fourth on the all-time winner's list at Knoxville (47)
Added to his all-time win list record at Huset's (84)
Added seven new tracks to his win list bringing his total to 55
Won in eight states including Michigan. He has now won in 17 states
Free Hat and Sticker with Purchase of 1/18 Scale Model Big Game Treestands #24!
The 1/18 scale model Big Game Treestands #24 has just arrived. The cost is $79.95 plus shipping and handling. Visa, Mastercard and American Express are accepted. To order, call the McTwo Promotions office at 515 957-0020, or they will be available at the Big Game Treestands #24 trailer at the races! With your order, you will also receive your choice of a Big Game Treestands #24 hat and sticker!
Websites for the McCarl Gang!
Driverwebsites.com has developed websites for the McCarl boys. Check out the new look of www.TerryMcCarl.com, and check out the newly developed www.AustinMcCarl.com and www.CarsonMcCarl.com!
In"Terry"gation
Michael Seely asks: Do you have plans to race anything before Florida with the All Stars and Outlaws?
TMAC Answers: Wayne Simmons and I are trying to put a deal together to run a midget at Kemper Arena and possibly the Chili Bowl. We're going back to Australia to run the Grand Annual Classic again with Rod Matthews. That's an excellent event on a racetrack (Premier Speedway) that reminds me of Huset's a bit. David, the promoter at Warrnambool has turned that into a great event, that's a lot of fun. He bought one of my cars this year, so we'll be running a Big Game car over there, and that will qualify us for the World Challenge at the Knoxville Nationals again. I don't plan on stopping in the hospital in Los Angeles on the way back this year though!
Got a question for TMAC? Send it to us at sprntcar@iowatelecom.net, and we may answer it in this section! Put "? for TMAC" in your subject line.
This Week in TMAC History!
Racing results are sometimes hard to come by in November, but this week in 1992, TMAC was competing on his own dime at the Manzanita Speedway in the Slick 50 winter series. He posted back to back 11th place finishes in his #27 there on November 15 and 22. On the 15th, Jac Haudenschild topped Sammy Swindell and Tim Green, and on the 22nd, it was Dave Blaney besting Danny Lasoski and Swindell.
Website Updates
Keep up to date with McCarl Motorsports at www.TerryMcCarl.com. We keep it fresh for TMAC fans!
"Tuesdays with TMAC"!
"Tuesdays with TMAC" is an up close and personal look at colorful sprint car veteran Terry McCarl. To receive "Tuesdays with TMAC", send an e-mail to sprntcar@iowatelecom.net with "TMAC" in the subject line.
TMAC Motorsports would like to thank sponsors Big Game Treestands, AmeriCashAdvance.com, DeBerg Concrete and Remington Treestands.
Bill Wright
Bill W Media
Monroe, IA USA
sprntcar@iowatelecom.net
Back to News