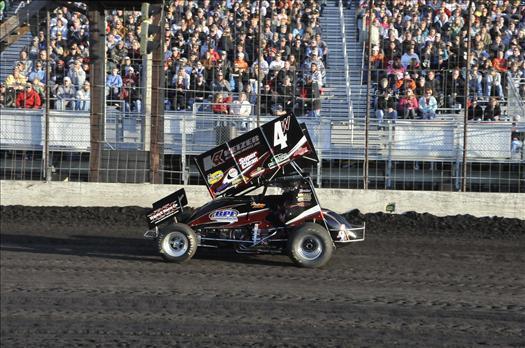 ---
Top Ten for Wasmund – IRA Sprints at Deer Creek...
Jackson, Minnesota native Matt Wasmund took the Keizer Wheels XXX Chassis up to Deer Creek Speedway in Spring Valley, MN this past weekend to compete against the Bumper to Bumper IRA Sprints. Being the last car out, Wasmund qualified 15th quick to start out the evening.
Matt then lined up on the outside front row in the third heat race in which he maintained that 2nd position until another car insisted on a slide job against the 4w almost sending Matt into the wall. Wasmund recovered, but fell back to 5th and was still able that transfer spot into the main event.
The outside of the seventh row is where the 4w started in the main event and at the start, Matt dropped back in the field to 18th. "The start for us didn't go like we needed to," says Matt. "But, after I fell back and started making laps the Keizer Wheels XXX Chassis really came to and the car was working great!"
Wasmund raced his way up to ninth to cap off the evening and was able to put another top 10 finish in the '09 stats.
"We're very happy with this top 10," explains Wasmund. "We got to the track late, but we managed to stay out of the B-Main and pass quite a few cars today! I have to really thank my crew for giving me such a great car to drive tonight!"
Next up for the Wasmund Racing team will be this Saturday at Knoxville Raceway in Knoxville, IA to get a couple events in on the legendary speedway to prepare themselves for the upcoming nationals.
WASMUND RACING WEBSITE:
Be sure to follow the team through the team website www.wasmundracing.com. Latest results, news and photo updates will be updated regularly.
SIGN UP FOR THE PRESS RELEASES:
While you are at www.wasmundracing.com, don't forget to swing by the contact page and sign yourself up for the weekly press releases!
SPECIAL THANKS TO:
Keizer Wheels, XXX Race Company, Rushmore Plumbing, Jackson Chiropractic, Worthington Excavating, Awesome Racewear, Ridgeway Lumber, Rocket Headers, Steffl Drilling, Behling Racing Equipment, Natural Health & Chiropractic, Arizona Sport Shirts, Harvey's Signs, Rod End Supply, Smith Trucking, Bell Racing, Race Deck Garage Floors, Last Deck, Lev Wings, UltraShield, DMI, Pro Shocks and Driver Websites.com.
Back to News