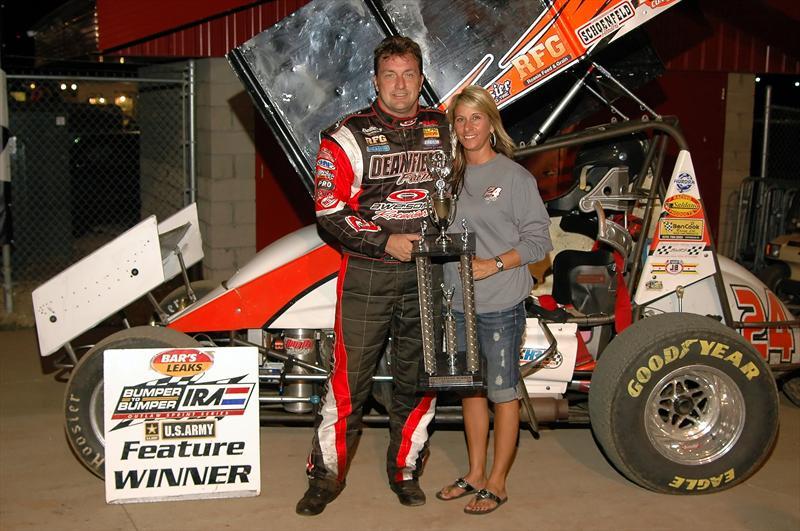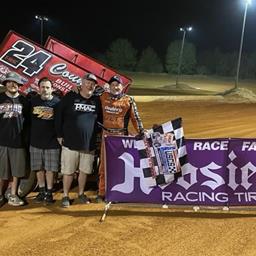 ---
McCarl Outduels Winters for Elko IRA Score!
McCarl Outduels Winters for Elko IRA Score
Elko Speedway, Elko, Minnesota
July 23, 2010
He started on the pole position but it wasnÂ't a cake walk for Altoona, IowaÂ's Terry McCarl as he drove to his first IRA win of the 2010 season on Friday night at Elko Speedway. The first night of IRA action for the AMSOIL Dirt Nationals at Elko (normally a paved track just south of the Twin Cities metro area) saw McCarl snare the pole position alongside Brooke Tatnell for the 30-lap feature. Tatnell used the preferred high line in turn one to grab the lead and led McCarl and third starting Scott Winters through the first five laps. On lap six, Tatnell tagged the concrete in turn three and flipped. He was uninjured but finished for the evening.
McCarl led Winters on the restart but as the leaders approached lapped traffic, Winters took the top spot as McCarl was forced to fend off a bottom-feeding charge from Scott Neitzel. Just past the halfway point, however, McCarl repaid the favor and nipped by Winters in lapped traffic. Meanwhile, Bill Balog was charging up from the 11th spot and had entered the top five behind McCarl, Winters, Neitzel and Scott Biertzer.
With just five laps remaining and the lead pack in heavy traffic, Steve Meyer spun in turn two to bring out a yellow flag. On the restart, McCarl drove away from Winters and cruised to his first career win at Elko Speedway over Scott Winters, who has never finished worse than third at Elko in IRA action, and Biertzer. Balog edged by Neitzel in the waning laps to take fourth. Balog, the current IRA point leader, has now finished in the top five in an amazing 12 straight IRA shows.
Heat races for the 33 cars were scored by Neitzel, Winters, Sprint Car rookie Jeremy Kurzman and Gregg Bakker, who passed Davey Heskin with a fourth-turn, last lap stunner. Balog scored the B-main over Mike Reinke, who had to pull out a backup car for the evening after crashing in the first heat race while running second.
In qualifying, Travis Whitney lost his track record to Brooke Tatnell and then Scott Winters before coming out late in time trials to again lower the mark with a lap of 12.333 to capture Osborne and Sons Trucking Quick Time and also regain the track record.
During a brief intermission, drivers passed their helmets through the stands and raised $1,400 to benefit injured racer Travis Rilat and to help comfort the family of his crew member Tyson Perez, who passed away this week due to an unfortunate shop accident.
The next IRA race is Saturday, July 24, when the series returns for the conclusion of the AMSOIL Dirt Nationals at Elko Speedway in Elko, Minnesota. For more information on the IRA Sprint Cars, log on to www.irasprints.com.
Osborne and Sons Trucking Qualifications
Quick Time: Travis Whitney 12.333 (NTR)
30-Lap A-Feature
Terry McCarl (1), 2. Scott Winters (3), 3. Scott Biertzer (9), 4. Bill Balog (11), 5. Scott Neitzel (7), 6. Gregg Bakker (8), 7. Davey Heskin (16), 8. Travis Whitney (4), 9. Mike Reinke (18), 10. John Haeni (13), 11. Rob Kubli (6), 12. Jeremy Kurzman (5), 13. Steve Meyer (10), 14. Wayne Modjeski (15), 15. Russel Borland (20), 16. John Sernett (19), 17. Bill Warren (17), 18. Phillip Mock (21), 19. Dave Glennon (14), 20. Kris Spitz (12), 21. Brooke Tatnell (2), 22. Billy Hafemann (22)
Behling Racing Products B-main: 1. Balog (2), 2. Reinke (16), 3. Sernett (1), 4. Borland (8), 5. P. Mock (3), 6. Hafemann (9) / 7. Scott Uttech (4), 8. Dave Uttech (11), 9. Andy Hunt (10), 10. Kim Mock (6), 11. Brandon Thone (13), 12. Duane Olson (14), 13. Bill Wirth (7), 14. Matt Wasmund (5), 15. Jamie Kloatwyk, 16. Michael Emme (12)
Weld Racing Heat Race #1: 1. Neitzel, 2. Biertzer, 3. Whitney, 4. Glennon, 5. D. Uttech, 6. Wirth, 7. Reinke, 8. S. Uttech, 9. Kloatwyk
Lane Automotive Heat Race #2: 1. Winters, 2. Modjeski, 3. Meyer, 4. Kubli, 5. Wasmund, 6. Borland, 7. Emme, 8. Richert Jr.
DMI Heat Race #3: 1. Kurzman, 2. Tatnell, 3. Warren, 4. Spitz, 5. P. Mock, 6. Sernett, 7. Hafemann, 8. Thone
King Racing Products Heat Race #4: 1. Bakker, 2. Heskin, 3. McCarl, 4. Haeni, 5. Balog, 6. K. Mock, 7. Hunt, 8. Olson
Back to News